Navigation
LakesnWoods.com
Home Page
Shopping
Coupons
Contact Us
Privacy

Belview Guide:
Photo Gallery
Location
Geography
Demographics
History
Government
Post Office
News
Weather
Street Map
Events
Attractions
Recreation
Lakes
Health Care
Schools
Churches
Media
Motels
Resorts
Campgrounds
Businesses
Aerial Photo
Topographic Map
© 2004-2017 Lakeweb1 Internet Services
All Rights Reserved
WANTED!
Do you have photos, historical accounts or other items pertaining to the Belview area? Would you like to share this historical information with the world? LakesnWoods.com would like to publish your Belview photos (current or historical) or historical accounts on this website. Original materials can be returned and your privacy will be respected.


(design available on over 100 different items!)


(design available on over 100 different items!)

Belview Minnesota Community Guide
---
Location:
---
Population:
Belview (city)
1970
1980
1990
2000
2010
2000-2010 Change
Actual
Percent
Population
429
438
383
412
384
+28
+6.80
Land Area (sq. mile)
0.90
0.89
0.94
0.94
--
--
--
Density (persons per sq. mile)
476.67
492.13
407.45
436.06
--
--
--
Housing Units
138
151
151
170
177
+7
+4.12
Households
--
142
143
155
169
+14
+9.03
Persons Per Household
--
2.67
2.26
2.33
2.27
-0.06
--
---
Geography:
Belview is a city in Redwood County, Minnesota. According to the United States Census Bureau, the city has a total area of 0.9 square miles (2.4 km˛), all of it land. The major highways in Belview are Redwood County Roads 7 and 9. The elevation is 1,070 ft (326 m).
From Wikipedia, the free encyclopedia.
---
Demographics:
As of the census of 2000, there were 412 people, 155 households and 93 families residing in the city. The population density was 436.1 per square mile (169.2/km˛). There were 170 housing units at an average density of 179.9/sq mi (69.8/km˛). The racial makeup of the city was 98.06% White, 1.70% Asian, and 0.24% from two or more races.
There were 155 households of which 29.7% had children under the age of 18 living with them, 45.8% were married couples living together, 9.0% had a female householder with no husband present, and 40.0% were non-families. 38.1% of all households were made up of individuals and 25.8% had someone living alone who was 65 years of age or older. The average household size was 2.33 and the average family size was 3.13.
In the city the population was spread out with 23.1% under the age of 18, 5.3% from 18 to 24, 22.6% from 25 to 44, 15.3% from 45 to 64, and 33.7% who were 65 years of age or older. The median age was 44 years. For every 100 females there were 89.0 males. For every 100 females age 18 and over, there were 82.2 males.
The median income for a household in the city was $32,500, and the median income for a family was $42,857. Males had a median income of $27,188 versus $22,500 for females. The per capita income for the city was $16,105. None of the families and 3.1% of the population were living below the poverty line, including no under eighteens and 6.7% of those over 64.
---
History:
Belview, once known as Jones Siding and Rolling Prairie, is located in southwestern Minnesota on the rich prairie farmland of northwestern Redwood County adjacent to the Minnesota River Valley. Much of the area that is now within the county boundaries was ceded by the Dakota Indians in the Treaty at Traverse des Sioux in 1851. A ten-mile wide strip along the Minnesota River was retained as reservation land, and the Lower Agency was established within this strip as a government administrative center for the Lower Sioux. During the 1860's, the government survey of county lands was completed, and Homestead Act was instituted, and the reservation lands were opened for Euro-American settlement. Farmers and land speculators were among the earliest settlers, with the latter hoping to lure additional settlers with promises of larger communities to come. The Wisconsin, Minnesota and Pacific, a line of the Minneapolis and St. Louis Railroad, laid track across the northern edge of the county in 1884. On a route which extended from Minneapolis to Watertown, South Dakota. The tracks crossed land owned by Hibbard Jones, whose farmstead was located on the rise of land known today as "Bunker Hill" (one-half mile north of town). In 1887, farmers and residents of the area petitioned the United States government for a post office. Jones platted the village in 1889, and the local government was organized in 1892. The Belview Heritage Preservation Commission was established in 1977 to preserve for future generations what is important and significant in the community's past.
Courtesy City of Belview
BELVIEW, a city in section 8 of Kintire, platted in 1889 and incorporated January 3, 1893, has a name derived from French words, meaning "a beautiful view." It was first called Rolling Prairie and Jones Siding, but when the post office was established in 1887, the name changed. The first postmaster was Charles Jones, son of Hibbard F. Jones, who platted the site in 1889. It had a station of the Chicago and North Western Railway.
Courtesy Minnesota Historical Society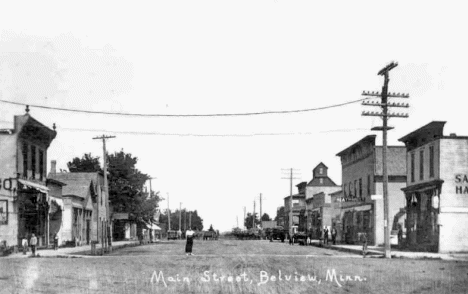 Main Street, Belview Minnesota, 1917
LakesnWoods.com Postcard and Postcard Image Collection- click image to enlarge
---
Government:
Belview City Hall
PO Box 159
Belview, MN 56214
Phone: (507) 936-4335
Web: www.belview.org
Title
Term Ends
Name and Address
Phone
Mayor
12/31/2012
Marlo Sander
n/a
Clerk/Treasurer
appointed
Lori Ryer
(507) 936-4335
Council Member
12/31/2014
Linda Sullivan
n/a
Council Member
12/31/2012
Janet Anderson
n/a
Council Member
12/31/2012
Dianne Donner
n/a
Council Member
12/31/2014
Merle Peterson
n/a
---
Post Office:
US Post Office
101 N Main Street
Belview, MN 56214-5000
Phone: (507) 938-4148
Toll Free: (800) ASK-USPS
Web: www.usps.com

Regular Business Hours:
Week Days 8:30 am - 11:30 am
12:30 pm - 4:15 pm
Latest Collection at Post Office:
Week Days 4:00 pm
Saturday 4:15 pm
---
---
Utilities:
---
Major Employers:
| | | |
| --- | --- | --- |
| Employer | Products/Services | Employees |
| Parkview Home | Nursing Care Facilities | 95 |
| Inn Like Flinn | Drinking Places (Alcoholic Beverages) | 14 |
| Parkwood Apartments | Community Care Facilities for the Elderly | 10 |
| Cenex Convenience Store | Gasoline Stations with Convenience Stores | 8 |
| MinnWest Bank | Monetary Authorities - Central Bank | 7 |
| Farmers Coop Electric | Electrical Contractors | 3 |
| V&L Auto Repair | General Auto Repair | 2 |
| Country Pet Foods | Pet Care (exc. Veterinary) Services | 1 |
| Delighted Scents | Other Miscellaneous Manufacturing | 1 |
| Rita's Classic Cuts | Beauty Salons | 1 |
---
---
News:
---
Weather:
---
Map: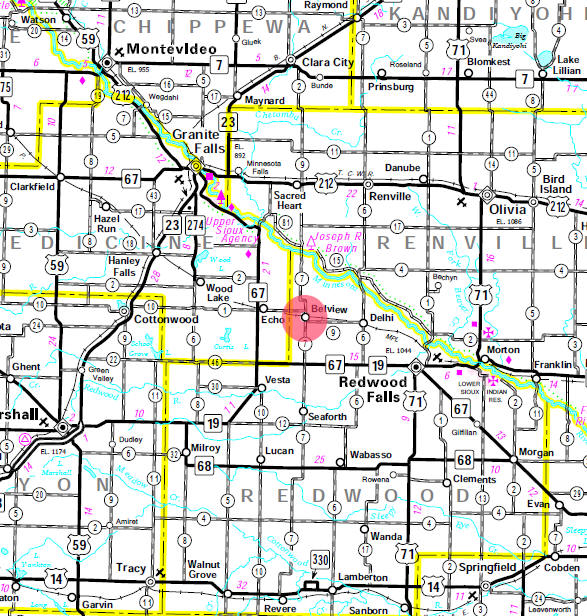 Minnesota State Highway Map of the Belview Minnesota area
---
Events:
---
Attractions:
---
Recreation:
---
Lakes:
Lake Name
Size
(acres)
Lake info
Lake Map
Rec Map
Topo Map

none
---
Health Care:
---
Schools:
---
Churches:
Grace Lutheran Church
101 E St. Olaf Avenue
Belview, MN 56214
Phone: (507) 938-4450

Pastor: Rev. Pari Bailey
Sunday Worship: 9"00 am

Our Savior's Lutheran Church
306 S Main Street
Belview, MN 56214
Phone: (507) 938-3133

Pastor: n/a
Sunday Worship: 10:15 am

Rock Dell Lutheran Church
23633 410th Street
Belview, MN 56214
Phone: (507) 938-4235

Pastor: n/a
Sunday Worship: n/a

Word of Life Lutheran Church - LCMS
105 S Main Street
Belview, MN 56214
Phone: (507) 938-4178

Pastor: Brad Larson
Sunday Worship: 8:30 am
---
Media:
---
Motels:
Check for motel rates and availability on:
---
Resorts:
---
Campgrounds:
---
Businesses:
A & J Processing
32606 County Highway
Belview, MN 56214
Phone: (507) 641-5086
Alvan Sander & Sons Excavating
311 E Elevator Street
PO Box 58
Belview, MN 56214
Phone: (507) 938-4184
American Legion Post #309
111 S Main Street
PO Box 63
Belview, MN 56214
Phone: (507) 938-4330
Asche Insurance
108 N Main Street
Belview, MN 56214
Phone: (507) 938-5001
Belview Insurance Services
106 N Main Street
PO Box 175
Belview, MN 56214
Phone: (507) 938-4291
Belview Learning Center
102 S 2nd Street
PO Box 188
Belview, MN 56214
Phone: (507) 938-4111
Cenex
110 N Main Street
PO Box 185
Belview, MN 56214
Phone: (507) 938-3069
Coffee Tavern
107 N Main Street
Belview, MN 56214
Phone: (507) 938-2200
Dale Mandelkow Farm
20388 State Highway
Belview, MN 56214
Phone: (507) 762-3225
Farmers Cooperative
102 N Main Street
PO Box 37
Belview, MN 56214
Phone: (507) 938-4133
Glenn's Country Store
106 N Main Street
PO Box 172
Belview, MN 56214
Phone: (507) 938-2473
Grace Lutheran Church
101 E St. Olaf Avenue
Belview, MN 56214
Phone: (507) 938-4450
Inn Like Flinn's
111 N Main Street
PO Box 106
Belview, MN 56214
Phone: (507) 938-4128
James Weidemann Farm
41480 Ideal Avenue
Belview, MN 56214
Phone: (507) 938-4278
Johnson Decorating
102 N Main Street
PO Box 42
Belview, MN 56214
Phone: (507) 938-4327
Lake Street Kustom Machines
106 N Lake Street
PO Box 118
Belview, MN 56214
Phone: (507) 938-3004
Marvin Preuss Farm
1952 635th Street
Belview, MN 56214
Phone: (507) 925-4428
Minnwest Bank
113 N Main Street
PO Box 190
Belview, MN 56214
Phone: (507) 938-4121
Our Savior's Lutheran Church
306 S Main Street
Belview, MN 56214
Phone: (507) 938-3133
Parkview Home
102 County Road 9
Belview, MN 56214
Phone: (507) 938-4151
Parkwood Apartments
505 S 2nd Street
Belview, MN 56214
Phone: (507) 938-3020
Pederson Tool
23274 430th Street
Belview, MN 56214
Phone: (507) 938-3148
Rainbow Antiques, Crafts and Junque
103 S Main Street
PO Box 222
Belview, MN 56214
Phone: (507) 938-4476
Red Power Repair
23228 390th Street
Belview, MN 56214
Phone: (507) 938-2252
Rita's Classicuts
202 W 2nd Avenue
PO Box 156
Belview, MN 56214
Phone: (507) 938-3033
Rock Dell Lutheran Church
23633 410th Street
Belview, MN 56214
Phone: (507) 938-4235
Schjenken Farm
41069 Hunter Avenue
Belview, MN 56214
Phone: (507) 938-4460
Shear Images on Main
105 S Main Street
PO Box 125
Belview, MN 56214
Phone: (507) 938-2132
Shirley Danielson Insurance
202 W 2nd Avenue
Belview, MN 56214
Phone: (507) 938-3060
Ultimate Transmission
102 S Main Street
Belview, MN 56214
Phone: (507) 938-3721
US Post Office
101 N Main Street
Belview, MN 56214-5000
Phone: (507) 938-4148
Toll Free: (800) ASK-USPS
Web: www.usps.com
V & L Auto Repair
109 N Main Street
PO Box 53
Belview, MN 56214
Phone: (507) 938-4167
---
Aerial Photo:
---
Topographic Map: [click map to enlarge, zoom in or zoom out]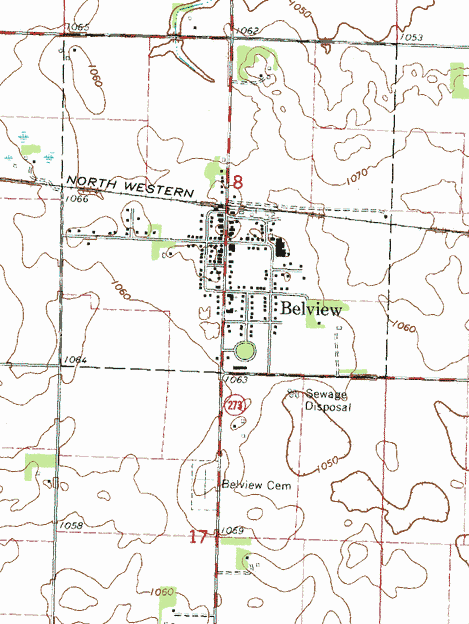 Topographic map is courtesy of the Minnesota DNR - click map to zoom or enlarge