Navigation
LakesnWoods.com
Home Page
Shopping
Coupons
Contact Us
Privacy
Minnesota Gift Guide

Bingham Lake Guide:
Photo Gallery
Location
Geography
Demographics
History
Government
Post Office
News
Weather
Street Map
Events
Attractions
Recreation
Lakes
Health Care
Schools
Churches
Media
Motels
Resorts
Campgrounds
Businesses
Aerial Photo
Topographic Map
© 2004-2018 Lakeweb1 Internet Services
All Rights Reserved
Defamation, Copyright and Trademark Infingement Policy
WANTED!
Do you have photos, historical accounts or other items pertaining to the Bingham Lake area? Would you like to share this historical information with the world? LakesnWoods.com would like to publish your Bingham Lake photos (current or historical) or historical accounts on this website. Original materials can be returned and your privacy will be respected.

Bingham Lake Minnesota Community Guide
---
Location:
---
Population:
Bingham Lake (city)
1970
1980
1990
2000
2010
2000-2010 Change
Actual
Percent
Population
214
222
155
167
126
-41
-24.55
Land Area (sq. mile)
0.70
0.65
0.74
0.78
0.78
0
0.00
Density (persons per sq. mile)
305.71
341.54
209.46
214.73
161.54
-53.19
-24.77
Housing Units
79
87
66
65
63
-2
-3.08
Households
--
73
59
60
55
-5
-8.33
Persons Per Household
--
3.04
2.63
2.78
2.29
-0.49
-17.63
---
Geography:
Bingham Lake is a city in Cottonwood County. According to the United States Census Bureau, the city has a total area of 0.8 square miles (2.0 km˛), all of it land. Minnesota State Highway 60 serves as a main route in the community. The elevation is 1,421 ft (433 m).
From Wikipedia, the free encyclopedia.
---
Demographics:
As of the census of 2000, there were 167 people, 60 households, and 46 families residing in the city. The population density was 214.7 people per square mile (82.7/km˛). There were 65 housing units at an average density of 83.6/sq mi (32.2/km˛). The racial makeup of the city was 92.81% White, 0.60% African American, 0.60% Asian, 1.80% Pacific Islander, 2.40% from other races, and 1.80% from two or more races. Hispanic or Latino of any race were 3.59% of the population.
There were 60 households out of which 41.7% had children under the age of 18 living with them, 61.7% were married couples living together, 11.7% had a female householder with no husband present, and 23.3% were non-families. 20.0% of all households were made up of individuals and 6.7% had someone living alone who was 65 years of age or older. The average household size was 2.78 and the average family size was 3.24.
In the city the population was spread out with 30.5% under the age of 18, 6.6% from 18 to 24, 27.5% from 25 to 44, 27.5% from 45 to 64, and 7.8% who were 65 years of age or older. The median age was 34 years. For every 100 females there were 138.6 males. For every 100 females age 18 and over, there were 114.8 males.
The median income for a household in the city was $33,750, and the median income for a family was $37,917. Males had a median income of $22,083 versus $17,083 for females. The per capita income for the city was $11,820. About 4.9% of families and 14.5% of the population were below the poverty line, including 23.2% of those under the age of eighteen and none of those sixty five or over.
---
History:
BINGHAM LAKE, a city in Lakeside Township, sections 9 and 16, platted July 28, 1875, incorporated February 26, 1900, and separated from the township, "was named from a nearby lake. The lake was named by the United States surveyor, for Senator K. S. Bingham, of Michigan." Kinsley Scott Bingham was born at Camillus, N.Y., December 16, 1808; removed to Michigan in 1833 and engaged in farming; was a representative in the state legislature, 1836-40; was a member of Congress, 1847-51; governor of Michigan, 1855-59; and a U.S. senator, 1859-61, until his death at Oak Grove, Mich., October 5, 1861. The first permanent settler was Daniel C. Davis, who with Rufus P. Mathews established all the corners of the townsite. Davis opened the general store; the post office began in 1871 with Mathews, first postmaster. The village had a station of the Chicago, St. Paul, Minneapolis and Omaha Railroad.
Courtesy Minnesota Historical Society
---
Government:
Bingham Lake City Hall
1021 2nd Avenue
Bingham Lake, MN 56118
Phone: (507) 831-1844
Mayor

Darren Kalvig

--
Clerk/Treasurer
Denise Nichols
(507) 831-1844
Council Member
Mark Redman
--
Council Member
Donna Dewanz
--
Council Member
Marvin Bretzman
--
Council Member
Carol Goeman
--
---
Post Office:
---
---
Utilities:
| | | |
| --- | --- | --- |
| Utility Type | Utility Name | Utility Phone |
| Electricity | n/a | -- |
| Natural Gas | n/a | -- |
| Wastewater | n/a | -- |
| Water | n/a | -- |
| Telephone | n/a | -- |
| Cable TV | n/a | -- |
---
Major Employers:
Employer
Products/Services
Employees

n/a
---
---
News:
---
Weather:
---
Map: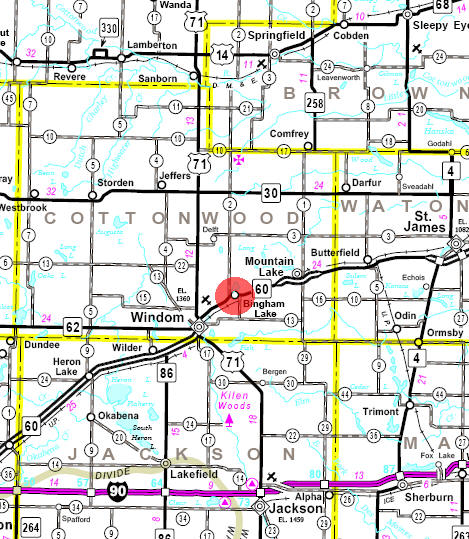 Minnesota State Highway Map of the Bingham Lake Minnesota area
---
Events:
---
---
Attractions:
---
Recreation:
---
Lakes:
Lake Name
Size
(acres)
Lake info
Lake Map
Rec Map
Topo Map
Bingham
---
Health Care:
United Medical Clinic
820 2nd Street
Bingham Lake, MN 56118
Phone: (507) 831-5670
---
Schools:
---
Churches:
First Baptist Church
450 3rd Avenue
Bingham Lake, MN 56118
Phone: (507) 831-3811
---
Media:
---
Motels:
Check for motel rates and availability on:
---
Resorts:
---
Campgrounds:
---
Businesses:
Casey's General Store
612 2nd Avenue
Bingham Lake, MN 56118
Phone: (507) 831-2892
Christensen Family Farms
29529 County Road 2
Bingham Lake, MN 56118
Phone: (507) 678-2032
Country Cuts Beauty Salon
1120 2nd Street
Bingham Lake, MN 56118
Phone: (507) 831-2838
Country Pride True Value
144 9th Street
Bingham Lake, MN 56118
Phone: (507) 427-2333
Ethanol Products
496 2nd Avenue
Bingham Lake, MN 56118
Phone: (507) 831-1035
First Baptist Church of Windom
450 3rd Avenue
Bingham Lake, MN 56118
Phone: (507) 831-3811
Fulda Area Credit Union
866 1st Avenue
Bingham Lake, MN 56118
Phone: (507) 831-3700
M & M Music
Bingham Lake, MN 56118
Phone: (507) 822-4468
Miller Sellner Equipment Inc
495 2nd Avenue
Bingham Lake, MN 56118
Phone: (507) 831-1106
Web: www.millersellner.com

Our dealership has a rock solid reputation of providing excellent service, support, and satisfaction. We pride ourselves on giving our customers the best service available, the best parts and accessories, and a staff that understands all aspects of our business. Stop in today at our Sleepy Eye location or our Bingham Lake location and check out what we have in stock for you. With over $3 million dollars in parts inventory, we are sure to have what you need. With 14 parts personnel, you will be assured to receive friendly and courteous service in a timely manner. If the part isn't available from our inventory, we will get the part for you. We have access to check and see if another Case IH dealer or one of Case IH's parts depots would have the part within seconds.

Minion Excavating
1250 Highway 60
Bingham Lake, MN 56118
Phone: (507) 831-5120
New Vision Co-Op
867 1st Avenue
Bingham Lake, MN 56118
Phone: (507) 831-0015
P J's II Lounge
820 Highway 60
Bingham Lake, MN 56118
Phone: (507) 831-9941
Paden Foundry Ltd
1120 2nd Street
Bingham Lake, MN 56118
Phone: (507) 831-2838
POET Biorefining
40212 510th Avenue
Bingham Lake, MN 56118
Phone: (507) 831-0067
Web: www.poet.com

POET Biorefining - Bingham Lake, MN, produces 35 million gallons of ethanol annually. It was originally designed and built by POET in 1997 as an 11 million gallon facility but expanded in 2001 to its current capacity.

United Medical Clinic
820 2nd Street
Bingham Lake, MN 56118
Phone: (507) 831-5670
---
Aerial Photo:
---
Topographic Map: [click map to enlarge, zoom in or zoom out]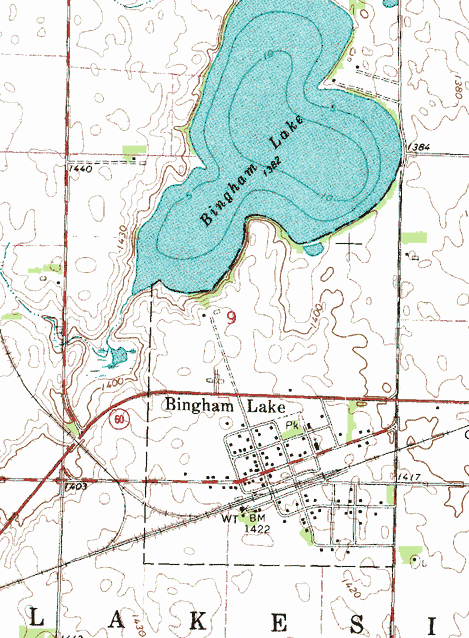 Topographic map is courtesy of the Minnesota DNR - click map to zoom or enlarge