Navigation
LakesnWoods.com
Home Page
Shopping
Coupons
Contact Us
Privacy
Minnesota Gift Guide

Brooks Guide:
Photo Gallery
Location
Geography
Demographics
History
Government
Post Office
News
Weather
Street Map
Events
Attractions
Recreation
Lakes
Health Care
Schools
Churches
Media
Motels
Resorts
Campgrounds
Businesses
Aerial Photo
Topographic Map
© 2004-2019
Lakeweb1 Internet Services
All Rights Reserved
Defamation, Copyright and Trademark Infingement Policy
WANTED!
Do you have photos, historical accounts or other items pertaining to the Brooks area? Would you like to share this historical information with the world? LakesnWoods.com would like to publish your Brooks photos (current or historical) or historical accounts on this website. Original materials can be returned and your privacy will be respected.

Brooks Minnesota Community Guide
---
Location:
---
Population:
Brooks (city)
1970
1980
1990
2000
2010
2000-2010 Change
Actual
Percent
Population
163
173
158
141
141
0
0.00
Land Area (sq. mile)
1.10
1.26
1.16
1.16
1.16
0
0.00
Density (persons per sq. mile)
148.18
137.30
136.21
121.26
121.26
0
0.00
Housing Units
57
72
67
64
66
+2
+3.13
Households
--
60
64
61
60
-1
-1.64
Persons Per Household
--
2.88
2.47
2.31
2.35
+0.04
+1.73
---
Geography:
Brooks is a city in Red Lake County, Minnesota. U.S. Highway 59 and Minnesota Highway 92 are two of the main routes in the community. According to the United States Census Bureau, the city has a total area of 1.2 square miles (3.0 km˛), all of it land. The elevation is 1,129 ft (344 m) above sea level.
From Wikipedia, the free encyclopedia.
---
Demographics:
As of the census of 2000, there were 141 people, 61 households, and 37 families residing in the city. The population density was 46.9/km˛ (121.3/mi˛). There were 64 housing units at an average density of 21.3/km˛ (55.0/mi˛). The racial makeup of the city was 100.00% White.
There were 61 households out of which 29.5% had children under the age of 18 living with them, 50.8% were married couples living together, 4.9% had a female householder with no husband present, and 39.3% were non-families. 34.4% of all households were made up of individuals and 23.0% had someone living alone who was 65 years of age or older. The average household size was 2.31 and the average family size was 3.00.
In the city the population was spread out with 24.8% under the age of 18, 11.3% from 18 to 24, 19.1% from 25 to 44, 23.4% from 45 to 64, and 21.3% who were 65 years of age or older. The median age was 42 years. For every 100 females there were 110.4 males. For every 100 females age 18 and over, there were 96.3 males.
The median income for a household in the city was $25,417, and the median income for a family was $33,750. Males had a median income of $22,500 versus $16,250 for females. The per capita income for the city was $13,947. There were none of the families and 2.8% of the population living below the poverty line, including no under eighteens and 11.8% of those over 64.
---
History:
Brooks was established in 1904 as a station on the Soo Line Railroad. By 1926, Brooks had two general stores, a grocery store, a bank, hardware store, butcher shop, blacksmith shop, a livery barn, two saloons, a community hall and a hotel to accommodate travelers. Brooks was primarily a service town for the surrounding agricultural townships, and a creamery was established as the local dairying business developed on neighboring farms. After the invention of the cream separator, family farms in adjoining townships of Red Lake County and Polk County switched from subsistence to a market economy and became a part of the dairy industry.
In 1926, the Brooks creamery was purchased by the owners of the cheese factory in nearby Terrebonne who moved their operation to Brooks. The business widely known as the Brooks Cheese Company, a cheese factory owned by the Parenteau family, which sold its product to Kraft Food Company, and marketed its products throughout the Midwest. Local farmers would process the milk from their own cows by removing the butterfat or cream, which was hauled in cream cans to the cheese factory, while the skim milk or whey was fed to hogs or pigs raised on the same farm. The Brooks Cheese Company continued in business until the late 1970s, at which point the decline of the family farm and the predominance of large grain farms and other monocultural farms eliminated the mixed agriculture that formerly had predominated in the area of Brooks.
Although the local history of Red Lake County blames the National Farm Organization or NFO for organizing farmers to cooperative actions in withholding milk shipments, the reality is that Brooks Cheese Company could not compete with the major industrial cheese manufacturers and the development of agribusiness which portended the demise of the family farm. By the beginning of the 21st century, no dairy cows could be found anywhere within thirty miles of Brooks, whereas at one time virtually every quarter section could be counted on for the cream produced by 10 or 15 cows. Nonetheless, Brooks continues to be the site of an agricultural supply business, a gas station, and several other local businesses, as well as one church.
From Wikipedia, the free encyclopedia.
BROOKS, a city in section 14 in Poplar River Township, was incorporated as a village on April 7, 1955. The post office was established in 1883, with Daniel Little, postmaster. The city was platted in 1904 as a farm community with a number of small stores and a station of the Minneapolis, St. Paul and Sault Ste. Marie Railroad (Soo Line) in section 15.
Courtesy Minnesota Historical Society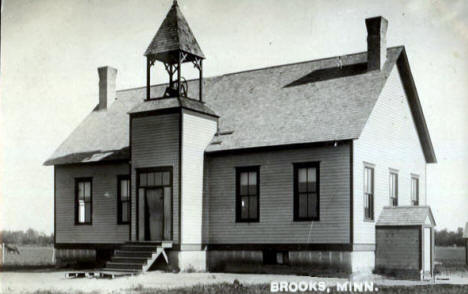 School, Brooks Minnesota,1914
LakesnWoods.com Postcard and Postcard Image Collection - click to enlarge
---
Government:
Brooks City Hall
Brooks, MN 56715
Web: www.brooksmn.com
Mayor
Ernest Kolling
--
Clerk/Treasurer
Joyce Morinville
--
Council Member
Jess Determan
--
Council Member
John Larson
--
Council Member
Jay Mercil
--
Council Member
Perry Morinville
--
---
Post Office:
US Post Office
302 Main Street
Brooks, MN 56715-9998
Phone: (218) 698-4287
Toll Free: (800) ASK-USPS
Web: www.usps.com

Regular Business Hours:
Week Days 8:30 am - 12:30 pm
1:30 pm - 4:15 pm
Saturday 9:45 am - 10:30 am
Latest Collection at Post Office:
Week Days 4:15 pm
Saturday 10:30 am
---
---
Utilities:
| | | |
| --- | --- | --- |
| Utility Type | Utility Name | Utility Phone |
| Electricity | n/a | n/a |
| Natural Gas | n/a | n/a |
| Wastewater | n/a | n/a |
| Water | n/a | n/a |
| Telephone | n/a | n/a |
| Cable TV | n/a | n/a |
---
Major Employers:
Employer
Products/Services
Employees
n/a
---
---
News:
---
Weather:
---
Map: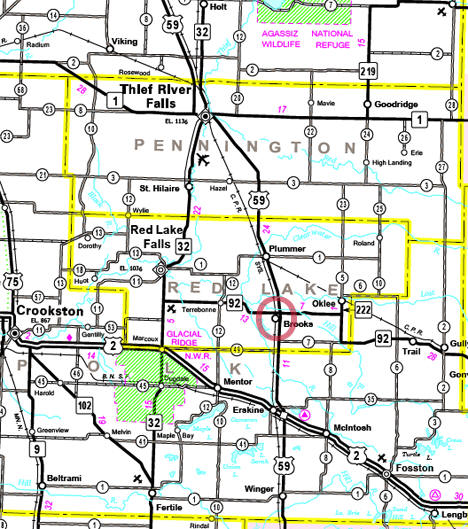 Minnesota State Highway Map of the Brooks Minnesota area
---
Events:
---
---
Attractions:
---
Recreation:
---
Lakes:
---
Health Care:
---
Schools:
---
Churches:
---
Media:
---
Motels:
Check for motel rates and availability on:
---
Resorts:
---
Campgrounds:
---
Businesses:
Brooks Auto Sales
312 Highway 92 W
Brooks, MN 56715
Phone: (218) 698-4439
Brooks Community Federal Credit Union
200 Main Avenue
Brooks, MN 56715
Phone: (218) 698-4220

Brooks Community Credit Union opened in 1947. The credit union provides services to members in Brooks, Minnesota.

Brooks Farm Supply
Brooks, MN 56715
Phone: n/a
Brooks International Raceway
Highway 59
Brooks, MN 56715
Phone: (218) 528-4399
Cenex Red Lake County Co-op
106 Highway 59 S
Brooks, MN 56715
Phone: (218) 698-4271
Classic Cuts
809 Highway 59 N
Brooks, MN 56715
Phone: (218) 698-4303
Cozy Bar and Grill
318 Main Street
Brooks, MN 56715
Phone: (218) 698-4608
Dick's Backhoe
102 1st Street
Brooks, MN 56715
Phone: (218) 698-4478
Field Drainage Inc
816 Highway 92 W
Brooks, MN 56715
Phone: (218) 698-4444
Hamrum Custom Saddle Shop
22142 225th St SE
Brooks, MN 56715
Phone: (218) 698-4449
Judy's Beauty Salon
702 Curd Blvd
Brooks, MN 56715
Phone: (218) 698-4493
Marflex Manufacturing
413 Main Street
Brooks, MN 56715
Phone: (218) 698-4630
Nellie Photography
414 Minnesota Avenue
Brooks, MN 56715
Phone: (218) 698-4203
Web: www.nellie-photo.com
Northland Vault
24867 Curd Blvd.
Brooks, MN 56715
Phone: (218) 698-4656
Oklee Farmers Elevator-Brooks
Highway 59
Brooks, MN 56715
Phone: (218) 698-4275
Paradis Antique & Gift Books
102 Highway 92 E
Brooks, MN 56715
Phone: (218) 698-4452
Paradis Mail Service
812 State Highway 92 W
Brooks, MN 56715
Phone: (218) 698-4613
Web: www.paradisinc.com

Paradis Inc. was formed in 1977 and have expanded our fleet to service a variety of specialized freight markets such as refrigerated vans with deep forzen capabilities and extendable flat trailers to haul oversized loads. We have terminals in several cities that offer warehousing for storage of dry and refrigerated products. The secret to our success is our reputation of providing professional transportation solutions and reliable service to our customers. The backbone of our stability has been created by our team of experienced long term drivers and continuing capital reinvestment to provide late model equipment to get the job done efficiently and on time.

Pat's Heating
25542 285th Ave SE
Brooks, MN 56715
Phone: (218) 796-5189
Poplar River Town Hall
23864 230th Ave SE
Brooks, MN 56715
Phone: (218) 698-4648
St. Joseph Catholic Church
305 Minnesota Avenue
Brooks, MN 56715
Phone: (218) 698-4477
Web: www.rlccatholic.org

Pastor: Father Chuck Huck
Saturday Mass: 7:00 pm
Sunday Mass: none

Swenson Seed Farm
29667 State Highway 92 SE
Brooks, MN 56715
Phone: (218) 796-5285
Third Base Liquor Lounge
701 US Highway 59 S
Brooks, MN 56715
Phone: (218) 698-4221
US Post Office
302 Main Street
Brooks, MN 56715-9998
Phone: (218) 698-4287
Toll Free: (800) ASK-USPS
Web: www.usps.com
---
Aerial Photo: [click photo to enlarge, zoom in or zoom out]
---
Topographic Map: [click map to enlarge, zoom in or zoom out]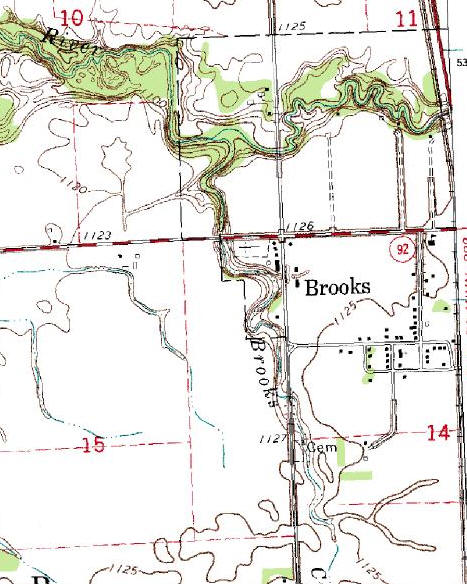 Topographic map is courtesy of the Minnesota DNR - click map to zoom or enlarge