Navigation
LakesnWoods.com
Home Page
Shopping
Coupons
Contact Us
Privacy
Minnesota Gift Guide

Buffalo Lake Guide:
Photo Gallery
Location
Geography
Demographics
History
Government
Post Office
News
Weather
Street Map
Events
Attractions
Recreation
Lakes
Health Care
Schools
Churches
Media
Motels
Resorts
Campgrounds
Businesses
Aerial Photo
Topographic Map
© 2004-2018 Lakeweb1 Internet Services
All Rights Reserved
Defamation, Copyright and Trademark Infingement Policy
WANTED!
Do you have photos, historical accounts or other items pertaining to the Buffalo Lake area? Would you like to share this historical information with the world? LakesnWoods.com would like to publish your Buffalo Lake photos (current or historical) or historical accounts on this website. Original materials can be returned and your privacy will be respected.

Buffalo Lake Minnesota Community Guide
---
Location:
From the richness of the Minnesota prairie, Buffalo Lake has developed over the years into a vibrant community. Buffalo Lake residents now enjoy an enviable quality of life with great public schools, activities, clubs, lakes, parks and churches. A strong agricultural and business presence exists presenting an economically stable future.

Courtesy City of Buffalo Lake
---
Population:
Buffalo Lake (city)
1970
1980
1990
2000
2010
2000-2010 Change
Actual
Percent
Population
758
782
734
768
733
-35
-4.56
Land Area (sq. mile)
0.60
0.58
0.59
0.62
0.62
0
0.00
Density (persons per sq. mile)
1,263.33
1,348.28
1,244.07
1,234.98
1182.26
-52.72
-4.27
Housing Units
274
304
310
313
327
+14
+4.47
Households
--
290
287
294
288
-6
-2.04
Persons Per Household
--
2.50
2.33
2.43
2.55
+0.12
+4.93
---
Geography:
Buffalo Lake is a city in Renville County, Minnesota. U.S. Route 212 serves as a main route in the city. According to the United States Census Bureau, the city has a total area of 0.6 square miles (1.6 km˛), all of it land. The elevation is 1,070 ft (326 m) above sea level.
From Wikipedia, the free encyclopedia.
---
Demographics:
As of the census of 2000, there were 768 people, 294 households, and 197 families residing in the city. The population density was 1,235.0 people per square mile (478.3/km˛). There were 313 housing units at an average density of 503.3/sq mi (194.9/km˛). The racial makeup of the city was 92.45% White, 0.52% Native American, 0.26% Asian, 6.64% from other races, and 0.13% from two or more races. Hispanic or Latino of any race were 9.64% of the population.
There were 294 households out of which 32.7% had children under the age of 18 living with them, 54.8% were married couples living together, 8.2% had a female householder with no husband present, and 32.7% were non-families. 29.6% of all households were made up of individuals and 18.4% had someone living alone who was 65 years of age or older. The average household size was 2.43 and the average family size was 2.96.
In the city the population was spread out with 24.7% under the age of 18, 6.8% from 18 to 24, 25.4% from 25 to 44, 17.1% from 45 to 64, and 26.0% who were 65 years of age or older. The median age was 40 years. For every 100 females there were 87.3 males. For every 100 females age 18 and over, there were 84.7 males.
The median income for a household in the city was $40,000, and the median income for a family was $43,958. Males had a median income of $31,250 versus $25,000 for females. The per capita income for the city was $17,669. About 5.6% of families and 10.8% of the population were below the poverty line, including 17.6% of those under age 18 and 6.2% of those age 65 or over.
---
History:
BUFFALO LAKE, a city in section 30 of Preston Lake Township, platted in 1881 and incorporated as a village on November 6, 1891, was a half mile south of a picturesque little lake whence it received this name. John C. Riebe came in 1880 and purchased land that was a former fort site; he had the village platted on his land and became the first postmaster when the post office opened in 1882; he was also first village council president and was instrumental in establishing Olivia rather than Beaver Falls as the county seat. The townsite developed with the Hastings and Dakota Railway's arrival, although passengers departed at Monson's Crossing a half mile west until the depot was built in 1882.
Courtesy Minnesota Historical Society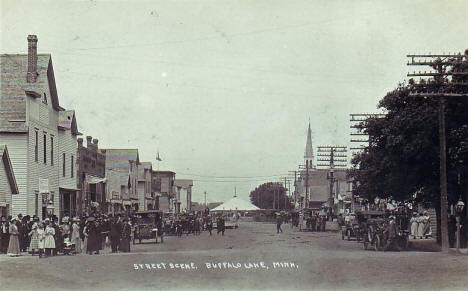 Street scene, Buffalo Lake Minnesota, 1910's?
LakesnWoods.com Postcard and Postcard Image Collection- click image to enlarge
---
Government:
Buffalo Lake City Hall
203 Main Street N
PO Box 396
Buffalo Lake, MN 55314
Phone: (320) 833-2272
Fax: (320) 833-2094
Web: www.buffalolake.org
Title
Term Ends
Name and Address
Phone
Mayor
12/31/2012
Joyce Nyhus
PO Box 396
Buffalo Lake, MN 55314
(320) 833-2235
Clerk
appointed
Jean Thielke
203 Main Street N
Buffalo Lake, MN 55314
(320) 833-2272
Council Member
12/31/2014
Brad Krumrey
PO Box 134
Buffalo Lake, MN 55314
(320) 833-2250
Council Member
12/31/2012
Sandy Housman
523 4th Street NW
Buffalo Lake, MN 55314
(320) 833-5918
Council Member
12/31/2012
Lloyd Kadelbach
416 7th Street NW
Buffalo Lake, MN 55314
(320) 583-9939
Council Member
12/31/2014
Nathan Scharmer
PO Box 295
Buffalo Lake, MN 55314
(320) 583-7768
---
Post Office:
US Post Office
146 N Main Street
Buffalo Lake, MN 55314-1090
Phone: (320) 833-5514
Toll Free: (800) ASK-USPS
Web: www.usps.com

Regular Business Hours:
Week Days 8:30 am - 11:30 am
1:00 pm - 4:30 pm
Saturday 8:30 am - 9:30 am
Latest Collection at Post Office:
Week Days 4:30 pm
Saturday 10:15 am
---
---
Utilities:
---
Major Employers:
---
---
News:
---
Weather:
---
Map: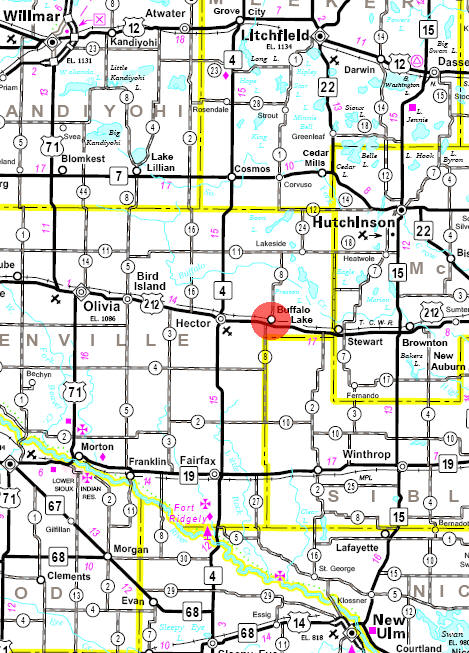 Minnesota State Highway Map of the Buffalo Lake Minnesota area
---
Events:
Buffalo Lake Days

Held the 3rd weekend of July and features plenty of fun for the entire family. A highlight of Buffalo Lake Days is the "Moveable Feast." Fest-goers travel from place to place, partaking of different food-stuffs at every start.
---
---
Attractions:
---
Recreation:
Oakdale Golf Course
55106 County Road 38
Buffalo Lake, MN 55314
Phone: (320) 587-0525
Web: www.oakdalegolfclub.com

Rolling hills, mature trees, and expertly maintained greens are only part of the golfing experience offered at the Oakdale Golf Club, an 18 hole golf course located on beautiful Lake Allie in south central Minnesota. Oakdale Golf Club is less than an hour west of the Twin Cities and only 12 miles South West of Hutchinson. Oakdale Golf Club is open to the public 7 days per week and is well known as one of the friendliest courses around! Enjoy golfing, shopping in our pro shop, and eating in the Oakdale Golf Club Bar & Grill. Take some time to work on your game by using the practice green and driving range. Oakdale Golf Course was established in 1965 and is sure to challenge your skills.
---
Lakes:
---
Health Care:
---
Schools:
---
Churches:
---
Media:
---
Motels:
Check for motel rates and availability on:
---
Resorts:
---
Campgrounds:
---
Businesses:
Ameriprise Financial
105 N Main Street
PO Box 7
Buffalo Lake, MN 55314
Phone: (320) 833-0000
Web: www.ameripriseadvisors.com

As an Ameriprise financial advisor, I believe success should be measured not just by your financial well-being, but by how confident you feel about your future. My mission is to help you reach your financial goals through a personal relationship based on personalized, knowledgeable advice. This focus is designed to help you reach your goals, giving you greater confidence.

Bruce Baumgardt Construction
540 Carrigan Lane
Buffalo Lake, MN 55314
Phone: (320) 833-2386

Building, remodeling, metal buildings, windows, siding, shingles.

Buffalo Lake Ambulance
323 N Main Street
Buffalo Lake, MN 55314
Phone: (320) 833-5918
Buffalo Lake City Clerk
203 Main Street N
Buffalo Lake, MN 55314
Phone: (320) 833-2272
Buffalo Lake Fire Department
Buffalo Lake, MN 55314
Phone: (320) 833-2344
Buffalo Lake Healthcare Center
703 W Yellowstone Trail
Buffalo Lake, MN 55314
Phone: (320) 833-5364
Web: www.blhcc.org

Skilled Nursing Facility - 49 beds - Medicare approved. Our facility provides quality skilled nursing care for residents including both short term rehab and long term skilled nursing care accompanied by physical, occupational and speech therapy. We provide for residents complete needs through our Nursing Dept, Dietary Dept, Activity Dept, On-site Beauty Shop, Therapy Dept, Housekeeping & Laundry Services. We also offer to the community Out-Patient Therapy services. We are providers for Medicare, Medical Assistance, PrimeWest, Medica and BCBS.

Buffalo Lake Insurance
105 N Main Street
PO Box 68
Buffalo Lake, MN 55314
Phone: (320) 833-5371
Buffalo Lake Municipal Liquors
132 N Main Street
Buffalo Lake, MN 55314
Phone: (320) 833-2321
Buffalo Lake Police Department
301 N Main Street
Buffalo Lake, MN 55314
Phone: (320) 833-2101
Buffalo Lake Rod & Gun Club
PO Box 35
Buffalo Lake, MN 55314
Phone: (320) 510-2861

Fire Arm Safety Training, Wildlife Conservation, Clean Water, Lake Allie & Lake Preston improvements, Wildlife Food Plots. The BL Rod & Gun Club is the last active Rod & Gun Club in Renville County. Seeking new members!!

Cen Bank
109 Yellowstone Trail
Buffalo Lake, MN 55314
Phone: (320) 833-5325
Web: www.cenbank.com

The Bank of Buffalo Lake opened for business in 1893 at the corner of Main & Yellowstone Trail in Buffalo Lake. On January 16, 1901 the Bank of Buffalo Lake was incorporated to become the State Bank of Buffalo Lake . A new brick building was constructed just to the west of the existing building in 1955 with a grand opening occurring on July 23, 1955. This portion of the bank still remains as the west half of the bank where the Safe Deposit Boxes and The teller line at the State Bank of Buffalo Lake in 1908 teller line are located. 1981 brought with it the addition of the east half of the building and a new drive up window. The grand opening for the remodeling occurred on October 17, 1981. The latest unplanned remodeling was due to a tornado which hit the community at 7:42 pm on June 24, 2003 when a tornado caused extensive damage to the building. As we are dedicated to our community and customers we were open for business immediately following the devastation.

City of Buffalo Lake
203 Main Street N
PO Box 396
Buffalo Lake, MN 55314
Phone: (320) 833-2272
Fax: (320) 833-2094
Web: www.buffalolake.org
Country Home Interior
226 E Borden Avenue
Buffalo Lake, MN 55314
Phone: (320) 833-2300
Country Rider Auto Body
52174 850th Avenue
Buffalo Lake, MN 55314
Phone: (320) 833-2373
Dascher Trucking LLC
197 E Park Avenue
Buffalo Lake, MN 55314
Phone: (320) 833-2220
Dave Skoog Custom Home Improvements
55518 County Road 38
Buffalo Lake, MN 55314
Phone: (320) 587-3345
Deal Brothers
54664 845th Avenue
Buffalo Lake, MN 55314
Phone: (320) 833-5938
Down Home Bakery
135 N Main Street
Buffalo Lake, MN 55314
Phone: (320) 833-1000
Family Hair Care Center
18887 651st Avenue
Buffalo Lake, MN 55314
Phone: (320) 833-2088
Farmers Co-Op Elevator Company
Buffalo Lake, MN 55314
Phone: (320) 833-5981
Fosland Electric
85939 County Road 24
Buffalo Lake, MN 55314
Phone: (320) 833-5585
Gary's Garage
302 SW 3rd Street
Buffalo Lake, MN 55314
Phone: (320) 833-0121
Hillside Chemicals Inc
85445 County Road 24
Buffalo Lake, MN 55314
Phone: (320) 587-4859
Hometown Hardware
116 N Main Street
Buffalo Lake, MN 55314
Phone: (320) 833-5513
J & L Repair LLC
466 Borden Avenue
Buffalo Lake, MN 55314
Phone: (320) 583-1509

Tire Sales & Repair. Large Truck & Trailer Repairs & Services, DOT Inspections. Auto & Light Truck Repairs & Services

Julie's Helping Hands Inc
114 W Church Avenue
Buffalo Lake, MN 55314
Phone: (320) 833-2253
K & S Millwrights Inc
217 E Hall Avenue
Buffalo Lake, MN 55314
Phone: (320) 833-2228
Web: www.ksmillwrights.com

K&S Millwrights, Inc. has been providing grain storage and material handling services and equipment in the "Five State" Midwest area of: Minnesota, Wisconsin, South Dakota, North Dakota, and Iowa since 1994. K&S Millwrights specializes in custom millwrights, Installation and Repair of Grain Handling and Material Handling Equipment, custom conveyor equipment, grain dryer operations, grain storage, and moving and setting of equipment. Let K&S Millwrights field experience in effective grain handling improve your grain handling and storage operations. Improve your grain flow efficiency and volume, and improve your bottom line profit. K&S Millwrights, Inc. is an authorized dealer for Sioux Steel, Conrad American, GSI Grain Systems, , Hutchinson, Sudenga, DMC Air Systems, Springland u-trough power sweeps , Lambton Conveyor, Dodge Drives

KJW Electric Inc
Buffalo Lake, MN 55314
Phone: (320) 833-2044

Specializing in commercial, farm & residential electrical wiring

Kottke Trucking
211 Highway 212 E
Buffalo Lake, MN 55314
Phone: (320) 833-5385
Web: www.kottke-trucking.com

Kottke Trucking is a company of 65 trucks and 95 reefers and dry vans operating in the Midwest, South and Southeastern part of the United States. We are located in Buffalo Lake, Minnesota. Our History dates back to 1938 and we continue with the newest of technologies and the oldest of traditions

Main Street Market
123 N Main Street
Buffalo Lake, MN 55314
Phone: (320) 833-0163

Full service grocery store. Deli Sandwiches, Rotisserie Chicken/Ribs, USDA Choice Meats, Fresh Produce, DNR Licenses, Live Bait. Video Rental, ATM.

Mark O'Fallon Construction
81009 550th Street
Buffalo Lake, MN 55314
Phone: (320) 583-2320
McLeod Cooperative Power
1231 Ford Avenue N
PO Box 70
Glencoe, MN 55336
Phone: (320) 864-3148
Toll Free: (800) 494-6272
Web: www.mcleodcoop.com

McLeod Cooperative Power is a rural electric cooperative. We provide electricity and other services to the Buffalo Lake area. We have been instrumental in securing USDA and economic development funding for a variety of business and industrial projects in Buffalo Lake.

Minnesota Energy
514 W Yellowstone Trail
Buffalo Lake, MN 55314
Phone: (320) 833-5321
Web: www.fromfieldtofuel.com

Minnesota Energy is a farmer owned cooperative located in a small community of Buffalo Lake in west central Minnesota. We have been producing fuel grade ethanol since 1997. In 2006, we expanded our operations to include grain handling and merchandising, agronomy sales and application, and home heat delivery in the towns of Buffalo Lake, Stewart, Cosmos, Lake Lillian, Eden Valley, and Darwin. We have approximately 300 shareholders who provide a majority of the corn required to operate the ethanol plant. Minnesota Energy employs approximately 60 full time employees and up to another 30 part time or seasonal employees.

Mueller Livestock & Trucking
53053 US Highway 212
Buffalo Lake, MN 55314
Phone: (320) 833-2121
Names By Karen
65597 180th Street
Buffalo Lake, MN 55314
Phone: (320) 833-2372

Quality embroidery with quick turnaround at fair prices. Screen printing services also available. Since 1999

Oakdale Golf Course
55106 County Road 38
Buffalo Lake, MN 55314
Phone: (320) 587-0525
Web: www.oakdalegolfclub.com

Rolling hills, mature trees, and expertly maintained greens are only part of the golfing experience offered at the Oakdale Golf Club, an 18 hole golf course located on beautiful Lake Allie in south central Minnesota. Oakdale Golf Club is less than an hour west of the Twin Cities and only 12 miles South West of Hutchinson. Oakdale Golf Club is open to the public 7 days per week and is well known as one of the friendliest courses around! Enjoy golfing, shopping in our pro shop, and eating in the Oakdale Golf Club Bar & Grill. Take some time to work on your game by using the practice green and driving range. Oakdale Golf Course was established in 1965 and is sure to challenge your skills.

Rath Farm Meats
52646 840th Avenue
Buffalo Lake, MN 55314
Phone: (320) 833-2106
Schafer Herefords
64664 170th Street
Buffalo Lake, MN 55314
Phone: (320) 833-2050
Schultz & Farenbaugh Farm Drainage
78503 County Road 26
Buffalo Lake, MN 55314
Phone: (320) 833-5825

Specializing in drainage tile and septic system installation and repair

Sean R Lindahl Construction
17608 667th Avenue
Buffalo Lake, MN 55314
Phone: (320) 894-8736
South Central Grain & Energy
514 W Yellowstone Trail
PO Box 99
Buffalo Lake, MN 55314
Phone: (320) 833-5321
Web: www.scgemn.com/Location-Buffalo-Lake
Straw Hat Grill
104 N Main Street
Buffalo Lake, MN 55314
Phone: (320) 833-2265

Hospitality house & home cookin'. Family style restaurant for all ages. Homemade foods, affordable prices, carry out, catering in the Lion's Den. Open Monday - Saturday, 5:30am to 8:00pm

Swenson & Moore Construction
84126 County Road 8
Buffalo Lake, MN 55314
Phone: (320) 359-0012
Web: www.swensonmooreconstruction.com

Roofing, remodeling and exteriors.

Twin Pine Farms
66862 239th Street
Buffalo Lake, MN 55314
Phone: (507) 834-6894
US Post Office
146 N Main Street
Buffalo Lake, MN 55314-1090
Phone: (320) 833-5514
Toll Free: (800) ASK-USPS
Web: www.usps.com
Wakefield Pork Inc
Buffalo Lake, MN 55314
Phone: (320) 833-2099
Westview Estates Assisted Living
734 W Church Avenue
Buffalo Lake, MN 55314
Phone: (320) 833-5364
Website: www.blhcc.org

Westview Estates provides quality Senior Living at it's finest, with the comfort of having 24 hour emergency nurse call service. We offer beautiful studio or 1 bedroom apartments. Nutritional, Housekeeping and Laundry Services provided. Nursing Services available. Access to on-site activities, beautyshop & therapy. Financial Assistance available.

Winter Agency
135 Yellowstone Trail
Buffalo Lake, MN 55314
Phone: (320) 833-5300
Zion Evangelical Lutheran Church
228 NE 5th Street
Buffalo Lake, MN 55314
Phone: (320) 833-2024
Zion United Methodist Church
306 NW 2nd Street
Buffalo Lake, MN 55314
Phone: (320) 833-5356
---
Aerial Photo:
---
Topographic Map: [click map to enlarge, zoom in or zoom out]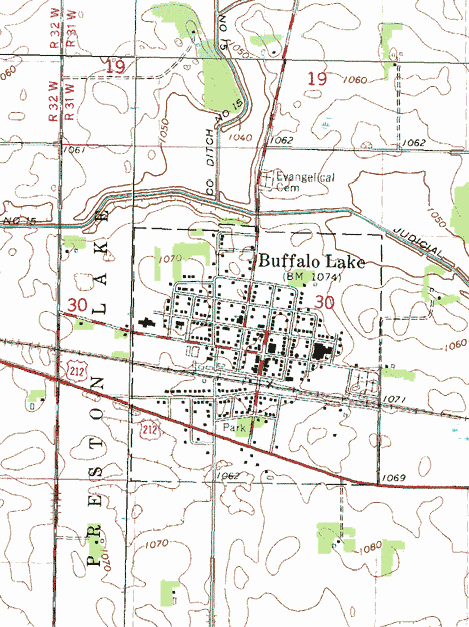 Topographic map is courtesy of the Minnesota DNR - click map to zoom or enlarge