Navigation
LakesnWoods.com
Home Page
Shopping
Coupons
Contact Us
Privacy
Minnesota Gift Guide
Chisholm Guide:
Photo Gallery
Location
Geography
Demographics
History
Government
Post Office
News
Weather
Street Map
Events
Attractions
Recreation
Lakes
Health Care
Schools
Churches
Media
Motels
Resorts
Campgrounds
Businesses
Aerial Photo
Topographic Map
© 2004-2019
Lakeweb1 Internet Services
All Rights Reserved
Defamation, Copyright and Trademark Infingement Policy
WANTED!
Do you have photos, historical accounts or other items pertaining to the Chisholm area? Would you like to share this historical information with the world? LakesnWoods.com would like to publish your Chisholm photos (current or historical) or historical accounts on this website. Original materials can be returned and your privacy will be respected.

-Shirt
(design available on over 100 different items!)


(design available on over 100 different items!)


(design available on over 100 different items!)


(design available on over 100 different items!)

Chisholm Minnesota Community Guide
---
Location:
Chisholm is located in the center of the Mesabi Iron Range. It is in the heart of Arrowhead Country, named for Northeastern Minnesota's unusual shape. Chisholm is a gateway to the Boundary Waters Canoe Area, Voyageurs National Park, and other scenic areas in the northern lakes and wilderness region. The population is 5,290.
The abundance of forests first attracted the logging industry, but when iron and gold were discovered at Lake Vermillion in 1865, prospectors poured into the area. At the peak of the mining boom, there were 45 mines operating around Chisholm. Although many of the mines are now depleted, Chisholm still has the largest iron ore reserve in the region, and mining continues to be the principle industry.
---
Population:
Chisholm (city)
1970
1980
1990
2000
2010
2000-2010 Change
Actual
Percent
Population
5,913
5,930
5,290
4,960
4,967
+7
+0.14
Land Area (sq. mile)
4.00
4.67
4.40
4.39
4.74
+0.35
+7.98
Density (persons per sq. mile)
1,478.25
1,269.81
1,202.27
1,128.61
1,110.70
-17.91
-1.59
Housing Units
2,182
2,438
2,405
2,375
2,524
+149
+6.27
Households
--
2,328
2,243
2,178
2,256
+178
+8.17
Persons Per Household
--
2.51
2.28
2.20
2.20
0
0.00
---
Geography:
Chisholm is a city in St. Louis County, Minnesota. U.S. Highway 169 and State Highway 73 are two of the main arterial routes in the city. According to the United States Census Bureau, the city has a total area of 4.74 square miles (12.28 km≤), of which, 4.48 square miles (11.60 km≤) of it is land and 0.26 square miles (0.67 km≤) of it is water. The elevation is 1,535 ft (468 m).
From Wikipedia, the free encyclopedia.
---
Demographics:
As of the census of 2010, there were 4,976 people, 2,257 households, and 1,260 families residing in the city. The population density was 1,110.7 inhabitants per square mile (428.8 /km2). There were 2,524 housing units at an average density of 563.4 per square mile (217.5 /km2). The racial makeup of the city was 95.5% White, 0.8% African American, 1.1% Native American, 0.3% Asian, 0.1% from other races, and 2.2% from two or more races. Hispanic or Latino of any race were 1.4% of the population.
There were 2,256 households of which 27.0% had children under the age of 18 living with them, 38.9% were married couples living together, 11.6% had a female householder with no husband present, 5.4% had a male householder with no wife present, and 44.1% were non-families. 39.0% of all households were made up of individuals and 14.8% had someone living alone who was 65 years of age or older. The average household size was 2.15 and the average family size was 2.81.
The median age in the city was 40.7 years. 22.3% of residents were under the age of 18; 7.4% were between the ages of 18 and 24; 24.7% were from 25 to 44; 27.6% were from 45 to 64; and 18% were 65 years of age or older. The gender makeup of the city was 50.2% male and 49.8% female.
From Wikipedia, the free encyclopedia.
---
History:
Chisholm, a city in Balkan Township (T. 58N, R. 20W), which was incorporated July 23, 1901, was burned September 5, 1908, but was soon rebuilt; the post office was established in 1901. Its great mine, first worked in 1889, and the village are named in honor of Archibald Mark Chisholm, a principal explorer of the Mesabi Range. He was born in Alexandria, Ontario, April 25, 1864; came to Minnesota and in 1888-94 was paymaster of the Chandler and Ely Mines on the Vermilion Range; removed in 1894 to Hibbing, where he was a bank cashier, dealing also in real estate and mining properties; was discover and partner of several very productive Mesabi mines, including this one bearing his name; had large interests of copper mining in Arizona and New Mexico; removed in 1900 to Duluth. A junction of the Duluth, Missabe and Iron Range Railroad was in section 28 of Balkan Township associated with the Chisholm Mine.
Courtesy Minnesota Historical Society


Panoramic Photo of Chisholm After the Fire, 1908
---
---
Government:
Chisholm City Hall
316 W Lake Street
Chisholm, MN 55719
Phone: (218) 254-7900
Web: www.chisholm.govoffice.com

Hours:
City Hours: 8:00 am - 4:30 pm
Closed Legal Holidays

Council Meetings:
2nd & 4th Tuesday at 5:30 pm

Title
Term Ends
Name and Address
Phone
Mayor
12/31/2014
Michael Jugovich
(218) 254-7910
City Administrator
appointed
Mark Casey
(218) 254-7900
Council Member
12/31/2016
Todd Scala
n/a
Council Member
12/31/2014
Mary Benson
n/a
Council Member
12/31/2016
Steve Cook
n/a
Council Member
12/31/2014
Colleen Drow
n/a
Council Member
12/31/2016
Tracy Campbell
n/a
---
Post Office:
US Post Office
14 3rd Avenue NW
Chisholm, MN 55719-9998
Phone: (218) 254-3510
Toll Free: (800) ASK-USPS
Web: www.usps.com

Regular Business Hours:
Week Days 8:30 am - 11:00 am
12:00 pm - 4:15 pm
Saturday 8:30 am - 10:00 am
Latest Collection at Post Office:
Week Days 4:45 pm
Saturday 4:45 pm
---
Utilities:
---
Major Employers:
---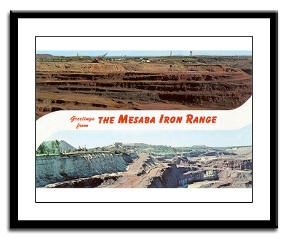 Mesaba Iron Range Framed Panel Print
Great pair of images of the Mesabi Iron Range in Morthern Minnesota from a 1960's chrome postcard. This image also available on t-shirts, mugs, hoodies, magnets, caps and over 100 other different items! Perfect for gifts!
---
News:
---
Weather:
---
Map: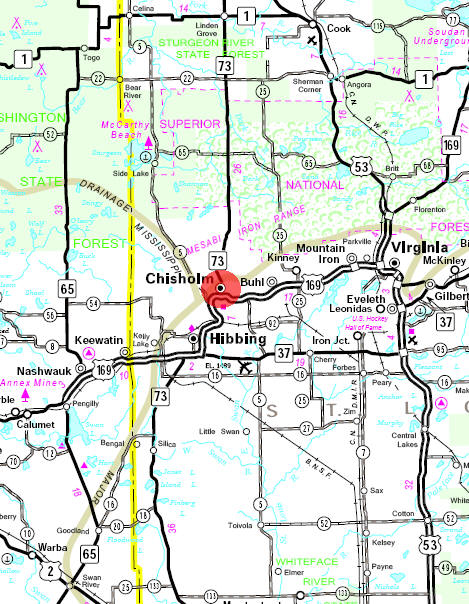 Minnesota State Highway Map of the Chisholm Minnesota area
---
Events:
---
---
Attractions:
Minnesota Discovery Center
1005 Discovery Drive
Chisholm, MN 55719
Phone: (218) 254-7959
Toll Free: (800) 372-6437
Web: www.mndiscoverycenter.com

Minnesota Discovery Center is a nonprofit institution and the state's largest museum complex outside of the Twin Cities metro area. Comprised of a Museum, Research Center, and Park and encompassing 660 acres, Minnesota Discovery Center tells the story of the Iron Range - "The Land, The Mines, The People and The Work" - through exhibits, interpretation, programming and research materials. The Center highlights the story of the predominantly European immigrants who migrated to this region at the turn of the 20th century to find work in the burgeoning iron ore industry.
Minnesota Museum of Mining
900 W Lake Street
Chisholm, MN 55719
Phone: (218) 254-5543
Web: www.mnmuseumofmining.org

The last word for those interested in discovering our state's past in mining is the Minnesota Museum of Mining right here in Chisholm. It's a place where you can discover more about mining and how it helped build our state and our nation. At the Minnesota Museum of Mining you and your family can climb on and feel the impressive scale of traditional mining vehicles and equipment.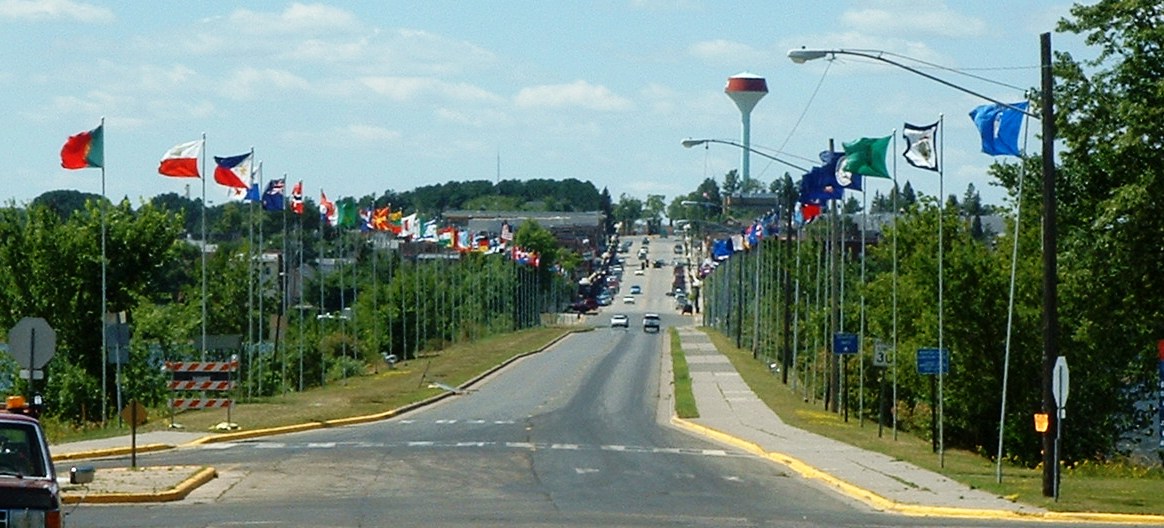 ---
Recreation:
Chisholm Curling Club
Memorial Park
PO Box 62
Chisholm MN 55719
Phone: (218) 254-7923
Web: www.chisholmcurlingclub.com
Mesabi Trail

Located in northern Minnesota between the cities of Ely and Grand Rapids, the Mesabi Trail is a premier Minnesota bike trail winding through some of the state's prettiest regions. When completed, the trail will traverse 132 miles and connect more than 25 communities. A superior paved bike trail that is well-mapped and well-maintained, the Mesabi Trail also makes an interesting walking path. In 2011, approximately 115 miles of trail will be complete and offer convenient accessibility at numerous entry points. The longest paved section connects Grand Rapids to McKinley (approximately 75 miles) through the communities of Grand Rapids, Nashwauk, Keewatin, Hibbing, Chisholm, Mountain Iron and Virginia, to name several. Once completed, the Mesabi Trail will be one of the longest paved trails in the United States.

Partially built on old railroad beds, guests will find a 10 foot wide bituminous surface (asphalt paving). Great for summer activities such as biking, inline skating or walking, the trail also offers access to swimming, canoeing, camping and fishing. Winter activities may include cross-country skiing, snowshoeing and winter hiking
---
Lakes:
Lake Name
Size
(acres)
Lake info
Lake Map
Rec Map
Topo Map
Longyear
158
---
Health Care:
Essentia Health - Chisholm Clinic
400 1st Street NW
Chisholm, MN 55719
Phone: (218) 254-3391
Toll Free: (877) 201-4963
Fax: (218) 254-3035
Web: www.essentiahealth.org

Essentia Health-Chisholm Clinic, Chisholm, MN provides a full spectrum of primary care, including a laboratory and radiology services to the Chisholm community. Your care is backed by the full resources, technologies and expertise of more than 400 specialists and subspecialists at the nationally recognized Essentia Health Duluth Clinic.

Fairview Mesaba Clinic-Chisholm
400 SW First Avenue, Suite 2
Chisholm, MN 55719
Phone: (218) 254-3316
Toll Free: (888) 353-3441
Web: www.range.fairview.org

The Mesaba Clinic-Chisholm is proud to be connected to a multi-specialty clinic care system that offer comprehensive, personal health care for every member of your family.
---
Schools:
Chisholm Independent School District #695
300 SW 3rd Street
Chisholm, MN 55719
Phone: (218) 254-5726
Web: www.chisholm.k12.mn.us

Chisholm High School
300 3rd Avenue SW
Chisholm, MN 55719
Phone: (218) 254-5725

Grades: 7-12
Students: 332

Chisholm Elementary School
300 3rd Avenue SW
Chisholm, MN 55719
Phone: (218) 254-5715

Grades: 4-6
Students: 154

Vaughn Steffensrud Elementary School
1000 1st Avenue NE
Chisholm, MN 55719
Phone: (218) 254-2172

Grades: K-3
Students: 248
---
---
Churches: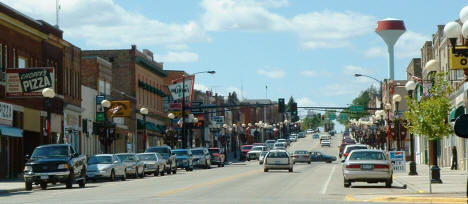 Lake Street in Chisholm
---
Media:
Chisholm Tribune Press
327 W Lake Street
Chisholm, MN 55719
Phone: (218) 254-4432

Weekly newspaper published on Wednesdays with a circulation of 1,580.
---
Motels:
Chisholm Inn & Suites
501 Iron Drive
Chisholm, MN 55719
Phone: (218) 254-2000
Toll Free: (877) 255-3156

The Chisholm Inn & Suites hotel is the newest and most attractively furnished hotel on the Iron Range. We opened this 43 room hotel in June 1999 to meet the demands of both the business and leisure traveler.
---
Resorts:
---
Campgrounds:
Iron Trail RV Park & Campground
115 6th Avenue SW
Chisholm, MN 55719
Phone: (218) 254-7414
Toll Free: (800) 711-7789

Located on Hwy. 73 in Chisholm, below the water tower. 48 shaded grassy sites, 13 full hookups (inc. cable TV), remaining sites w/elec./water. 16 pull-thrus, 20/30/50 amp, picnic tables, firewood, ice & dump station. Super clean restrooms/showers & laundromat. Next to Museum of Mining, 1 mi. to Ironworld, mine tours. Hull Rust Mine View 5 mi. Downtown Chisholm short walk from campground. Close to local restaurants.
---
Business Directory:
Abraham Real Estate
208 W Lake Street
Chisholm, MN 55719
Phone: (218) 254-7101
Web: www.chisholmrealestate.com

Throughout it's 30 year history, the Abraham Agency has provided exceptional real estate services to the Chisholm area. Our emphasis on personal service to our customers, whether they are Buyers or Sellers, has made us the number one selling agency in Chisholm for many years.

Adam's Auto Body
3 E Lake Street
Chisholm, MN 55719
Phone: (218) 254-3813
Web: www.adamsautobodychisholm.com
American Bank of the North
231 Lake Street W
Chisholm, MN 55719
Phone: (218) 254-3341
Fax: (218) 254-5467
Web: www.ambnk.com
Anderson Plumbing & Heating
11474 Latick Road
Chisholm, MN 55719
Phone: (218) 254-5381
Andrej's European Pastry
11691 Latick Road
Chisholm, MN 55719
Phone: (218) 254-2520
Web: www.poticawalnut.com



With ethnic Slovak roots and an original Slovak recipe handed down by my mother, I have been making potica for over 19 years. Potica has been a special recipe baked throughout the year as a gift for family and friends. It is called Potica (pronounced Po-tee-sa).

Aspen Grove Assisted Living
501 Iron Drive
Chisholm MN 55719
Phone: (218) 254-2750
Bark Design
327 W Lake Street
Chisholm, MN 55719
Phone: (218) 254-5536
Toll Free: (800) 343-2275
Web: www.barkdesign.com
Black Bear Bakery
17 West Lake Street
Chisholm, MN 55719
Phone: (218) 254-4772
Web: www.blackbearbakery.com



Black Bear Bakery provides the Chisholm, MN and surrounding areas with fresh bakery items at great prices. We also have a full lunch menu and quiet sitting area for your pleasure. All of our items are baked fresh daily.

Builder's Lumber & Supply
700 West Drive
PO Box 306
Chisholm, MN 55719
Phone: (218) 254-3333
Carousel Thrift Store
12 West Lake Street
Chisholm MN 55719
Phone: (218) 254-4153
Casey Drugs & Do It Best Hardware
121 W Lake Street
Chisholm, MN 55719
Phone: (218) 254-3318
Central Lawn and Sport
10 Central Avenue
Chisholm, MN 55719
Phone: (218) 254-0181
Central Liquor Depot
Highway 73 & 4th Street SW
Chisholm, MN 55719
Phone: (218) 254-4455
Central Video & Tanning
114 W Lake Street
Chisholm, MN 55719
Phone: (218) 254-7266
Cheap Thrills Bar
19 W Lake Street
Chisholm, MN 55719
Phone: (218) 254-4525
Chisholm Area Chamber of Commerce
10 NW 2nd Avenue
Chisholm, MN 55719
Phone: (218) 254-7930
Web: www.chisholmchamber.com



The Chisholm Area Chamber of Commerce is dedicated to the economic empowerment of our community. Our goals are to strengthen and develop business within our community through networking, information and assistance.

Chisholm Community Foundation
4 3rd Avenue SW
Chisholm, MN 55719
Phone: (218) 254-1101
Web: www.chisholmcommunityfoundation.com



The Chisholm Community Foundation, an affiliate of the Minnesota Philanthropy Partners, is a permanent, philanthropic endowment for the enduring benefit of our community. It secures, manages and allocates investorsí gifts for charitable purposes in the Chisholm and Balkan area, working to improve the quality of life for local residents.

Chisholm Curling Club
Memorial Park
PO Box 62
Chisholm MN 55719
Phone: (218) 254-7923
Web: www.chisholmcurlingclub.com
Chisholm Dental Clinic
217 NW 1st Street
Chisholm MN 55719
Phone: (218) 254-3311
Chisholm Inn & Suites
501 Iron Drive
Chisholm, MN 55719
Phone: (218) 254-2000
Toll Free: (877) 255-3156

The Chisholm Inn & Suites hotel is the newest and most attractively furnished hotel on the Iron Range. We opened this 43 room hotel in June 1999 to meet the demands of both the business and leisure traveler.

Chisholm Sportsmenís Club
PO Box 121
Chisholm MN 55719
Phone: (218) 254-7919



The Chisholm Sportsmen's Club is the oldest Sportsmen's club in the State of MN. The club sponsors two anual events; the Spring Banquet (normally around March) and the Fall Crow Feed and Trap Shoot (normally around opening weekend of grouse season).

Chisholm Spur
403 W Lake Street
Chisholm, MN 55719
Phone: (218) 254-7144
Chisholm Tire
102 S Central Avenue
Chisholm, MN 55719
Phone: (218) 254-3164
Web: www.chisholmtire.com



Chisholm Tire offers quality tires to the Chisholm, MN area. We carry prestigious tire brands at reasonable rates. Our knowledgeable staff will gladly attend to your needs. At Chisholm Tire, customer satisfaction is a must!

Chisholm Tribune Press
327 W Lake Street
Chisholm, MN 55719
Phone: (218) 254-4432
Choppy's Pizza
11 W Lake Street
Chisholm, MN 55719
Phone: (218) 254-5777
Cianni Law Offices
101 W Lake Street
Chisholm, MN 55719
Phone: (218) 254-3335
Comfort Heating
401 SW 3rd Street
Chisholm, MN 55719
Phone: (218) 254-5841
Corradi Construction
5592 McNiven Road
Chisholm, MN 55719
Phone: (218) 254-2026
Curves for Women
610 Industrial Drive
Chisholm, MN 55719
Phone: (218) 254-4842
Danich Fabian Law Offices
1st National Bank Bldg.
Chisholm, MN 55719
Phone: (218) 254-3335
Delta Air Lines Reservation Center
601 Iron Drive
Chisholm MN 55719
Phone: (800) 447-3757
Web: www.delta.com
E H Lawrence Company Roofing & Construction
101 E Iron Drive
Chisholm, MN 55719
Phone: (218) 254-5705
Toll Free: (800) 419-5669
Web: www.ehlawrence.com

E.H. LAWRENCE is a leading full-service contractor on the Iron Range. We provide quality services for both residential and commercial areas in flat, shingle, and metal roofing; sheet, vinyl, and wood siding; windows and doors; decks; awnings; concrete; remodeling; landscaping; additions; and more!



Essentia Health - Chisholm Clinic
400 1st Street NW
Chisholm, MN 55719
Phone: (218) 254-3391
Toll Free: (877) 201-4963
Fax: (218) 254-3035
Web: www.essentiahealth.org

Essentia Health-Chisholm Clinic, Chisholm, MN provides a full spectrum of primary care, including a laboratory and radiology services to the Chisholm community. Your care is backed by the full resources, technologies and expertise of more than 400 specialists and subspecialists at the nationally recognized Essentia Health Duluth Clinic.

First National Bank Chisholm
101 Lake Street W
Chisholm, MN 55719
Phone: (218) 254-3371
Web: www.fnbchisholm.com

First National Bank is a full-service independently owned community bank established in 1905 and we enjoy serving the financial needs of the Iron Range Communities and their residents. The communities we serve include - Chisholm, Buhl, Mt. Iron, Virginia, Eveleth, Babbitt, Hibbing, Keewatin, Nashwauk, Side Lake, Cook and Orr, MN.
Fort & Company, PA
5 West Lake Street
Chisholm MN 55719
Phone: (218) 254-5745
Web: www.fortco-cpa.com

The firm is a member of the Minnesota Society of Certified Public Accountants and the American Institute of Certified Public Accountants (AICPA).

Freedom Valu Center
100 W Lake Street
Chisholm, MN 55719
Phone: (218) 254-3100
Web: www.freedomvalu.com



Freedom Valu Center convenience stores are privately held family owned stores located in Minnesota, Wisconsin, South Dakota and Michigan. Our store associates take pride in the quality products and services we offer in our stores.

Hair Worx on Lake Street
219 W Lake Street
Chisholm, MN 55719
Phone: (218) 254-4861
Healthy Vibes
20 W Lake Street
Chisholm, MN 55719
Phone: (218) 254-0111
Heritage Manor
321 NE 6th Street
Chisholm MN 55719
Phone: (218) 254-5765
Web: www.sfhs.org

The Heritage Manor Health Center is a Medicare and Medicaid certified facility providing all levels of care: short term stays for rehabilitative care and long term care. The nursing home also provides services and programs for special needs.

Hillcrest Terrace
624 3rd Street SW
Chisholm, MN 55719
Phone: (218) 254-3393
Web: www.hillcrest-al.com
Independent Electric
108 SW 1st Avenue
Chisholm MN 55719
Phone: (218) 254-4931
Web:

www.independentelectricchisholm.com





Independent Electric proudly serves the Chisholm, MN area Ė providing commercial, residential, and industrial electrical solutions at competitive rates. Our focus on customer service sets us apart from all others. You can depend on us. At Independent Electric, we are licensed, bonded, and insured for your protection.

Iron Kettle Family Restaurant
301 6th Avenue SW
Chisholm, MN 55719
Phone: (218) 254-3339
Iron Country Realty
213 W Lake Street
Chisholm, MN 55719
Phone: (218) 254-7101
Web: www.ironcountryrealty.com



The Iron Range of Minnesota is a special place, and itís also where we call home. For over three decades, we, at Iron Range Realty, have helped homebuyers and sellers throughout Chisholm, Virginia, Hibbing, Side Lake and the surrounding areas.

Iron Trail RV Park & Campground
115 6th Avenue SW
Chisholm, MN 55719
Phone: (218) 254-7414
Toll Free: (800) 711-7789

Located on Hwy. 73 in Chisholm, below the water tower. 48 shaded grassy sites, 13 full hookups (inc. cable TV), remaining sites w/elec./water. 16 pull-thrus, 20/30/50 amp, picnic tables, firewood, ice & dump station. Super clean restrooms/showers & laundromat. Next to Museum of Mining, 1 mi. to Ironworld, mine tours. Hull Rust Mine View 5 mi. Downtown Chisholm short walk from campground. Close to local restaurants.



Iron Range Carpet Cleaning
Chisholm, MN 55719
Phone: (218) 254-3837
Iverson Construction
5857 State Highway 73
Chisholm, MN 55719
Phone: (218) 254-3919
Web: www.toddiversonconstruction.com
J & K Auto Center
10 1st Avenue NW
Chisholm, MN 55719
Phone: (218) 254-2454
Jeff Folscher Construction
511 3rd Street NW
Chisholm, MN 55719
Phone: (218) 254-3383
Jenifer Ivanca Insurance Agency
26 West Lake Street
Chisholm MN 55719
Phone: (218) 254-3422
Web: www.farmersagent.com/jivanca
Jim's Sports Club Bar & Grill
108 W Lake Street
Chisholm, MN 55719
Phone: (218) 254-7320
Web: www.jimssportsclub.com



Jim's Sports Club in Chisholm, MN is a bar and grill that offers catering, dine-in, and take-out services. We provide a live entertainment area, banquet room, karaoke, and indoor bocce ball courts. We also offer an all you can eat fish specials.

Jubilee Foods
130 SW 1st Street
Chisholm, MN 55719
Phone: (218) 254-4961
Web: www.chisholmjubileefoods.com



The grocery business was originally established in 1917 by the Gornick family. The business settled at its current location in 1972. In June of 2004, the Gornick family sold the store to a small group of employees who continue to operate it at this time.

K & S Automotive
12 Central Avenue NE
Chisholm, MN 55719
Phone: (218) 254-0181
Web: www.kandsautomotive.net



K & S Automotive of Chisholm, MN is an auto shop that specializes in used car and auto body frame repair services. Our company is committed to the belief that customer service is of the utmost importance.

Kennel Klub Pet Grooming
218 W Lake Street
Chisholm, MN 55719
Phone: (218) 254-5645
Keyboard Liquor Store
230 W Lake Street
Chisholm, MN 55719
Phone: (218) 254-7271
Web: www.keyboardliquor.com
Kids ABC Learning Center
211 W Lake Street
Chisholm, MN 55719
Phone: (218) 254-5886
Web: www.kidsabclearning.com



Michele Birdsall and Lynda Trenberth, owners of Kids ABC Learning Center Inc are committed to providing each and every child that comes through our door with a safe and fun environment and aim to offer the highest quality child care services throughout the Chisholm MN area.

L P Motorworks
303 Central Avenue S
Chisholm, MN 55719
Phone: (218) 254-7608
Lakeside Manor Apartments
1 2nd Street NW
Chisholm, MN 55719
Phone: (218) 254-3896
Web: www.thiestalle.com

Picturesque Longyear Lake provides the backdrop for this quiet setting enabling you to thoroughly enjoy all four remarkable Minnesota seasons. One-, two- and three-bedroom apartment homes offer many conveniences and provide off-street parking with plug-ins for winter.

Life Security & Control
305 Central Avenue SW
Chisholm, MN 55719
Phone: (218) 254-4064
Web: www.lifesecurityandcontrol.com



Life Security and Control in Chisolm, MN offers around the clock security for your home or office.

Lincoln Center Apartments
100 N Central Avenue
Chisholm, MN 55719
Phone: (218) 254-4590
Web: www.thiestalle.com

Beautifully decorated, five-story highrise on scenic Longyear Lake. Lincoln Center is designed especially for seniors and persons with disabilities and includes controlled access entry, an elevator, emergency pull cords in bedrooms and baths, a cheerful community room with full kitchen, resident activities, and a lovely patio that's perfect for neighborly chats.

Lincoln Square Apartments
310 5th Street NE
Chisholm, MN 55719
Phone: (218) 254-5199
Longyear Ambulance Service
329 1st Steet NW
Chisholm MN 55719
Phone: (218) 254-5510
Lopac Michael Architect
220 NW 5th Avenue
Chisholm, MN 55719
Phone: (218) 254-0147
Lucky Seven General Store
1002 3rd Avenue NW
Chisholm MN 55719
Phone: (218) 254-7168
Web: www.luckysevengeneralstores.com



For all your fishing bait needs, Lucky Seven General Stores is the one you need. We work hard to exceed all customer expectations by providing top-quality products. We guarantee our professionalism. Join the long list of our satisfied customers today!

Mary's Lake Street Floral
204 W Lake Street
Chisholm, MN 55719
Phone: (218) 254-2165
Toll Free: (800) 368-2165
Web: www.maryslakestfloral.com


Masonic Lodge
Masonic Bldg.
Chisholm, MN 55719
Phone: (218) 254-4224
McDonald's
710 Iron Drive
Chisholm, MN 55719
Phone: (218) 254-4227
Web: www.mcdonalds.com
Mediacom
49Ĺ 2nd Street NE
Chisholm, MN 55719
Phone: (218) 254-2097
Web: www.mediacomcc.com
Mike's Tune Ups
5567 Highway 73
Chisholm, MN 55719
Phone: (218) 254-3002
Web: www.mikestuneups.com



Whether your car needs an oil change or you need to bring it in for a tune up, choose only the auto repair expert at Mike's Tune Ups. Mike runs an auto care center serving Chisholm, MN and surrounding areas. He offers a wide range of automotive repairs and services. Mike is an experienced automotive technician, you can rely on him for professional workmanship and speedy service.

Mining Resources LLC
11010 US Highway 169
Chisholm, MN 55719
Phone: (218) 254-0163
Web: www.mesabinuggetmn.com



Mining Resources LLC is a joint venture between Steel Dynamics Inc. (80 percent) and Magnetation Inc. (20 percent). Located near Chisholm, Minnesota, Mining Resources LLC utilizes Magnetation technology to recover iron ore from previous natural ore mining operations and produce high quality iron ore concentrate. The concentrate is shipped to Mesabi Nugget, a Steel Dynamics and Kobe Steel operation located near Hoyt Lakes, where it serves as the main feedstock to make 97% pure iron nuggets. Mining Resources LLC began operations in September of 2012 and has an annual capacity of 1.0 million mt per year.

Minnesota Discovery Center
1005 Discovery Drive
Chisholm, MN 55719
Phone: (218) 254-7959
Toll Free: (800) 372-6437
Web: www.mndiscoverycenter.com
Minnesota Industries
610 Industrial Drive
Chisholm, MN 55719
Phone: (218) 254-3361
MJM Construction
530 4th Street NW
Chisholm MN 55719
Phone: (218) 254-2818
Web: www.mjmconstructionhibbingmn.com



MJM Construction, LLC offers home improvement and remodeling services to all of Chisholm, MN. We work on new construction. Our professional services guarantee customer satisfaction.

New Edition
18 Central Avenue S
Chisholm, MN 55719
Phone: (218) 254-5511
NHS - Northstar Specialized Services
227 West Lake Street
Chisholm MN 55719
Phone: (218) 254-5757
Web: www.nhs-nss.com

Northern Habilitative Services, Inc. began providing services in 1989 to individuals in the In-Home-Family-Support program and currently manages 21 homes where one to four individuals live together.

North Country Auto Salvage
6178 Highway 73
Chisholm, MN 55719
Phone: (218) 254-7359
Northern Testing Laboratory
210 1st Street NW
Chisholm, MN 55719
Phone: (218) 254-3513
Northland Computer Solutions
PO Box 101
Chisholm MN 55719
Phone: (218) 969-1478
Web: www.northland-computer.com
Northland Lining
5787 State Highway 84
Chisholm MN 55719
Phone: (218) 966-1105
Northstar Painting & Drywall
6474 Highway 73
Chisholm, MN 55719
Phone: (218) 254-0172
Northwood Salon & Tanning
209 W Lake Street
Chisholm, MN 55719
Phone: (218) 254-5909
Nosan Oil
104 NW 7th Street
Chisholm, MN 55719
Phone: (218) 254-4511
Web: www.nosanoilandnorthstarlp.com



Since 1954, Nosan Oil has been keeping the homes and businesses of Chisholm, MN warm. We sell propane and oil to residential, commercial and industrial locations throughout the Iron Range area. Call us for all of your heating needs.

Pasta Works
101 Central Avenue
Chisholm, MN 55719
Phone: (218) 254-4743
Pender's 4 X 4 Parts
5592 Highway 84
Chisholm, MN 55719
Phone: (218) 254-4796
Petrochoice - Anderson Lubricants
700 West Drive
Chisholm, MN 55719
Phone: (218) 254-4070
Web: www.petrochoice.com



PetroChoice is one of the largest lubricant distributors in the Midwest, serving Wisconsin, Minnesota, Upper Michigan, Iowa, and parts of North Dakota. We provide lubrication and contamination control products and services for a variety of Industries. From Industrial lubricants and Metalworking Fluids to Commercial Vehicle and Automotive lubricants, we have the products, service, and equipment to keep you moving.

Precious Paws Humane Society
21 W Lake Street
PO Box 388
Chisholm, MN 55719
Phone: (218) 254-3300
Web: www.pphsc.com



Founded in 1991 as Hibbing Animal Shelter and Humane Society (our corporate name). Re-established in Chisholm in 2011 as Precious Paws Humane Society of Chisholm. We are 100% volunteer run.

Quilt Shop of Chisholm
116 West Lake Street
Chisholm MN 55719
Phone: (218) 254-1700
Web: www.quiltshopofchisholm.com



Quilt Shop of Chisholm LLC in Chisholm, MN is the place to visit for all your quilting needs. So next time you need quilting supplies, or if you decide to learn quilting, there's only one name to remember - Quilt Shop of Chisholm LLC.

Quirk Chiropractic Clinic
100 SW 1st Avenue
Chisholm, MN 55719
Phone: (218) 254-4451
Radotich, Inc.
5556 Highway 73
Chisholm, MN 55719
Phone: (218) 254-5763
Web: www.radotich.com

Radotich, Inc. is a General, Mechanical & Industrial contractor. Our reputation tomorrow will be a reflection of our integrity and services today. We take pride in the manner in which we address a particular construction project.

Ranceorianís Castle
15 W Lake Street
Chisholm MN 55719
Phone: (218) 969-0441
Range Center Inc.
1001 8th Avenue NW
PO Box 629
Chisholm, MN 55719
Phone: (218) 254-3347
Web: www.rangecenter.com



Our mission is to ensure education, promote employment opportunities, and provide residential services to encourage people with developmental disabilities to become active, participating members of the community.

Range Martial Arts
10 2nd Avenue NW
Chisholm, MN 55719
Phone: (218) 254-5962
Web: www.rangemartialarts.com



We teach an art that can be traced back thousands of years in Korea called Tang Soo Do. We also teach Haidong Gumdo which is a Korean swordsmanship art. In addition, we have sessions of Tai Chi Ki Gong, a system of Korean exercises to stimulate and develop the mind, body and spirit.

Ranger Fire Protection Company
222 NW 5th Street
Chisholm, MN 55719
Phone: (218) 254-4919
Toll Free: (800) 247-1328


Rappuchi Construction & Maintenance
227 W Lake Street
Chisholm, MN 55719
Phone: (218) 254-2707
Web: www.rappuchiconstruction.net



Rappuchi Construction & Maintenance offers quality and professional construction services at competitive rates in the Chisholm, MN area. Let us put our expertise and experience to serve you well. Our friendly staff will be glad to attend to your needs. We guarantee customer satisfaction.

Recent Development
101 E Iron Drive
Chisholm, MN 55719
Phone: (218) 969-0411
Web: www.recentdevelopmentinc.com



Recent Development is the area's property specialists. We are dedicated to meeting all of your property needs; buying or selling, commercial or residential. We service the entire area, including Hibbing, Chisholm, Virginia, Eveleth, Mt. Iron, Buhl, Kinney, Cook, along with the rural communities between and beyond. We can help with everything from fixer-uppers to brand new construction. Give us a call and see for yourself!

Rolling Thunder Clothing & Accessories
Highway 73 & 4th Street SW
Chisholm, MN 55719
Phone: (218) 254-5542
Rupp Funeral Home
205 NW 1st Street
Chisholm, MN 55719
Phone: (218) 254-5573
Web: www.ruppfuneralhome.com

Throughout the years funerals have changed and the Rupp Funeral Home & Cremation Service has evolved with those changes. We are available to assist you in pre-planning, burial and cremation services 24-hours a day.

Rupp Furniture & Carpet
200 W Lake Street
Chisholm, MN 55719
Phone: (218) 254-3387
Web: www.ruppfurniture.net



Rupp Furniture has been serving the Iron Range and Northern Minnesota for a long time - since 1905. Chisholm has always been our home base, but we regularly travel to other communities in our area ~ Tower, Virginia, and Grand Rapids. There have been many changes and challenges in home furnishings since then, but our practices of honest pricing and unsurpassed service to our customers will always remain.

Schweiss Lawn Care
228 11th Street NW
Chisholm, MN 55719
Phone: (218) 254-5736
Sertich Plumbing & Heating
221 W Lake Street
Chisholm, MN 55719
Phone: (218) 254-4332
Web: www.sertichplumbingheating.com



Sertich Plumbing & Heating in Chisholm, MN is fully equipped to handle any sized plumbing installation or repair. We specialize in complete plumbing remodels in both commercial and residential settings. We serve Lake Vermilion, Cook Tower, Buyck, Crane Lake, and Blackduck

Serving Hands Assisted Living
601 E Lake Street
Chisholm MN 55719
Phone: (218) 254-7300
Sidelines Sports Bar
217 W Lake Street
Chisholm, MN 55719
Phone: (218) 254-3926
Simonson Ronald Attorney
107 W Lake Street
Chisholm, MN 55719
Phone: (218) 254-5791
Slovenian National Home Bar
210 W Lake Street
Chisholm, MN 55719
Phone: (218) 254-3862
Smart Screen Systems
610 Industrial Drive
Chisholm, MN 55719
Phone: (218) 254-4286
Snickers Pizza & Pub
220 West Lake Street
Chisholm MN 55719
Phone: (218) 254-2317
Web: www.snickerspizzachisholm.com



Snickers Pizza & Pub offers delicious pizza in Chisholm, MN. We offer an array of meals fit for your everyday craving. Aside from Pizza we also offer salads and others.

Spicer Steve CPA
313 W Lake Street
Chisholm, MN 55719
Phone: (218) 254-4201
Stinchfield Construction
601 5th Avenue NW
Chisholm, MN 55719
Phone: (218) 254-0045
Super Duper Convenience Store
231 6th Avenue SW
Chisholm MN 55719
Phone: 218-254-9869
Talk of the Town
125 W Lake Street
Chisholm, MN 55719
Phone: (218) 254-5780
Terry's Barber Shop
106 Lake Street W
Chisholm, MN 55719
Phone: (218) 254-3912
The Stand
700 6th Street SW
Chisholm, MN 55719
Phone: (218) 254-5651
Tom & Jerry's
201 W Lake Street
Chisholm, MN 55719
Phone: (218) 254-9980
Tommy's Bar
109 W Lake Avenue
Chisholm, MN 55719
Phone: (218) 254-4367
Triumph Twist Drill
1 7th Street SW
Chisholm MN 55719
Phone: (218) 254-3891
Web: www.triumphtwistdrill.com



High-Quality Cutting Tools Triumph Twist Drill has Manufactured High-Quality Cutting Tools For Over 50 Years !

Tromco Electric
207 West Lake Street
Chisholm MN 55719
Phone: (218) 254-2612
Web: www.tromco.com
True Value Hardware
121 W Lake Street
Chisholm, MN 55719
Phone: (218) 254-2905
Twilight Entertainment
230 1st Street NW
Chisholm, MN 55719
Phone: (218) 254-3995
UpNorth Sundries
127 W Lake Street
Chisholm, MN 55719
Phone: (218) 254-4990
USWA Local 2705
115 W Lake Street
Chisholm, MN 55719
Phone: (218) 254-2492
Valentini Patrick Attorney
1st National Bank Bldg.
Chisholm, MN 55719
Phone: (218) 254-3335
Valentiniís Supper Club
31 West Lake Street
Chisholm MN 55719
Phone: (218) 254-2607
Web: www.valentinissupperclub.com



You donít have to travel to Italy for authentic Italian food, stop by Valentini's Supper Club for a delicious homemade meal today.

Vanbaak Agency
23 W Lake Street
Chisholm, MN 55719
Phone: (218) 254-7132
Toll Free: (877) 875-4812
Viking Supply
6469 Dewey Lake Drive
Chisholm, MN 55719
Phone: (218) 254-0084
Westwind Home
901 Center Drive
Chisholm, MN 55719
Phone: (218) 254-5519
Wizard's Cycle & Marine
1 W Lake Street
Chisholm, MN 55719
Phone: (218) 254-7654
Web: www.wizards-cycle-and-marine.com

Wizard's is a small but technologically advanced shop located in Northeastern Minnesota. We carry a full line of parts and accessories for the motorcycle and boating enthusiast. We have an extensive repair and welding shop with everything done in-house.

Wolf Ridge Taxidermy
6725 Barrett Road
Chisholm, MN 55719
Phone: (218) 254-2661
---
Aerial Photo:
---
Topographic Map: [click map to enlarge, zoom in or zoom out]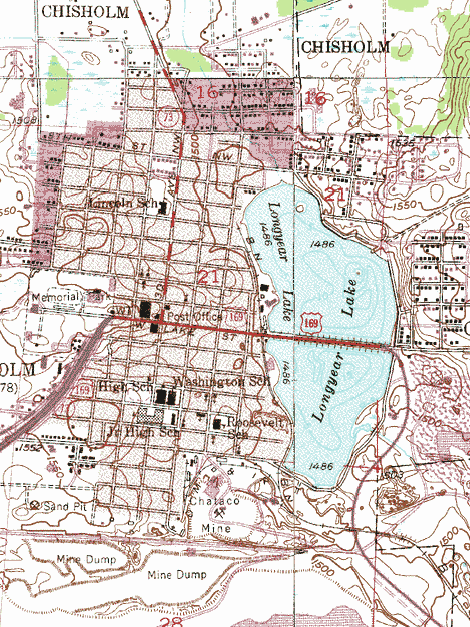 Topographic map is courtesy of the Minnesota DNR - click map to zoom or enlarge