Navigation
LakesnWoods.com
Home Page
Shopping
Coupons
Contact Us
Privacy

Currie Guide:
Photo Gallery
Location
Geography
Demographics
History
Government
Post Office
News
Weather
Street Map
Events
Attractions
Recreation
Lakes
Health Care
Schools
Churches
Media
Motels
Resorts
Campgrounds
Businesses
Aerial Photo
Topographic Map
© 2004-2017 Lakeweb1 Internet Services
All Rights Reserved
WANTED!
Do you have photos, historical accounts or other items pertaining to the Currie area? Would you like to share this historical information with the world? LakesnWoods.com would like to publish your Currie photos (current or historical) or historical accounts on this website. Original materials can be returned and your privacy will be respected.


(design available on over 100 different items!)

Currie Minnesota Community Guide
---
Location:
---
Population:
Currie (city)
1970
1980
1990
2000
2010
2000-2010 Change
Actual
Percent
Population
368
359
303
225
233
+8
+3.56
Land Area (sq. mile)
0.60
0.60
0.57
0.57
0.57
0
0.00
Density (persons per sq. mile)
613.33
598.33
531.58
393.05
408.77
+15.72
+4.00
Housing Units
152
158
148
127
125
-2
-1.57
Households
--
140
128
109
114
+5
+4.59
Persons Per Household
--
2.56
2.37
2.06
2.04
-0.02
-0.97
---
Geography:
Currie is a city in Murray County, Minnesota. Minnesota State Highway 30 serves as a main route in the community. U.S. Route 59 is nearby. According to the United States Census Bureau, the city has a total area of 0.6 square miles (1.5 km˛), all of it land. The elevation is 1,496 ft (456 m).
From Wikipedia, the free encyclopedia.
---
Demographics:
As of the census of 2000, there were 225 people, 109 households, and 67 families residing in the city. The population density was 393.0 people per square mile (152.4/km˛). There were 127 housing units at an average density of 221.9/sq mi (86.0/km˛). The racial makeup of the city was 99.56% White, and 0.44% from two or more races. Hispanic or Latino of any race were 0.89% of the population.
There were 109 households out of which 18.3% had children under the age of 18 living with them, 49.5% were married couples living together, 8.3% had a female householder with no husband present, and 38.5% were non-families. 33.9% of all households were made up of individuals and 16.5% had someone living alone who was 65 years of age or older. The average household size was 2.06 and the average family size was 2.63.
In the city the population was spread out with 19.6% under the age of 18, 4.4% from 18 to 24, 18.7% from 25 to 44, 28.0% from 45 to 64, and 29.3% who were 65 years of age or older. The median age was 49 years. For every 100 females there were 90.7 males. For every 100 females age 18 and over, there were 84.7 males.
The median income for a household in the city was $22,857, and the median income for a family was $34,821. Males had a median income of $22,500 versus $18,750 for females. The per capita income for the city was $15,767. About 7.3% of families and 12.2% of the population were below the poverty line, including 25.0% of those under the age of eighteen and 8.3% of those sixty five or over.
Lakes:
---
Health Care:
---
Schools:
---
Churches:
---
Media:
---
Motels:
Check for motel rates and availability on:
---
Resorts:
---
Campgrounds:
Schrier's on Shetek Campground
35 Resort Road
Currie, MN 56123
Phone: (507) 763-3817
Web: www.schreiersonshetek.com

Schreier's on Shetek Campground is located on the shores of Lake Shetek, the largest lake in southwest Minnesota. 'Shetek,' which means pelican, is home to these as well as many other wild birds. The headwaters of the Des Moines River originate from the lake. Lake Shetek is well know for its walleye fishing and stocks other game fish as well as tasty panfish such as perch, bullheads and crappies. The large lake lends itself to hosting a variety of activities - whatever your pleasure - from quiet fishing, personal watercraft, pontoon boats, paddle boats, water skiing to riding a cruise boat around the lake.
---
Businesses:
American Legion
121 Mill Street
Currie, MN 56123
Phone: (507) 763-3831
Anthony Iverson Construction
2243 121st Street
Currie, MN 56123
Phone: (507) 763-3879
Bassett Refrigeration & Heating
419 4th Street
Currie, MN 56123
Phone: (507) 763-3522
Busswitz Roofing
1578 250th Avenue
Currie, MN 56123
Phone: (507) 274-5444
Currie Blacksmith
530 1st Street
Currie, MN 56123
Phone: (507) 763-3898
Currie Bowling Alley
109 Mill Street
Currie, MN 56123
Phone: (507) 395-3884
Currie Cuts & Curls
124 Mill Street
Currie, MN 56123
Phone: (507) 763-3379
Currie Hardware
110 Mill Street N
Currie, MN 56123
Phone: (507) 763-3740
Currie State Bank
141 Mill Street N
Currie, MN 56123
Phone: (507) 763-3262
Danneman Trucking
430 Main Street
Currie, MN 56123
Phone: (507) 763-3163
End-O-Line Railroad Park
440 Mill Street N
Currie, MN 56123
Phone: (507) 763-3708
Hacker Hauling
411 Main Street
Currie, MN 56123
Phone: (507) 763-3762
Hanson Trucking
461 1st Street
Currie, MN 56123
Phone: (507) 763-3977
Ken's Repair
110 Mill Street
Currie, MN 56123
Phone: (507) 763-3253
Lakeside Apartment
305 Main Street
Currie, MN 56123
Phone: (507) 763-3550
Lakeside Grill Pins & Pool
109 Mill Street
Currie, MN 56123
Phone: (507) 763-3833
Lakeside Hideaway
101 Mill Street N
Currie, MN 56123
Phone: (507) 763-3338
Web: www.lakesidehideawaymn.com

Lakeside Hideaway in downtown Currie offers a premiere dining experience for the people of southwest Minnesota. At Lakeside Hideaway we pride ourselves on our one of a kind chef inspired menu options, great beer and wine selections, in-house signature drinks, and a unique atmosphere hard to find anywhere else. Lakeside Hideaway offers great food and drink specials 5 nights a week. Open Sunday, Monday & Thursday 5 to 9pm, Friday and Saturday 5 to 10pm.

Lindberg Construction
2275 151st Street
Currie, MN 56123
Phone: (507) 763-3151
Lindberg Sign Company
2266 151st Street
Currie, MN 56123
Phone: (507) 763-3751
Mill Street Gallery
103 Mill Street
Currie, MN 56123
Phone: (507) 763-3393
Murrayland Insurance, Realty & Travel
141 Mill Street N
Currie, MN 56123
Phone: (507) 763-3700
Web: www.murraylandagencyinc.com
Radke Wheel Service
630 1st Street
Currie, MN 56123
Phone: (507) 763-3129
Rooster's Liquors
201 Mill Street
Currie, MN 56123
Phone: (507) 395-1555
Ruppert Oil Company
Highway 30
Currie, MN 56123
Phone: (507) 763-3776
Schapp Sanitation
561 Mill Street
Currie, MN 56123
Phone: (507) 763-3391
Schmitz Grain Inc.
795 State Highway 30
Currie, MN 56123
Phone: (507) 763-3817
Schrier's on Shetek Campground
35 Resort Road
Currie, MN 56123
Phone: (507) 763-3817
Web: www.schreiersonshetek.com

Schreier's on Shetek Campground is located on the shores of Lake Shetek, the largest lake in southwest Minnesota. 'Shetek,' which means pelican, is home to these as well as many other wild birds. The headwaters of the Des Moines River originate from the lake. Lake Shetek is well know for its walleye fishing and stocks other game fish as well as tasty panfish such as perch, bullheads and crappies. The large lake lends itself to hosting a variety of activities - whatever your pleasure - from quiet fishing, personal watercraft, pontoon boats, paddle boats, water skiing to riding a cruise boat around the lake.

Shetek Plumbing & Heating
15 Valhalla Road
Currie, MN 56123
Phone: (507) 763-1588
Sweets, Treats and More
101 Mill Street
Currie, MN 56123
Phone: (507) 395-2000
Sweetman Sand & Gravel
105 Mill Street
Currie, MN 56123
Phone: (507) 763-3143
US Post Office
121 Mill Street N
Currie, MN 56123-1002
Phone: (507) 763-3662
Toll Free: (800) ASK-USPS
Web: www.usps.com
---
Aerial Photo:
---
Topographic Map:
[click map to enlarge, zoom in or zoom out]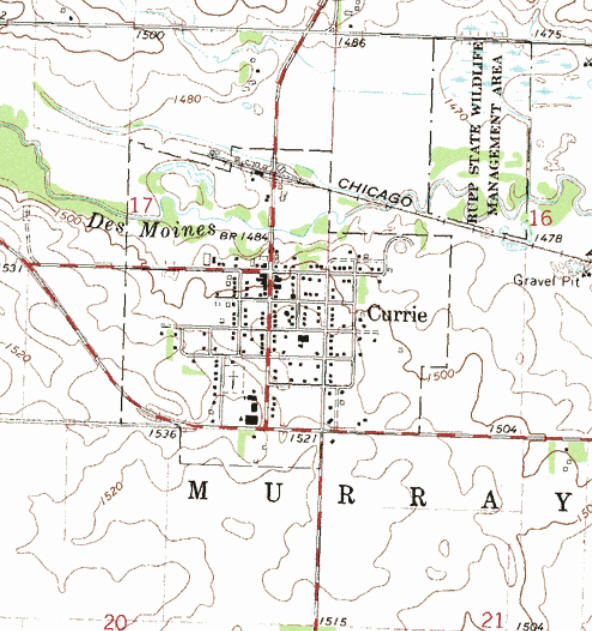 Topographic map is courtesy of the Minnesota DNR - click map to zoom or enlarge