Navigation
LakesnWoods.com
Home Page
Shopping
Coupons
Contact Us
Privacy
Cuyuna Guide:
Photo Gallery
Location
Geography
Demographics
History
Government
Post Office
News
Weather
Street Map
Events
Attractions
Recreation
Lakes
Health Care
Schools
Churches
Media
Motels
Resorts
Campgrounds
Businesses
Aerial Photo
Topographic Map
© 2004-2018 Lakeweb1 Internet Services
All Rights Reserved
WANTED!
Do you have photos, historical accounts or other items pertaining to the Cuyuna area? Would you like to share this historical information with the world? LakesnWoods.com would like to publish your Cuyuna photos (current or historical) or historical accounts on this website. Original materials can be returned and your privacy will be respected.


(design available on over 100 different items!)

Cuyuna Minnesota Community Guide
---
Location:
---
Population:
Cuyuna (city)
1970
1980
1990
2000
2010
2000-2010 Change
Actual
Percent
Population
82
157
172
231
332
+101
+43.72
Land Area (sq. mile)
0.40
3.30
3.27
3.27
3.27
0
0.00
Density (persons per sq. mile)
205.00
47.58
52.60
70.57
101.53
+30.96
+43.87
Housing Units
39
69
88
113
162
+49
+43.36
Households
--
49
66
90
126
+36
+40.00
Persons Per Household
--
3.20
2.61
2.57
2.63
+0.06
+2.33
---
Geography:
According to the United States Census Bureau, the city has a total area of 9.1 km˛ (3.5 mi˛). 8.5 km˛ (3.3 mi˛) of it is land and 0.6 km˛ (0.2 mi˛) of it (6.55%) is water.
From Wikipedia, the free encyclopedia.
---
Demographics:
As of the census of 2000, there were 231 people, 90 households, and 64 families residing in the city. The population density was 27.3/km˛ (70.6/mi˛). There were 113 housing units at an average density of 13.3/km˛ (34.5/mi˛). The racial makeup of the city was 98.70% White, 0.87% African American, and 0.43% from two or more races. Hispanic or Latino of any race were 0.43% of the population.
There were 90 households out of which 30.0% had children under the age of 18 living with them, 61.1% were married couples living together, 5.6% had a female householder with no husband present, and 27.8% were non-families. 22.2% of all households were made up of individuals and 6.7% had someone living alone who was 65 years of age or older. The average household size was 2.57 and the average family size was 2.95.
In the city the population was spread out with 26.8% under the age of 18, 6.9% from 18 to 24, 26.8% from 25 to 44, 26.0% from 45 to 64, and 13.4% who were 65 years of age or older. The median age was 39 years. For every 100 females there were 106.3 males. For every 100 females age 18 and over, there were 108.6 males.
The median income for a household in the city was $44,107, and the median income for a family was $48,750. Males had a median income of $38,000 versus $29,500 for females. The per capita income for the city was $17,838. About 7.6% of families and 10.0% of the population were below the poverty line, including 4.9% of those under the age of eighteen and 18.4% of those sixty five or over.
---
History:
CUYUNA, a mining village in Rabbit Lake Township, and the iron ore range on which it is situated were named by and for Cuyler Adams of Deerwood, prospector, discoverer, and mine owner of this range, and for his dog, Una, who accompanied him in many lone prospecting trips, so that he affirmed that the discovery of workable ore deposits here should be credited jointly to himself and the valuable aid of Una. The village was incorporated on July 7, 1910, and separated from the township on March 3, 1911; the post office operated 1908-54; it had a station of the Soo Line. This iron range is more fully noticed at the end of this chapter.
The origin of the name of this belt of iron ore deposits has been noted for the village of Cuyuna, in the preceding list, and the date of discovery of these beds of ore by Cuyler Adams, in 1895, was mentioned in the notice of Irondale Township. Mining and shipments of ore from the Cuyuna Range were begun in the years 1910 to 1912, and its production in 1915 was 1,137,043 tons. The explored extent of this iron ore district, extending from Randall in Morrison County, through Crow Wing County, and into central Aitkin County, has no prominent hills or highlands, and only very scanty outcrops of the bedrocks, which, with the ore deposits, are deeply covered by the glacial and modified drift. Shipment from the range reached its peak in 1953 at 3,714,000 tons; by 1977 production had ceased. Local efforts to find some use for the area resulted in the creation of Cuyuna Country State Recreation Area in 1993. In addition to including 15 mining pits, now filled with water, and rock piles, the area contains six lakes and several bogs.
Courtesy Minnesota Historical Society
---
Government:
City of Cuyuna
PO Box 536
Deerwood, MN 56444
Phone: (218) 546-5883
Web: www.ci.cuyuna.mn.us
Title
Term Ends
Name and Address
Phone
Mayor
12/31/2012
Lloyd Brix
--
Clerk - Treasurer
appointed
William "Bill" Bedard
(218) 546-5883
Council Member
12/31/2014
Louis Dirkes
--
Council Member
12/31/2014
Don Imberi
(218) 546-7373
Council Member
12/31/2012
James Jensen
(218) 546-7613
Council Member
12/31/2012
David Zontelli
--
---
Post Office:
Post Office closed in 1954 - served by Deerwood Post Office
---
---
News:
---
Weather:
---
Map: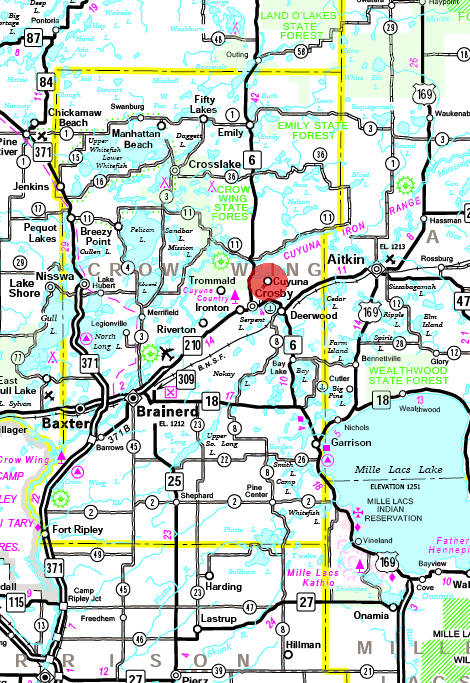 Minnesota State Highway Map of the Cuyuna Minnesota area
---
Events:
---
---
Attractions:
---
Recreation:
Cuyuna Country

Abandoned by mining companies more than 20 years ago, this area of former mining pits and rock deposit stockpiles now boasts regenerated vegetation and clear lakes that draw a wide range of recreation enthusiasts. Twenty-five miles of undeveloped shoreline can be explored by boat or canoe and anglers can cast a line for trout, northerns, bass, crappies, sunfish, and walleyes. As one of Minnesota's newest state recreation areas, Cuyuna's 5,000 acres are mostly undeveloped, and some of the land is being acquired. Most of the current facilities are privately owned and operated, including campgrounds and a historical park. Off- highway vehicles are not permitted within the boundaries of Cuyuna Country Recreation Area.
---
Lakes:
Lake Name
Size
(acres)
Lake info
Lake Map
Rec Map
Topo Map
---
Health Care:
---
Schools:
---
Churches:
---
Media:
---
Motels:
---
Resorts:
---
Campgrounds:
Portsmouth Campground

Camping is available at Cuyuna Country State Recreation Area at the Portsmouth Campground. Approximately 16 sites are available for camping during the regular camping season. No reservations are needed. All camping at this rustic campground will be first-come, first-served and campers can self-register on site. The campground is located on the northwest shore of the Portsmouth Mine Pit Lake (352 feet deep).
---
Businesses:
City of Cuyuna
PO Box 536
Deerwood, MN 56444
Web: www.ci.cuyuna.mn.us
Gopher Tackle
24927 Minnesota Avenue
Deerwood, MN 56444
Phone: (218) 546-8195
Web: www.gophertackle.com

The Gopher Tackle Mfg. factory is located in Cuyuna, MN, once the Iron Ore hub of the state. Hundreds of lakes and mining pits dot the area with the Mississippi River flowing through the area. Most of the major freshwater fishing educators are right next door in Brainerd providing many of the solutions for today's Hi-tech fishing.

Woodtick Inn
24916 Minnesota Ave
Crosby, MN 56441
Phone: (218) 546-5313
Web: www.cuyunacountry.net/
index.cfm/pageid/85

Home of the World Famous Woodtick Races and Nice Ticks!

• On and Off Sale
• Heggies Pizza (Fabulous!)
• Pull tabs (local fire department)
• Two Pool tables - Tournaments every Saturday night
• Darts, Pinball, Video Games
• Three TV's to watch your favorite sporting event.
• Cuyuna State Recreation Area - Right on the snowmobile trail
• Near Rabbit Lake and area mine lakes for fishing!
---
Aerial Photo: [click photo to enlarge, zoom in or zoom out]


View Larger Map
Courtesy Google Maps - Click map to zoom or enlarge
---
Topographic Map: [click map to enlarge, zoom in or zoom out]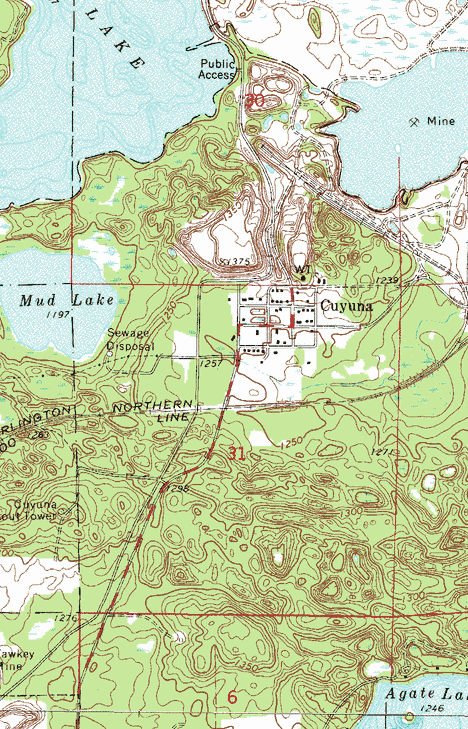 Topographic map is courtesy of the Minnesota DNR - click map to zoom or enlarge