Navigation
LakesnWoods.com
Home Page
Shopping
Coupons
Contact Us
Privacy

Dennison Guide:
Photo Gallery
Location
Geography
Demographics
History
Government
Post Office
News
Weather
Street Map
Events
Attractions
Recreation
Lakes
Health Care
Schools
Churches
Media
Motels
Resorts
Campgrounds
Businesses
Aerial Photo
Topographic Map
© 2004-2018 Lakeweb1 Internet Services
All Rights Reserved
WANTED!
Do you have photos, historical accounts or other items pertaining to the Dennison area? Would you like to share this historical information with the world? LakesnWoods.com would like to publish your Dennison photos (current or historical) or historical accounts on this website. Original materials can be returned and your privacy will be respected.

Dennison Minnesota Community Guide
---
Location:
---
Population:
Dennison (city)
1970
1980
1990
2000
2010
2000-2010 Change
Actual
Percent
Population
203
176
152
168
212
+44
+26.19
Land Area (sq. mile)
1.30
1.15
1.25
1.27
1.27
0
0.00
Density (persons per sq. mile)
156.15
153.04
122.58
127.89
166.93
+39.04
+30.53
Housing Units
60
64
60
64
80
+16
+25.00
Households
--
62
58
60
77
+17
+28.33
Persons Per Household
--
2.84
2.62
2.74
2.75
+0.01
+0.36
---
Geography:
Dennison is a city in Goodhue and Rice counties in the state of Minnesota. Most of Dennison is in Goodhue County, with only a small part that extends into Rice County. Minnesota State Highways 56 and 246 are nearby. According to the United States Census Bureau, the city has a total area of 1.3 square miles (3.3 km˛), all land. The elevation is 971 ft (296 m).
From Wikipedia, the free encyclopedia.
---
Demographics:
As of the census of 2000, there were 168 people, 60 households, and 49 families residing in the city. The population density was 132.3 people per square mile (51.1/km˛). There were 64 housing units at an average density of 50.4/sq mi (19.5/km˛). The racial makeup of the city was 91.67% White, 0.60% Native American, 1.79% Asian, and 5.95% from two or more races.
There were 60 households out of which 41.7% had children under the age of 18 living with them, 65.0% were married couples living together, 8.3% had a female householder with no husband present, and 18.3% were non-families. 16.7% of all households were made up of individuals and 3.3% had someone living alone who was 65 years of age or older. The average household size was 2.80 and the average family size was 3.06.
In the city the population was spread out with 30.4% under the age of 18, 7.1% from 18 to 24, 33.3% from 25 to 44, 20.2% from 45 to 64, and 8.9% who were 65 years of age or older. The median age was 35 years. For every 100 females there were 107.4 males. For every 100 females age 18 and over, there were 116.7 males.
The median income for a household in the city was $51,667, and the median income for a family was $53,750. Males had a median income of $30,417 versus $30,000 for females. The per capita income for the city was $19,038. None of the families and 1.3% of the population were living below the poverty line.
---
History:
DENNISON, a city in Warsaw and Northfield Townships with Rice County, was named in honor of Morris P. Dennison, a settler near its site in 1856, on whose land the village was located. The village was settled by 1849, platted in 1884, incorporated as a village on December 3, 1904, and separated from the townships on July 20, 1907. Its post office began in 1885, although there is some confusion as to whether it was named Spring Creek before the post office was established in postmaster Gunnar A. Bonhus's general store. Dennison visited Minnesota in 1849 from Vermont, brought his family in 1856, and filed a land claim, building a log shanty in the center of the city; he moved to Northfield in 1865 and died in a farm accident in 1879.
Courtesy Minnesota Historical Society
---
Government:
Dennison City Hall
37622 Goodhue Avenue
Dennison, MN 55018
Phone: (507) 645-7732
Title
Term Ends
Name and Address
Phone
Mayor
n/a
Ann Laue
37525 2nd Avenue
Dennison MN 55018
n/a
Clerk
appointed
Sheila Ekstrom
37622 Goodhue Avenue
Dennison MN 55018
(507) 645-7732
Council Member
n/a
Lisa Malecha
37663 3rd Avenue
Dennison MN 55018
n/a
Council Member
n/a
Katie Smestad
12345 Goodhue Avenue
Dennison MN 55018
n/a
Council Member
n/a
Nichole Oster
37737 3rd Avenue
Dennison MN 55018
n/a
Council Member
n/a
Katy Gillispie
37733 2nd Avenue
Dennison MN 55018
n/a
---
Post Office:
US Post Office
37598 Goodhue Avenue
Dennison, MN 55018-7447
Phone: (507) 663-0417
Toll Free: (800) ASK-USPS
Web: www.usps.com

Regular Business Hours:
Week Days 7:30 am - 12:00 pm
1:00 pm - 4:15 pm
Saturday 7:30 am - 10:15 am
Latest Collection at Post Office:
Week Days 4:15 pm
Saturday 10:15 am
---
---
Utilities:
| | | |
| --- | --- | --- |
| Utility Type | Utility Name | Utility Phone |
| Electricity | n/a | -- |
| Natural Gas | n/a | -- |
| Wastewater | n/a | -- |
| Water | n/a | -- |
| Telephone | n/a | -- |
| Cable TV | n/a | -- |
---
Major Employers:
Employer
Products/Services
Employees

n/a
---
---
News:
---
Weather:
---
Map: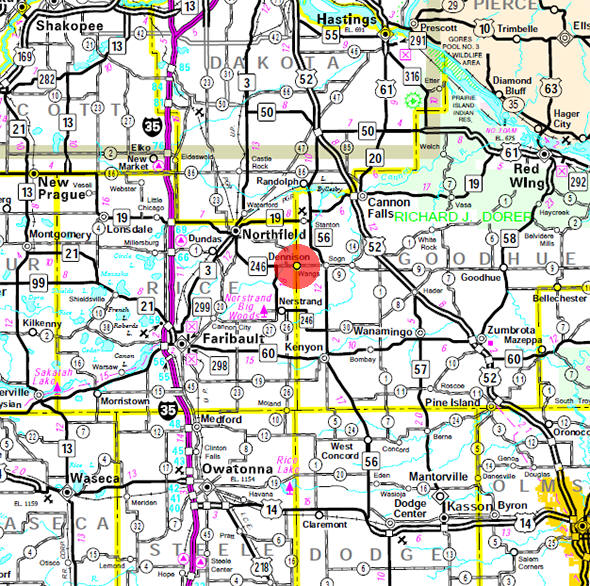 Minnesota State Highway Map of the Dennison Minnesota area
---
Events:
---
---
Attractions:
---
Recreation:
---
Lakes:
Lake Name
Size
(acres)
Lake info
Lake Map
Rec Map
Topo Map

none in the immediate area
---
Health Care:
---
Schools:
---
Churches:
Dennison Lutheran Church
37514 3rd Avenue
Dennison, MN 55018
Phone: (507) 645-6042

Pastor: Gerald W Gengenbach
Sunday Worship: 9:00 am

Stanton United Methodist Church
1020 Highway 19 Blvd
Dennison, MN 55018
Phone: (507) 263-4063

Pastor: Arthur L. Hill
Sunday Worship: 10:00 am

Vang Lutheran Church
PO Box 117
Dennison, MN 55018
Phone: (507) 789-5186

Pastor: Gerald W Gengenbach
Sunday Worship: 11:00 am
---
Media:
---
Motels:
Check for motel rates and availability on:
---
Resorts:
---
Campgrounds:
---
Businesses:
American Belt Company
36815 5th Avenue Way
Dennison, MN 55018
Phone: (507) 663-0308
Cannon Tackle Supply
265 275th Street
Dennison, MN 55018
Phone: (507) 263-4073
Central Valley Co-Op
37665 Goodhue Avenue
Dennison, MN 55018
Phone: (507) 645-7327
Web: www.centralvalleycoop.com

The goal of this cooperative is to provide products and services that will enable its members to operate at a profit.

Countyline Enterprises
12536 Dennison Blvd.
Dennison, MN 55018
Phone: (507) 645-0278
Dennison City Hall
37622 Goodhue Avenue
Dennison, MN 55018
Phone: (507) 645-7732
Dennison Depot
12989 Dennison Blvd.
Dennison, MN 55018
Phone: (507) 645-2890
Dennison Feed & Farm Supply
37510 Goodhue Avenue
Dennison, MN 55018
Phone: (507) 645-9888
Dennison Lutheran Church
37514 3rd Avenue
Dennison, MN 55018
Phone: (507) 645-6042
Dennison Meat Locker
109 375th Street Way
Dennison, MN 55018
Phone: (507) 645-8734
Web: www.dennisonmeatlocker.com

Dennison Meat Locker provides quality custom meat processing services to the Dennison, MN area. We also offer wholesale and retail smoked sausages and other processed meat products.

Dennison Self Mini-Storage
Dennison, MN 55018
Phone: (507) 384-1166

Dohmen Concrete
1635 356th Street
Dennison, MN 55018
Phone: (507) 649-1413
Enviropro Restoration
36815 5th Avenue Way
Dennison, MN 55018
Phone: (612) 246-3445
Estrem Excavating
4605 County 49 Blvd
Dennison, MN 55018
Phone: (507) 789-5725
Farmers State Bank
37470 1st Avenue Court
Dennison, MN 55018
Phone: (507) 645-5929
Web: www.fsbmn.com
Fireside Lounge
37540 Goodhue Avenue
Dennison, MN 55018
Phone: (507) 645-9992
Web: www.firesidelounge.net

Long day at work? Need a place to relax? Or do you just want a fun, social atmosphere to catch up with new or old friends? The Fireside Lounge and Supper Club in Dennison is the perfect location for any kind of mood. Our supper club style dining will satisfy anyone's taste, from our burger and sandwich menu to steaks and shrimp dinners.

Garner's Upholstery
36754 Highway 56 Blvd.
Dennison, MN 55018
Phone: (507) 263-5799
Web: www.garnersupholstery.com

We are a family owned business dedicated to serving the needs of our residential and commercial customers in the south metro area, and beyond. We have been in business for 26 years and believe in doing quality work that lasts. Our work includes reupholstering, repairing and remodeling all upholstered household furniture, indoor and outdoor, large and small, chair seats to sectionals to antiques. We have a lot of experience with antiques. We can build cornice boards and ottomans, re-upholster boat seats, camper cushions, and buggy or cutter seats.

Hoverstad Farms
39500 20th Avenue
Dennison, MN 55018
Phone: (507) 789-6732
Howie Electric
11275 Goodhue Avenue
Dennison, MN 55018
Phone: (507) 645-8959
Infinity Plumbing
33311 35th Avenue
Dennison, MN 55018
Phone: (507) 263-8911
Web: www.infinity-plumbing.com

Infinity Plumbing is dedicated to providing high quality plumbing services, specializing in light commercial, new construction and remodeling. We are a family owned business, with an owner on every job, which insures our commitment. We are large enough to handle your projects in a timely efficient manner and yet small enough to provide reliable personal service. With over 54 years combined plumbing experience you can be assured of adherence to the MN Plumbing Code as well as a timely professional schedule. We always use top quality fixtures and parts and strive to do the job right the first time.

James Sunquist Farm
35330 High Prairie Trail
Dennison, MN 55018
Phone: (507) 263-4617
Mar Lea's
37612 Goodhue Avenue
Dennison, MN 55018-7451
Phone: (507) 645-3567
Monsanto Company
2440 Highway 19 Blvd
Dennison, MN 55018
Phone: (507) 263-3476
Web: www.monsanto.com
Nest Woodworking
12980 Dennison Boulevard
Dennison, MN 55018
Phone: (612) 716-5347
Web: www.nestwoodworking.com

Nest Woodworking is a small, custom cabinet shop nestled just outside of Northfield, Minnesota. We work closely with architects, contractors and/or homeowners from the initial inquiry to completion. The process of moving from a plan on paper to a finished project, large or small, is a satisfying one to be a part of. We take great pride in what we do. We become attached to our projects and work to ensure that they are built with quality, creating better living and working environments for people and their homes; their nests. As a company we are always looking for ways in which we can improve, broaden our understanding, and innovate to develop new solutions.

Paul's Plumbing & Heating
1261 342nd Street
Dennison, MN 55018
Phone: (507) 263-2057
Web: www.paulsplumbingheating.com

Complete Residential & Commercial Plumbing
New Construction & Repair Service

-Layout & design assistance
-Water heater replacement
-Boilers, gas & electric
-Central vac systems
-Gas fireplaces
-Forced air, heating & air conditioning
-Radiant in-floor heating
-Pipe-thawing
-Pipe freezing for meter & valve repairs

Riverside Engineering Inc.
37524 Goodhue Avenue
Dennison, MN 55018
Phone: (507) 645-9316
Rubey's Liquors
37592 Goodhue Avenue
Dennison, MN 55018
Phone: (507) 645-5072
Shear Country Hair Care & Nails
13524 Goodhue Avenue
Dennison, MN 55018
Phone: (507) 645-2625
Specialized Floor Coverings
12980 Dennison Blvd.
Dennison, MN 55018
Phone: (507) 645-2772
Stanton Airfield
1235 Highway 19 Blvd
Dennison, MN 55018
Phone: (507) 645-4030
Web: www.stantonairfield.com

Stanton Airfield is a beautiful and historic little grass-strip airport. It is the home of Stanton Sport Aviation and the Minnesota Soaring Club, the largest Soaring Club in the upper Midwest. SECTIONAL. Stanton Airfield is a privately-owned/publicly-open airport located in South East Minnesota. Pilots from all over the Midwest come to Stanton for the nostalgic feel, open skies, and homey atmosphere. With an old-fashioned bottled pop machine, ice cream treats, and cozy picnic area, it makes a great destination for fly-in and drive-in patrons. We cater to the recreational flying community be it homebuilts, classics, LSAs, or gliders. Many classic tailwheel aircraft are based here, and we welcome all classic and antique aircraft to visit. Primary flight training is a core business just like in the early days. Rides of various types are also available.

Stanton Township Office
32912 8th Avenue Way
Dennison, MN 55018
Phone: (507) 263-0579
Web: www.stantontownship.org
Stanton United Methodist Church
1020 Highway 19 Blvd
Dennison, MN 55018
Phone: (507) 263-4063
Strese's Tree Service
12312 110th Street
Dennison, MN 55018
Phone: (507) 645-6137
Web: www.streses.com

Located in Dennison, Minnesota, Strese's Tree Service Inc. serves the entire Twin Cities metro area and Western Wisconsin. We specialize in transplanting large trees to the location of your choice. We do projects of any size and have the experience and equipment for very large projects. We pride ourselves on being family-owned and only giving the finest, most personal service to you, our valued customer.

Syngenta
317 330th Street
Dennison, MN 55018
Phone: (507) 645-5621
Web: www.syngenta-us.com
Underdahl Farms
37589 Highway 56 Blvd.
Dennison, MN 55018
Phone: (507) 789-6715
US Post Office
37598 Goodhue Avenue
Dennison, MN 55018-7447
Phone: (507) 663-0417
Toll Free: (800) ASK-USPS
Web: www.usps.com
Vang Lutheran Church
PO Box 117
Dennison, MN 55018
Phone: (507) 789-5186
Warsaw Town Hall
3040 County 9 Blvd
Dennison, MN 55018
Phone: (507) 789-6439
---
Aerial Photo:
---
Topographic Map: [click map to enlarge, zoom in or zoom out]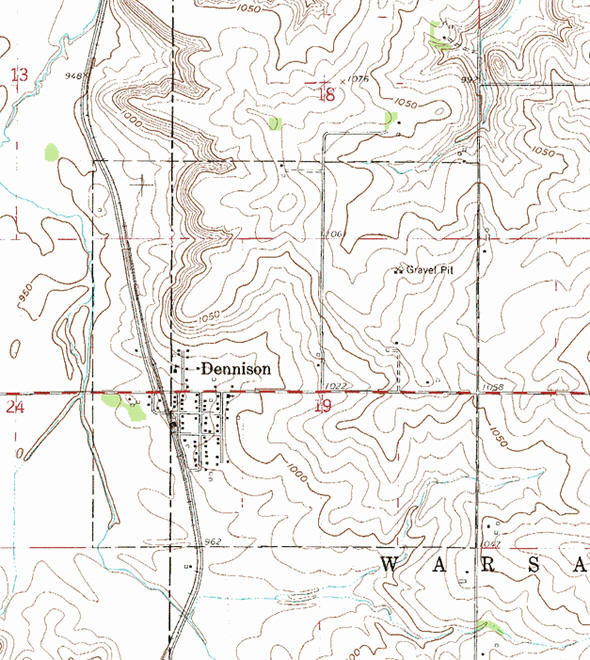 Topographic map is courtesy of the Minnesota DNR - click map to zoom or enlarge