Navigation
LakesnWoods.com
Home Page
Shopping
Coupons
Contact Us
Privacy
Minnesota Gift Guide

Dover Guide:
Photo Gallery
Location
Geography
Demographics
History
Government
Post Office
News
Weather
Street Map
Events
Attractions
Recreation
Lakes
Health Care
Schools
Churches
Media
Motels
Resorts
Campgrounds
Businesses
Aerial Photo
Topographic Map
© 2004-2019
Lakeweb1 Internet Services
All Rights Reserved
Defamation, Copyright and Trademark Infingement Policy
WANTED!
Do you have photos, historical accounts or other items pertaining to the Dover area? Would you like to share this historical information with the world? LakesnWoods.com would like to publish your Dover photos (current or historical) or historical accounts on this website. Original materials can be returned and your privacy will be respected.

Dover Minnesota Community Guide
---
Location:

Dover is located in SE Minnesota, nestled between Eyota and St. Charles MN. Dover is conveniently close to Rochester MN as well. In 2000 the population was 438, and as the town continues to grow and develop, so does the population. The City of Dover is located in Olmsted County and is bordered by Interstate 90, County Road 10, and Highway 14. Through the valley at the north edge of town runs the Whitewater River. From tree-lined streets to newly developed subdivisions - Dover is the epitamy of small-town living.

Courtesy City of Dover
---
Population:
Dover (city)
1970
1980
1990
2000
2010
2000-2010 Change
Actual
Percent
Population
321
312
416
438
735
+297
+67.81
Land Area (sq. mile)
0.60
0.55
1.07
1.07
n/a
--
--
Housing Units
98
118
157
174
282
+108
+62.07
Households
--
114
152
171
261
+90
+52.63
Persons Per Household
--
2.74
2.74
2.56
2.82
+0.26
+9.22
---
Geography:
Dover is a city in Olmsted County, Minnesota. According to the United States Census Bureau, the city has a total area of 1.1 square miles (2.8 km²), all of it land. The elevation is 1,155 ft (352 m).
From Wikipedia, the free encyclopedia.
---
Demographics:
As of the census of 2000, there were 438 people, 171 households, and 117 families residing in the city. The population density was 410.4 people per square mile (158.0/km²). There were 174 housing units at an average density of 163.1/sq mi (62.8/km²). The racial makeup of the city was 97.72% White, 1.60% from other races, and 0.68% from two or more races. Hispanic or Latino of any race were 2.51% of the population.
There were 171 households out of which 42.1% had children under the age of 18 living with them, 51.5% were married couples living together, 11.1% had a female householder with no husband present, and 31.0% were non-families. 25.1% of all households were made up of individuals and 8.8% had someone living alone who was 65 years of age or older. The average household size was 2.56 and the average family size was 3.00.
The Bush House, on the National Register of Historic Places, in Dover.
In the city the population was spread out with 31.1% under the age of 18, 7.1% from 18 to 24, 33.6% from 25 to 44, 18.7% from 45 to 64, and 9.6% who were 65 years of age or older. The median age was 33 years. For every 100 females there were 101.8 males. For every 100 females age 18 and over, there were 97.4 males.
The median income for a household in the city was $41,250, and the median income for a family was $47,188. Males had a median income of $29,792 versus $22,857 for females. The per capita income for the city was $15,804. None of the families and 3.0% of the population were living below the poverty line, including no under eighteens and 4.7% of those over 64.
---
History:
DOVER Township, originally named Whitewater in 1858 for its river flowing east into Winona County, was organized in May 1859, being then renamed for Dover in New Hampshire, whence some of its settlers came. The city of this name in sections 21 and 22, platted in the spring of 1869, was at first called Dover Center, from its location at the center of this township; it was incorporated as a village on December 22, 1908, and separated from the township on February 26, 1909; the post office, established in 1858, was known for a time as Dover Centre.
Courtesy Minnesota Historical Society
---
Government:
Dover City Hall
218 Chatfield Street N
Dover, MN 55929
Phone: (507) 932-4720
Web: www.ci.dover.mn.us
Title
Term Ends
Name and Address
Phone
Mayor
12/31/2012
Roger P. Ihrke
311 Park Circle Court
Dover, MN 55929
(507) 932-3842
Clerk
appointed
Karen Henry
218 Chatfield Street N
Dover, MN 55929
(507) 932-4720
Council Member
12/31/2012
Jerome Dyba
248 S Main Street
Dover, MN 55929
(507) 932-3579
Council Member
12/31/2014
Teresa Hackler
218 E Eyota Street
Dover, MN 55929
(507) 932-4019
Council Member
12/31/2014
Aaron Nicklay
117 W Eyota Street
Dover, MN 55929
(507) 932-7388
Council Member
12/31/2012
Michelle Peterson
241 S Dover Street
Dover, MN 55929
(507) 932-2674
---
Post Office:
US Post Office
212 Main Street N
Dover, MN 55929-1508
Phone: (507) 932-3377
Toll Free: (800) ASK-USPS
Web: www.usps.com

Regular Business Hours:
Week Days 8:00 am - 12:00 pm
1:30 pm - 4:15 pm
Saturday 8:00 am - 9:30 am
Latest Collection at Post Office:
Week Days 3:30 pm
Saturday 9:30 am
---
---
Utilities:
---
Major Employers:
Employer
Products/Services
Employees

n/a
---
---
News:
---
Weather:
---
Map: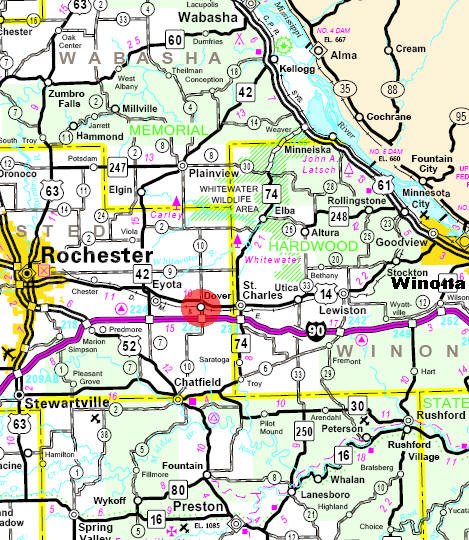 Minnesota State Highway Map of the Dover Minnesota area
---
Events:
---
---
Attractions:
---
Recreation:
---
Lakes:
Lake Name
Size
(acres)
Lake info
Lake Map
Rec Map
Topo Map

none in the immediate area
---
Health Care:
---
Schools:
Dover-Eyota Public Schools
615 South Avenue SE
Eyota, MN 55934
Phone: (507) 545-2125
Fax: (507) 545-2349
Web: www.desch.org

Grades: PK-12
Students: 1,132

Dover-Eyota High School
615 South Avenue SE
Eyota, MN 55934
Phone: (507) 545-2631

Grades: 6-12
Students: 582

Dover-Eyota Elementary School
27 Knowledge Road SE
Eyota, MN 55934
Phone: (507) 545-2632

Grades: PK-5
Students: 550
---
Churches:
Dover United Methodist Church
105 Pleasant Street S
Dover, MN 55929
Phone: (507) 932-4966

Pastor: Rev Heather Klason
Sunday Worship: 9:00 am
---
Media:
---
Motels:
Check for motel rates and availability on:
---
Resorts:
---
Campgrounds:
---
Businesses:
B & B Overhead Door
218 Pleasant Street N
Dover, MN 55929
Phone: (507) 208-0130
Bedtke Brothers Feed
205 Elm Street SE
Dover, MN 55929
Phone: (507) 932-4310
Web: www.bedtkebrosfeed.com

For all your chemical and insecticide needs, Bedtke Bros Feed & LG Seeds of Dover, MN is the name you can trust. We have been providing quality products at reasonable prices, and the best services since 1979. Let us put our experience and expertise to help you with all your feeds and feed dealer needs.

Bernard Wegman Farm
18725 15th Street SE
Dover, MN 55929
Phone: (507) 932-3069
C & F Welding
1734 County Road 142 SE
Dover, MN 55929
Phone: (507) 932-4557
Classic Limousine
16041 County Road 142 SE
Dover, MN 55929
Phone: (507) 261-0049
Countryside Machine
19531 County Road 29 SE
Dover, MN 55929
Phone: (507) 932-3238
Dave's Repair
297 Elm Street SE
Dover, MN 55929
Phone: (507) 932-0082
Doug Peterson Construction
218 E Maple Street
Dover, MN 55929
Phone: (507) 932-5062
Web: www.dougpetersonconstruction.net

Doug Peterson Construction offers home construction services in the Dover, MN area. We provide professional and quality work personalized for your needs.

Dover City Hall
218 Chatfield Street N
Dover, MN 55929
Phone: (507) 932-4314
Ferguson Trailer Sales
1734 County Road 142 SE
Dover, MN 55929
Phone: (507) 932-5683
Web: www.ferguson-trailersales.com

Ferguson Trailer Sales Has Been In Business for over 25 Years. With Over 15 Different Lines Of Trailers From Tow Dolly's To Travel Trailers. Ferguson Prides Themselves In Having The Lowest Prices Possible, and the Highest Quality Possible, With A Small Town Atmosphere And Excellent Service. With 4 Other Businesses On Site For Your Convenience, C.F. Welding, C.F. Forks and Ferguson Trailer Transport, Ferguson Truck Sales. Ferguson's Can Help You With All Your Truck &Trailer Needs.

Hair Shack
211 Main Street N
Dover, MN 55929
Phone: (507) 932-3335
Web: www.doverhairshack.com

The Hair Shack is a Hair salon/day spa located in downtown Dover, Minnesota. We offer a variety of different services including haircuts, colors, pedicures, manicures, massages, facials, waxing and tanning.

Kevin Decker Construction
402 4th Way SE
Dover, MN 55929
Phone: (507) 272-6830
Last Round
224 Main Street N
Dover, MN 55929
Phone: (507) 932-3965
Lawn Leprechaun Lawn Care
15557 Quincy Road NE
Dover, MN 55929
Phone: (507) 932-3559
Ready Mix Concrete Company
209 7th Street SW
Dover, MN 55929
Phone: (507) 932-4020
Road Trip Bar & Grill
217 Main Street N
Dover, MN 55929
Phone: (507) 932-5330
Web: www.roadtripbarandgrill.com
Shea Construction
13919 37th Street NE
Dover, MN 55929
Phone: (507) 259-2688
T & R Flooring
481 Main Street S
Dover, MN 55929
Phone: (507) 932-8884
Web: www.mytrflooring.net

T & R Flooring Inc. offers a wide variety of quality flooring to the Dover, MN area. From new construction to home remodeling, our highly experienced staff can accommodate all of your flooring needs. T & R Flooring Inc. is the only call you'll need to make for professional sales and installations.

Three Rivers Party Rental
372 5th Avenue SE
Dover, MN 55929
Phone: (507) 951-6654
Timberroots
670 Main Street S
Dover, MN 55929
Phone: (507) 932-4415
TNT Marine Service
438 Main Street S
Dover, MN 55929
Phone: (507) 932-0202
US Post Office
212 Main Street N
Dover, MN 55929-1508
Phone: (507) 932-3377
Toll Free: (800) ASK-USPS
Web: www.usps.com
Walters Farms
2301 County Road 7 NE
Dover, MN 55929
Phone: (507) 932-3169
Whitehouse Canvas
4740 County Road 10 SE
Dover, MN 55929
Phone: (507) 932-5441
---
Aerial Photo:
---
Topographic Map: [click map to enlarge, zoom in or zoom out]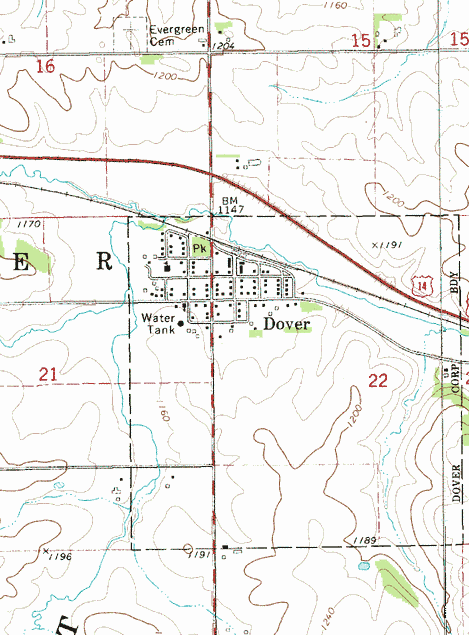 Topographic map is courtesy of the Minnesota DNR - click map to zoom or enlarge