Navigation
LakesnWoods.com
Home Page
Shopping
Coupons
Contact Us
Privacy
Minnesota Gift Guide

Echo Guide:
Photo Gallery
Location
Geography
Demographics
History
Government
Post Office
News
Weather
Street Map
Events
Attractions
Recreation
Lakes
Health Care
Schools
Churches
Media
Motels
Resorts
Campgrounds
Businesses
Aerial Photo
Topographic Map
© 2004-2019
Lakeweb1 Internet Services
All Rights Reserved
Defamation, Copyright and Trademark Infingement Policy
WANTED!
Do you have photos, historical accounts or other items pertaining to the Echo area? Would you like to share this historical information with the world? LakesnWoods.com would like to publish your Echo photos (current or historical) or historical accounts on this website. Original materials can be returned and your privacy will be respected.


(design available on over 100 different items!)


(design available on over 100 different items!)

Echo Minnesota Community Guide
---
Location:
---
Population:
Echo (city)
1970
1980
1990
2000
2010
2000-2010 Change
Actual
Percent
Population
356
334
304
278
278
0
0.00
Land Area (sq. mile)
1.00
0.90
1.02
1.02
1.02
0
0.00
Density (persons per sq. mile)
356.00
371.11
298.04
273.13
273.13
0
0.00
Housing Units
151
159
145
136
122
-14
-10.29
Households
--
152
135
119
111
-8
-6.72
Persons Per Household
--
2.20
2.25
2.34
2.50
+0.16
+6.83
---
Geography:
Echo is a city in Yellow Medicine County, Minnesota. According to the United States Census Bureau, the city has a total area of 1.0 square miles (2.6 km˛), all of it land. The elevation is 1,079 ft (329 m) above sea level..
From Wikipedia, the free encyclopedia.
---
Demographics:
As of the census of 2000, there were 278 people, 119 households, and 69 families residing in the city. The population density was 273.1 people per square mile (105.2/km˛). There were 136 housing units at an average density of 133.6/sq mi (51.5/km˛). The racial makeup of the city was 97.48% White, 1.08% Native American, and 1.44% from two or more races. Hispanic or Latino of any race were 1.08% of the population.
There were 119 households out of which 28.6% had children under the age of 18 living with them, 49.6% were married couples living together, 4.2% had a female householder with no husband present, and 41.2% were non-families. 37.8% of all households were made up of individuals and 26.1% had someone living alone who was 65 years of age or older. The average household size was 2.34 and the average family size was 3.16.
In the city the population was spread out with 27.0% under the age of 18, 6.5% from 18 to 24, 24.1% from 25 to 44, 19.8% from 45 to 64, and 22.7% who were 65 years of age or older. The median age was 40 years. For every 100 females there were 91.7 males. For every 100 females age 18 and over, there were 95.2 males.
The median income for a household in the city was $27,656, and the median income for a family was $35,500. Males had a median income of $25,714 versus $20,385 for females. The per capita income for the city was $15,275. About 6.3% of families and 10.6% of the population were below the poverty line, including 13.2% of those under the age of eighteen and 5.6% of those sixty five or over.
---
History:
ECHO Township, first settled in 1869, was organized March 31, 1874, being then named Empire, which was changed in the next month to Rose, "and on July 17, 1874, the name Echo was bestowed upon it. . . . The difficulties encountered in selecting a name not borne by some other township suggested the final name. This was one case where echo answered" (history of the county, 1914, p. 95). The city in sections 3 and 4, bearing the township name, was founded in August 1884 and was incorporated as a village on May 12, 1893. The city was platted on 26 blocks of land owned by the Minneapolis and St. Louis Railroad, but in 1889 the railroad decided that the original plat was too large and vacated all but nine blocks. The first post office, 1879, was located two miles south of the village on Samuel Mather's farm until he built a store in the village in 1885 and moved the post office there.
Courtesy Minnesota Historical Society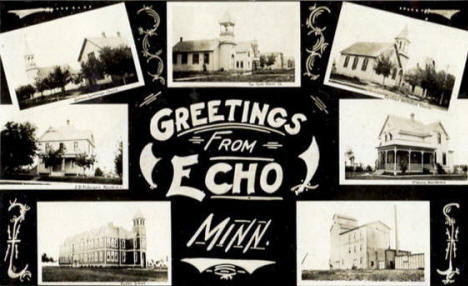 Greetings From Echo Minnesota, 1908
LakesnWoods.com Postcard and Postcard Image Collection - click to enlarge
---
Government:
Echo City Hall
342 2nd Avenue W
Echo, MN 56237
Phone: (507) 925-4190
Web: www.echomn.com
Title
Term Ends
Name and Address
Phone:
Mayor
12/31/2018

Darren Gjerset
180 2nd Avenue W
Echo, MN 56237

(507) 430-3051
Clerk/Treasurer
appointed
Sandra Hennen
PO Box 215
Echo, MN 56237
(507) 925-4190
Council Member
12/31/2020
Daneen Dhoore
430 3rd Street
Echo, MN 56237
(507) 829-8211
Council Member
12/31/2020
Brent Guimond
337 3rd Street
Echo, MN 56237
(507) 430-2579
Council Member
12/31/2018
Daniel Remmele
411 W 4th Avenue
Echo, MN 56237
(507) 925-2121
Council Member
12/31/2018
Wyatt Bendix
541 3rd Street
Echo, MN 56237
(507) 925-3040
---
Post Office:
US Post Office
281 4th Street
Echo, MN 56237-2501
Phone: (507) 925-4368
Toll Free: (800) ASK-USPS
Web: www.usps.com

Regular Business Hours:
Week Days 8:45 am - 11:30 am
12:30 pm - 4:00 pm
Saturday 8:45 am - 9:15 am
Latest Collection at Post Office:
Week Days 4:00 pm
Saturday 1:30 pm
---
---
Utilities:
| | | |
| --- | --- | --- |
| Utility Type | Utility Name | Utility Phone |
| Electricity | n/a | -- |
| Natural Gas | n/a | -- |
| Wastewater | n/a | -- |
| Water | n/a | -- |
| Telephone | n/a | -- |
| Cable TV | n/a | -- |
---
Major Employers:
Employer
Products/Services
Employees

n/a
---
---
News:
---
Weather:
---
Map: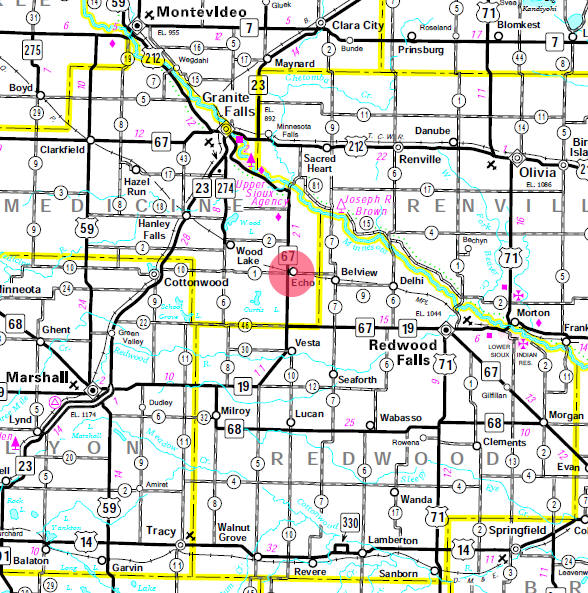 Minnesota State Highway Map of the Echo Minnesota area
---
Events:
---
---
Attractions:
---
Recreation:
---
Lakes:
Lake Name
Size
(acres)
Lake info
Lake Map
Rec Map
Topo Map

none
---
Health Care:
---
Schools:
---
Churches:
American Lutheran Church
340 2nd Street
Echo, MN 56237
Phone: (507) 925-4138

Pastor: n/a
Sunday Worship: n/a

Possibly closed

Echo Alliance Church
278 3rd Street
PO Box 265
Echo, MN 56237
Phone: (507) 925-4176
Web: www.echoalliancechurch.org

Pastor: Joshua Benjamin
Sunday Worship: 10:30 am

Peace Lutheran Church - WELS
161 2nd Avenue E
Echo, MN 56237
Phone: (507) 925-4230

Pastor: Gale Schliene
Sunday Worship: 10:30 am

Rock Valle Lutheran Church
6098 210th Avenue
Echo, MN 56237
Phone: (507) 925-4456

Pastor: Daniel Bowman
Sunday Worship: 9:30 am
---
Media:
---
Motels:
Check for motel rates and availability on:
---
Resorts:
---
Campgrounds:
---
Businesses:
Aunt Betsy's Bed & Breakfast
1967 600th Street
Echo, MN 56237
Phone: (507) 925-3222



Country Bed 'n Breakfast with walking trails, canoeing, paddle boat, gazebo located under large pine trees for early morning breakfast. Four bedroom country home, can rent the whole house for family get togethers - weddings, reunions, showers, etc. Trails are great for cross country skiing.

Bendix Heating & Plumbing
541 3rd Street
Echo, MN 56237
Phone: (507) 925-3040



We do residential, commercial plumbing and heating. Arco Air Furnaces and Air Conditioners, Kohler American Standard, Delta, Moen Plumbing fixtures. We have a backhoe, roto rooter, and other drain cleaning machines. We are a license pump installer and Master Plumber.

Borning Corporation
5826 140th Avenue
Echo, MN 56237
Phone: (507) 925-4350
Busack Farms & Pioneer Seed
1339 610th Street
Echo, MN 56237
Phone: (507) 925-5000
Chris's Body Shop
511 2nd Avenue W
Echo, MN 56237
Phone: (507) 925-4135
Citizens Alliance Bank
631 2nd Avenue W
Echo, MN 56237
Phone: (507) 925-4133
Web: www.citizensalliancebank.com
City Clerk Office
342 2nd Avenue W
Echo, MN 56237
Phone: (507) 925-4190
Commercial Cleaning Service
61 3rd Street
Echo, MN 56237
Phone: (507) 925-3385
Echo Community Center
342 2nd Avenue W
Echo, MN 56237
Phone: (507) 925-4388
Echo Fire Hall
342 2nd Avenue W
Echo, MN 56237
Phone: (507) 925-4139
Echo Granite Works
31 Highway 67
Echo, MN 56237
Phone: (507) 925-4111
Echo Police Department
342 2nd Avenue W
Echo, MN 56237
Phone: (507) 925-4044
Every Child Has Opportunities
101 Rocket Avenue
Echo, MN 56237
Phone: (507) 925-4144
Farmers Cooperative Elevator
340 4th Street
Echo, MN 56237
Phone: (507) 925-4126
Farmers Cooperative Oil Company
461 2nd Avenue W
Echo, MN 56237
Phone: (507) 925-4116
Foundation Dry
630 East Street
Echo, MN 56237
Phone: (507) 925-4245
Heads Up Salon
266 2nd Avenue W
Echo, MN 56237
Phone: (507) 925-4247
Hope Market of Echo
331 2nd Avenue W
Echo, MN 56237
Phone: (507) 925-3100
JLS Appraisal Services LLC
1311 580th Street
Echo, MN 56237
Phone: (507) 925-4000
Lynae's Echo Bar & Grill
318 2nd Avenue W
Echo, MN 56237
Phone: (507) 925-3022
Renneke Enterprises Inc
6200 222nd Avenue
Echo, MN 56237
Phone: (507) 925-3117
Robert Lecy Farm
6074 Highway 67
Echo, MN 56237
Phone: (507) 925-4418
Rock Valley Kennels & Shooting
2149 610th Street
Echo, MN 56237
Phone: (507) 925-4476
Schmidt Machine Shop
6124 210th Avenue
Echo, MN 56237
Phone: (507) 925-4454
Schroeder Trucking
1579 600th Street
Echo, MN 56237
Phone: (507) 925-4103
Sharon's Headquarters
210 1st Street
Echo, MN 56237
Phone: (507) 925-
Sunset Funeral & Cremation
100 North Avenue
Echo, MN 56237
Phone: (507) 925-4145
US Post Office
281 4th Street
Echo, MN 56237-2501
Phone: (507) 925-4368
Toll Free: (800) ASK-USPS
Web: www.usps.com
---
Aerial Photo:
---
Topographic Map: [click map to enlarge, zoom in or zoom out]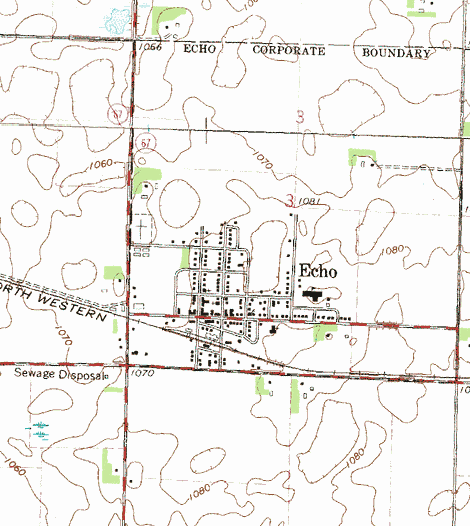 Topographic map is courtesy of the Minnesota DNR - click map to zoom or enlarge