Navigation
LakesnWoods.com
Home Page
Shopping
Coupons
Contact Us
Privacy Add a Link

Federal Dam Guide:
Photo Gallery
Location
Geography
Demographics
History
Government
Post Office
News
Weather
Street Map
Events
Attractions
Recreation
Lakes
Health Care
Schools
Churches
Media
Motels
Resorts
Campgrounds
Businesses
Aerial Photo
Topographic Map
Nearby Communities
Bena
Boy River
Cass Lake
Deer River
Longville
Remer
Walker
© 2004-2018 Lakeweb1 Internet Services
All Rights Reserved
WANTED!
Do you have photos, historical accounts or other items pertaining to the Federal Dam area? Would you like to share this historical information with the world? LakesnWoods.com would like to publish your Federal Dam photos (current or historical) or historical accounts on this website. Original materials can be returned and your privacy will be respected.

Federal Dam Minnesota Community Guide
---
---
Population:
Federal Dam
(city)
1970
1980
1990
2000
2010
2000-2010 Change
Actual
Percent
Population
147
192
118
101
110
+9
+8.91
Land Area (sq. mile)
0.30
1.72
1.90
1.90
1.90
0
0.00
Density (persons per sq. mile)
490.00
111.63
62.11
53.27
57.89
+4.62
+8.76
Housing Units
60
90
96
81
137
+56
+69.14
Households
--
41
43
43
49
+6
+13.95
Persons Per Household
--
2.76
2.74
2.35
2.24
-0.11
-4.68
---
Geography:
Federal Dam is a city in Cass County, Minnesota. According to the United States Census Bureau, the city has a total area of 1.9 square miles (5.0 km≤), of which, 1.9 square miles (4.9 km≤) of it is land and 0.04 square miles (0.1 km≤) of it (1.04%) is water. The elevation is 1,309 ft (399 m).
From Wikipedia, the free encyclopedia.
---
Demographics:
As of the census of 2000, there were 101 people, 43 households, and 23 families residing in the city. The population density was 53.3 people per square mile (20.5/km≤). There were 81 housing units at an average density of 42.7/sq mi (16.5/km≤). The racial makeup of the city was 71.29% White, 18.81% Native American, 0.99% Asian, and 8.91% from two or more races.
There were 43 households out of which 23.3% had children under the age of 18 living with them, 39.5% were married couples living together, 11.6% had a female householder with no husband present, and 44.2% were non-families. 41.9% of all households were made up of individuals and 14.0% had someone living alone who was 65 years of age or older. The average household size was 2.35 and the average family size was 3.29.
In the city the population was spread out with 35.6% under the age of 18, 5.0% from 18 to 24, 18.8% from 25 to 44, 20.8% from 45 to 64, and 19.8% who were 65 years of age or older. The median age was 40 years. For every 100 females there were 98.0 males. For every 100 females age 18 and over, there were 97.0 males.
The median income for a household in the city was $22,917, and the median income for a family was $27,188. Males had a median income of $11,250 versus $21,250 for females. The per capita income for the city was $12,414. There were 18.5% of families and 28.0% of the population living below the poverty line, including 45.7% of under eighteens and 17.2% of those over 64.
From Wikipedia, the free encyclopedia.
---
History:
The village of Federal Dam began as a railroad town. It was the terminal or division point for the trains going from Superior, Wisconsin to Federal Dam and from Thief River Falls to Federal Dam. The line was completed on September 24, 1910. Despite heavy snow the night before, the first train went through on November 14, 1910.
With the building of the Soo Line and the choice of Federal Dam as a division point, the village grew rapidly. The village was incorporated on October 30, 1911, and separated from Gould township on April 23, 1912.
The Corps of Engineers issued its first license for a public boat landing at Leech Lake in 1913. In 1935, the Federal Dam Improvement Club leased land for a campground for tourists. For many years, the village was in the business of leasing land to launch services for docks. Brochures were distributed far and wide. Trains came out from Chicago on the Soo Line for fishing excursions.
Public use continued to expand, and by the 1950ís, recreational facilities at Federal Dam were booming. In 1955, Federal Dam gained national attention for the Leech Lake Muskie Rampage. The muskies started hitting on a hot weekend in July and the phenomenal catch lasted about two weeks.
Although Federal Dam has decreased in population from 500 in 1920 to 101 in 2000, the village still serves as a center for recreational activities such as fishing, boating, camping, snowmobiling, and cross country skiing.
Courtesy City of Federal Dam
FEDERAL DAM is a city in Gould Township, sections 2 and 3, at the reservoir dam built by the U.S. government on Leech Lake River. It was incorporated as a village on October 30, 1911, and separated from the township on April 23, 1912; it had a station of the Soo Line and a post office since 1910.
Courtesy of the Minnesota Historical Society
---
Government:
Federal Dam City Hall
222 Main Street
Federal Dam, MN 56641
Phone: (218) 654-3046
Web: www.federaldam.com

Council meetings are held on the second Monday of the month at 6:30 pm at the Federal Dam Village Hall.

Title
Term Ends
Name and Address
Phone
Mayor
12/31/2012
Martha Johnson
204 3rd Avenue E


Federal Dam MN, 56641

n/a
Clerk - Treasurer
appointed
Teresa M DuBe'
80 State Highway 200 NW
Longville, MN, 56655

(218) 654-3046

Council Member
12/31/2012
Diane Zuelow-Giffen
306 Second Avenue E
Federal Dam MN, 56641
(218) 654-3618
Council Member
12/31/2012
Patti Giffen
326 2nd Avenue
Federal Dam MN, 56641
n/a
Council Member
12/31/2014
Darcy Tonga
221 Cedar Street
Federal Dam MN, 56641
(218) 654-3716
---
Post Office: Federal Dam is served by the Bena Minnesota Post Office:
US Post Office
38 County Road 8
Bena, MN 56626-1042
Phone: (218) 665-2214
Toll Free: (800) ASK USPS
Web: www.usps.com

Regular Business Hours:
Week Days 8:00 am - 11:30 am
1:00 pm - 4:00 pm
Saturday 8:00 am - 8:30 am
Latest Collection at Post Office:
Week Days 4:00 pm
Saturday 8:30 am
---
Utilities:
| | | |
| --- | --- | --- |
| Utility Type | Utility Name | Utility Phone |
| Electricity | n/a | -- |
| Natural Gas | n/a | -- |
| Wastewater | n/a | -- |
| Water | n/a | -- |
| Telephone | n/a | -- |
| Cable TV | n/a | -- |
---
Major Employers:
Employer
Products/Services
Employees

n/a
---
---
News:
---
Weather:
---
Map: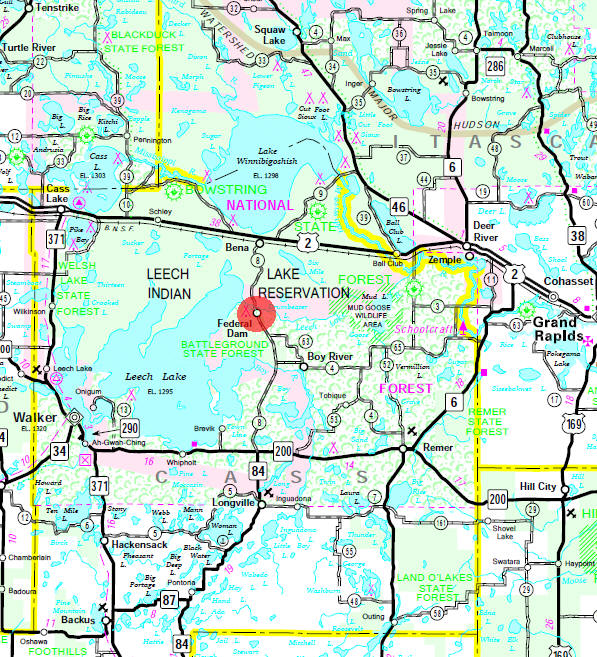 Minnesota State Highway Map of the Federal Dam Minnesota area
---
Events:
---
Attractions:
United States Government - U S Army Corporation of Engineers
Federal Dam, MN 56641
Phone: (218) 654-3145

Since the early 1900s Leech Lake Dam has been a popular destination spot for recreational travelers and is one of the premier walleye, perch and musky lakes in the state. The campground offers a wooded camping setting and a mooring canal for overnight mooring of boats. Almost one-fourth of the shoreline is comprised of sphagnum-sedge bog and is being colonized by back spruced and tamarack trees. The remainder of the shoreline is comprised of a mixed forest, which include elm-ash, maple-basswood, birch-aspen, and pine-mixed hardwoods communities. These communities hold some of the most complex assemblages of species present in the headwaters area.

The Leech Lake Recreation Area is situated at the outlet of Leech Lake in the town of Federal Dam. The recreation area is located about 200 miles northwest of Minneapolis, Minnesota. The Recreation Area offers camping, boating, picnicking, fishing, and playground areas.
---
Recreation:
Chippewa National Forest
200 Ash Avenue
Cass Lake, MN 56633
Phone: (218) 335-8600

The Chippewa was the first National Forest established east of the Mississippi. The Forest boundary encompasses 1.6 million acres, of which over 666,325 acres are managed by the USDA Forest Service. Aspen, birch, pines, balsam fir and maples blanket the uplands. Water is abundant, with over 1300 lakes, 923 miles of rivers and streams, and 400,000 acres of wetlands.

Soo Line North ATV Trail

The Soo Line North ATV Trail is a 112 mile trail running through Carlton, Aitkin and Cass Counties. The trail consists of three main sections: from Moose Lake to Lawler, from Lawler to Shovel Lake, from Shovel Lake to Cass Lake. The portion from Shovel Lake to Cass Lake is mostly forested with several large bogs. Portions of the trail run through Savanna State Forest, Bowstring State Forest, and Chippewa National Forest.

Click map at right to enlarge.
---
---
Lakes:
Lake Name
Size
(acres)
Lake info
Lake Map
Rec Map
Topo Map
Boy
3186

Drumbeater

n/a
n/a
Leech
102947
Six Mile
1288
Winnibigoshish
56470
---
Health Care:
---
Schools: Federal Dam is within the boundaries of Independent School District 118. Elementary and high school students attend school in Remer, Minnesota.
---
Churches:
Our Savior Lutheran Church
PO Box 113
Federal Dam, MN 56641-0113
Phone: (218) 335-6393
E-mail: mfnelson@paulbunyan.net

Pastor: Dee Hillstrom
Sunday Service: 9:00 am

Sacred Heart Catholic Church
Federal Dam, MN 56641

Pastor: Rev. Stephen Solors
Sunday Mass: 11:00 am
---
Media:
---
Motels:
---
Resorts:
Barrett's Fish'inn Launch Service
PO Box 93
Federal Dam, MN 56641
Phone: (218) 654-3755
Battle Point Lodge
9962 Battle Point Trail NW
Federal Dam, MN 56641
Phone: (218) 654-3135
E-mail: bplknox@yahoo.com
Bay Shore Resort
2217 Lakeshore Drive NW
Federal Dam, MN 56641
Phone: (218) 654-3761
North Star Resort
584 North Star Drive NE
Federal Dam, MN 56641
Phone: (218) 654-3330
Silver Hook Resort
10975 Sugar Point Drive NW
Federal Dam, MN 56641
Phone: (218) 654-5521
Sugar Point Resort
10125 Sugar Point Dr. NW
Federal Dam, MN 56641-6712
Toll Free: (800) 733-3150
Web: www.sugarpoint.com

Kids are welcome. Our spacious grounds provide a safe environment for kids with two playground areas along with paddleboats, volleyball and basketball. During the summer season we have kids activities several times a week. It provides a wonderful opportunity for kids to meet the other kids. These have proven to be very popular with the parents, also. The enclosed heated pool provides hours of fun in any weather.

Tonga's Launch Service & Cabins
221 Cedar Street
Federal Dam, MN 56641
Phone: (218) 654-3715
E-mail: tongas@means.net
---
Campgrounds:
---
Businesses:
Abe's Federal Dam Liquors
139 2nd Avenue East
Federal Dam, MN 56641
Phone: (218) 654-5305
Bruce Campbell Farrier Service
Federal Dam, MN 56641
Phone: (218) 654-3357
Earl Machart's Bar & Grill
PO Box 715
Federal Dam, MN 56641
Phone: (218) 654-3336
Federal Dam City Hall
222 Main Street
Federal Dam, MN 56641
Phone: (218) 654-3046
Web: www.federaldam.com
Federal Dam Fire Department
Federal Dam, MN 56641
Phone: (218) 654-3001
Lake of the Woods Wild Rice Company
408 5th Avenue NW
Federal Dam, MN 56641
Phone: (218) 654-3525
Lego Maintenance
518 Main Street S
Federal Dam, MN 56641
Phone: (218) 654-3355
Machartís Bar & Grill
105 Second Ave E
Federal Dam, MN 56641
Phone: (218) 654-3336
Peterson Excavating
1115 County Road 8 NE
Federal Dam, MN 56641
Phone: (218) 654-5282
Web: www.petersonwcexcavating.com

Peterson WC Excavating of Federal Dam, MN provides trusted excavation services. Serving residential and commercial areas, we guarantee prompt and reliable excavations. Let Peterson WC Excavating provide excavation solutions which exceed your expectations.

Red Sky Construction
403 5th Avenue NW
Federal Dam, MN 56641
Phone: (218) 654-3470
Riverside Quick Stop
12 1st Avenue East
Federal Dam, MN 56641
Phone: (218) 654-3405
Sugar Point Resort
10125 Sugar Point Dr. NW
Federal Dam, MN 56641-6712
Toll Free: (800) 733-3150
Web: www.sugarpoint.com

Kids are welcome. Our spacious grounds provide a safe environment for kids with two playground areas along with paddleboats, volleyball and basketball. During the summer season we have kids activities several times a week. It provides a wonderful opportunity for kids to meet the other kids. These have proven to be very popular with the parents, also. The enclosed heated pool provides hours of fun in any weather.

Tonga's Launch Service & Cabins
221 Cedar Street
Federal Dam, MN 56641
Phone: (218) 654-3715

We have guided 28' Chris Craft boats to take out on Leech lake for fishing Walleye, Perch, Northern and Muskie. We have cabins located in the City of Federal Dam. We sell bait, gas,ice, tackle and snacks. We have Docking for large boats, fish cleaning and packaging. Boat & Canoe rental. A.C.E. camping full hook-ups. If you like to fish, we invite you to come. Fishing trips 8AM and 2PM; 1/2 day, or all day. We have rental boats and motors, docking, ice, bait, tackle, fish cleaning and packing. Our comfortable 1-4 bedroom housekeeping cabins sleep 2-12 persons, in Federal Dam come with towels and soap. Package is 2 cabin nights; 3 (1/2 day) launch trips. For winter ice fishing or snowmobiling accommodations call us.

US Army Corp of Engineers
PO Box 111
Federal Dam, MN 56641
Phone: (218) 654-3145
---
Aerial Map:
---
Topographic Map: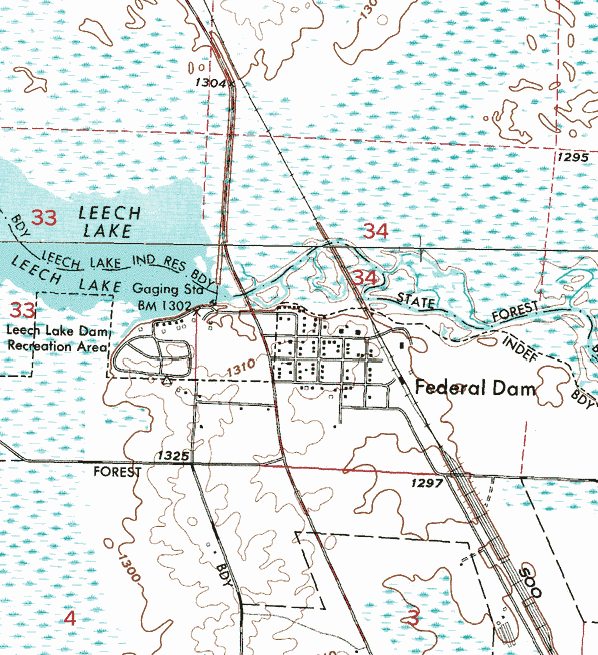 Topographic map is courtesy of the Minnesota DNR - click map to zoom or enlarge
---