Navigation
LakesnWoods.com
Home Page
Shopping
Coupons
Contact Us
Privacy
Minnesota Gift Guide
Floodwood Guide:
Photo Gallery
Location
Geography
Demographics
History
Government
Post Office
News
Street Map
Events
Attractions
Recreation
Lakes
Health Care
Schools
Churches
Media
Motels
Resorts
Campgrounds
Businesses
Aerial Photo
Topographic Map
Nearby Communities:
Barnum
Brookston
Cloquet
Cromwell
Duluth
Grand Rapids
Hibbing
Kettle River
McGregor
Moose Lake
Tamarack
Warba
Wright
© 2004-2019
Lakeweb1 Internet Services
All Rights Reserved
Defamation, Copyright and Trademark Infingement Policy
WANTED!
Do you have photos, historical accounts or other items pertaining to the Floodwood area? Would you like to share this historical information with the world? LakesnWoods.com would like to publish your Floodwood photos (current or historical) or historical accounts on this website. Original materials can be returned and your privacy will be respected.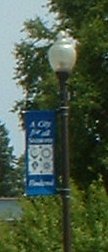 Floodwood Minnesota Community Guide
---
Location:
---
Population:
Floodwood (city)
1970
1980
1990
2000
2010
2000-2010 Change
Actual
Percent
Population
650
648
574
503
528
+25
+4.97
Land Area (sq. mile)
0.00
0.33
0.37
0.44
0.44
0
0.00
Density (persons per sq. mile)
--
1,963.6
1,551.4
1,131.9
1,200.0
+68.1
+6.02
Housing Units
265
314
300
290
292
+2
+2.22
Households
--
277
266
254
257
+3
+1.18
Persons Per Household
--
2.34
2.16
1.98
2.05
+0.07
+3.54
---
Geography:
Floodwood is a city in St. Louis County, Minnesota. U.S. Highway 2 and State Highway 73 are two of the main arterial routes in the city. According to the United States Census Bureau, the city has a total area of 0.4 square miles (1.1 km˛), all of it land. The elevation is 1,250 ft (381 m).
From Wikipedia, the free encyclopedia.
---
Demographics:

As of the census of 2000, there were 503 people, 254 households, and 112 families residing in the city. The population density was 1,131.9 people per square mile (441.4/km˛). There were 290 housing units at an average density of 652.6/sq mi (254.5/km˛). The racial makeup of the city was 97.22% White, 0.99% Native American, 0.20% Asian, and 1.59% from two or more races. Hispanic or Latino of any race were 0.80% of the population. 48.5% were of Finnish, 18.5% German, 6.5% Swedish and 5.9% Polish ancestry according to Census 2000.
There were 254 households out of which 22.0% had children under the age of 18 living with them, 28.7% were married couples living together, 9.8% had a female householder with no husband present, and 55.9% were non-families. 49.2% of all households were made up of individuals and 26.0% had someone living alone who was 65 years of age or older. The average household size was 1.98 and the average family size was 2.88.
In the city the population was spread out with 23.7% under the age of 18, 8.9% from 18 to 24, 26.0% from 25 to 44, 16.9% from 45 to 64, and 24.5% who were 65 years of age or older. The median age was 39 years. For every 100 females there were 91.3 males. For every 100 females age 18 and over, there were 89.2 males.
The median income for a household in the city was $18,977, and the median income for a family was $30,833. Males had a median income of $30,179 versus $19,375 for females. The per capita income for the city was $14,649. About 12.0% of families and 19.4% of the population were below the poverty line, including 17.9% of those under age 18 and 25.4% of those age 65 or over.
From Wikipedia, the free encyclopedia.
---
History:
AT THE BEND OF THE RIVER
Floodwood (1,257 alt., 571 pop.), at the junction of the St. Louis, Floodwood, and Savanna rivers, once a typical logging town, is now an agricultural center.
This was one of the strategic points in the earliest days of the Minnesota Arrowhead, for it is near the westernmost bend of the St. Louis River, one of the main waterways traveled by fur traders. They paddled from Fond du Lac (see Duluth Tour 3) on the St. Louis River, then into the East Savanna; from there they portaged, over the once famous Savanna Portage, about six miles across swamps to the West Savanna, and thence to Big Sandy Lake (see Arrowhead Tour 3; McGregor) and the Mississippi River. Daniel Greysolon, Sieur du Lhut, may have traveled this route in 1679. Others were Perrault, who made many trips over it between 1784 and 1794, the Cass Expedition in 182o, and Schoolcraft in 1832.
Ancient mounds, almost obliterated by sawmill operations, have been found in the vicinity, indicating predecessors to the Sioux and Chippewa, who were living within the region when the first white man came.
As soon as it was known that a railroad was to pass through the area, homesteads were acquired (1889), and Floodwood came into existence. There is some doubt whether the first settler was Bob Sutherland, cook for the construction crew laying the Duluth and Winnipeg Railroad, or Jean W. New, who was engaged by the crew to hunt deer and moose for their camps.
Although it is probable there had been early logging operations in the area, large-scale activities did not begin until after the building of the railroad in 1890, when J. C. Campbell started to operate here. In that year, too, the C. N. Nelson Lumber Company of Cloquet built the first logging railroad in the district, but it operated only in winter. The Nelson Company continued until 1894, when the Weyerhauser interests purchased its holdings.
Floodwood grew and in 1899 was incorporated as a village. For many years only the white pine, then plentiful, was considered marketable. Later, there was a demand for tamarack and cedar ties for railroad construction, and paper mills began to use more spruce. In 1923, the last timber was hoisted from the rivers, and by 1926 most of the big companies had completed logging operations in the vicinity. Much pulpwood, however, is still shipped.
With the passing of large-scale timber operations, fertile farm lands were developed. Dairying has now become the main industry, Floodwood having a cooperative creamery, the largest rural plant of its kind in St. Louis County.
Floodwood Independent School District No. 19, with four schools under its jurisdiction, now operates only one, Lincoln Grade and High (Elm St. bet. 3rd and 4th Ayes.), in the village limits.
From the WPA Guide to the Minnesota Arrowhead Company
©1941 by the Minnesota Arrowhead Association
---
Government:
Floodwood City Hall
206 E 8th Avenue
PO Box 348
Floodwood, MN 55736
Phone: (218) 476-2751

Hours:
Monday through Friday
8:30 am to 4:30 pm

Title
Term Ends
Name and Address
Phone
Mayor
12/31/2012
Jeff Kletscher
--
City Administrator
appointed
Jessica Rich
(218) 476-2751
Treasurer
12/31/2014
Faith Bailey
--
Clerk
12/31/2014
Patti J. Karpik
--
Council Member
12/31/2014
Tad Farrell
--
Council Member
12/31/2012
Vern Owens
--
Council Member
12/31/2012
Eleanor Vorderbruggen
--
---
Post Office:
US Post Office
118 W 7th Avenue
Floodwood, MN 55736-1200
Phone: (218) 476-2224
Toll Free: (800) ASK-USPS
Web: www.usps.com

Regular Business Hours:
Week Days 8:30 am - 12:30 pm
1:30 pm - 4:30 pm
Saturday Closed
Latest Collection at Post Office:
Week Days 4:30 pm
Saturday 5:30 pm
---
Utilities:
---
Major Employers:
| | | |
| --- | --- | --- |
| Employer | Products/Services | Employees |
| Floodwood School | Elementary & Secondary Schools | 50 |
| Mat, Inc. | Other Wood Product Manufacturing | 25 |
| Floodwood Services & Training | Technical & Trade Schools | 15 |
| Northview Bank | Depository Credit Intermediation | 15 |
| Floodwood, City of | Executive, Legislative, & Other Gen. Govt. Support | 10 |
| MN Dept of Transportation | Admin.of Economic Programs | 10 |
| St Louis Co Hwy Dept | Admin.of Economic Programs | 10 |
---
---
News:
---
Weather:
---
Map: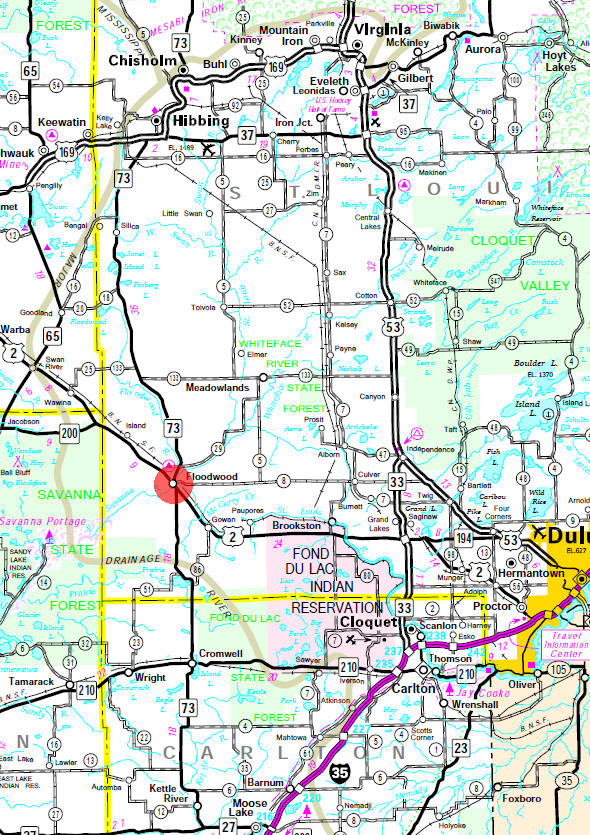 Minnesota State Highway Map of the Floodwood Minnesota area
---
Events:
Floodwood Catfish Festival

Second Weekend in July

Activities included the parade, catfish fishing contest, 5k-run/walk, softball tournament, street dance, beer gardens, food concessions, pancake breakfast, car show, hot dog eating contest, live entertainment, community worship service and much more.
---
Attractions:
---
Recreation:
Retreat Golf Club
10761 Highway 2
Floodwood, MN 55736
Phone: (218) 476-3131

The Retreat Golf Club is a Championship 9 Hole Public Golf Course located 25 miles west of Duluth on Highway 2. Built into the northland woods with the Mirbat Creek winding through the property, The Retreat is considered to be the best 9-hole golf course in Minnesota.
---
Lakes:
Lake Name
Size
(acres)
Location
Lake info
Lake Map
Rec Map
Topo Map

none in the immediate area
---
Health Care:
Scenic Rivers Health Services
126 W 7th Avenue
Floodwood, MN 55736
Phone: (218) 476-2221
Web: www.scenicrivershealthservices.org

Our Core value is the care of families, friends and visitors who reside in or travel through our region by assisting to improve their health. This care is provided at our medical clinics in Bigfork, Big Falls, Cook, Floodwood and Northome, MN and at our dental clinics in Cook and Floodwood, MN. Care is also provided through contracts with Bigfork Valley and Cook Hospitals and their associated nursing homes as well as at Northome Care Center and at Thistledew Camp in Togo, MN
---
Schools:
---
Churches:
Assemblies of God Church
11698 Highway 8
Floodwood, MN 55736
Phone: (218) 476-2553

Pastor: David J Rohde
Sunday School 9:00 am
Sunday Service: 10:15 am

Hope Lutheran Church
401 Highway 73
Floodwood, MN 55736
Phone: (218) 476-2259

Pastor: Owen Christianson
Sunday Worship and Sunday School: 9:00 am

St. Louis Catholic Church
124 5th Avenue
Floodwood, MN 55736
Phone: (218) 476-2367

Pastor: Father Peter Lambert
Sunday Mass: 10:30 am
---
Media:
Floodwood Forum
120 W 7th Avenue
PO Box 286
Floodwood, MN 55736
Phone: (218) 476-2232
Fax: (218) 476-2782

Weekly newspaper published on Thursdays with a circulation of 910.

Portage News
121 W 7th Avenue
PO Box 96
Floodwood, MN 55736
Phone: (218) 476-3210
---
Motels:
Stardust Motel
112 Highway 2 West
Floodwood, MN 55736
Phone: (218) 476-2340

Clean, modern, 7 rooms, double beds, cable, fridge. A great small town motel.
---
Resorts:
---
Campgrounds:
Floodwood Campground

Open May 1 to October 1 the Floodwood Campground is nestled on the banks of the St. Louis River. Amenities include 9 electric sites, flush toilets, shower house, and dump station. Fees $14/night. The campground is located in the City of Floodwood so it is in walking distance to services. However, it is quite, wooded and secluded from the surrounding residential neighborhood. For more information contact Floodwood City Hall at 218-476-2751
---
Businesses:
Allseason Storage
120 W 7th Avenue
Floodwood, MN 55736
Phone: (218) 476-2069
Andor's Oil
101 Railroad Street E
Floodwood, MN 55736
Phone: (218) 476-3101
Arrowhead Seamless Siding
305 Pine Street
Floodwood, MN 55736
Phone: (218) 393-3299
Bailey's Auto Repair
11842 Highway 2 West
Floodwood, MN 55736
Phone: (218) 476-2001

Open
Monday - Friday 9 am - 5 pm
Saturday 9 am - 1 pm

Bernie's Auto Body
7396 Highway 73
Floodwood, MN 55736
Phone: (218) 476-2903
Bridgeman's Embers
106 W 7th Avenue
Floodwood, MN 55736
Phone: (218) 476-2321
Burger House
116 Highway 2
Floodwood, MN 55736
Phone: (218) 476-3370

Best Burgers in FLOODWOOD!! GREAT FOOD, Good Prices! Located at the intersection of US Hwy #2 and State Hwy #73. Hours: 11:00AM - 8:00PM Take out orders available -- call to place your order or call ahead to have your dine-in order ready for you.

Carolyn's Family Hair Care
129 7th Avenue W
Floodwood, MN 55736
Phone: (218) 476-2107

Open
Tuesday - Friday 9 am - 4 pm
Saturday 9 am - 12 pm

Cedar Valley Keepsakes
7203 Highway 73
Floodwood, MN 55736
Phone: (218) 476-2173
Clothing, Etc.
125 West 7th Avenue
PO Box 322
Floodwood MN 55736
Phone: n/a

Thrift Store located on Main Street in Floodwood. We are a not for profit organization that receives donations from the community. We sell clothing, household items, toys, etc. all at low prices. Our workers are all community volunteers. Profits from our operation are given back to the Community and School.

Davidson Construction
6114 Highway 73
Floodwood, MN 55736-8004
Phone: (218) 476-2849

Enbridge Energy
Highway 2 West
Floodwood, MN 55736
Phone: (218) 476-2607
Fafard Inc.
10108 County Road 8
Floodwood, MN 55736
Phone: (218) 476-3022
Family Ceramics & Crafts
102 8th Avenue
Floodwood, MN 55736
Phone: (218) 476-2488

Floodwood Area Credit Union
224 Highway 2 West
Floodwood, MN 55736
Phone: (218) 476-2288
Web: www.floodwoodcu.com

Full Service Financial Institution Offering: Checking Savings Certificates of Deposits IRA's Consumer and Real Estate Loans Debit Cards Visa Credit Card ATM

Floodwood Auto & Motorsports
320 W Highway 2
Floodwood MN 55736
Phone: (218) 476-3733

Quality Used Cars and Trucks. Small engine and vehicle repair. Auto Detailing. Dealer and Repair of: Toro equipment Sthil equipment Jonsered equipment Kymco ATV's and scooters Bobcat mowers Timberwolf woodsplitters

Floodwood Auto Parts
206 W Highway 2
Floodwood, MN 55736
Phone: (218) 476-2273
Floodwood Bridgeman's
106 W 7th Avenue
Floodwood, MN 55736
Phone: (218) 4762321
Floodwood Extreme Motorsports
303 W Highway 2
Floodwood, MN 55736
Phone: (218) 476-3249
Floodwood Farm & Feed
106 Railroad Street
Floodwood, MN 55736
Phone: (218) 476-2233

Complete feed manufacturing for farm animals and wild game. Food plot seed and fertilizer available. Pet food.

Floodwood Fire Department
PO Box 348
Floodwood, MN 55736
Phone: (218) 476-2238
Floodwood Forum
120 W 7th Avenue
PO Box 286
Floodwood, MN 55736
Phone: (218) 476-2232

Floodwood Gas & Electric
303 W Highway 2
PO Box 54
Floodwood, MN 55736
Phone: (218) 476-3249
Floodwood Hardware
114 7th Avenue W
Floodwood, MN 55736
Phone: (218) 476-3202
Floodwood Little Store
308 9th Avenue E
Floodwood, MN 55736
Phone: (218) 476-2051
Floodwood Services & Training
601 Ash Street
PO Box 347
Floodwood, MN 55736
Phone: (218) 476-2230

Day training and habilitation for people with developmental disabilities, pre-vocational/supported employment training, adult day services, lawn mowing, raking, snow removal, janitorial services, recycling center and recycling pick-up, packaging of products, and much more.

Floodwood VFW Post 8299
Floodwood, MN 55736
Phone: n/a
Food N Fuel
Highway 2
Floodwood, MN 55736
Phone: (218) 476-2235
Fort and Company PA
522 Pine Street
Floodwood, MN 55736
Phone: (218) 476-2734
Grandma's Treasure Chest
108 W 7th Avenue
Floodwood, MN 55736
Phone: (218) 476-1673

We sell antiques, gifts, crafts, collectibles, Finnish glassware and glass birds. We have a large variety of old and new items for your home or cabin

Hingeley Road Quilting
11284 Highway 2
Floodwood, MN 55736
Phone: (218) 476-3139
Web: www.hingeleyroadquilting.com

Hingeley Road Quilting or as you may be more familiar with us: www.quickquiltkits.com is one of the largest quilt shops in Northern Minnesota, we specialize in customer service and will special order just about anything. We carry over 4,500 bolts of top quality, 100% cotton, quilt shop only fabrics including over 700 bolts of Hoffman Batiks (the entire 1895 collection and soon all of the A100's), 600 bolts of top brand flannel and the entire lines of Moda Marble Botanicals, Moda Marble Mate Multis, Northcott National Parks, & Moda/Holly Taylor in woven, flannel and batiks.

Hutchinson Lumber
6445 Highway 73
Floodwood, MN 55736-8082
Phone: (218) 476-2860

I Can Help
109 8th Avenue E
Floodwood, MN 55736
Phone: (218) 476-3443
Jerel Vance Construction
12288 W Savanna Road
Floodwood, MN 55736
Phone: (218) 476-2742
Larry's Service & Bait
314 W Highway 2
Floodwood, MN 55736
Phone: (218) 476-2225

Gas - Propane - Bait - Tackle - Pop - Ice - Snacks

Lindquist Lumber & Supply
5586 Highway 73
Floodwood, MN 55736
Phone: (218) 476-3071

Building Supplies - Steel Buildings
Open Monday - Friday 8am - 5pm

Little Store The
308 9th Avenue E
Floodwood, MN 55736
Phone: (218) 476-2051
Mainline Station
122 7th Street
Floodwood, MN 55736
Phone: (218) 476-2222

Full Bar with Low Off Sale Beer and Liquor Prices. Grill with Daily Lunch Specials. Pizza - Eat In or Take Out. Pull Tabs. Fast Friendly Service. Coldest Beer in Town.

Mark's Shop and Garden
5786 Martima Road
Floodwood, MN 55736-8124
Phone: (218) 476-2576

Mat, Inc.
12402 Highway 2
Floodwood, MN 55736
Phone: (888) 477-3028
Web: www.soilguard.com

Mat Inc. is a producer of high quality wood-fiber mulches and the one-step erosion control system Soil Guard. Soil Guard is suitable for applications requiring temporary erosion control until the establishment of ground covering vegetation.

Northern Minnesota Nursery
12017 Eagle Road
Floodwood, MN 55736
Phone: (218) 476-2162
Web: www.northernminnnursery.com

Northern Minnesota Nursery was started in 1988. The nursery began as a bareroot seedling nursery, producing plants for Christmas tree growers. In 1992, container shrub production was started, serving local garden centers and landscapers.

Northland Woods N Water Realty
120 W 7th Avenue
Floodwood, MN 55736
Phone: (218) 476-2069
Web: www.northwest-national.com

Northland Woods-n-Water Realty of Floodwood, Inc. has been representing buyers and sellers of Real Estate for over 17 years. Floodwood is located in Southwest St. Louis County and is noted for its vast forests, scenic rivers, and abundant wildlife.

Northview Bank
130 W 7th Avenue
Floodwood, MN 55736
Phone: (218) 476-2281
Web: www.northviewbank.com

We are a full service bank serving the Floodwood and surrounding areas with branches in Cromwell, Barnum, Willow River, Finlayson, Grand Rapids, and Deer River, for your convenience. Northview Bank is the home of free picture debit cards. We offer personal and commercial loans, fixed-rate mortgages, and much more. Stop in to meet our friendly and professional staff.

Portage News
121 W 7th Avenue
PO Box 96
Floodwood, MN 55736
Phone: (218) 476-3210
Resting Place Coffee Shop
223 W Highway 2
Floodwood, MN 55736
Phone: (218) 476-3102
Retreat Golf Club
10761 Highway 2
Floodwood, MN 55736
Phone: (218) 476-3131

The Retreat Golf Club is a Championship 9 Hole Public Golf Course located 25 miles west of Duluth on Highway 2. Built into the northland woods with the Mirbat Creek winding through the property, The Retreat is considered to be the best 9-hole golf course in Minnesota.

Ricehaven
11908 Ricehaven Road
Floodwood, MN 55736
Phone: (218) 476-2917
Rich Cuisine
201 W 7th Avenue
Floodwood, MN 55736
Phone: (218) 349-5659
Web: www.richcatering.com

Rich Cuisine is a family-owned and operated, full service catering company. We serve communities throughout Northeast Minnesota and Northwest Wisconsin. Our staff provides custom catering of the highest standards. We provide services ranging from picnics, cocktail parties, corporate catering to elaborate buffets, formal sit down dinners and weddings.

Riverview Manor Apartments
328 E 11th Avenue
Floodwood, MN 55736
Phone: (218) 476-2738
Web: www.schuettco.com

We look forward to your consideration in selecting Riverview Manor Apartments as your future home. Our community features 35 affordable apartment homes designed for people 62 years of age or older and those with a disability. Rental assistance is available for qualified applicants.

Savanna Portage
102 E Highway 2
PO Box 94
Floodwood, MN 55736
Phone: (218) 476-2342

Restaurant with: Full Menu Dining Room & Bar On/Off Sale Full Banquet Facilities Broasted Chicken And much more...

Scenic Rivers Dental
601 Highway 73
Floodwood, MN 55736
Phone: (218) 476-2969
Web: www.scenicrivershealthservices.org

Clinic Hours: Monday – Thursday 8am – 5pm; Friday 8am - 12 noon

Scenic Rivers Health Services
126 W 7th Avenue
Floodwood, MN 55736
Phone: (218) 476-2221
Web: www.scenicrivershealthservices.org

Our Core value is the care of families, friends and visitors who reside in or travel through our region by assisting to improve their health. This care is provided at our medical clinics in Bigfork, Big Falls, Cook, Floodwood and Northome, MN and at our dental clinics in Cook and Floodwood, MN. Care is also provided through contracts with Bigfork Valley and Cook Hospitals and their associated nursing homes as well as at Northome Care Center and at Thistledew Camp in Togo, MN

Stardust Motel
112 Highway 2 West
Floodwood, MN 55736
Phone: (218) 476-2340
Strands Hair Salon
114 W 7th Avenue
Floodwood, MN 55736
Phone: (218) 476-2262
Subway Sandwich Shop
308 9th Avenue
Floodwood, MN 55736
Phone: (218) 476-1493
SuperAmerica
101 West Highway 2
Floodwood, MN 55736
Phone: (218) 476-2235

T L Construction
10196 Birch Road
Floodwood, MN 55736
Phone: (218) 427-1001
Wenstrom Insurance Agency
522 Pine Street
Floodwood, MN 55736
Phone: (218) 476-3033

Auto - Business - Home - Farm - Life - Health
Open Monday - Friday 8:30am - 5 pm Saturday 8:30am - 11:30am

World's Grooviest Greenhouse
4579 Hingeley Road
Floodwood, MN 55736
Phone: (218) 476-2508
Wundrow's True Value Hardware
201 W 7th Street
Floodwood, MN 55736
Phone: (218) 476-2343
---
Aerial Photo:
---
Topographic Map: [click map to enlarge, zoom in or zoom out]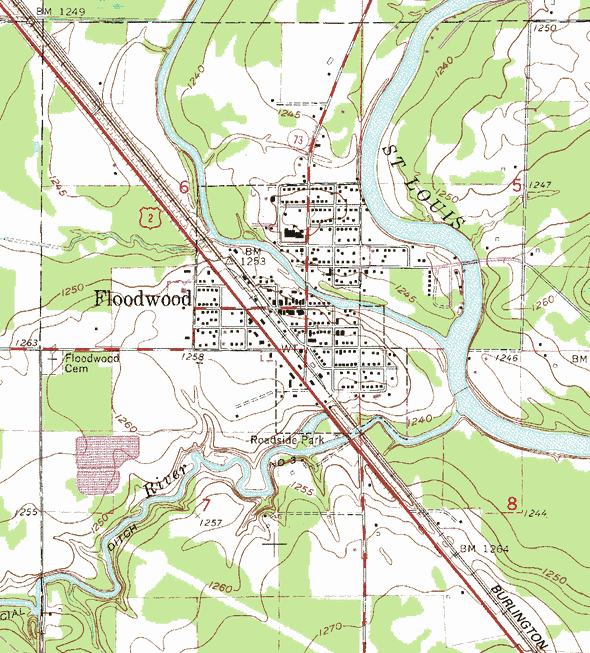 Topographic map is courtesy of the Minnesota DNR - click map to zoom or enlarge