---
Population:
Minnie Township
1970
1980
1990
2000
2010
2000-2010 Change
Actual
Percent
Population
n/a
n/a
9
19
26
+7
+36.84
Land Area (sq. mile)
34.9
34.9
34.9
34.9
34.9
0
0.00
Density (persons per sq. mile)
--
--
0.26
0.54
0.74
+0.20
+36.84
Housing Units
--
--
--
51
68
+17
+33.33
Households
--
--
--
11
15
+4
+36.36
Persons Per Household
--
--
--
1.73
1.73
0
0.00
---
Geography:
Fourtown is an unincorporated community in Minnie Township in Beltrami County Minnesota. According to the United States Census Bureau, the township has a total area of 34.9 square miles (90.3 km˛), all of it land. The elevation is 1,237 feet (377 m). State Highway 89 is the major highway through the area.
From Wikipedia, the free encyclopedia.
---
Demographics:
As of the census of 2000, there were 19 people, 11 households, and 5 families residing in the township. The population density was 0.5 people per square mile (0.2/km˛). There were 51 housing units at an average density of 1.5/sq mi (0.6/km˛). The racial makeup of the township was 100.00% White.
There were 11 households out of which none had children under the age of 18 living with them, 36.4% were married couples living together, 9.1% had a female householder with no husband present, and 54.5% were non-families. 54.5% of all households were made up of individuals and 27.3% had someone living alone who was 65 years of age or older. The average household size was 1.73 and the average family size was 2.60.
In the township the population was spread out with 21.1% from 18 to 24, 10.5% from 25 to 44, 36.8% from 45 to 64, and 31.6% who were 65 years of age or older. The median age was 50 years. For every 100 females there were 90.0 males. For every 100 females age 18 and over, there were 90.0 males.
The median income for a household in the township was $46,250, and the median income for a family was $46,250. Males had a median income of $68,750 versus $0 for females. The per capita income for the township was $42,900. None of the population and none of the families were below the poverty line.
From Wikipedia, the free encyclopedia.
---
History:
Coming soon!
---
Government:
Title
Term Ends
Name and Address
Phone

Chairman

12/31/2020
Steve Hahn
66397 Swedes Jackpine Road NW
Grygla, MN 56727
(218) 294-6286
Clerk
12/31/2020
Ray Hendrickson
66298 Swedes Jackpine Road NW
Grygla, MN 56727
(218) 294-6312
Supervisor
12/31/2020
John Benson
24119 Marotteck Lane NW
Grygla, MN 56727
(218) 294-6048
Supervisor
12/31/2018
Julie Grossman
66364 Swedes Jackpine Road NW
Grygla, MN 56727
(218) 294-6432
Treasurer
12/31/2018
Lauralee Hahn
66397 Swedes Jackpine Road NW
Grygla, MN 56727
(218) 294-6286
---
Post Office: Fourtown and Minnie Township are served by the Grygla Minnesota Post Office
US Post Office
107 S Main Avenue
Grygla, MN 56727-9998
Phone: (218) 294-6141
Toll Free: (800) ASK-USPS
Web: www.usps.com

Regular Business Hours:
Week Days 8:00 am - 11:30 am
12:00 pm - 2:30 pm
Saturday 9:00 am - 9:45 am
---
---
News:
---
Weather:
---
Map: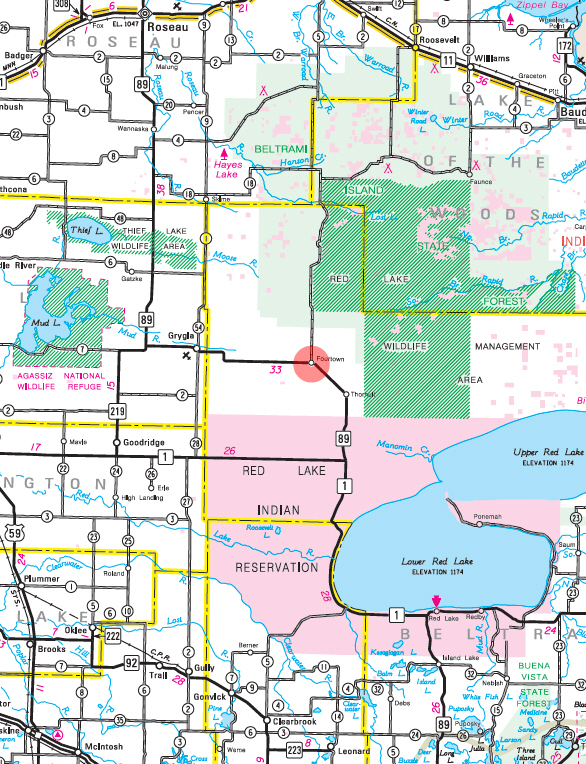 Minnesota State Highway Map of the Fourtown Minnesota area
---
Events:
---
Attractions:
---
Recreation:
Fourtown-Grygla Trail

Ride 170 miles of trail stretched throughout northwestern Minnesota. Much of this trail system follows county roads, township roads, ditch banks and existing trails. County ordinances allow ATVs to operate on the far right side of the travel lane; highway-licensed vehicles share parts of the route so use caution. The ConCon trails are also located nearby. The trail system is provided by Beltrami County and maintained by the Fourtown Grygla Sportsman's Club.
---
Lakes:

none in the immediate area
---
Health Care:
---
Schools:
---
Churches:
Our Saviors Lutheran Church - ELCA
37048 Hamre Road NW
Grygla, MN 56727
Phone: (218) 294-6498

Pastor: Mary Ronning Gilthvedt
Sunday Worship: 10:30 am
---
Media:
---
Motels:
none - nearest motel is 17 miles west in Grygla
---
Resorts:
---
Campgrounds:
---
---
Businesses:
Fourtown Grygla Sportsmans Club
15925 120th Avenue NW
Thief River Falls, MN 56701
Phone: n/a
Web: www.fourtownsportsmans.com

Organized in the 1960's as a snowmobile club, the Fourtown Grygla Sportsmans Club,has emerged into one of the most active sportsmens clubs in Northwest Minnesota. Today the club has 63 family memberships with an additional 55 individual memberships from the surrounding area. The club was developed and now maintains approximately 240 miles of Grant-In-Aid Snowmobile Trails. The club has also just completed a project proposal to acquire,build and maintain 182 miles of a ATV Trail System in Beltrami County in the Grygla Fourtown area.
Fourtown Store and Tavern
63063 Fourtown Road NW
Grygla, MN 56727
Phone: (218) 294-6460

Fifty miles from a stoplight, nestled on the edge of the Beltrami Island State Forest, Fourtown is an oasis in the wilderness. Visitors enjoy hundreds of miles of pristine snowmobile and fourwheeler trails and some of the best hunting in Minnesota. Everyone's favorite bar, grill, convenience store, and gas station up in God's Country! Come out for a beer and cheeseburger, while enjoying some of the most pristine, untouched wilderness in Minnesota.
---
---
Aerial Photo: [click photo to enlarge, zoom in or zoom out]


---
Topographic Map: [click map to enlarge, zoom in or zoom out]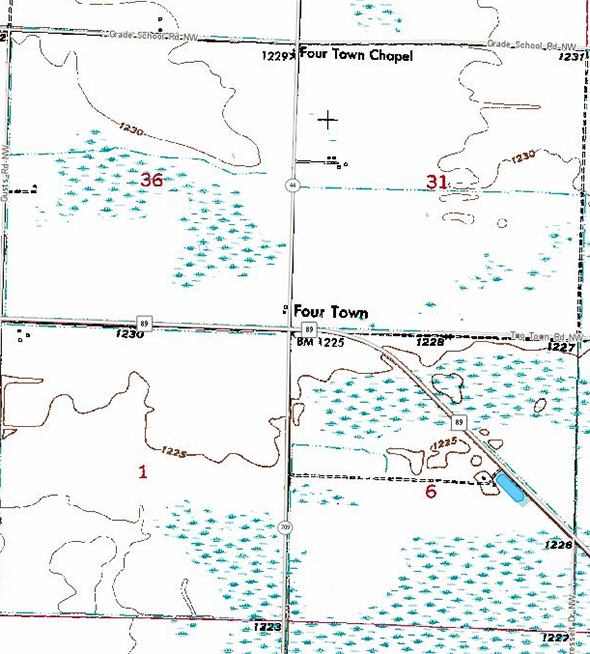 Topographic map is courtesy of the Minnesota DNR - click map to zoom or enlarge