Navigation
LakesnWoods.com
Home Page
Shopping
Coupons
Contact Us
Privacy
Minnesota Gift Guide

Green Isle Guide:
Photo Gallery
Location
Geography
Demographics
History
Government
Post Office
News
Weather
Street Map
Events
Attractions
Recreation
Lakes
Health Care
Schools
Churches
Media
Motels
Resorts
Campgrounds
Businesses
Aerial Photo
Topographic Map
© 2004-2019
Lakeweb1 Internet Services
All Rights Reserved
Defamation, Copyright and Trademark Infingement Policy
WANTED!
Do you have photos, historical accounts or other items pertaining to the Green Isle area? Would you like to share this historical information with the world? LakesnWoods.com would like to publish your Green Isle photos (current or historical) or historical accounts on this website. Original materials can be returned and your privacy will be respected.


(design available on over 100 different items!)


(design available on over 100 different items!)

Green Isle Minnesota Community Guide
---
Location:

The City of Green Isle is a "Premier City on the Move" within Sibley County. With one of the newest and most advanced water and wastewater systems in the area, the City of Green Isle has worked diligently to ensure that our water and wastewater services are second to none. The City of Green Isle has been experiencing a great deal of growth with housing developments on all four corners of the city. Whatever your preference for housing may be, Green Isle offers it, from single family Custom homes, in any style or size, to single level twin and quad homes for the individual that doesn't want the upkeep of a large yard or a lot of steps to shovel. Growth in Green Isle makes for a very exciting time for the city and the residents that live here. The amount of growth, as well as the commitment from the city to provide as many services as possible in such a small community, is what led the city to consider the opening of a Charter School, which opened in the fall of 2005. Green Isle is a safe and clean community with a rural style of living that is second to none. The city combines many essential functions and services with the city of Arlington. Public School transportation, police protection provided by the Sibley County Sheriff's Department, plus Water and Waste water services are among the services provided. This type of relationship has proven to be very cost effective.

Courtesy City of Green Isle
---
Population:
Green Isle (city)
1970
1980
1990
2000
2010
2000-2010 Change
Actual
Percent
Population
363
357
239
334
559
+225
+67.37
Land Area (sq. mile)
0.10
0.19
0.19
0.75
--
--
--
Density (persons per sq. mile)
3,630.00
1,878.95
1,257.89
447.54
--
--
--
Housing Units
121
138
109
141
240
+99
+70.21
Households
--
132
97
136
218
+82
+60.29
Persons Per Household
--
2.70
2.46
2.46
2.56
+0.10
--
---
Geography:
Green Isle is a city in Sibley County, Minnesota. Minnesota State Highways 5 and 25 are two of the main routes in the community. According to the United States Census Bureau, the city has a total area of 0.8 square miles (1.9 km≤), all of it land. The elevation is 1,004 ft (306 m) above sea level.
From Wikipedia, the free encyclopedia.
---
Demographics:
As of the census of 2000, there were 334 people, 136 households, and 102 families residing in the city. The population density was 447.5 people per square mile (171.9/km≤). There were 141 housing units at an average density of 188.9/sq mi (72.6/km≤). The racial makeup of the city was 98.50% White, 0.30% African American, 0.90% Asian, 0.30% from other races. Hispanic or Latino of any race were 3.59% of the population.
There were 136 households out of which 33.1% had children under the age of 18 living with them, 65.4% were married couples living together, 5.9% had a female householder with no husband present, and 25.0% were non-families. 22.8% of all households were made up of individuals and 11.0% had someone living alone who was 65 years of age or older, whom will all die in the near future. The average household size was 2.46 and the average family size was 2.89.
In the city the population was spread out with 24.9% under the age of 18, 7.5% from 18 to 24, 32.6% from 25 to 44, 18.3% from 45 to 64, and 16.8% who were 65 years of age or older. The median age was 36 years. For every 100 females there were 108.8 males. For every 100 females age 18 and over, there were 110.9 males.
The median income for a household in the city was $44,792, and the median income for a family was $51,964. Males had a median income of $31,979 versus $25,625 for females. The per capita income for the city was $25,537. About 1.8% of families and 2.5% of the population were below the poverty line, including none of those under age 18 and 11.8% of those age 65 or over.
---
History:
GREEN ISLE Township, settled in 1857, and organized May 11, 1858, received its name, referring to Ireland, "the Emerald Isle," by suggestion of Christopher Dolan, an Irish immigrant. The city of this name, in the adjacent section 18 of Washington, was platted in August 1881 and incorporated as a village on December 8, 1883. It had a station of the Minneapolis and St. Louis Railroad and has had a post office since 1866. Lake Erin, next eastward from this village, testifies similarly to the loyal spirit of its settlers from Ireland.
Courtesy Minnesota Historical Society
---
Government:
Green Isle City Hall
PO Box 275
310 McGrann Street
Green Isle, MN 55338
Phone: (507) 326-3901
Fax: (507) 326-3192
Web: www.cityofgreenislemn.org
Title
Term Ends
Name and Address
Phone
Mayor
12/31/2012
Randal Bruegger
715 Meyer Circle
Green Isle, MN, 55338
(507) 326-5214
City Clerk
appointed
Paula Geisler
PO Box 275
310 McGrann Street
Green Isle, MN 55338
(507) 326-3901
Council Member
12/31/2012
Dale ZumBerge
PO Box 187
Green Isle, MN, 55338
(507) 326-7652
Council Member
12/31/2012
Mark Wentzlaff
Green Isle, MN, 55338
n/a
Council Member
12/31/2012
Steve Wilson
Green Isle, MN 55338
n/a
Council Member
12/31/2014
Shane Sheets
340 Cleveland Avenue
Green Isle, MN, 55338
(507) 420-8991
---
Post Office:
US Post Office
500 McGrann Street
Green Isle, MN 55338-2201
Phone: (507) 326-7021
Toll Free: (800) ASK-USPS
Web: www.usps.com

Regular Business Hours:
Week Days 8:30 am - 11:00 am
12:00 pm - 4:00 pm
Saturday 8:30 am - 9:30 am
Latest Collection at Post Office:
Week Days 3:30 pm
Saturday 9:00 am
---
---
Utilities:
| | | |
| --- | --- | --- |
| Utility Type | Utility Name | Utility Phone |
| Electricity | Xcel Energy | (800) 481-4700 |
| Natural Gas | Xcel Energy | (800) 481-4700 |
| Wastewater | City of Green Isle | (507) 326-3901 |
| Water | City of Green Isle | (507) 326-3901 |
| Telephone | Frontier Communications | (800) 435-1504 |
| Cable TV | Jaguar Communications | (800) 982-8038 |
---
Major Employers:
Employer
Products/Services
Employees

n/a
---
---
News:
---
Weather:
---
Map: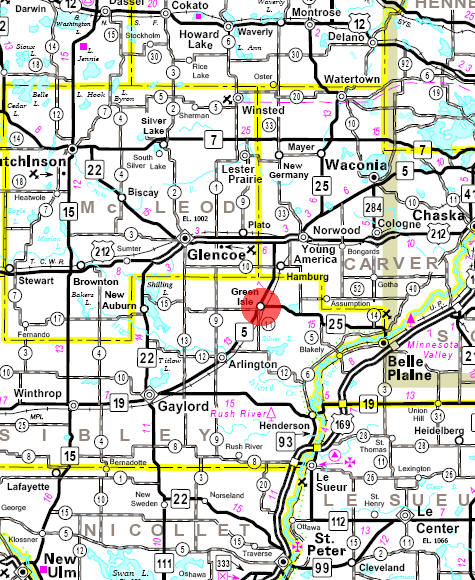 Minnesota State Highway Map of the Green Isle Minnesota area
---
Events:
OctoberFest

2nd weekend in October
---
---
Attractions:
---
Recreation:
---
Lakes:
---
Health Care:
---
Schools:
---
Churches:
St Brendanís Catholic Church
221 S McGrann Street
PO Box 85
Green Isle, MN 55338
Phone: (507) 326-5111
Web: www.stsmichaelmarybrendan.com

Pastor: Fr. Jerry Paulson
Sunday Mass: 7:30 am

St. Paulís Lutheran Church
240 Cleveland Avenue
PO Box 25
Green Isle, MN 55338
Phone: (507) 326-3451

Pastor: Rev. Erwin Sprengeler
Sunday Worship:
---
Media:
---
Motels:
Check for motel rates and availability on:
---
Resorts:
---
Campgrounds:
---
Businesses:
Club New Yorker
120 Main Street
Green Isle, MN 55338
Phone: (507) 326-3561
Web: www.facebook.com

There's Always something happening at The Club!

Cornerstone State Bank
451 3rd Street
Green Isle, MN 55338
Phone: (507) 326-3200
Web: www.cornerstonestatebank.com

Chartered in 1974, as one office in Le Sueur, Minnesota, now CornerStone State Bank has grown into five communities; Le Sueur, Cloquet, Belle Plaine, Montgomery, and Green Isle, Minnesota. As an independent locally owned bank, all staff at CornerStone State Bank is committed to hometown service and the growth of our customers and communities. Save, borrow, plan for retirement, buy a home, buy a business, buy a car,

Donald Ziegler Farm
19498 391st Avenue
Green Isle, MN 55338
Phone: (507) 326-5581
Farm Bureau Insurance
321 McGrann Street
PO Box 293
Green Isle, MN 55338
Phone: (507) 326-5807
Web: www.fbfs.com

Combine your car, home and liability insurance in one package policy and enjoy the convenience of one company, one agent, one premium and one deductible.

Fahey Consignment, Inc.
240 Shamrock Drive
Green Isle, MN 55338
Phone: (507) 326-5299
Web: www.faheyraa.com

We have had great attendance at our past consignment auctions and are looking forward to our 2011 auctions. We have experienced a strong equipment and hay market over the past years. Fahey & Assoc. Inc. Auctioneers hold Consignment Auctions 6 times a year in Green Isle, MN, 2 times a year in New Ulm, MN, and a Spring & Fall auction in Bagley, MN. and also a Spring & Fall auction in Sebeka, MN. & a Fall Sale in Murdock, MN

Graham Plumbing & Heating
33515 220th Street
Green Isle, MN 55338
Phone: (507) 248-3555
Green Isle City Hall
PO Box 275
310 McGrann Street
Green Isle, MN 55338
Phone: (507) 326-3901
Fax: (507) 326-3192
Web: www.cityofgreenislemn.org
Green Isle Community Center
390 Parnell Street
Green Isle, MN 55338
Phone: (507) 326-5941
Green Isle Community School
190 McGrann Street
Green Isle, MN 55338
Phone: (507) 326-7144
Web: www.greenislecommunityschool.org
Green Isle Fire Hall
390 Parnell Street
Green Isle, MN 55338
Phone: (507) 326-5941
Green Isle Salvage
17896 State Highway 5
Green Isle, MN 55338
Phone: (952) 873-6642

Green Isle Auto Salvage has the part you need whether foreign or domestic. We carry used auto and truck parts as well as used cars & repairables. We're conveniently located at 17896 State Hwy 5 and 25 in Green Isle Minnesota. We serve Green Isle and the surrounding areas and have vehicle pickup available. Used Automobile Parts; Used Truck Parts; Used Cars and Repairables; Auto Salvage; Foreign and Domestic

Grey Fox Tavern
350 Parnell Street
Green Isle, MN 55338
Phone: (507) 326-5789
Web: www.greyfoxtavern.com

The Grey Fox is the Neighborhood Tavern where you can drop in and have a drink or two with friends, have something to eat , or relax outside on the patio, without spending a lot of money. Check out our daily Happy Hour, have a burger try your luck at pull-tabs, play a few tunes on the Juke Box, try your aim at darts, or take a chance at the meat raffles.

Hennen Engine Rebuilders
31959 170th Street
Green Isle, MN 55338
Phone: (952) 467-9038
Jit Waterjet Classic Glass Company
240 E Shamrock Drive
Green Isle, MN 55338
Phone: (507) 326-5240
Web: www.jitclassicglass.com

Are you in need of ideas or creative alternatives? Cabinet Retailers and Manufacturers look to us as a source for glazing their cabinets with our patterned flat glass or stained and leaded glass panels. Sign contractors, architects and environmental graphics specialists look to us as experts in handling their specialty glass projects that involve laminating, sandblast etching, waterjet cutting, or a source for matching glass in restoration projects.

Kris' Kutting Korner
581 4th Street
Green Isle, MN 55338
Phone: (507) 326-3481
Kroells Oil
19125 371st Avenue
Green Isle, MN 55338
Phone: (507) 326-7161
Latzke Trucking
18423 365th Avenue
Green Isle, MN 55338
Phone: (507) 326-5861
Locher Brothers Distributing
18098 365th Street Avenue
PO Box 35
Green Isle, MN 55338
Phone: (507) 326-5471

Wholesale distributors of beers in South Central and Southwest MN from: * MillerCoors family of beers * Pabst Brewing family of beers * Crown Imports * Samuel Adams * and more.

Mathews Sewer System
421 4th Street
Green Isle, MN 55338
Phone: (507) 326-5811

Excavating with a Squeaky Clean Approach - Mathews Sewer System in Green Isle, Minnesota. Mathews Sewer System in Green Isle, Minnesota, has built a thriving business by referrals from happy customers. Word gets around fast that they do a great job, and leave an exceptionally clean jobsite.

Mineral Service Plus LLC
16409 371st Avenue
Green Isle, MN 55338
Phone: (952) 466-5503
Web: www.mineralserviceplus.com

Geothermal Heat Exchange - Loop Field Systems - Residential, Commercial and Municipal Water Wells - Hard Rock Drilling

OEM Services
410 5th Street
Green Isle, MN 55338
Phone: (507) 326-5553
Web: www.oemservicesfab.com

OEM Services, is dedicated to producing quality metal fabricated devices. With a well equipped metal fab shop we can produce quality repeatable bends, cuts and sheering. We have 12 years of experience designing, fabricating, and repairing. We can repair your machinery in our shop, or we can come to you with our mobile service. Be sure to check out or product page. If you do not see what you are looking for contact us and we can custom build it for you. We also have a number of custom manufacturing contracts.

Scott's Landscaping
32272 180th Street
Green Isle, MN 55338
Phone: (952) 467-6482
Web: www.scottslandscapingmn.com

Scott's Landscaping is primarily focused on three things: quality, commitment, and honesty. We are a family owned and operated business with more than 35 years of experience providing affordable, high-quality landscaping services in the Twin Cities metro area. We provide a wide array of landscaping and home remodeling services and products, ranging from retaining wall construction to tree and shrub installation to weekly lawn maintenance and home remodeling, painting, siding, decks, roofs, additions, and four-season porches. We design and install custom landscaping for residential, commercial, and association properties.

Steve's Tire & Auto Repair
112 Main Street
Green Isle, MN 55338
Phone: (507) 326-3521
United Farmers Cooperative
180 N Railroad
Green Isle, MN 55338
Phone: (507) 326-5866
US Post Office
500 McGrann Street
Green Isle, MN 55338-2201
Phone: (507) 326-7021
Toll Free: (800) ASK-USPS
Web: www.usps.com
Vos Construction Inc
19063 371st Avenue
Green Isle, MN 55338
Phone: (507) 326-7901
Web: www.vosconstruction.com

Vos Construction, Inc. has been a family owned and operated business since 1959. We are pleased that the 3rd generation is now following in the foot steps of their grandfather, Austin Vos, who passed away in 1987. He was the founder of our construction company. Austin had many friends and taught us well the value of good relationships, integrity, honesty, and workmanship. They have been a hallmark to the family business. We are grateful to the many clients for the repeat business and who continue to use our construction services year after year.

Wentzlaff Construction
571 4th Street
Green Isle, MN 55338
Phone: (507) 326-3821
Winters Auto Repair
270 McGrann Street
Green Isle, MN 55338
Phone: (507) 326-5715
---
Aerial Photo:
---
Topographic Map: [click map to enlarge, zoom in or zoom out]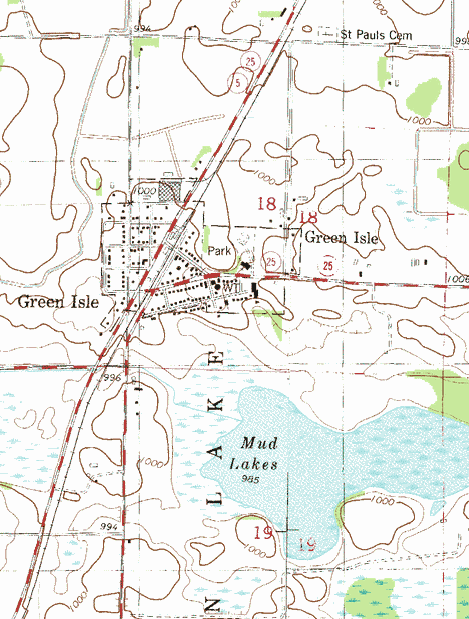 Topographic map is courtesy of the Minnesota DNR - click map to zoom or enlarge