Navigation
LakesnWoods.com
Home Page
Shopping
Coupons
Contact Us
Privacy

Hallock Guide:
Photo Gallery
Location
Geography
Demographics
History
Government
Post Office
News
Weather
Street Map
Events
Attractions
Recreation
Lakes
Health Care
Schools
Churches
Media
Motels
Resorts
Campgrounds
Businesses
Aerial Photo
Topographic Map
© 2004-2018 Lakeweb1 Internet Services
All Rights Reserved
WANTED!
Do you have photos, historical accounts or other items pertaining to the Hallock area? Would you like to share this historical information with the world? LakesnWoods.com would like to publish your Hallock photos (current or historical) or historical accounts on this website. Original materials can be returned and your privacy will be respected.


(design available on over 100 different items!)

Hallock Minnesota Community Guide
---
Location:

Hallock is located in the Red River Valley, home of some of the best soil for farming in the world. Therefore the agricultural industry is a major influence in the area. However, within one-half hour's drive are the northern tall-grass prairie, aspen park-land, and northern Minnesota forested areas. Because of its location, Hallock is a diverse community with many different opportunities and activities. Building blocks of the community are its facilities, including quality schools, hospital & nursing home, Kittson County Courthouse, dentists, optometrist, and pharmacy. Other businesses include several construction firms, newspaper, and many service related businesses. Hallock also has a world class water supply.

Courtesy City of Hallock
---
Population:
Hallock (city)
1970
1980
1990
2000
2010
2000-2010 Change
Actual
Percent
Population
1,477
1,405
1,304
1,196
981
-215
-17.98
Land Area (sq. mile)
1.10
1.81
2.09
2.09
2.09
0
0.00
Density (persons per sq. mile)
1,342.73
776.24
623.92
573.22
469.38
-103.84
-18.12
Housing Units
557
641
607
586
549
-37
-6.31
Households
--
558
521
485
449
-36
-7.42
Persons Per Household
--
2.38
2.34
2.29
2.18
-0.11
-4.80
---
Geography:
Hallock is a city in and the county seat of Kittson County, Minnesota. U.S. Route 75 and Minnesota State Highway 175 are two of the main routes in the city. According to the United States Census Bureau, the city has a total area of 2.1 square miles (5.4 km2), all of it land. The elevation is 817 ft (249 m) above sea level.
From Wikipedia, the free encyclopedia.
---
Demographics:
As of the census of 2000, there were 1,196 people, 485 households, and 305 families residing in the city. The population density was 220.9/km˛ (573.2/mi˛). There were 586 housing units at an average density of 108.3/km˛ (280.9/mi˛). The racial makeup of the city was 97.91% White, 0.08% African American, 0.17% Native American, 0.17% Asian, 0.59% from other races, and 1.09% from two or more races. Hispanic or Latino of any race were 1.42% of the population.
There were 485 households out of which 30.1% had children under the age of 18 living with them, 54.0% were married couples living together, 6.8% had a female householder with no husband present, and 37.1% were non-families. 35.3% of all households were made up of individuals and 21.2% had someone living alone who was 65 years of age or older. The average household size was 2.29 and the average family size was 3.00.
In the city the population was spread out with 24.8% under the age of 18, 3.8% from 18 to 24, 23.3% from 25 to 44, 21.1% from 45 to 64, and 26.9% who were 65 years of age or older. The median age was 44 years. For every 100 females there were 81.5 males. For every 100 females age 18 and over, there were 81.3 males.
The median income for a household in the city was $37,063, and the median income for a family was $46,042. Males had a median income of $31,848 versus $21,136 for females. The per capita income for the city was $18,156. About 3.3% of families and 4.8% of the population were below the poverty line, including 4.0% of those under age 18 and 7.8% of those age 65 or over.
---
History:
HALLOCK Township, which includes the county seat, was organized August 2, 1880, and was named in honor of one of the founders of its village, Charles Hallock, the widely known sportsman, journalist, and author. He was born in New York City, March 13, 1834; was graduated at Amherst College, 1854; was during many years editor of Forest and Stream, which he founded in 1873; erected a large hotel here in 1890, which was a noted resort of sportsmen until it was burned in 1892; was the author of many magazine articles and books on hunting, fishing, travel in Alaska, Florida, etc.; died in New York on December 2, 1917. Hallock village, platted in 1879-80, was incorporated June 11, 1887; its post office began in 1879.
Courtesy Minnesota Historical Society
---
Government:
Hallock City Hall
163 3rd Street
PO Box 336
Hallock, MN 56728
Phone: (218) 843-2737
Web: www.hallockmn.org

The city council meets on the first Monday of each month at 7:00 p.m. in the City Hall.

Title
Term Ends
Name & Address
Phone:
Mayor
12/31/2012
Paul Clay
PO Box 595
Hallock, MN 56728
(218) 843-2737
Clerk/Treasurer
appointed
Henry Noel
PO Box 336
Hallock, MN 56728
(218) 843-2737
Council Member
12/31/2012
Laura Reese
PO Box 382
Hallock, MN 56728
(218) 843-1729
Council Member
12/31/2012
Keith Klegstad
PO Box 692
Hallock, MN 56728
(218) 843-2686
Council Member
12/31/2014
Alex Gustafson
23 N Bryan Avenue
Hallock, MN 56728
(218) 843-1280
Council Member
12/31/2014
Mike Totleben
PO Box 751
Hallock, MN 56728
(218) 843-2032
---
Post Office:
US Post Office
105 S Birch Avenue
Hallock, MN 56728-9998
Phone: (218) 843-2534
Toll Free: (800) ASK-USPS
Web: www.usps.gov

Regular Business Hours:
Week Days 9:00 am - 12:30 pm
1:30 pm - 4:45 pm
Saturday 9:30 am - 11:00 am
Latest Collection at Post Office:
Week Days 4:30 pm
Saturday 4:30 pm
---
---
Utilities:
---
Major Employers:
---
---
News:
---
Weather:
---
Map: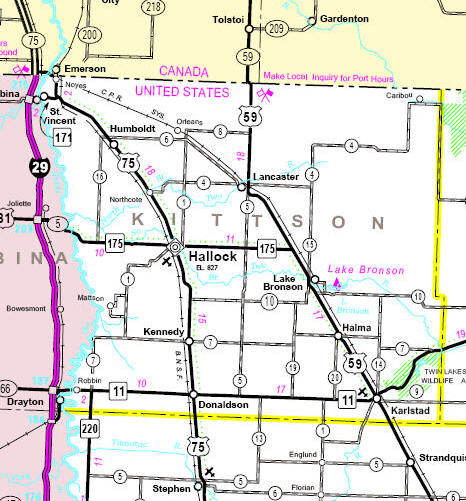 Minnesota State Highway Map of the Hallock Minnesota area
---
Events:
Kittson County Fair

2nd Week in July.

Carnival, petting zoo, demo auto racing, livestock show, grandstand entertainment, stock car races.
---
Attractions:
---
Recreation:
Waters of the Dancing Sky Scenic Byway

Named for the Northern Lights that can often be seen dancing in the sky, this is Minnesota's northernmost byway. This breathtaking route traverses 191 miles along Minnesota Trunk Highway 11 through lakes, the legendary Rainy River, forests, farmland, and several cities and small towns.

King of Trails Scenic Byway

Drive U.S. Highway 75 the King of Trails from Canada to Mexico. This trail was previously utilized by Native Americans and settlers and was designated by the State of Minnesota as "The Historic
King of Trails" in 2001. Efforts include an annual marketplace day where communities along Hwy. 75 invite vendors to openly market their goods at select locations.
Kittson County Trail

Parking at the Hallock Eagles Club on US Highway 75, also in Lake Bronson, Humboldt, Kennedy, Lancaster and Pembina Snowmobile - Groomed trail runs throughout Kittson County and connects with Lake Bronson State Park, Pelan and McTrail System Trails. Trail features Red River flat prairie and wooded wilderness with deer, moose and other wildlife. Access to good ungroomed riding.
Two Rivers Golf Course 902 7th St. SE
Hallock, MN 56728
Phone: (218) 843-2155

9 hole grass green course. New clubhouse facilities, close to swimming pool, cart and club rent available.
---
Lakes:
---
Health Care:
Kittson Memorial Healthcare Center
1010 S Birch Avenue
Hallock, MN 56728
Phone: (218) 843-3612
Web: www.kmhc.net

Kittson Memorial Healthcare Center is located in Hallock, Minnesota; with a satellite medical clinic in Karlstad, MN. The main medical campus consists of a fifteen bed hospital, medical clinic, a seventy bed nursing home (with a dedicated memory care unit), home health care agency and assisted living center. Within the campus is also a community fitness center and independent dental clinic. We also, operate an ambulance service that serves our community and surrounding communities.
---
Schools:
---
Churches:
Assembly of God Church
1106 S Birch Avenue
Hallock, MN 56728
Phone: (218) 843-2146

Pastor: n/a
Sunday Worship: n/a

First Presbyterian Church
228 N Ash Avenue
Hallock, MN 56728
Phone: (218) 843-2196

Pastor: Marge Landtwehr
Sunday Worship: n/a

Grace Lutheran Church - ELCA
321 S Birch Street
Hallock, MN 56728
Phone: (218) 843-3665
Web: www.forministry.com/USMNELCIAGRRLG

Pastor: n/a
Sunday Worship: 10:30 am

St. John's Episcopal Church
218 3rd Street SE
Hallock, MN 56728
Phone: (218) 843-3478

Pastor: Theodore Nimick
Sunday Worship: n/a

St. Patrick's Catholic Church
170 5th Street NE
Hallock, MN 56728
Phone: (218) 843-2323

Pastor: n/a
Saturday Mass: 5:00pm
Sunday Mass: 8:30am
---
Media:
---
Motels:
Caribou Inn Budget Host
203 E Broadway
PO Box 70
Hallock, MN 56728
Phone: (218) 843-3702
Web: www.budgethost.com

We feature smoking or non-smoking rooms. Suite with a Jacuzzi. Electronic locks on room doors. Continental breakfast, and free local calls.

Gateway Motel
702 S Atlantic Street
PO Box 414
Hallock, MN 56728
Phone: (218) 843-2032

3 doubles, 6 singles, all rooms have microwaves and refrigerators, pet friendly, cable tv, coffee maker. Located on S Hwy 75 in Hallock MN. Michael Totleben (owner). On-site museum display.
Valley Motel
808 S Atlantic Avenue
PO Box 815
Hallock, MN 56728
Phone: (218) 843-2828

Accommodations include 6 Single Rooms, 5 Double Rooms and 1 Suite. Seasonal availability on 4 Mobile Homes with 2 bedrooms and fully equipped kitchens. All units have cable TV and air conditioning. Free local telephone calls. Located near food and fuel businesses.
Check for motel rates and availability on:
---
Resorts:
---
Campgrounds:
Gilbert Olson Campground
PO Box 336
Hallock, MN 56728
Phone: (218) 843-2737

Located on the south branch of the Two Rivers, 48 campsites, with electrical hookups, showers, flush toilets, and dump station. Snowmobiling, snowshoeing, canoeing, fishing, heated swimming pool, playground, basketball courts. The park is adjacent to Hallock's nine-hole grass greens golf course and also to the south branch of the Two Rivers for fishing and canoeing.

Horseshoe Campground
PO Box 336
Hallock, MN 56728
Phone: (218) 843-2737

Located near downtown. Electric hookups, flush toilets, dump station, picnic shelter, and playground.
---
Businesses:
AgCountry Farm Credit Services
224 N Atlantic Avenue
PO Box 878
Hallock, MN 56728
Phone: (218) 843-3627
Toll Free: (877) 284-2835
Fax: (218) 843-3629
Web: www.agcountry.com
AGSCO
1275 Atlantic Avenue S
Hallock, MN 56728
Phone: (218) 843-3677
American Crystal Sugar
3231 160th Avenue
Hallock, MN 56728
Phone: (218) 379-3190
Web: www.crystalsugar.com
American Federal Bank
157 2nd Street NE
Hallock, MN 56728
Phone: (218) 843-3656
Fax: (218) 843-3658
Toll Free: (877) 884-3656
Web: www.americanfederalbank.com

American Federal is a financially-strong, long-established, employee-owned community bank serving agriculture, business and individuals in the Red River Valley of North Dakota and northwestern Minnesota for more than a century.

Anderson Pharmacy
115 2nd Street SE
Hallock, MN 56728
Phone: (218) 843-2205
Austin Flowers
322 S Birch Avenue
Hallock, MN 56728
Phone: (218) 843-2848
Austin Funeral Home
221 N 2nd Street
Hallock, MN 56728-4300
Phone: (218) 843-2677
Web: www.austinfuneralchapel.com

Austin Funeral Chapel is dedicated to providing services to the families of Hallock, Drayton, Stephen and the surrounding communities, with care and compassion. We serve every family in our community with great pride. We are able to offer a wide range of services to meet your families needs and customs.

Auto Value Auto Parts
906 Atlantic Avenue S
Hallock, MN 56728
Phone: (218) 843-2668
Bakken Boots
124 N Atlantic Street
Hallock, MN 56728
Phone: (218) 843-2082

Outfitter shop with a surprising twist. A gallery of wildlife prints created from the artwork of the owner Rock Bakken. Bakken is known throughout the region and state for his award winning detailed drawings and paintings.

Bakken Construction
504 N Birch Avenue
Hallock, MN 56728
Phone: (218) 843-1492
Blomquist Trucking
2574 280th Avenue
Hallock, MN 56728
Phone: (218) 754-6791
Bob's Body Shop
715 S Grove Avenue
Hallock, MN 56728
Phone: (218) 843-2543
Bob's Repair Shop
2412 290th Avenue
Hallock, MN 56728
Phone: (218) 754-4241
Brian Anderson Construction
2670 290th Avenue
Hallock, MN 56728
Phone: (218) 754-6851
Brink, Sobolik, Severson, Malm & Albrecht, P.A.
217 Birch Avenue S
PO Box 790
Hallock, MN 56728
Phone: (218) 843-3686
Fax: (218)-843-2724
Toll Free: (800) 962-6281
Web: www.brinklawyers.com
Bumper to Bumper Auto Parts
406 Atlantic Avenue S
Hallock, MN 56728
Phone: (218) 843-2223
C & M Ford Body Shop
123 3rd Street S
Hallock, MN 56728
Phone: (218) 843-3414
C & M Ford Sales Inc
202 NAtlantic Avenue
Hallock, MN 56728
Phone: (218) 843-2652
Web: www.candmford.com
Caribou Grill
225 E Broadway
Hallock, MN 56728
Phone: (218) 843-3740
Web: www.caribougrill.net

Proudly serving locally grown produce and Ed's North Country Meats and Double J. Elk. Featuring daily lunch specials, diner, take out, happy hour, private parties, catering, offsale, and a banquet room.

Caribou Inn Budget Host
203 E Broadway
PO Box 70
Hallock, MN 56728
Phone: (218) 843-3702
Web: www.budgethost.com

We feature smoking or non-smoking rooms. Suite with a Jacuzzi. Electronic locks on room doors. Continental breakfast, and free local calls.

Cenex of Hallock
16 Atlantic Street S
Hallock, MN 56728
Phone: (218) 843-2695
CHS Ag Services
1009 S Atlantic Avenue
Hallock, MN 56728
Phone: (218) 843-2627
Web: www.chsagservices.com

CHS Ag Services is the newest business within this geography. Our mission is quite simple. Combine the agronomy assets from the existing CHS locations, along with the recently purchased Agriliance facilities in NW Minnesota and St Thomas ND, to create a more efficient company to deliver more services and a better supply plan to our producers.

Clark Gas
1215 Atlantic Avenue S
Hallock, MN 56728
Phone: (218) 843-2681
Country View Lanes
512 N Atlantic Avenue
Hallock, MN 56728
Phone: (218) 843-
Crop Insurance Associates
290 Atlantic Avenue N
Hallock, MN 56728
Phone: (218) 843-3373
Curry's Quality Cleaning
211 N 2nd Street
Hallock, MN 56728
Phone: (218) 843-2946
Dahl Hatton Muir & Reese
217 S Birch Street
Hallock, MN 56728
Phone: (218) 843-2645
Web: www.dhmrcpa.com

At Dahl Hatton Muir & Reese LTD we believe in the value of relationships. We view every client relationship like a partnership, and truly believe that our success is a result of your success. Whether a sole proprietor, a small business, family farm, partnership or a small or large corporation, timely and prompt financial accounting information is important to make you successful. The firm of Dahl, Hatton, Muir and Reese are ready to assist you in making sound business decisions.

Dan Sjostrand Agency
844 Atlantic Avenue
Hallock, MN 56728
Phone: (218) 843-3350
David Hovda Agency Inc
118 2nd Street NE
Hallock, MN 56728
Phone: (218) 843-2633
Eagles Lodge
418 S Atlantic Avenue
PO Box 936
Hallock, MN 56728
Phone: (218) 843-3494
Farm Business Management
410 5th Street SE
Hallock, MN 56728
Phone: (218) 843-9191
Farm Credit Services
224 Atlantic Avenue N
Hallock, MN 56728
Phone: (218) 843-3627
Farmers Store of Hallock
25 E Broadway
Hallock, MN 56728
Phone: (218) 843-2647
Fashion Plus Beauty Salon
300 2nd Street NE
PO Box 191
Hallock, MN 56728
Phone: (218) 843-2023

Hair services Manicure Waxing Eyebrow Color Tanning Redken Products

Gateway Motel
702 S Atlantic Street
PO Box 414
Hallock, MN 56728
Phone: (218) 843-2032

3 doubles, 6 singles, all rooms have microwaves and refrigerators, pet friendly, cable tv, coffee maker. Located on S Hwy 75 in Hallock MN. Michael Totleben (owner). On-site museum display.
Gillie Jewelry
28 2nd Street SE
Hallock, MN 56728
Phone: (218) 843-3681
Gilliedome Stables
2597 290th Avenue
Hallock, MN 56728
Phone: (218) 843-2000
Web: www.gilliedome.com

Northwest Minnesota's largest indoor horse riding facility. We offer year-round indoor riding, horse events and stud services.

Great Lakes Gas Transmission
PO Box 206
Hallock, MN 56728
Phone: (218) 379-3136
Gullander's Hardware
224 Atlantic Avenue N
Hallock, MN 56728
Phone: (218) 843-2171
Web: www.gullanderhardware.com

As a family owned hometown hardware store, Gullander Hardware has always specialized in service. We have built our reputation on providing customers an exceptional level of service, quality, and family-friendly values. We strive to provide the products you need and the knowledge to help you use them.

Hallock Chiropractic Center
114 2nd Street NE
Hallock, MN 56728
Phone: (218) 843-2190
Hallock City Clerk
163 S 3rd Street
Hallock, MN 56728
Phone: (218) 843-2737
Hallock City Gas Department
909 Atlantic Avenue S
Hallock, MN 56728
Phone: (218) 843-2559
Hallock City Shop
909 Atlantic Avenue S
Hallock, MN 56728
Phone: (218) 843-2559
Hallock Co-Op Elevator Company
301 Atlantic Avenue N
Hallock, MN 56728
Phone: (218) 843-2624
Web: www.hallockelev.com

The Hallock Co-op Elevator has been serving the community of Hallock and the surrounding areas for nearly 100 years. We're a progressive business committed to serving our members. We use the most current marketing techniques and as a result are able to serve our members as well as anyone.

Hallock Curling Club
Hallock, MN 56728
Phone: (218) 843-2331
Hallock Electric Inc
320 S Bryan Avenue
Hallock, MN 56728
Phone: (218) 843-2891
Hallock Eagles Club
418 S Atlantic Avenue
Hallock, MN 56728
Phone: (218) 843-3494
Hallock Farmers Mutual Insurance
23 2nd Street NE
Hallock, MN 56728
Phone: (218) 843-2483
Hallock Fire Department
110 E Broadway
Hallock, MN 56728
Phone: (218) 843-2055
Hallock Golf Course
903 7th Street S
Hallock, MN 56728
Phone: (218) 843-2155
Hallock Ice Arena
Hallock, MN 56728
Phone: (218) 843-2626
Hallock Laundry
Hallock, MN 56728
Phone:
Hallock Plumbing & Heating
25 S 4th Street
Hallock, MN 56728
Phone: (218) 843-2393
Hallock Police Department
163 S 3rd Street
Hallock, MN 56728
Phone: (218) 843-3434
Hallock Public Library
163 2nd Street S
Hallock, MN 56728
Phone: (218) 843-2401
Hallock Senior Citizen Center
210 N 2nd Street SW
Hallock, MN 56728
Phone: (218) 843-2604
Hallock Water Plant
211 S 7th Street
Hallock, MN 56728
Phone: (218) 843-2329
Harold Carlson Farm
105 5th Street NE
Hallock, MN 56728
Phone: (218) 843-3577
Hartwig Aircraft Fuel Cell Repair
26 S 4th Street
Hallock, MN 56728
Phone: (218) 843-2221
Heritage Residence Elderly Apartments
410 S Cedar Avenue
Hallock, MN 56728
Phone: (218) 843-2569
Hughes Funeral Home
326 Atlantic Avenue N
Hallock, MN 56728
Phone: (218) 843-3451
Hultgren's Engine & Machine
908 Atlantic Avenue S
Hallock, MN 56728
Phone: (218) 843-8816
Hunt Seed Company
PO Box 187
Hallock, MN 56728
Phone: (218) 843-1139
Ingemen & Ingemen
3159 170th Avenue
Hallock, MN 56728
Phone: (218) 379-3258
Inter-County Community Council
Highway 75 Mini Mall
Hallock, MN 56728
Phone: (218) 843-2994
Intertech
410 5th Street SE
Hallock, MN 56728
Phone: (218) 843-2870
Jim Sackett's Engraving Plus
113 North Bryan Avenue
Hallock, MN 56728
Phone: (218) 289-0561
Web: www.jimsackettsengravingplus.com
Johnson Bros Farm
2224 190th Avenue
Hallock, MN 56728
Phone: (218) 843-2285
Johnson Oil Company
1215 Atlantic Avenue S
Hallock, MN 56728
Phone: (218) 843-2681
Kittson Auto & Implement
15 N Atlantic Avenue
Hallock, MN 56728
Phone: (218) 843-3521
Kittson Central High School
444 N Ash Street
Hallock, MN 56728
Phone: (218) 843-3682
Kittson County Enterprise
117 2nd Street NE
Hallock, MN 56728
Phone: (218) 843-2868
Kittson County Volunteer Ambulance
Hallock, MN 56728
Phone:
Kittson Memorial Healthcare Center
1010 S Birch Avenue
Hallock, MN 56728
Phone: (218) 843-3612
Web: www.kmhc.net

Kittson Memorial Healthcare Center is located in Hallock, Minnesota; with a satellite medical clinic in Karlstad, MN. The main medical campus consists of a fifteen bed hospital, medical clinic, a seventy bed nursing home (with a dedicated memory care unit), home health care agency and assisted living center. Within the campus is also a community fitness center and independent dental clinic. We also, operate an ambulance service that serves our community and surrounding communities.

Kitty County Fair
510 Dewey Avenue
Hallock, MN 56728
Phone: (218) 843-3411
L & R Service
5 22nd Street SW
Hallock, MN 56728
Phone: (218) 843-2381
Main Street Reflections
104 2nd Street NE
Hallock, MN 56728
Phone: (218) 843-3655
Mane Street Styles & Tanning
2792 State Highway 175
Hallock, MN 56728
Phone: (218) 843-3600
Mar Kit Landfill
2650 290th Avenue
Hallock, MN 56728
Phone: (218) 754-4581
Maurice Sugden Farm
PO Box 782
Hallock, MN 56728
Phone: (218) 843-2883
McAllen-Rutz Eye Clinic
204 Atlantic Avenue N
Hallock, MN 56728
Phone: (218) 843-2663
McGee Motor Sports
101 S Atlantic Avenue
Hallock, MN 56728
Phone: (218) 843-2611
Midwest Auto Parts Distributors
406 Atlantic Avenue S
Hallock, MN 56728
Phone: (218) 843-2223
Miss Minnie's
502 S Atlantic Avenue
Hallock, MN 56728
Phone: (218) 843-3324
Morrison Equipment
PO Box 459
Hallock, MN 56728
Phone: (218) 843-2881
Fax: (218) 843-3381
Web: www.morrisonequipmentinc.com

The Morrison family has been servicing the upper Red River Valley for three generations. We take pride in what we sell and take care of the customer after the sale.

North Country Meats
322 S Birch Street
Hallock, MN 56728
Phone: (218) 843-3777
Web: www.funeralsausage.com

North Country Meats in Hallock, MN is a meat store that offers a variety of meat including fish and seafood. We offer food processing services as well as custom processing and smoking seasonings. We also have a wide range of sausage from ring sausages to breakfast sausages.

Northern Air Radiator
1243 Atlantic Avenue S
PO Box 302
Hallock, MN 56728
Phone: (218) 843-3484
Northern Lites Antiques
117 2nd Street NE
Hallock, MN 56728
Phone: (218) 843-2868
Northstar Aviation Inc
Hallock, MN 56728
Phone: (218) 843-2581
Otter Tail Power Company
546 Atlantic Street S
Hallock, MN 56728
Phone: (218) 843-3661
Pearson Auto
Hallock, MN 56728
Phone: n/a
PKM Electric Co-op
406 N Minnesota
Hallock, MN 56728
Phone: (218) 745-4711
Toll Free: (800) 552-7366
Red Barn Liquor
109 3rd Street
Hallock, MN 56728
Phone: (218) 843-2276
Ristad Farms Inc
2457 320th Avenue
Hallock, MN 56728
Phone: (218) 754-4221
Ron Fossell Office
290 Atlantic Avenue N
Hallock, MN 56728
Phone: (218) 843-8800
Ryden Development Inc
102 E Broadway
Hallock, MN 56728
Phone: (218) 843-2252
Salon 75
290 Atlantic Avenue N
Hallock, MN 56728
Phone: (218) 843-2097
Sjostrand Insurance Agency
844 Atlantic Avenue
Hallock, MN 56728
Phone: (218) 843-3350
Soberaski Inc
540 Columbus
Hallock, MN 56728
Phone: (218) 843-3428
Southside Auto Service
Hallock, MN 56728
Phone: n/a
State Farm Insurance
29 2nd Street NE
Hallock, MN 56728
Phone: (218) 843-2241
Web: www.statefarm.com
Storage Pros
901 S Atlantic Avenue
Hallock, MN 56728
Phone: (218) 843-8005
Web: www.storage-pros.com
Strata Concrete
Highway 75 S
Hallock, MN 56728
Phone: (218) 843-2345
Thrivent Financial for Lutherans
25 2nd Street NE
Hallock, MN 56728
Phone: (218) 843-2072
Web: www.thrivent.com

Thrivent Financial for Lutherans exists to help its members achieve financial security and give back to their congregations, institutions and the broader community.

Two River Airspray
2451 US Highway 75
Hallock, MN 56728
Phone: (218) 843-2076
Two River Watershed District
410 5th Street SE # 112
Hallock, MN 56728
Phone: (218) 843-3333
Unique Image
120 2nd Street NE
Hallock, MN 56728
Phone: (218) 843-3788
United Agri Products Inc
2424 240th Street
Hallock, MN 56728
Phone: (218) 843-9110
United Valley Bank
203 S 2nd Street
Hallock, MN 56728
Phone: (218) 843-3641
Web: www.uvbank.net

United Valley Bank was founded in 1905 in Cavalier, North Dakota, 29 years after the town was established. The original name was Merchants and Farmers Bank of Cavalier. Pembina County Judge Robert McBride was the organizer and first president of the bank. Through the years, the bank became a national bank; it was later purchased by First Bank System and returned to its state charter in 1937. In 1974, the bank was renamed First State Bank of Cavalier. In 1987, the bank was brought back to local ownership when the local board of directors purchased it from First Bank System.

US Consolidated Farm Service Agency
410 5th Street SE
Hallock, MN 56728
Phone: (218) 843-2173
US Post Office
105 S Birch Avenue
Hallock, MN 56728
Phone: (218) 843-2534
Web: www.usps.gov
USDA Rural Development
410 5th Street SE
Hallock, MN 56728
Phone: (218) 843-2701
Web: www.rurdev.usda.gov/MN
Valley Motel
808 S Atlantic Avenue
PO Box 815
Hallock, MN 56728
Phone: (218) 843-2828

Accommodations include 6 Single Rooms, 5 Double Rooms and 1 Suite. Seasonal availability on 4 Mobile Homes with 2 bedrooms and fully equipped kitchens. All units have cable TV and air conditioning. Free local telephone calls. Located near food and fuel businesses.

Verne Hunt Farm
Hallock, MN 56728
Phone: (218) 843-3525
Visible Changes Hair Studio
29 2nd Street NE
Hallock, MN 56728
Phone: (218) 843-3460
Weleske Improvements
218 W Broadway
Hallock, MN 56728
Phone: (218) 843-2443
Western Implement
501 Bryan Avenue N
Hallock, MN 56728
Phone: n/a
Wilson Landscaping
209 S 4th Street
Hallock, MN 56728
Phone: (218) 843-8866
Wilson Greenhouse
209 S 4th Street
Hallock, MN 56728
Phone: (218) 843-2180
Younggren Harley Shop
Hallock, MN 56728
Phone: (218) 843-2386
Younggren Photography
290 S Atlantic Avenue
Hallock, MN 56728
Phone: (218) 843-3439
Toll Free: (800) 417-1780
Web: www.younggrenphoto.com
---
Aerial Photo: [click photo to enlarge, zoom in or zoom out]
---
Topographic Map: [click map to enlarge, zoom in or zoom out]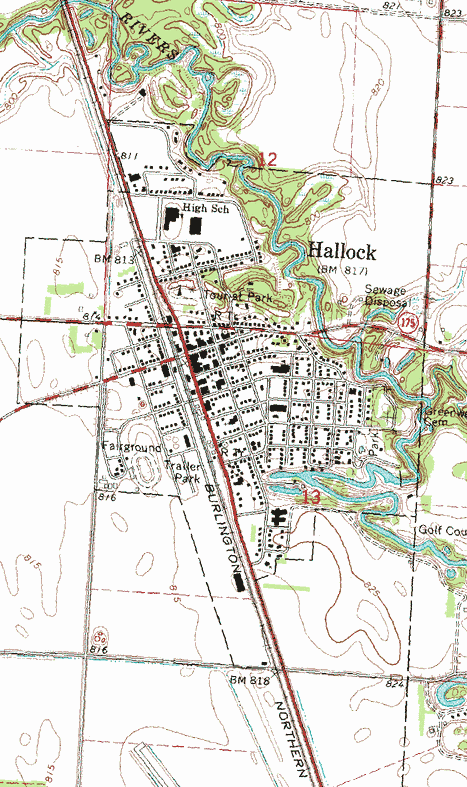 Topographic map is courtesy of the Minnesota DNR - click map to zoom or enlarge