Navigation
LakesnWoods.com
Home Page
Shopping
Coupons
Contact Us
Privacy
Minnesota Gift Guide

Holland Guide:
Photo Gallery
Location
Geography
Demographics
History
Government
Post Office
News
Weather
Street Map
Events
Attractions
Recreation
Lakes
Health Care
Schools
Churches
Media
Motels
Resorts
Campgrounds
Businesses
Aerial Photo
Topographic Map
© 2004-2019 Lakeweb1 Internet Services
All Rights Reserved
Defamation, Copyright and Trademark Infingement Policy
WANTED!
Do you have photos, historical accounts or other items pertaining to the Holland area? Would you like to share this historical information with the world? LakesnWoods.com would like to publish your Holland photos (current or historical) or historical accounts on this website. Original materials can be returned and your privacy will be respected.


(design available on over 100 different items!)

Holland Minnesota Community Guide
---
Location:
---
Population:
Holland (city)
1970
1980
1990
2000
2007
(est)
1990-2000 Change
Actual
Percent
Population
263
234
216
215
199
-1
-0.46
Land Area (sq. mile)
1.10
0.89
0.92
0.92
--
-0.00
-0.09
Density (persons per sq. mile)
239.09
262.92
234.78
233.90
--
-0.89
-0.38
Housing Units
113
111
113
112
--
-1
-0.88
Households
--
109
104
103
98
-1
-0.96
Persons Per Household
--
2.15
2.08
2.09
2.03
0.01
0.63
---
Geography:
Holland is a city along the Rock River in Pipestone County in the state of Minnesota. Minnesota State Highway 23 serves as a main route in the community. According to the United States Census Bureau, the city has a total area of 0.9 square miles (2.4 km˛), all of it land. he elevation is 1,772 ft (540 m) above sea level.
From Wikipedia, the free encyclopedia.
---
Demographics:
As of the census of 2000, there were 215 people, 103 households, and 67 families residing in the city. The population density was 233.9 people per square mile (90.2/km˛). There were 112 housing units at an average density of 121.8/sq mi (47.0/km˛). The racial makeup of the city was 98.60% White, 0.93% Native American, and 0.47% from two or more races. Hispanic or Latino of any race were 1.40% of the population.
There were 103 households out of which 29.1% had children under the age of 18 living with them, 50.5% were married couples living together, 8.7% had a female householder with no husband present, and 34.0% were non-families. 34.0% of all households were made up of individuals and 18.4% had someone living alone who was 65 years of age or older. The average household size was 2.09 and the average family size was 2.62.
In the city the population was spread out with 22.8% under the age of 18, 3.3% from 18 to 24, 26.0% from 25 to 44, 18.1% from 45 to 64, and 29.8% who were 65 years of age or older. The median age was 44 years. For every 100 females there were 115.0 males. For every 100 females age 18 and over, there were 104.9 males.
The median income for a household in the city was $21,058, and the median income for a family was $26,875. Males had a median income of $31,563 versus $20,313 for females. The per capita income for the city was $12,982. About 15.3% of families and 18.4% of the population were below the poverty line, including 29.5% of those under the age of eighteen and 13.2% of those sixty five or over.
---
History:
HOLLAND, a city in Rock and Grange Townships, nine miles northeast of Pipestone, founded in 1888, was incorporated May 15, 1898, being named for "a large colony of Hollanders in that vicinity." The village was first platted as a 13-block townsite in May 1888 following the arrival of the Willmar and Sioux Falls Railroad. The post office was established in 1889, with first postmaster Janus Huibregtse in his general store; his wife, Clara, proposed the name in honor of their homeland.
Courtesy Minnesota Historical Society
---
Government:
Holland City Hall
321 Sioux Street
PO Box 192
Holland, MN 56139
Phone: (507) 347-3242
Fax: (507) 347-3126

City Council meeting is the 2nd Tuesday of the month at 7:00 pm.

Title
Term Ends
Name and Address
Phone
Mayor
12/31/2010
Randy Kor
531 Pacific Street
Holland, MN 56139
(507) 347-3375
Clerk
12/31/2012
Mary Huber
210 Rock Street
PO Box 124
Holland, MN 56139
(507) 347-3242
Treasurer
12/31/2010
Darlene Thomssen
450 Pacific Street
PO Box 97
Holland, MN 56139
(507) 347-3156
Council Member
12/31/2012
Kent Woelber
250 Hellen Street
Holland, MN 56139
(507) 347-3351
Council Member
12/31/2012
Rick Beyers
411 Hellen Street
Holland, MN 56139
(507) 347-3119
Council Member
12/31/2010
Deb Gerdes
520 Washington
PO Box 162
Holland, MN 56139
(507) 347-3294
---
Post Office:
US Post Office
230 Main Street
Holland, MN 56139-4802
Phone: (507) 347-3314
Toll Free: (800) ASK-USPS
Web: www.usps.com

Regular Business Hours:
Week Days 8:45 am - 12:00 pm
12:45 pm - 3:45 pm
Saturday 10:00 am - 11:45 am
Latest Collection at Post Office:
Week Days 4:00 pm
Saturday 12:00 pm
---
---
Utilities:
| | | |
| --- | --- | --- |
| Utility Type | Utility Name | Utility Phone |
| Electricity | n/a | n/a |
| Natural Gas | n/a | n/a |
| Wastewater | n/a | n/a |
| Water | n/a | n/a |
| Telephone | n/a | n/a |
| Cable TV | n/a | n/a |
---
Major Employers:
Employer
Products/Services
Employees
n/a
---
---
News:
---
Weather:
---
Map: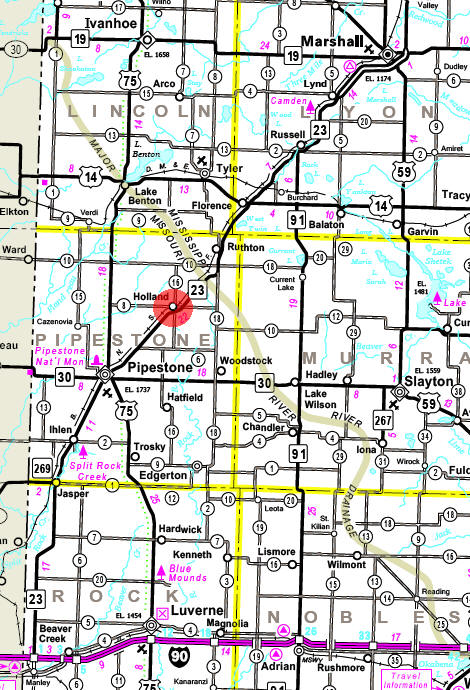 Minnesota State Highway Map of the Holland Minnesota area
---
Events:
---
---
Attractions:
---
Recreation:
---
Lakes:
---
Health Care:
---
Schools:
---
Churches:
---
Media:
---
Motels:
Check for motel rates and availability on:
---
Resorts:
---
Campgrounds:
---
Businesses:
ADM Corn Processing
521 Railroad Avenue
Holland, MN 56139
Phone: (507) 347-3131
Ag Weld
2070 130th Avenue
Holland, MN 56139
Phone: (507) 658-3395
Brinkmeyer Farms
1846 120th Avenue
Holland, MN 56139
Phone: (507) 347-3331
Countryside Diesel
1166 191st Street
Holland, MN 56139
Phone: (507) 347-3310
Deruyter Construction
1787 140th Avenue
Holland, MN 56139
Phone: (507) 347-3258
Dewitt Farm
445 Railroad Avenue
Holland, MN 56139
Phone: (507) 347-3193
DRM Construction
1787 140th Avenue
Holland, MN 56139
Phone: (507) 347-3258
Edgewood Bluff Inn
1576 120th Avenue
Holland, MN 56139
Phone: (507) 347-3257
Floyd Steenstra Trenching
1280 191st Street
Holland, MN 56139
Phone: (507) 347-3297
G & L Erickson Farms
1796 191st Street
Holland, MN 56139
Phone: (507) 658-3382
Harold's Repair
1349 151st Street
Holland, MN 56139
Phone: (507) 347-3213
James Lustified Farm
1340 151st Street
Holland, MN 56139
Phone: (507) 347-3216
Joel Jacoby Construction
451 Washington Avenue
Holland, MN 56139
Phone: (507) 347-3282
K & M Enterprises
1385 150th Avenue
Holland, MN 56139
Phone: (507) 347-3170
K & T Trucking
206 Superior Avenue W
Holland, MN 56139
Phone: (507) 347-3355
Larry Brands Trucking
1810 171st Street
Holland, MN 56139
Phone: (507) 347-3348
Lingen Service Center
1318 161st Street
Holland, MN 56139
Phone: (507) 347-3370
Mike Zeinstra Dairy Farm
1772 130th Avenue
Holland, MN 56139
Phone: (507) 347-3342
Pater Dairy
1519 201st Street
Holland, MN 56139
Phone: (507) 347-3135
Pine Lawn Farms
1222 171st Street
Holland, MN 56139
Phone: (507) 347-3229
Prairie Construction
1986 130th Avenue
Holland, MN 56139
Phone: (507) 347-3292
S & R Trucking
401 Carter Avenue
Holland, MN 56139
Phone: (507) 347-3291
S K & D Construction
1608 171st Street
Holland, MN 56139
Phone: (507) 347-3318
Scott's Repair
441 Superior Avenue E
Holland, MN 56139
Phone: (507) 347-3391
Senior Citizens Center
441 Rock Street
Holland, MN 56139
Phone: (507) 347-3241
Shelli's Clip and Curl
1995 130th Avenue
Holland, MN 56139
Phone: (507) 347-3237
T & J Wood Design
1871 190th Avenue
Holland, MN 56139
Phone: (507) 658-3882
Triple D Express
350 Sioux Street
Holland, MN 56139
Phone: (507) 347-3340
Weets Trucking
1825 190th Avenue
Holland, MN 56139
Phone: (507) 658-3880
---
Aerial Photo:
---
Topographic Map: [click map to enlarge, zoom in or zoom out]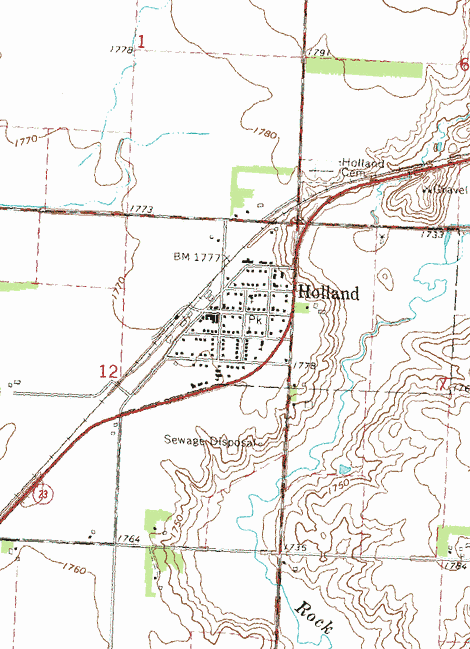 Topographic map is courtesy of the Minnesota DNR - click map to zoom or enlarge