Navigation
LakesnWoods.com
Home Page
Shopping
Coupons
Contact Us
Privacy Add a Link

Int'l Falls Guide:
Photo Gallery
Location
Geography
Demographics
History
Government
Post Office
News
Street Map
Events
Attractions
Recreation
Lakes
Health Care
Schools
Churches
Media
Motels
Resorts
Campgrounds
Businesses
Aerial Photo
Topographic Map
© 2004-2018 Lakeweb1 Internet Services
All Rights Reserved
WANTED!
Do you have photos, historical accounts or other items pertaining to the International Falls area? Would you like to share this historical information with the world? LakesnWoods.com would like to publish your International Falls photos (current or historical) or historical accounts on this website. Original materials can be returned and your privacy will be respected.


(design available on over 100 different items!)


(design available on over 100 different items!)


(design available on over 100 different items!)


(design available on over 100 different items!)

International Falls Minnesota Community Guide
---
Location:
International Falls is truly an "international city" – located on the United States and Canadian border. Wood products are our number one industry and tourism ranks number two.

Our international rail port of entry is the second busiest in North America (this amazingly includes the northern and southern US borders). The Falls International Airport is the fourth busiest in Minnesota and was recently expanded to accommodate the largest of aircraft – both commercial and private. International Falls also has one of three Foreign Trade Zones in Minnesota. This zone provides companies financial advantages when warehousing, importing and exporting.

International Falls serves as the northern gateway to Voyageurs National Park (Minnesota's ONLY congressionally enacted national park). Voyageurs is a motorized, multi use park and encompasses 218,000 acres of water and pine studded islands.

The city is fondly referred to as the "Icebox of the Nation" – and the winter temperatures we are famous for are responsible for creating one of the Midwest's greatest winter playgrounds. Winter visitors to the area enjoy world class ice fishing on Rainy Lake, snowmobiling, cross country skiing and snowshoeing. Cold weather testing of major automobile products is also an important component of our winter economy.

The seasons are dramatic. Spring, summer and autumn produce a plethora of color and recreation opportunities. Summer temperatures are commonly in the 70's and 80's – and sometimes in the low 90's. Boating, canoeing, fishing, wildlife watching, waterskiing, picnicking and simply relaxing are our visitors favorite vacation activities. Spring and autumn are incredible times to bird watch – as over 200 species migrate to/from our area. Fishing is world class – anytime of year, and autumn's landscape is simply indescribable. Hunting for grouse, deer and bear are quite popular during the autumn season.

Courtesy City of International Falls
---
Population:
International Falls (city)
1970
1980
1990
2000
1990-2000 Change
Actual
Percent
Population
6,439
5,611
8,325
6,703
-1,622
-19.48
Land Area (sq. mile)
1.30
2.40
6.26
6.27
0.01
0.14
Density (persons per sq. mile)
4,953.08
2,337.92
1,329.87
1,069.28
-260.60
-19.60
Housing Units
2,322
2,399
3,306
3,264
-42
-1.27
Households
--
2,191
3,126
2,959
-167
-5.34
Persons Per Household
--
2.52
2.45
2.20
-0.25
-10.15
---
Geography:
According to the United States Census Bureau, the city has a total area of 16.5 km² (6.4 mi²). 16.2 km² (6.3 mi²) of it is land and 0.3 km² (0.1 mi²) of it (2.03%) is water.

From Wikipedia, the free encyclopedia.
---
Demographics:

As of the census2 of 2000, there were 6,703 people, 2,959 households, and 1,751 families residing in the city. The population density was 412.8/km² (1,069.3/mi²). There were 3,264 housing units at an average density of 201.0/km² (520.7/mi²). The racial makeup of the city was 95.30% White, 0.28% African American, 2.58% Native American, 0.22% Asian, 0.09% Pacific Islander, 0.06% from other races, and 1.46% from two or more races. Hispanic or Latino of any race were 0.75% of the population.

There were 2,959 households out of which 27.6% had children under the age of 18 living with them, 44.0% were married couples living together, 11.4% had a female householder with no husband present, and 40.8% were non-families. 36.5% of all households were made up of individuals and 18.2% had someone living alone who was 65 years of age or older. The average household size was 2.20 and the average family size was 2.85.

In the city the population was spread out with 23.3% under the age of 18, 8.2% from 18 to 24, 25.5% from 25 to 44, 22.4% from 45 to 64, and 20.6% who were 65 years of age or older. The median age was 40 years. For every 100 females there were 91.1 males. For every 100 females age 18 and over, there were 86.5 males.

The median income for a household in the city was $29,908, and the median income for a family was $41,458. Males had a median income of $41,584 versus $20,053 for females. The per capita income for the city was $19,171. About 10.0% of families and 14.5% of the population were below the poverty line, including 20.5% of those under age 18 and 12.3% of those age 65 or over.

From Wikipedia, the free encyclopedia.
---
History:

TRAIL'S END

International Falls (1,124 alt., 5,626 pop.), Koochiching County seat, its pulsing wood industry mills producing a steady stream of products, is the northernmost point in the Minnesota Arrowhead country. On the falls of the Rainy River, part of the international border, it is on the fringe of a magnificent wilderness area (see Superior National Forest), romantic with the lore of fur traders who traveled the interior waterways in their canoes.

The first white man to visit the site was Jacques de Noyon, a French voyageur from Canada, who traveled over the Kaministiquia Route to Rainy Lake and wintered at the falls in 1687 or 1688. He was followed by Zacherie Robutel, Sieur de la Noue, and by Pierre Gaultier de Varennes, Sieur de la Verendrye. Although fur-trading posts were built in the region at an early date, they were located on the Canadian side of Rainy River. The date of the first post established on the American side is nay known, but it probably was between 1816 and 1822.

As the fur trade dwindled, lumbering came into importance. Extensive stands of conifers covered the area. Logs were floated down the Big and Little Fork Rivers to sawmills farther north (see Big Falls; Littlefork). Lumbermen early realized the value of the falls, at the head of an 18,000 square mile watershed, as a source of water power.

Some settlers came to the region when steamboats began plying the Rainy River as part of the Dawson Route, which had been laid out between Port Arthur (see Arrowhead Tour 1) and Fort Garry (Winnipeg) in 1870 and followed in part the international boundary (see Superior National Forest: Canoe Trip 1). After railroad facilities were established on the Canadian side, steamboat service on Rainy River was abandoned, and more once the only mode of water travel was by canoe. In 1881, the first homesteader, Alexander Baker, a Hudson's Bay Company factor, filed a claim the site of International Falls. The village was incorporated in 1901.

In 1904, a paper company brought about joint control of American and Canadian riparian rights and contracted for both development of water power and establishment of manufacturing industries. The falls, known as Chaudiere (cauldron) to the French, had a natural 24-foot drop and made available 25,000 horsepower from a 27-foot head.

In 1910, International Falls, with a population of 1,487, was incorporated as a city.

The International Lumber Company, a subsidiary of the Minnesota and Ontario Paper Company, erected a sawmill in 1910. The mill, its capacity 300,000 feet in a ten-hour day, cut as much as 75,000,000 feet in one year. Then the largest in the State, it ceased operations in 1937.

The Minnesota and Ontario Paper Company (cor. 4th Ave. and 2nd St.) manufactures newsprint, sulphite, and kraft ground-wood paper, all of which have nation-wide markets. In 1911, it began the construction of a railroad that today has 11 locomotives, 400 cars, 35 miles of tracks, and provides employment for 120 men. In 1916, it built the world's first Insulite mill. Insulite, a wood-fiber board used for insulation, was in such demand that in 1925 a larger mill had to be built, which has a capacity 750,000 board feet in 24 hours. Since 1931, it has been complemented by a second mill at Karhula, Finland.

The warehouse of the International Falls plant has a storage capacity 25,000,000 board feet. Aspen is utilized in the manufacture. Mando (the trade name of the Minnesota and Ontario Paper Company) maintains mills at other points and owns the world's largest cedar telegraph pole yards and treating plant at St. Paul (Minnesota Transfer).

These wood industries are the main source of income for International Falls, and the city's industrial development is assured by its water power and the wood supply held by the Minnesota and Ontario Paper Company.

International Falls is headquarters for the three branches of the U. S. International Border Patrol (Post Office Bldg., 400 4th St.). They can be distinguished readily by the color of their uniforms: Immigration, forest ten; Customs, dark gray; and Customs Inspection, dark blue (see General information: Border Regulations). The Border Patrol supervises the 350-mile stretch from Pigeon River to Roseau.

A curio collection in the Log Cabin Inn (434 3rd St.) displays interting mounted specimens of birds and native animals in natural poses; moose that must have weighed 1,000 pounds, a black bear, a buck deer, and the hides and heads of bears, foxes, and wolves.

International Falls, a port of entry, is rich in primeval beauty, historic lore, and natural resources. It is an outfitting center for vacationists and sportsmen.

From the WPA Guide to the Minnesota Arrowhead Company
©1941 by the Minnesota Arrowhead Association
---
Government:
International Falls City Hall
600 4th Street
International Falls, MN 56649
Phone: (218) 283-9484
Fax: (218) 283-3590
web: www.ci.international-falls.mn.us

Office Hours: 8:00 am - 5:00 pm

Mayor
Shawn Mason
1019 2nd Street
International Falls, MN 56649
(218) 283-9546
City Administrator
Rod Otterness
600 4th Street
International Falls, MN 56649
(218) 244-3518
Council Member
Tim "Chopper" McBride
1208 14th Avenue
International Falls, MN 56649
(218) 285-7771
Council Member
Paul Eklund
605 15th Street E
International Falls, MN 56649
(218) 285-7968
Council Member
Gail Rognerud
1121 Ninth Avenue
International Falls, MN 56649
(218) 283-8917
Council Member
Cynthia Jaksa
1315 14th Avenue
International Falls, MN 56649
(218) 283-8924
---
Post Office:
US Post Office
400 4th Street
International Falls, MN 56649
Phone:(218) 283-3331
Toll Free: (800) ASK-USPS
Fax: (218) 283-3195
Web: www.usps.com

Regular Business Hours:
Week Days 8:30 am - 4:30 pm
Saturday 11:00 am - 1:00 pm
Latest Collection at Post Office:
Week Days 4:00 pm
Saturday 3:30 pm
---
---
Utilities:
---
Major Employers:
---
---
News:
---
Weather:
---
Map: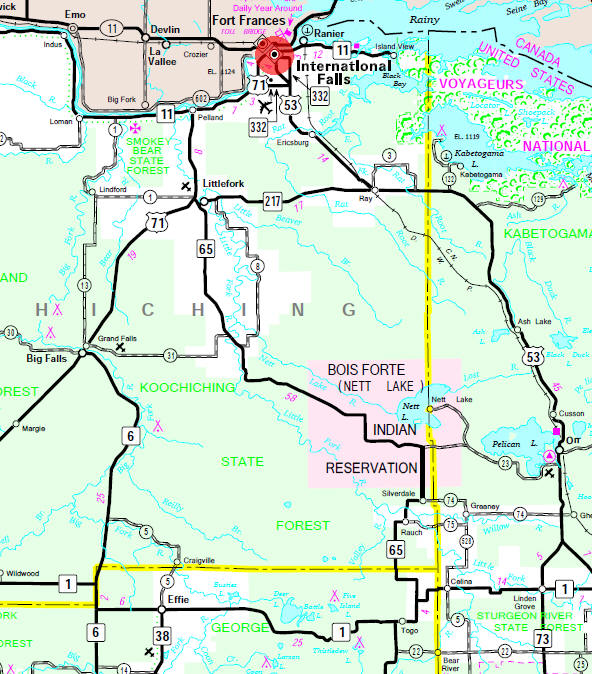 Minnesota State Highway Map of the International Falls Minnesota area
---
Events:
---
Attractions:
Chamber of Commerce
301 2nd Avenue
International Falls, MN 56649
Phone: (218) 283-9400
Web: www.ifallschamber.com

The International Falls Area Chamber of Commerce is the cornerstone of this vibrant and beautiful community. We are passionate about our goal of promoting a healthy community in which individuals, families, and businesses can flourish. The people of International Falls are proud to live and work in an area characterized by friendly people, low crime rates, breathtaking natural scenery and abundant year-round recreational opportunities.

Grand Mound & Interpretive Center
6749 Highway 11
International Falls, MN 56649
Phone: (218) 285-3332
Koochiching County Historical Museum
214 6th Avenue
International Falls, MN 56649
Phone: (218) 283-4316
Sportsmen's Service & Wildlife Museum
424 3rd Avenue
International Falls, MN 56649
Phone: (218) 283-2411
---
Recreation:
Burlington Park

Adjacent to International Falls Chamber of Commerce and across the street from the State of Minnesota Tourism Information Center


Photo courtesy City of International Falls
City Beach

3 miles East of International Falls on County Road 20

- 650' of sand beach on Rainy Lake
- Floating swim platform
- Concession, dressing, and bathroom
facilities
- Regulation basketball court
- Regulation sand volleyball court
- Swing set and play area
- 24' by 50' covered picnic pavilion
- 8 Outdoor cooking grills
- 2 Large parking areas



Photo courtesy City of International Falls
Kerry Park

11th Street between 4th and 6th Avenues

- 2 Regulation slow-pitch softball fields
with concession stands
- Artificial Ice Arena (200' by 85' ice
sheet) with spectator capacity of 400
- Dual playground areas
- 24' by 50' picnic pavilion
- 2 Regulation tennis courts
- Regulation basketball court
- 4 Horseshoe pits
- True Ride Skateboard Park


Photo courtesy City of International Falls
Shorewood Park
Shorewood Drive and 20th Ave.

- 24' by 50' covered picnic shelter with
rest rooms
- 2 Play areas with swing sets, play
equipment, and new multi-station play
structure
- Park benches along paved trail
- Parking lot



Photo courtesy City of International Falls
Smokey Bear Park
3rd St. between 6th and 8th Avenues

- 24' by 50' covered picnic shelter
- Challenger astronaut arboretum
- 3 10' by 10' family picnic pavilions
- Regulation basketball court
- Smokey Bear statue (26 ft. statue of
Smokey and two cubs)
- Giant Thermometer
- Concert sized Bandshell
- Restroom facilities in Bandshell



Photo courtesy City of International Falls
Voyageurs National Park
3131 US Highway 53
International Falls, MN 56649
Phone: (218) 283-9821
Web: www.nps.gov/voya

Nearly 200 years ago voyageurs paddled birch bark canoes full of animal pelts and trade goods through this area on their way to Lake Athabaska, Canada. Today, people explore the park by houseboat, motorboat, canoe and kayak. Voyageurs is a water-based park where you must leave your car and take to the water to fully experience the lakes, islands and shorelines of the park.



---
Lakes:
Lake Name
Size
(acres)
Lake info
Lake Map
Rec Map
Topo Map
Rainy
18,949
---
Health Care:
Duluth Clinic International Falls
2501 Keenan Drive
International Falls, MN 56649
Phone: (218) 283-9431
Falls Memorial Hospital
1400 US Highway 71
International Falls, MN 56649
Phone: (218) 283-4481
---
Schools:
International Falls Public Schools - District 361
1515 11th Street
International Falls, MN 56649
Phone: (218) 283-2571
Fax: (218) 283-8104
Web: www.isd361.k12.mn.us
Falls High School
1515 11th Street
International Falls, MN 56649
Phone: (218) 283-2571

Grades: 7-12
Students:

Falls Elementary School
1414 15th Avenue
International Falls, MN 56649
Phone: (218) 283-2571

Grades: K, 3-6
Students:

West End Elementary School
1515 11th Street
International Falls, MN 56649
Phone: (218) 283-2219

Grades: 1-2
Students:

Rainy River Community College
1501 US Highway 71
International Falls, MN 56649
Phone: (218) 285-7722
---
Churches:
Berean Baptist Church
2602 Crescent Drive
International Falls, MN 56649
Phone: (218) 283-2727
Web: www.bbcifalls.com

Pastor Shane Belding

Sunday School: 9:30am
Sunday Worship: 11:00am

Bethany Lutheran Church
123 Wayside Lane
International Falls, MN 56649
Phone: (218) 285-3315
Christian Life Chapel
Highway 11-71 West
International Falls, MN 56649
Phone: (218) 285-9297

Pastor Ernest Witmer

Sunday Worship: 10:00am

Church Of Jesus Christ of Latter Day Saints
1340 Keenan Drive
International Falls, MN 56649
Phone: (218) 285-3682
Evangelical Covenant Church
1631 1st Avenue E
International Falls, MN 56649
Phone: (218) 283-3365
Faith United Church Of Christ
1001 5th Street
International Falls, MN 56649
Phone: (218) 283-2486
First Assembly Of God Church
1309 3rd Avenue
International Falls, MN 56649
Phone: (218) 283-2131

Pastor Steve Kruse

Sunday School: 9:30am
Sunday Worship: 10:30am

First Baptist Church
115 Shorewood Drive
International Falls, MN 56649
Phone: (218) 283-3598
Web: www.firstbaptistchurchifalls.org

Pastor James Elkins

Sunday School: 9:30am
Sunday Worship: 10:30am
Sunday Evening: 6:00pm

First Lutheran Church
123 Wayside Lane
International Falls, MN 56649
Phone: (218) 283-2208
Full Gospel Fellowship WWM
1530 6th Avenue W
International Falls, MN 56649
Phone: (218) 283-2088
Holy Trinity Episcopal
820 4th Street
International Falls, MN 56649
Phone: (218) 283-8606
International Falls SDA Church
1214 7th Street
International Falls, MN 56649
Phone: (218) 383-8384
Kingdom Hall of Jehovah's Witness
1500 3rd Avenue
International Falls, MN 56649
Phone: (218) 283-4684
Pleasant Hill Baptist Church
2726 Pleasant Avenue
International Falls, MN 56649
Phone: (218) 283-4859

Pastor Don Clark

Sunday School: 9:45am
Sunday Worship: 11:00am

Point Of Pines Mennonite Church
3607 County Road 93
International Falls, MN 56649
Phone: (218) 283-9326
St. Paul Lutheran Church
1324 9th Street
International Falls, MN 56649
Phone: (218) 283-8642
St. Thomas Aquinas Catholic Church
810 5th Street
International Falls, MN 56649
Phone: (218) 283-3293

Fr. Roger Bergkamp, OMI

Mass Schedule
Saturday: 6:00pm
Sunday: 10:30am
Sunday: 7:00pm

Zion Lutheran Church
530 6th Street
International Falls, MN 56649
Phone: (218) 283-9865
---
Media:
B93 FM Radio Station
242 Scott Street
PO Box 1250
International Falls, MN 56649
Phone: (218) 283-4420
Daily Journal
1602 US Highway 71
International Falls, MN 56649
Phone: (218) 285-7411
KBHW
4090 Highway 11
International Falls, MN 56649
Phone: (218) 285-7398
KGHS
519 3rd Street
International Falls, MN 56649
Phone: (218) 283-3481
KICC
US Highway 71
International Falls, MN 56649
Phone: (218) 285-2218
KSDM
519 3rd Street
International Falls, MN 56649
Phone: (218) 283-3481
---
Motels:
Budget Host Inn
10 Riverview Blvd
International Falls, MN 56649
Phone: (218) 283-2577
Days Inn
2331 US Highway 53
International Falls, MN 56649
Phone: (218) 283-9441
Fax: (218) 283-9441
Web: www.daysinn.com
Falls Motel
2101 2nd Avenue
International Falls, MN 56649
Phone: (218) 283-8434
Hilltop Motel
2002 2nd Avenue
International Falls, MN 56649
Phone: (218) 283-2505
Holiday Inn
1500 US Highway 71
International Falls, MN 56649
Phone: (218) 283-8000
Northern Lights Motel
1602 2nd Avenue
International Falls, MN 56649
Phone: (218) 283-2508
Rambler Motel
1901 2nd Avenue W
International Falls, MN 56649
Phone: (218) 283-8454
Super 8
2326 US Highway 53
International Falls, MN 56649
Phone: (218) 283-8811
Tee Pee Motel
1501 2nd Avenue W
International Falls, MN 56649
Phone: (218) 283-8494
Voyageur Motel
1210 3rd Avenue
International Falls, MN 56649
Phone: (218) 283-9424
---
Resorts:
Camp Idlewood
3033 County Road 20
International Falls, MN 56649
Phone: (218) 286-5551
Toll Free: (888) 741-1228
Fax: (218) 286-3005
Web: www.campidlewood.com

On beautiful Rainy Lake, Camp Idlewood offers everything you need to enjoy your family vacation. Located just six miles east of International Falls, Minnesota, our nine fully furnished cabins are equipped with all of the comforts of home. Enjoy our beach, sauna, and canoes or rent a boat and motor to experience the natural beauty of this spectacular lake.



Island View Lodge
1817 Highway 11 E
International Falls, MN 56649
Phone: (218) 286-3511
Fax: (218) 286-5036
Web: www.rainy-lake.com

Our Lodge is nestled in Northern Minnesota on the shores of beautiful Rainy Lake. We overlook Majestic Voyageurs National Park and are located just 12 miles East of International Falls.

Our cabins range in size from a quaint one bedroom log cabin up to a large 6 bedroom 2 bath retreat.



Sha Sha Resort
1664 Highway 11 E
International Falls, MN 56649
Phone: (218) 286-3241
---
Campgrounds:
Arnold's Campground & RV Park
2031 2nd Avenue W
International Falls, MN 56649
Phone: (218) 285-9100
International Voyageurs RV Park
310 Van Lynn Road
International Falls, MN 56649
Phone: (218) 283-4679
---
Businesses:
---
Aerial Photo:
---
Topographic Map: [click map to enlarge, zoom in or zoom out]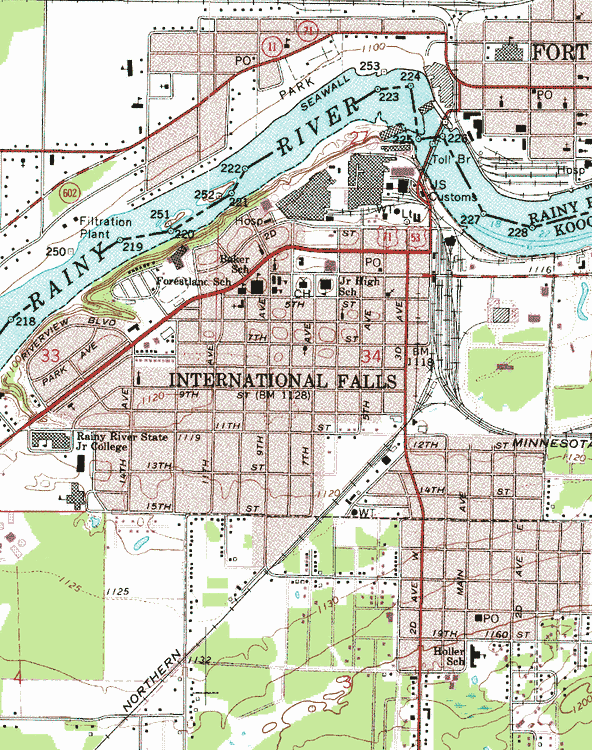 Topographic map is courtesy of the Minnesota DNR - click map to zoom or enlarge