Navigation
LakesnWoods.com
Home Page
Shopping
Coupons
Contact Us
Privacy

Jackson Guide:
Photo Gallery
Location
Geography
Demographics
History
Government
Post Office
News
Weather
Street Map
Events
Attractions
Recreation
Lakes
Health Care
Schools
Churches
Media
Motels
Resorts
Campgrounds
Businesses
Aerial Photo
Topographic Map
© 2004-2018 Lakeweb1 Internet Services
All Rights Reserved
WANTED!
Do you have photos, historical accounts or other items pertaining to the Jackson area? Would you like to share this historical information with the world? LakesnWoods.com would like to publish your Jackson photos (current or historical) or historical accounts on this website. Original materials can be returned and your privacy will be respected.

Jackson Minnesota Community Guide
---
Location:
The City of Jackson is located in Jackson County, Southwest Minnesota, just off Interstate 90 exit 73. The population of Jackson is approximately 3,501 residents. Jackson is primarily an agricultural based economy that is experiencing steady growth in a number of economic sectors. We are home to a 230-acre Industrial Park, and home to several primary private-industrial employers, providing nearly 1,300 jobs to local and area residents. Jackson also has a strong retail and service-based business community.
---
Population:
Jackson (city)
1970
1980
1990
2000
2010
2000-2010 Change
Actual
Percent
Population
3,550
3,797
3,559
3,501
3,299
-202
-5.77
Land Area (sq. mile)
2.20
3.19
3.48
3.80
4.60
+0.80
+21.05
Density (persons per sq. mile)
1,613.6
1,190.3
1,022.7
921.7
720.3
-201.4
-21.85
Housing Units
1,289
1,607
1,613
1,659
1,635
-24
-1.45
Households
--
1,527
1,484
1,487
1,489
+2
+0.13
Persons Per Household
--
2.42
2.32
2.24
2.22
-0.02
-0.89
---
Geography:
Jackson is a city in and county seat of Jackson County, Minnesota. Interstate 90 and U.S. Route 71 are two of the main routes in the city. According to the United States Census Bureau, the city has a total area of 4.60 square miles (11.91 km²), of which, 4.58 square miles (11.86 km²) of it is land and 0.02 square miles (0.05 km²) of it is water. The elevation is 1,316 ft (401 m) above sea level.
From Wikipedia, the free encyclopedia.
---
Demographics:

As of the census of 2010, there were 3,299 people, 1,489 households, and 856 families residing in the city. The population density was 720.3 inhabitants per square mile (278.1 /km2). There were 1,635 housing units at an average density of 357.0 per square mile (137.8 /km2). The racial makeup of the city was 93.3% White, 0.5% African American, 0.4% Native American, 3.4% Asian, 0.8% from other races, and 1.6% from two or more races. Hispanic or Latino of any race were 1.8% of the population.

There were 1,489 households of which 27.2% had children under the age of 18 living with them, 42.6% were married couples living together, 10.3% had a female householder with no husband present, 4.5% had a male householder with no wife present, and 42.5% were non-families. 37.9% of all households were made up of individuals and 16.1% had someone living alone who was 65 years of age or older. The average household size was 2.17 and the average family size was 2.84.

The median age in the city was 40.8 years. 22.7% of residents were under the age of 18; 8.4% were between the ages of 18 and 24; 23.1% were from 25 to 44; 26.4% were from 45 to 64; and 19.3% were 65 years of age or older. The gender makeup of the city was 48.4% male and 51.6% female.
---
History:
JACKSON, a city in Des Moines Township, sections 23-26, and the county seat, is on the site of the earliest white settlement within the area of this county, founded and named Springfield in the summer of 1856. It consisted of a log store building on the west side of the Des Moines River and a few cabins, quite scattered, on the east side. Several of its settlers were killed, March 26, 1857, by a band of Dakota under the leadership of Inkpaduta, coming from their skirmish with many settlers at Spirit Lake, Iowa. Soon afterward the site of Springfield was renamed Jackson, and on May 23 of that year it was designated to be the county seat by the act establishing this county. But the financial panic of 1857 checked immigration, the Civil War followed, and the village was not platted until the fall of 1866. It was incorporated April 19, 1881. The origin of this name, which was adopted for the county, is discussed at the beginning of this chapter. The post office was established in 1857 as Pisa, Brown County, and changed to Jackson there before being transferred to Jackson County in 1858; it had a station of the Chicago, Milwaukee, St. Paul and Pacific Railroad in Wisconsin Township, section 19.
Courtesy Minnesota Historical Society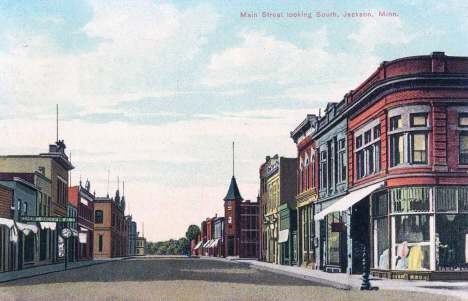 Main Street looking souh, Jackson Minnesota, 1908
LakesnWoods.com Postcard and Postcard Image Collection - click to enlarge

Visit the Jackson Gallery for more historic and recent Jackson photos

---
Government:
---
Post Office:
US Post Office
211 2nd Street
Jackson, MN 56143-1601
Phone: (507) 847-2810
Toll Free: (800) ASK-USPS
Web: www.usps.com




Regular Business Hours:
Week Days 8:30 am - 4:00 pm
Saturday 9:00 am - 11:00 am
Latest Collection at Post Office:
Week Days 4:00 pm
Saturday 3:45 pm
---
---
Utilities:
---
Major Employers:
---
---
News:
---
Weather:
---
Map: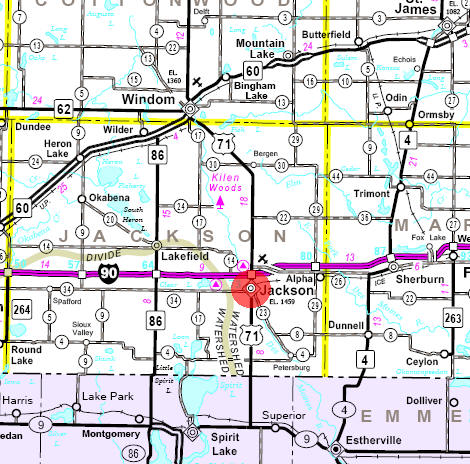 Minnesota State Highway Map of the Jackson Minnesota area
---
Events:
---
---
Attractions:
Historic Fort Belmont
Belmont Lane
Jackson, MN 56143
Phone: (507) 847-6672
Web: www.fortbelmont.org



Stop by Fort Belmont in Jackson, Minnesota, and explore a unique re-creation of Fort Belmont built by settlers living in Belmont township of Jackson County in the early 1860s. Fort Belmont hosts several items of interest including: Replica 1860's log cabin and stockade Blacksmith shop Hand-built prairie sod house 40-foot tower overlooking the Des Moines River Valley 1/3 replica working grist mill 1873 Lysgard farmhouse & summer kitchen 1902 Delafield Church Museum and trading post

Historic State Theatre
600 Second Street
Jackson, MN 56143
Phone: (507) 847-4630
Web: www.histstatetheatre.com



Built in the 1920's the Historic State Theatre is located in Historic Downtown Jackson MN, and is an "Art Deco" classic single silver screen cinema. We feature Digital Cinema movies and Real D 3D for 3D movies.

Jackson County Courthouse
405 4th Street
Jackson, MN 56143
Phone: (507) 847-4182
Web: www.co.jackson.mn.us



The Jackson County Courthouse consists of a Bedford limestone Beaux Arts courthouse featuring a high, segmented dome adorned with a cast statue of Lady Justice, columns supporting a gable overhang, a shield pediment, and symmetrical pavilions The imposing structure is topped by a two-plus-story dome with stained glass windows. This sits over an octagonal atrium with terrazzo floors, marbled plaster walls, and a second-floor courtroom painted by immigrants with extensive murals; they depict scenes such as a frontier cabin, a railroad, Romans engaged in engineering and construction, and three women (justice, liberty, and equality) guarding a judge's bench.

Jackson County Fairgrounds
78748 550th Avenue
PO Box 175
Jackson, MN 56143
Phone: (507) 849-7222
Web: www.jacksoncountyfairmn.com



The 2014 Jackson County Fair has something for everyone ... new events, new attractions, new contests, new vendors! Make sure to check out the Grandstand Events and the Attractions and Free Stage pages and make your plans to join us at the Fair!

Jackson Speedway
PO Box 43
Jackson, MN 56143
Phone: (507) 841-1957
Web: www.jacksonspeedway.com
---
Recreation:
Des Moines River State Canoe Route



The Des Moines River is between 50 and 200 feet wide. It flows through a flat iron-shaped plateau, called the "Coteau de Prairies" by early French explorers. . The river has few rapids, none more difficult than Class I. About rapids classes.

Jackson Golf Club
951 Highway 71 North
PO Box 82
Jackson, MN 56143
Phone: (507) 847-2660
Web: www.jacksongolfclub.com
---
Lakes:
Lake Name
Size
(acres)
Lake info
Lake Map
Rec Map
Topo Map
Clear
415
---
Health Care:
Sanford Jackson Medical Center
1430 North Highway
Jackson, MN 56143
Phone: (507) 847-2420
Fax: (507) 847-3728
Web: www.sanfordjackson.org

Our 20-bed hospital offers professional medical staff trained in the latest protocols for medical and surgical care, as well as a highly trained emergency staff available 24 hours per day. Jackson and Lakefield ambulance professionals serve the area and our on-site heliport offers airlift service for transporting critically ill patients when needed. As a member of Sanford Health, our patients are assured that when it is necessary they will be transferred to our tertiary care facility, Sanford USD Medical Center.
---
Schools:
Minnesota West Community and Technical College
401 West Street
Jackson, MN 56143
Phone: (507) 847-3320
Fax: (507) 847-5389
Web:www.mnwest.edu



Minnesota West Community & Technical College is a comprehensive community and technical college with five southwestern Minnesota campuses: Canby, Granite Falls, Jackson, Pipestone, and Worthington and centers in Fairmont, Luverne, Marshall, and Redwood Falls. Students have the opportunity to earn an Associate Degree, Diploma, or Certificate in more than 60 disciplines.

Jackson County Central Schools
Independent School District #2895
1128 North Highway
PO Box 119
Jackson, MN 56143
Phone: (507) 847-3608
Fax: (507) 847-3078
Web: www.jccschools.com

Grades: PK-12
Students: 1,162
Jackson County Central High School
1128 North Highway
PO Box 119
Jackson, MN 56143
Phone: (507) 847-5310
Fax: (507) 847-3078

Grades: 9-12
Students: 348
Jackson County Central Middle School
205 4th Avenue N
PO Box 338
Lakefield, MN 56150
Phone: (507) 662-6625
Fax: (507) 662-5063

Grades: 6-8
Students: 253
Riverside Elementary School
820 Park Street
Jackson, MN 56143
Phone: (507) 847-5963
Fax: (507) 847-4398

Grades: PK-5
Students: 405
Pleasantview Elementary School
110 Milwaukee Street
PO Box 754
Lakefield, MN 56150
Phone: (507) 662-6218
Fax: (507) 662-6690

Grades: PK-5
Students: 151
---
Churches:
Belmont Lutheran Church
83971 510th Avenue
Jackson, MN 56143
Phone: (507) 847-3861
Web:belmontlutheranchurch.wordpress.com

Pastor: Eric Hullstrom
Sunday Worship: 8:30 am
Bethany Lutheran - ELCA
53521 890th Street
Bergen, MN 56101
Phone: (507) 831-3724

Pastor: Ron Letnes and Terry Frovik
Sunday Worship:
First Baptist Church
921 Hills Avenue
Jackson, MN 56143
Phone: (507) 847-2369
Web: www.fbjackson.org

Pastor: Steve DeKok
Sunday Worship: 9:30 am
First Presbyterian Church
601 4th Street
Jackson, MN 56143
Phone: (507) 847-4722

Pastor: Christopher Drew
Sunday Worship: 10:30 am
Good Shepherd Catholic Church
311 N Sverdrup Avenue
Jackson, MN 56143
Phone: (507) 847-3419

Pastor: Father Larry Brixius
Sunday Worship:
Our Redeemer Lutheran Church - LCMS
101 Kimball Avenue
Jackson, MN 56143
Phone: (507) 847-3693

Pastor: John Schuetz
Sunday Worship: 9:00 am
Our Savior's Lutheran Church - ELCA
614 Logan Avenue
Jackson, MN 56143
Phone: (507) 847-2856
Web: www.oursaviorsjackson.com

Pastor: Lance Issacson and Bryan Simmons
Sunday Worship: 9:00 am
Salem Lutheran Church - ELCA
500 North Highway
Jackson, MN 56143
Phone: (507) 847-3861
Web: www.salemjackson.wordpress.com

Pastor: Eric Hullstrom
Sunday Worship: 9:30 am
Union State Line Lutheran Church
72014 Petersburg Road
Jackson, MN 56143
Phone: (507) 847-2068

Pastor: Kristina Waters
Sunday Worship:
United Methodist Church
900 North Highway
Jackson, MN 56143
Phone: (507) 847-2681

Pastor: David Brown
Sunday Worship: 10:30 am
---
Media:
Jackson County Pilot
310 Second Street
PO Box 208
Jackson, MN 56143
Phone: (507) 847-3771
Web: www.jacksoncountypilot.com



Weekly newspaper published on Thursdays with a circulation of 2.067.

KKOJ/KRAQ Radio
PO Box 29
Jackson, MN 56143
Phone: (507) 847-5400
Web: www.kkoj.com

1190 KKOJ AM has a "Hot Country" music format. We offer complete local news, weather, sports and ag information, and are the only source of daily information in Jackson County.

105.7 KRAQ first hit the local airwaves at noon on April 25, 1994, and has been entertaining listeners in southwest Minnesota and northwest Iowa with great '60s tunes, along with a blast of '50s rock and roll and from the early '70s ever since.
---
Motels:
AmericInn Lodge & Suites Jackson
110 Belmont Street
Jackson, MN 56143
Phone: (507) 847-2444
Toll Free: (800) 634-3444
Web: www.americinn.com



We know there's no place like home, but with our newly updated furnishings, room décor, flat screen TV's and cozy Serta® Perfect Sleeper beds, the AmericInn Jackson will feel like your home away from home. Our Jackson hotel offers a variety of room types including suites with microwave, refrigerator and whirlpools. Wake up each morning to our free, hot, home-style AmericInn Perk breakfast and stay connected with free, hotel-wide, high-speed internet.

Earth Inn Motel
1051 US Highway 71
Jackson, MN 56143
Phone: (507) 847-5603
Toll Free: n/a
Web: www.earthinnmotel.com



At the Earth Inn Motel in Jackson Minnesota we are dedicated to making you feel at home. All of our rooms are being remodeled this year. You will not believe all you get for the dollar. If you don't need a pool or sauna then why pay for it? Our rooms are as nice as any in the area and CLEAN is our trademark. At the Earth Inn in Jackson we were green before it was in. Built half underground we use less energy and that is good for everyone.

Econo Lodge
2007 US Highway 71
Jackson, MN 56143
Phone: (507) 847-3110
Toll Free: 800-4CHOICE
Web: www.econolodge.com



The pet-friendly Econo Lodge® hotel is north of Interstate 90, close to the Jackson-Evers International Airport and the Jackson Speedway. All rooms have 32-inch flat-screen televisions with cable, coffee makers, hair dryers, irons and ironing boards. Non-smoking rooms are available.

Prairie Winds Motel
950 US Highway 71 N
Jackson, MN 56143
Phone: (507) 847-2020
Toll Free: (800) BUD-HOST
Web: n/a



The Prairie Winds Motel is conveniently located close to downtown Jackson, across from the Jackson Golf Course along Highway 71, only 1/3 of a mile south of Interstate 90. We're a 2-star AAA-Approved motel with reasonable prices and children under 12 stay free!

Super 8 Jackson
2025 US Highway 71
Jackson, MN 56143
Phone: (507) 847-3498
Toll Free: (800) 454-3213
Web: www.super8.com



Super 8 Jackson MN hotel is conveniently located off Interstate 90, about midway between Minneapolis and Sioux Falls. Relax and recharge at our hotel near Jackson Municipal Airport with handy perks to help you save time, like free high-speed Internet, 24-hour front desk, 24-hour shuttle service, and free parking for any size vehicle.
Check for motel rates and availability on:
---
Resorts:
---
Campgrounds:
KOA Kampground
2035 Highway 71 North
Jackson, MN 56143
Phone: (507) 847-5670
Toll Free: (800) 562-5670
Web: www.koa.com/campgrounds/jackson



With easy access to I-90, this KOA makes a perfect stopping point, halfway between Chicago and Mount Rushmore and only a half-day's drive to the Badlands or Wisconsin Dells. Choose a tent area with grills, a one- or two-room Camping Cabin or a long, level pull thru site. There's even a corral for your horse. LP gas is available. Enjoy seasonal veggies in the camp store, the pavilion and free wireless Internet. The heated pool, volleyball, horseshoe pits, playground and mini golf keep campers entertained - along with hayrides and ice cream socials.
---
Businesses:
The Jackson Business Directory is Coming Soon!

---
Aerial Photo:
---
Topographic Map: [click map to enlarge, zoom in or zoom out]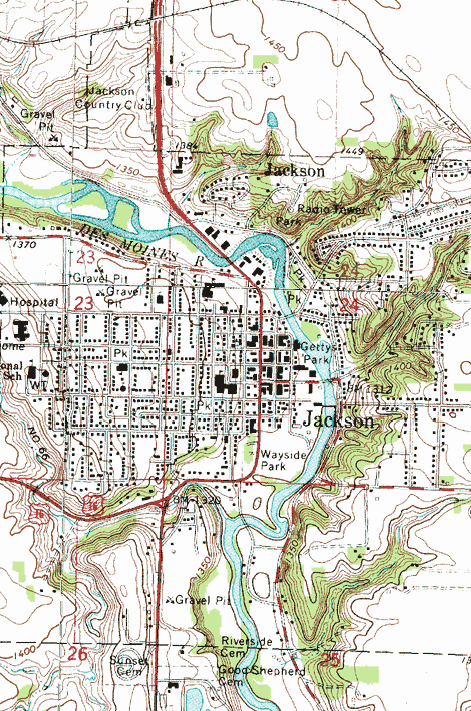 Topographic map is courtesy of the Minnesota DNR - click map to zoom or enlarge