Navigation
LakesnWoods.com
Home Page
Shopping
Coupons
Contact Us
Privacy

Kerrick Guide:
Photo Gallery
Location
Geography
Demographics
History
Government
Post Office
News
Weather
Street Map
Events
Attractions
Recreation
Lakes
Health Care
Schools
Churches
Media
Motels
Resorts
Campgrounds
Businesses
Aerial Photo
Topographic Map
© 2004-2019 Lakeweb1 Internet Services
All Rights Reserved
Defamation, Copyright and Trademark Infingement Policy
WANTED!
Do you have photos, historical accounts or other items pertaining to the Kerrick area? Would you like to share this historical information with the world? LakesnWoods.com would like to publish your Kerrick photos (current or historical) or historical accounts on this website. Original materials can be returned and your privacy will be respected.


(design available on over 100 different items!)

Kerrick Minnesota Community Guide
---
Location:
---
Population:
Kerrick (city)
1970
1980
1990
2000
2008
(est)
1990-2000 Change
Actual
Percent
Population
114
79
56
71
70
15
26.79
Land Area (sq. mile)
1.00
1.03
1.00
1.00
--
-0.00
-0.06
Density (persons per sq. mile)
114.00
76.70
56.00
71.04
--
15.04
26.86
Housing Units
33
30
26
34
--
8
30.77
Households
--
26
22
28
29
6
27.27
Persons Per Household
--
3.04
2.55
2.54
2.41
-0.01
-0.21
---
Geography:
Kerrick is a city in Pine County, Minnesota. Minnesota State Highway 23 serves as a main arterial route in the community. According to the United States Census Bureau, the city has a total area of 1.0 square miles (2.6 km˛), all of it land. The elevation is 1,171 ft (357 m) above sea level.
From Wikipedia, the free encyclopedia
---
Demographics:
As of the census of 2000, there were 71 people, 28 households, and 19 families residing in the city. The population density was 27.4/km˛ (71.0/mi˛). There were 34 housing units at an average density of 13.1/km˛ (34.0/mi˛). The racial makeup of the city was 98.59% White, and 1.41% from two or more races.
There were 28 households out of which 28.6% had children under the age of 18 living with them, 42.9% were married couples living together, 17.9% had a female householder with no husband present, and 28.6% were non-families. 28.6% of all households were made up of individuals and 10.7% had someone living alone who was 65 years of age or older. The average household size was 2.54 and the average family size was 3.00.
In the city the population was spread out with 19.7% under the age of 18, 11.3% from 18 to 24, 32.4% from 25 to 44, 18.3% from 45 to 64, and 18.3% who were 65 years of age or older. The median age was 40 years. For every 100 females there were 129.0 males. For every 100 females age 18 and over, there were 128.0 males.
The median income for a household in the city was $38,750, and the median income for a family was $38,750. Males had a median income of $37,250 versus $11,250 for females. The per capita income for the city was $14,324. There were no families and 2.7% of the population living below the poverty line, including no under eighteens and none of those over 64.
---
History:
KERRICK Township, organized October 22, 1895, and its city in section 35 have a name that is borne also by a village in central Illinois. It was chosen in honor of Cassius M. Kerrick, who was born at Greensburg, Ind., in 1847; came to Minnesota, settling in Minneapolis, as master mechanic for the Great Northern Railway; later was a contractor, erecting many railway bridges; removed to Pasadena, Calif., in 1913, and died there March 12, 1918. The city was incorporated as a village on October 22, 1946; the post office was established in 1891, with Frank Duquette as first postmaster, for whom the village of Duquette, previously named Kerrick, in section 24 of the township is named. The city had a station of the Great Northern Railway.
Courtesy Minnesota Historical Society
---
Government:
City of Kerrick
Kerrick, MN 55756
Title
Term Ends
Name and Address
Phone
Mayor
12/31/2018
Daniel Adams
PO Box 25
5329 Sawmill Road
Kerrick, MN 55756
(218) 496-0244
Clerk
12/31/2020
Jennie Calhoun
PO Box 25
5239 Sawmill Road
Kerrick, MN 55756
(218) 496-0244
Treasurer
12/31/2018
Mary VonRueden
8329 State Highway 23
Kerrick, MN 55756
(218) 340-6545
Council Member
12/31/2020
Joseph Workman
8329 State Highway 23
Kerrick, MN 55756
(612) 275-9523
Council Member
12/31/2018
Paul Stadin
PO Box 32
Kerrick, MN 55756
(218) 496-0115
Council Member
12/31/2018
Shirley Keyport
PO Box 13
Kerrick, MN 55756
(218) 496-5673
---
Post Office:
US Post Office
8384 Main Street
Kerrick, MN 55756-5050
Phone: (218) 496-5591
Toll Free: (800) ASK-USPS
Web: www.usps.com

Regular Business Hours:
Week Days 7:30 am - 12:00 pm
12:30 pm - 4:00 pm
Saturday 8:30 am - 10:30 am
Latest Collection at Post Office:
Week Days 3:00 pm
Saturday 3:00 pm
---
---
Utilities:
| | | |
| --- | --- | --- |
| Utility Type | Utility Name | Utility Phone |
| Electricity | n/a | n/a |
| Natural Gas | n/a | n/a |
| Wastewater | n/a | n/a |
| Water | n/a | n/a |
| Telephone | n/a | n/a |
| Cable TV | n/a | n/a |
---
Major Employers:
Employer
Products/Services
Employees
n/a
---
---
News:
---
Weather:
---
Map: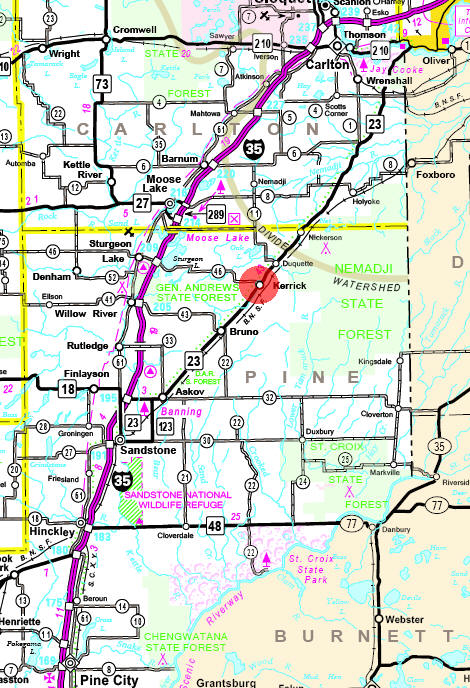 Minnesota State Highway Map of the Kerrick Minnesota area
---
Events:
---
---
Attractions:
---
Recreation: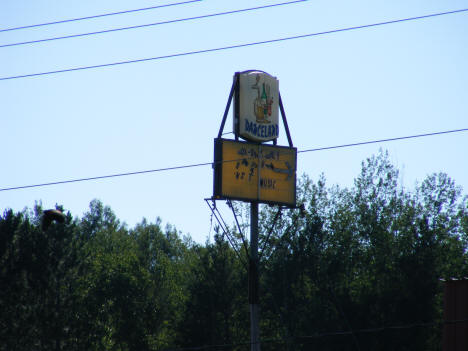 Danceland Sign, Kerrick Minnesota, 2007
LakesnWoods.com Photo
---
Lakes:
---
Health Care:
---
Schools:
---
Churches:
Kerrick Community Church
24 3rd Avenue
Kerrick, MN 55756
Phone: (218) 496-5520
Oak Lake Lutheran Church
53131 Shadow Oak Road
Kerrick, MN 55756
Phone: (218) 485-8710
---
Media:
---
Motels:
---
Resorts:
---
Campgrounds:
---
Businesses:
A Plus Septic North
89522 Range Line Road
Kerrick, MN 55756
Phone: (218) 496-0094
Danmark Tree Service
Kerrick, MN 55756
Phone: (218) 496-0122
Dave's Tire
86780 Oak Lake Road S
Kerrick, MN 55756
Phone: (218) 496-5530
First National Bank of the North
8382 Main Street
Kerrick, MN 55756
Phone: (218) 496-5515
Kerrick Community Church
24 3rd Avenue
Kerrick, MN 55756
Phone: (218) 496-5520
Lobo's Den
8381 State Highway 23
Kerrick, MN 55756
Phone: (218) 496-0778
Oak Lake Campground & RV Sales
52777 Hoffman Drive
Kerrick, MN 55756
Phone: (218) 496-5678
Web: www.oaklakerv.com
Oak Lake Lutheran Church
53131 Shadow Oak Road
Kerrick, MN 55756
Phone: (218) 485-8710
River Inn Supper Club
88591 State Highway 23
Kerrick, MN 55756
Phone: (218) 496-5561
US Post Office
8384 Main Street
Kerrick, MN 55756
Phone: (218) 496-5591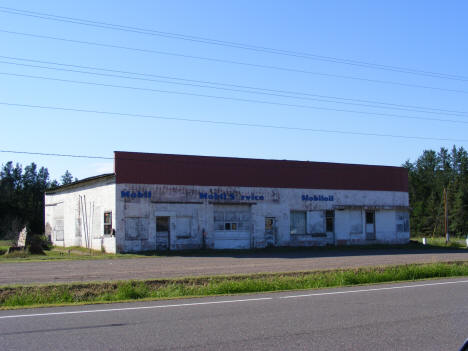 Former Mobil Station in Kerrick Minnesota, 2007
LakesnWoods.com Photo
---
Aerial Photo:
---
Topographic Map: [click map to enlarge, zoom in or zoom out]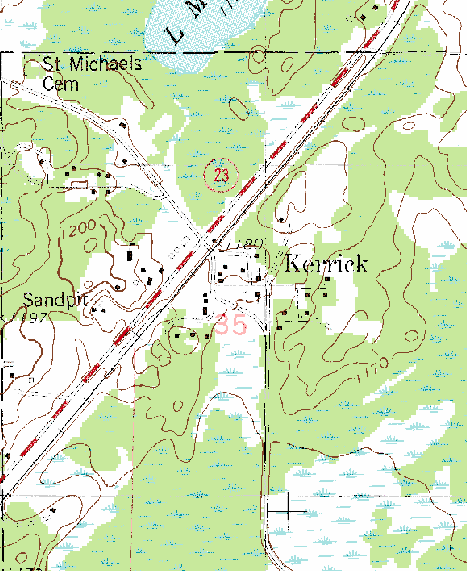 Topographic map is courtesy of the Minnesota DNR - click map to zoom or enlarge