Navigation
LakesnWoods.com
Home Page
Shopping
Coupons
Contact Us
Privacy

Lake Crystal Guide:
Photo Gallery
Location
Geography
Demographics
History
Government
Post Office
News
Weather
Street Map
Events
Attractions
Recreation
Lakes
Health Care
Schools
Churches
Media
Motels
Resorts
Campgrounds
Businesses
Aerial Photo
Topographic Map
© 2004-2016 Lakeweb1 Internet Services
All Rights Reserved
WANTED!
Do you have photos, historical accounts or other items pertaining to the Lake Crystal area? Would you like to share this historical information with the world? LakesnWoods.com would like to publish your Lake Crystal photos (current or historical) or historical accounts on this website. Original materials can be returned and your privacy will be respected.

Lake Crystal Minnesota Community Guide
---
Location:
---
Population:
Lake Crystal (city)
1970
1980
1990
2000

2010

2000-2010 Change
Actual
Percent
Population
1,807
2,078
2,084
2,420
2,549
+129
+5.33
Land Area (sq. mile)
1.10
1.25
1.29
1.78
1.72
-0.06
-3.37
Density (persons per sq. mile)
1,642.73
1,662.40
1,615.50
1,361.31
1,482.00
+120.69
+8.87
Housing Units
632
838
847
973
1,143
+170
+17.47
Households
--
801
810
940
1,063
+123
+13.09
Persons Per Household
--
2.52
2.50
2.52
2.40
-0.12
-4.76
---
Geography:
Lake Crystal is a city in Blue Earth County, Minnesota. Minnesota State Highway 60 serves as a main route in the city. The city has three lakes close by: Crystal Lake, Lily Lake, and Loon Lake. According to the United States Census Bureau, the city has a total area of 1.72 square miles (4.45 km˛), all of it land. The elevation is 994 ft (303 m) above sea level.
From Wikipedia, the free encyclopedia.
---
Demographics:

As of the census of 2010, there were 2,549 people, 1,063 households, and 661 families residing in the city. The population density was 1,482.0 inhabitants per square mile (572.2/km2). There were 1,143 housing units at an average density of 664.5 per square mile (256.6/km2). The racial makeup of the city was 97.3% White, 0.8% African American, 0.2% Native American, 0.7% Asian, 0.1% Pacific Islander, 0.2% from other races, and 0.7% from two or more races. Hispanic or Latino of any race were 1.3% of the population.

There were 1,063 households of which 33.3% had children under the age of 18 living with them, 50.0% were married couples living together, 8.5% had a female householder with no husband present, 3.8% had a male householder with no wife present, and 37.8% were non-families. 31.7% of all households were made up of individuals and 13.5% had someone living alone who was 65 years of age or older. The average household size was 2.40 and the average family size was 3.03.

The median age in the city was 35.6 years. 26.8% of residents were under the age of 18; 6.5% were between the ages of 18 and 24; 27.9% were from 25 to 44; 25.2% were from 45 to 64; and 13.5% were 65 years of age or older. The gender makeup of the city was 47.9% male and 52.1% female.
---
History:
LAKE CRYSTAL, a railway village and junction, platted in May 1869, incorporated by the legislature February 24, 1870, was named by Gen. Judson W. Bishop of St. Paul, engineer of the survey and construction of this railway, for the adjoining lake, which, according to Stennett, "was named by John C. Frémont and J. N. Nicollet, who explored the country around it in 1838, because of the unusual brilliancy and crystal purity of its waters." (This lake and the others near are unnamed on Joseph N. Nicollet's map, 1843.) The village was known as Loon Lake when its post office was established in 1867, the name changing in 1869.
Courtesy Minnesota Historical Society
---
Government:
Lake Crystal City Hall
100 E Robinson Street
PO Box 86
Lake Crystal MN 56055
Phone: (507) 726-2538
Fax: (507) 726-2265
Web: www.ci.lake-crystal.mn.us

Hours Monday - Friday 8:00 am - 4:00 pm

The City Council meets every 1st and 3rd Monday night at 7:30 pm in the Council Chambers of the City Hall.

Mayor
Brad Ahrenstorff
744 E Blue Earth St
PO Box 561
Lake Crystal MN 56055
(507) 726-6576
City Administrator
Bob Hauge
100 E Robinson Street
PO Box 86
Lake Crystal MN 56055
(507) 726-2538
Council Member
Roger Hoechst
400 Kraus Street
PO Box 842
Lake Crystal MN 56055
(507) 726-6165
Council Member
Gina Cooper
222 N Crystal
PO Box 235
Lake Crystal MN 56055
(507) 726-6707
Council Member
Todd Wiens
502 S Oakland Street
PO Box 464
Lake Crystal MN 56055
(507) 726-6490
Council Member
Galen Nilson
801 S Main Street
Lake Crystal MN 56055
(507) 726-6278
---
Post Office:
US Post Office
201 S Main Street
Lake Crystal, MN 56055-4593
Phone: (507) 726-2458
Toll Free: (800) ASK-USPS
Web: www.usps.com

Regular Business Hours:
Week Days 8:30 am - 11:00 am
12:00 pm - 4:30 pm
Saturday 8:30 am - 10:00 am
Latest Collection at Post Office:
Week Days 4:30 pm
Saturday none
---
---
Utilities:
Utility Type
Utility Name
Utility Phone
Electricity
Lake Crystal Municipal Utilities
(507) 726-2538
Natural Gas
CenterPoint Energy

(507)

387-1111

Wastewater
Lake Crystal Municipal Utilities
(507) 726-2538
Water
Lake Crystal Municipal Utilities
(507) 726-2538
Telephone

Hickory Tech

(507)

387-1151

Cable TV

Hickory Tech

(507)

387-1151

Cable TV

Medicom

(800) 332-0245
---
Major Employers:
Employer
Products/Services
Employees

n/a
---
---
News:
---
Weather:
---
Map: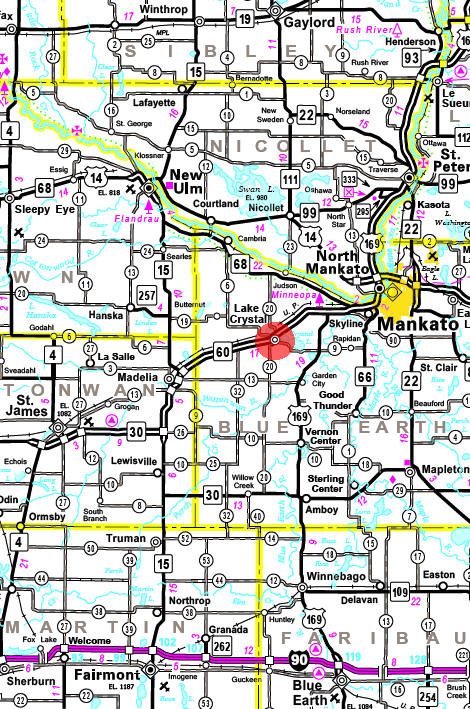 Minnesota State Highway Map of the Lake Crystal Minnesota area
---
Events:
---
Attractions:
---
Recreation:
---
Lakes:
---
Health Care:
---
Schools:
---
Churches:
---
Media:
---
Motels:
Check for motel rates and availability on:
---
Resorts:
---
Campgrounds:
---
Businesses:
Allstate Cash Register
25 Catherine Lane
Lake Crystal, MN 56055
Phone: (507) 625-1718
American Legion
600 S County Road 20
Lake Crystal, MN 56055
Phone: (507) 726-2505
---
Aerial Photo:
---
Topographic Map: [click map to enlarge, zoom in or zoom out]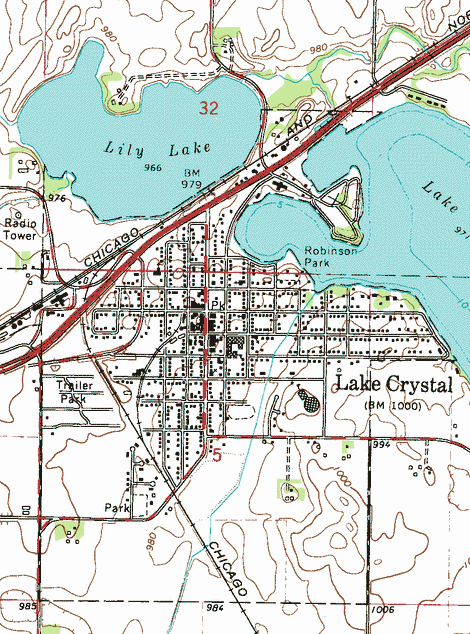 Topographic map is courtesy of the Minnesota DNR - click map to zoom or enlarge