Navigation
LakesnWoods.com
Home Page
Shopping
Coupons
Contact Us
Privacy

Le Sueur Guide:
Photo Gallery
Location
Geography
Demographics
History
Government
Post Office
News
Weather
Street Map
Events
Attractions
Recreation
Lakes
Health Care
Schools
Churches
Media
Motels
Resorts
Campgrounds
Businesses
Aerial Photo
Topographic Map
© 2004-2018 Lakeweb1 Internet Services
All Rights Reserved
WANTED!
Do you have photos, historical accounts or other items pertaining to the Le Sueur area? Would you like to share this historical information with the world? LakesnWoods.com would like to publish your Le Sueur photos (current or historical) or historical accounts on this website. Original materials can be returned and your privacy will be respected.


(design available on over 100 different items!)

Le Sueur Minnesota Community Guide
---
Location:
---
Population:
Le Sueur (city)
1970
1980
1990
2000
2007
(est)
1990-2000 Change
Actual
Percent
Population
3,745
3,763
3,714
3,919
4,299
205
5.52
Land Area (sq. mile)
7.40
3.83
3.63
3.85
--
0.22
6.16
Density (persons per sq. mile)
506.1
982.5
1,023.1
1,017.0
--
-6.14
-0.60
Housing Units
1,255
1,446
1,519
1,588
--
69
4.54
Households
--
1,394
1,461
1,544
1,747
83
5.68
Persons Per Household
--
2.64
2.49
2.48
2.40
-0.01
-0.21
---
Geography:
Le Sueur is a city in Le Sueur and Sibley counties in the U.S. state of Minnesota, between Mankato and the Twin Cities. It lies along the Minnesota River, just off U.S. Route 169. According to the United States Census Bureau, the city has a total area of 4.7 square miles (12.0 km˛), of which, 4.5 square miles (11.6 km˛) of it is land and 0.2 square miles (0.5 km˛) of it (4.09%) is water. A small part of the city extends into Sibley County. The elevation is 774 ft (236 m) above sea level.
From Wikipedia, the free encyclopedia.
---
Demographics:
As of the census of 2000, there were 3,922 people, 1,545 households, and 1,025 families residing in the city. The population density was 879.0 people per square mile (339.5/km˛). There were 1,589 housing units at an average density of 356.1/sq mi (137.6/km˛). The racial makeup of the city was 92.48% White, 0.25% African American, 0.15% Native American, 0.28% Asian, 0.08% Pacific Islander, 5.86% from other races, and 0.89% from two or more races. Hispanic or Latino of any race were 9.64% of the population.
There were 1,545 households out of which 33.3% had children under the age of 18 living with them, 53.3% were married couples living together, 9.4% had a female householder with no husband present, and 33.6% were non-families. 29.3% of all households were made up of individuals and 14.6% had someone living alone who was 65 years of age or older. The average household size was 2.48 and the average family size was 3.07.
In the city the population was spread out with 27.8% under the age of 18, 7.8% from 18 to 24, 26.7% from 25 to 44, 20.5% from 45 to 64, and 17.2% who were 65 years of age or older. The median age was 37 years. For every 100 females there were 93.5 males. For every 100 females age 18 and over, there were 88.2 males.
The median income for a household in the city was $42,372, and the median income for a family was $53,362. Males had a median income of $35,810 versus $24,359 for females. The per capita income for the city was $21,605. About 5.8% of families and 8.8% of the population were below the poverty line, including 12.3% of those under age 18 and 10.7% of those age 65 or over.
---
History:
LE SUEUR Township and city were founded in 1852, with the village plats bearing this name, which in the next year was given to the new county. Two rival villages, each with a post office, one called Le Sueur and the other Le Sueur City, were incorporated respectively on June 10 and 17, 1858. Nine years later, by an act of the state legislature, March 9, 1867, they were united in a borough town, Le Sueur, which was incorporated as a city March 16, 1891. It was the first county seat until 1875, being then succeeded by Cleveland for one year, and by Le Center since 1876. Its major industry is canning, which began in 1903 with the Minnesota Valley Canning Company, furnishing seed and supervising the growing and harvesting of crops from 200 acres; its first production was 11,750 cases of Evergreen Cream Corn; 25 years later crops were raised on 20,000 acres. The Jolly Green Giant first appeared in 1928, created in the image of Paul Bunyan and representing the biggest peas grown in the world and located in a green valley; the figure became so well known that the company changed its name to Green Giant Company in 1950. The home of Dr. William Worral Mayo was built there in 1859; it was added to the National Register of Historic Places in 1969.
Courtesy Minnesota Historical Society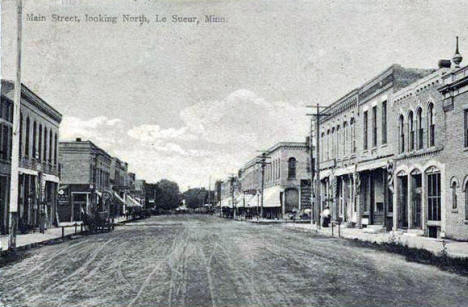 Main Street looking north, Le Sueur Minnesota, 1911
LakesnWoods.com Postcard and Postcard Image Collection- click image to enlarge

For more recent and historic pictures of the Le Sueur area,
click to visit the Le Sueur Photo Gallery

---
Government:
Le Sueur City Hall
203 S Second Street
PO Box 176
Le Sueur, MN 56058
Phone: (507) 665-6401
Web: www.cityoflesueur.com

Hours: Monday - Friday 9:00 am - 4:30 pm

Mayor
Bob Oberle
730 S Fourth Street
Le Sueur, MN 56058
(507) 665-3287
City Administrator
Richard Almich
203 S Second Street
Le Sueur, MN 56058
(507) 665-6401
Council Member - Ward 1
Dan LaBelle
710 S Fourth Street
Le Sueur, MN 56058
(507) 665-2509
Council Member - Ward 1
Joe Spinler
417 Glenview Court
Le Sueur, MN 56058
(507) 665-4238
Council Member - Ward 1
Jeff Kerkow
213 S Fourth Street
Le Sueur, MN 56058
(612) 240-0030
Council Member - Ward 2
Bob Broeder
105 Sherwood Drive
Le Sueur, MN 56058
(507) 665-3023
Council Member - Ward 2
Ruth Vortherms
114 N Morningside
Le Sueur, MN 56058
(507) 665-3963
Council Member - Ward 2
Darvin Wicks
101 N Morningside
Le Sueur, MN 56058
(507) 665-3919
---
Post Office:
US Post Office
202 N Main Street
Le Sueur, MN 56058-1805
Phone: (507) 665-3194
Toll Free: (800) ASK-USPS
Fax: (507) 665-2162
Web: www.usps.com

Regular Business Hours:
Week Days 8:30 am - 4:30 pm
Saturday 9:00 am - 10:00 am
Latest Collection at Post Office:
Week Days 5:00 pm
Saturday 3:30 pm
---
---
Utilities:
---
Major Employers:
---
---
News:
---
Weather:
---
Map: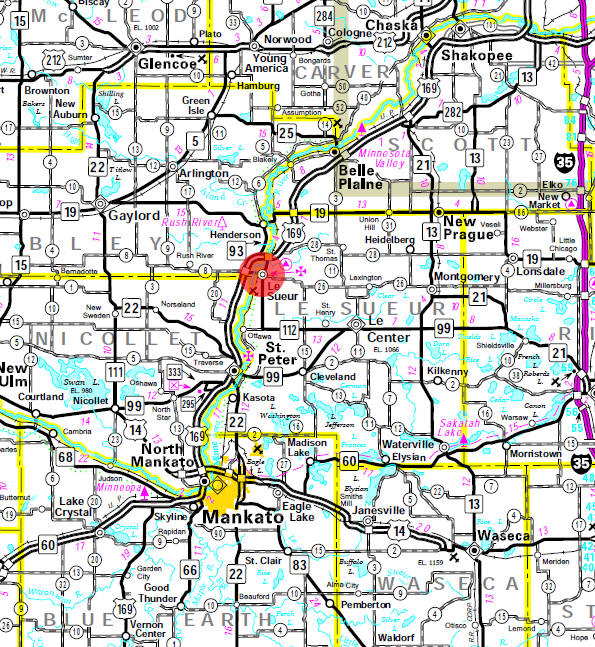 Minnesota State Highway Map of the Le Sueur Minnesota area
---
Events:
Giant Celebration

Last weekend in July

Giant Celebration is a three-day, annual, community celebration held in Le Sueur, MN (30 miles south of the Minneapolis/St. Paul metro area). This summer's celebration will mark the 23nd year that Giant Celebration has taken place on the first weekend of August. Following the tradition of Le Sueur's Corn on the Curb celebrations of the past, Giant Celebration prides itself on creating an event that the entire community looks forward to as an annual rite of summer

Pioneer Power Show

Last weekend in August

Stack threshing and horse power threshing * Horse powered well drilling * Plowing * Straw baling * corn shredding and shelling * Cutting and binding corn * Silage cutting * Heavy duty earth moving equipment * Antique and classic tractors * Sawmill * Veneer, shingle, and lathe mills * Lumber planner * Ye Ol' wood shop * Gas engine grove * Miniatureland * Steam engines * Huge stationary steam and diesel engines * Full size blacksmith shop * Huge tractor pull * Teams of horses * Antique cars and trucks * 1859 Log cabin *
---
---
Attractions:
Le Sueur Museum
709 N Second Street
Le Sueur, MN 56058
Phone: (507) 665-2050

This was once a Le Sueur school building and has been converted into a museum. It features a complete history of the Green Giant Company - noted worldwide for the famous Green Giant vegetable products. It also has excellent displays of veterinary medicine and an "old time" drug store. Other exhibits available at the Le Sueur Museum: Radio Room, Early Schools and Hotels, Post Office, Agriculture in the Valley, Art Exhibit, Military Display and Bands in Le Sueur

W.W. Mayo House
118 N Main Street
Le Sueur, MN 56058
Phone: (507) 665-3250

Costumed history interpreters explore the life and time period of Dr. William Worrall Mayo and family in the home hand built by the "little doctor" in 1859. Birthplace of Dr. William James Mayo. The Doctors Mayo founded the Mayo Clinic in Rochester, Minnesota in 1903. Between 1874 and 1920, the home was lived in by a founder of the Green Giant Company, C.N. Cosgrove. His son and grandson, who became company presidents, were born in the home. From 1936-1967, the Le Sueur Public Library was housed in the home. It has been restored and warmly furnished to the 1860 period. It is a Minnesota Historical Society Site.
---
Recreation:
---
Lakes:
Lake Name
Size
(acres)
Lake info
Lake Map
Rec Map
Topo Map

none in the immediate area
---
Health Care:
---
Schools:
Independent School District #2397
Le Sueur-Henderson Public Schools
115 1/2 N. 5th St. Suite 200
Le Sueur, MN 56058
Phone: (507) 665-4600
Fax: (507) 665-6858
Web: www.isd2397.org
Le Sueur-Henderson High School
901 E Ferry Street
Le Sueur, MN 56058
Phone: (507) 665-5800
Fax: (507) 665-6012

Grades: 6-12
Students: 701

Le Sueur-Henderson Middle School
901 E Ferry Street
Le Sueur, MN 56058
Phone: (507) 665-5800
Fax: (507) 665-6012

Grades: 6-12
Students: 701

Hilltop Elementary School
700 South Street
Henderson, MN 56044
Phone: (507) 665-5900
Fax: (507) 248-3838

Grades: K-5
Students: 75

Park Elementary School
115 N 5th Street
Le Sueur, MN 56058
Phone: (507) 665-4700
Fax: (507) 665-8819

Grades: PK-5
Students: 450

St. Anne Elementary School
511 N 4th Street
Le Sueur, MN 56058
Phone: (507) 665-2489
Web: www.stannes-church.org

Grades: PK-6
Students: 65
---
Churches:
---
Media:
---
Motels:
Check for motel rates and availability on:
---
Resorts:
---
Campgrounds:
---
Businesses:

The Le Sueur Business Guide is Coming Soon!

---
Aerial Photo:
---
Topographic Map: [click map to enlarge, zoom in or zoom out]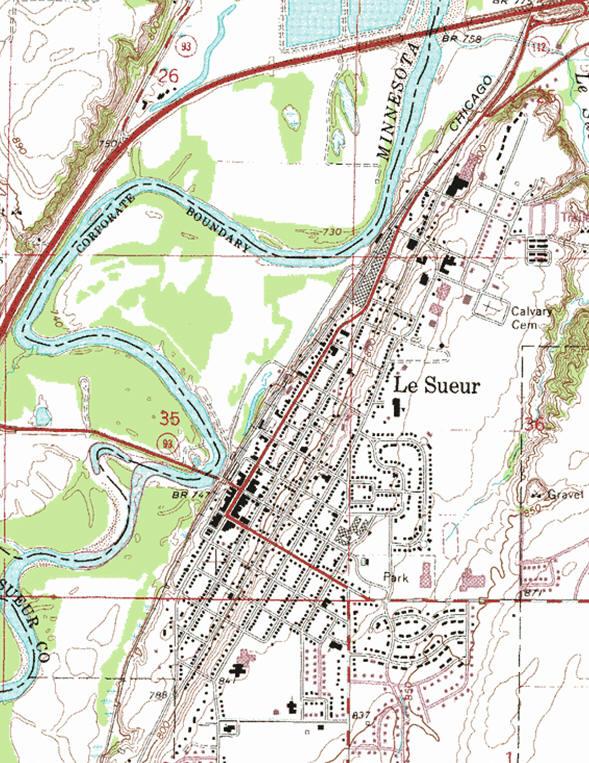 Topographic map is courtesy of the Minnesota DNR - click map to zoom or enlarge