Navigation
LakesnWoods.com
Home Page
Shopping
Coupons
Contact Us
Privacy

Litchfield Guide:
Photo Gallery
Location
Geography
Demographics
History
Government
Post Office
News
Weather
Street Map
Events
Attractions
Recreation
Lakes
Health Care
Schools
Churches
Media
Motels
Resorts
Campgrounds
Businesses
Aerial Photo
Topographic Map
Đ 2004-2018 Lakeweb1 Internet Services
All Rights Reserved
WANTED!
Do you have photos, historical accounts or other items pertaining to the Litchfield area? Would you like to share this historical information with the world? LakesnWoods.com would like to publish your Litchfield photos (current or historical) or historical accounts on this website. Original materials can be returned and your privacy will be respected.

Litchfield Minnesota Community Guide
---
Location:
---
Population:
Litchfield (city)
1970
1980
1990
2000
2007
(est)
1990-2000 Change
Actual
Percent
Population
5,262
5,904
6,041
6,562
6,871
521
8.62
Land Area (sq. mile)
2.50
3.81
3.59
3.75
--
0.16
4.54
Density (persons per sq. mile)
2,104.8
1,549.6
1,682.7
1,748.4
--
65.67
3.90
Housing Units
1,882
2,387
2,519
2,741
--
222
8.81
Households
--
2,283
2,406
2,624
2,810
218
9.06
Persons Per Household
--
2.49
2.42
2.38
2.33
-0.04
-1.59
---
Geography:
Litchfield is a city in and the county seat of Meeker County, Minnesota. U.S. Route 12 and Minnesota State Highways 22 and 24 are three of the main routes in the city. According to the United States Census Bureau, the city has a total area of 4.7 square miles (12.1 kmē), of which, 3.8 square miles (9.7 kmē) of it is land and 0.9 square miles (2.4 kmē) of it (19.66%) is water. The elevation is 1,129 ft (344 m) above sea level.
From Wikipedia, the free encyclopedia.
---
Demographics:
As of the census of 2000, there were 6,562 people, 2,624 households, and 1,653 families residing in the city. The population density was 1,748.4 people per square mile (675.6/kmē). There were 2,741 housing units at an average density of 730.3/sq mi (282.2/kmē). The racial makeup of the city was 94.64% White, 0.37% African American, 0.27% Native American, 0.41% Asian, 3.67% from other races, and 0.64% from two or more races. Hispanic or Latino of any race were 5.15% of the population.
There were 2,624 households out of which 31.6% had children under the age of 18 living with them, 50.7% were married couples living together, 9.3% had a female householder with no husband present, and 37.0% were non-families. 32.1% of all households were made up of individuals and 18.2% had someone living alone who was 65 years of age or older. The average household size was 2.38 and the average family size was 3.02.
In the city the population was spread out with 25.1% under the age of 18, 8.4% from 18 to 24, 25.5% from 25 to 44, 20.3% from 45 to 64, and 20.6% who were 65 years of age or older. The median age was 38 years. For every 100 females there were 93.6 males. For every 100 females age 18 and over, there were 88.2 males.
The median income for a household in the city was $36,021, and the median income for a family was $45,233. Males had a median income of $33,578 versus $21,952 for females. The per capita income for the city was $19,819. About 4.2% of families and 7.8% of the population were below the poverty line, including 5.0% of those under age 18 and 16.3% of those age 65 or over.
---
History:
LITCHFIELD Township, organized April 5, 1858, was at first named Ripley for the lake in the township and then Ness in honor of Ole Halvorson Ness, one of its original party of Norwegian settlers, who came in July 1856. It continued to bear that name until its village was platted in 1869 on the St. Paul and Pacific Railroad, then being built. By petition of its citizens, the township received the village name, Litchfield, in honor of a family who prominently aided in the construction and financing of the railway, including three brothers, Egbert S., Edwin C., and E. Darwin Litchfield. They were the contractors by whom the line from St. Paul to St. Cloud and Watab was built in 1862 to 1864, and later they aided to provide the means for building this more southern line through Meeker County to Breckenridge (Life of James J. Hill, by J. G. Pyle, 1917, 2 vols.). Partly in appreciation of the honor of the name given to the village and township, generous donations to the Episcopal church here were received from Mrs. E. Darwin Litchfield in London. Another of this family, William B. Litchfield, was in 1869 the general manager of this railroad, and his son, Electus D. Litchfield, was the architect, in 1915-17, of the new building of the St. Paul Public Library and the Hill Reference Library. Litchfield village was established and platted in 1869 when the Great Northern Railway came through and succeeded Forest City as the county seat in the fall of 1869; the townsite was owned by George B. Waller and was incorporated February 29, 1872; the post office began in 1869 with John A. C. Waller, postmaster.
Courtesy Minnesota Historical Society
---
Government:
Litchfield City Hall
126 Marshall Avenue N
Litchfield, MN 55355
Phone: (320) 693-7201


Fax: (320) 693-9134


Web: www.ci.litchfield.mn.us
Title
Term Ends
Name and Address
Phone
Mayor
12/31/2014
Keith Johnson
626 Turnberry Lane
Litchfield, MN 55355
--
Clerk/Treasurer
appointed
Bruce Miller
126 Marshall Avenue N
Litchfield, MN 55355

(320) 693-7201

Council Member - Ward 1
12/31/2014
Barbara Altringer
731 Capwood Avenue
Litchfield, MN 55355
--
Council Member - Ward 2
12/31/2012
Connie Lies
640 E 2nd Street
Litchfield, MN 55355
--
Council Member - Ward 3
12/31/2014
Dwight Lorenson
560 E Butler Street
Litchfield, MN 55355
--
Council Member - Ward 4
12/31/2012
Vern Loch, Jr.
605 Turnberry Lane
Litchfield, MN 55355
--
Council Member - Ward 5
12/31/2014
Gary Walz
705 W 6th Street
Litchfield, MN 55355
--
Council Member - At Large
12/31/2012
Ron Dingmann
808 S Marshall
Litchfield, MN 55355
--
---
Post Office:
US Post Office
35 E 2nd Street
Litchfield, MN 55355-2101
Phone: (320) 693-6252
Toll Free: (800) ASK-USPS
Web: www.usps.com

Regular Business Hours:
Week Days 8:30 am - 4:30 pm
Saturday 9:00 am - 10:30 pm
Latest Collection at Post Office:
Week Days 5:00 pm
Saturday 4:00 pm
---
---
Utilities:
| | | |
| --- | --- | --- |
| Utility Type | Utility Name | Utility Phone |
| Electricity | Litchfield Public Utilities Commission | (320) 693-7201 |
| Electricity | Meeker Cooperative Light & Power | (320) 693-3231 |
| Natural Gas | CenterPoint Energy | (800) 245-2377 |
| Wastewater | Litchfield Municipal | (320) 693-3321 |
| Water | Litchfield Public Utilities Commission | (320) 593-4400 |
| Telephone | Hutchinson Telecommunications | (800) 303-7039 |
| Cable TV | Mediacom | (800) 332-0245 |
---
Major Employers:
| | | |
| --- | --- | --- |
| Employer | Products/Services | Employees |
| Litchfield School District 465 | Elementary & Secondary Schools | 376 |
| Augustana Lutheran Homes | Nursing Care Facilities | 250 |
| Meeker County Memorial Hospital | General Medical & Surgical Hospitals | 191 |
| Bobcat Company | Const. Machinery Mfg. | 180 |
| Meeker County | Executive, Legislative, & Other Gen. Govt. Support | 175 |
| Towmaster Trailers, Inc. | Motor Vehicle Body & Trailer Manufacturing | 175 |
| First District Association | Dairy Product Manufacturing | 172 |
| Minnesota Rubber & Plastics | Other Miscellaneous Manufacturing | 170 |
| Custom Products of Litchfield | Architectural & Structural Metals Manufacturing | 110 |
| Sparboe Companies | Poultry & Egg Production | 100 |
| Anderson Chemical Company | Chemical & Allied Products Merchant Wholesalers | 63 |
| North Star Processing | Farm & Garden Machinery & Equip. Merch. Whole. | 50 |
| Tech Etch | Metal Coating, Engraving (exc. Jewelry & Silverware), & Allied Svc | 33 |
| Modern Quilters | Textile Furnishings Mills | 25 |
| Berk Packaging Solutions | Other Support Services | 16 |
---
---
News:
---
Weather:
---
Map: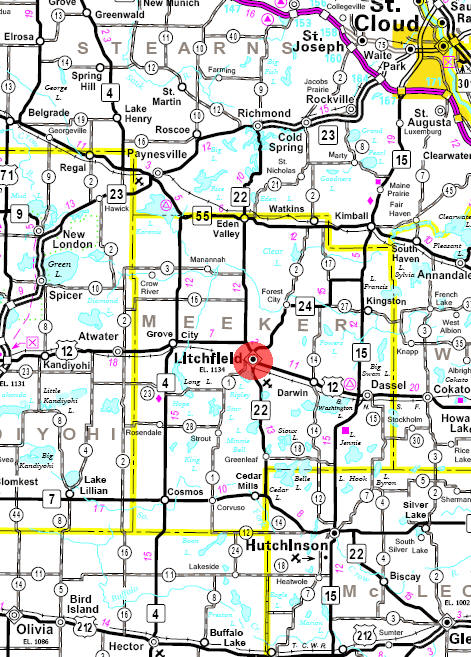 Minnesota State Highway Map of the Litchfield Minnesota area
---
Events:
---
---
Attractions:
---
Recreation:
---
Lakes:
---
Health Care:
---
Schools:
---
Churches:
---
Media:
---
Motels:
Check for motel rates and availability on:
---
Resorts:
---
Campgrounds:
---
Businesses:
---
Aerial Photo:
---
Topographic Map: [click map to enlarge, zoom in or zoom out]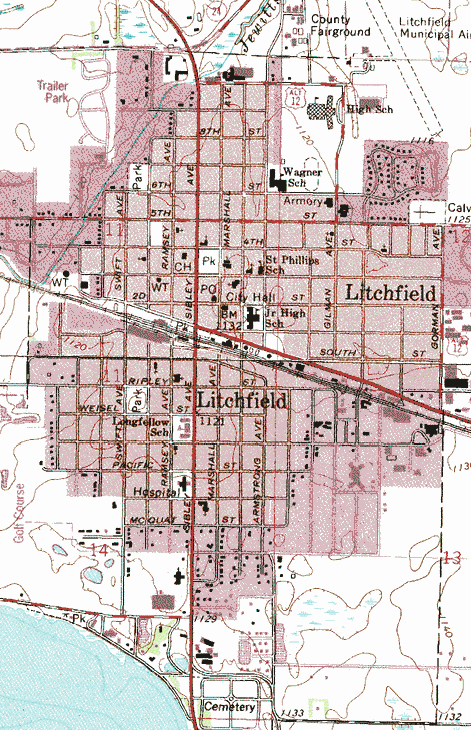 Topographic map is courtesy of the Minnesota DNR - click map to zoom or enlarge