Navigation
LakesnWoods.com
Home Page
Shopping
Coupons
Contact Us
Privacy

Luverne Guide:
Photo Gallery
Location
Geography
Demographics
History
Government
Post Office
News
Weather
Street Map
Events
Attractions
Recreation
Lakes
Health Care
Schools
Churches
Media
Motels
Resorts
Campgrounds
Businesses
Aerial Photo
Topographic Map
© 2004-2017 Lakeweb1 Internet Services
All Rights Reserved
WANTED!
Do you have photos, historical accounts or other items pertaining to the Luverne area? Would you like to share this historical information with the world? LakesnWoods.com would like to publish your Luverne photos (current or historical) or historical accounts on this website. Original materials can be returned and your privacy will be respected.

Luverne Minnesota Community Guide
---
Location:
---
Population:
Luverne (city)
1970
1980
1990
2000
2007
(est)
1990-2000 Change
Actual
Percent
Population
4,703
4,568
4,382
4,617
4,593
235
5.36
Land Area (sq. mile)
2.10
2.25
2.40
3.40
--
1.00
41.86
Density (persons per sq. mile)
2,239.5
2,030.2
1,825.8
1,356.1
--
-469.77
-25.73
Housing Units
1,696
1,976
1,994
2,161
--
167
8.38
Households
--
1,891
1,902
1,968
2,010
66
3.47
Persons Per Household
--
2.38
2.25
2.25
2.20
-0.00
-0.20
---
Geography:
Luverne is a city in Rock County, Minnesota, along the Rock River. It is the county seat of Rock County. Interstate 90 and U.S. Route 75 are two of the main routes in the city. According to the United States Census Bureau, the city has a total area of 3.4 square miles (8.9 km˛), of which, 3.4 square miles (8.8 km˛) of it is land and 0.29% is water. The elevation is 1,467 ft (447 m) above sea level.
From Wikipedia, the free encyclopedia.
---
Demographics:
As of the census of 2000, there were 4,617 people, 1,968 households, and 1,247 families residing in the city. The population density was 1,356.1 people per square mile (524.3/km˛). There were 2,161 housing units at an average density of 634.7/sq mi (245.4/km˛). The racial makeup of the city was 97.27% White, 0.67% African American, 0.32% Native American, 0.58% Asian, 0.58% from other races, and 0.56% from two or more races. Hispanic or Latino of any race were 1.56% of the population.
There were 1,968 households out of which 26.4% had children under the age of 18 living with them, 53.8% were married couples living together, 7.3% had a female householder with no husband present, and 36.6% were non-families. 33.9% of all households were made up of individuals and 21.2% had someone living alone who was 65 years of age or older. The average household size was 2.25 and the average family size was 2.90.
In the city the population was spread out with 23.8% under the age of 18, 6.9% from 18 to 24, 22.3% from 25 to 44, 20.6% from 45 to 64, and 26.4% who were 65 years of age or older. The median age was 43 years. For every 100 females there were 89.4 males. For every 100 females age 18 and over, there were 83.5 males The median income for a household in the city was $36,271, and the median income for a family was $46,745. Males had a median income of $30,549 versus $22,660 for females. The per capita income for the city was $18,692. About 5.7% of families and 8.8% of the population were below the poverty line, including 7.1% of those under age 18 and 10.0% of those age 65 or over.
---
History:
LUVERNE, a city in Luverne Township and the county seat, first settled in 1867-68, platted as a village in 1870, was incorporated by a legislative act February 14, 1877, and by vote of its people November 12, 1878. Nearly 26 years later, on September 7, 1904, it was organized as a city. This name was adopted for the post office begun in the winter of 1868, being in honor of Eva Luverne Hawes, the eldest daughter of the first settler here, Philo Hawes; Hawes's step-brother, Edward McKenzie, was postmaster. She was born at Cannon Falls in Goodhue County, November 14, 1857; accompanied her parents to the Rock River home in 1868; was married to P. F. Kelley, September 5, 1876; and died in Luverne, June 9, 1881. In the early years the name was spelled as two words, Lu Verne, "but the style was gradually replaced by the present form." The personal name was found in a novel or romance, then probably a new book or published in a magazine, which was read by Philo Hawes's cousin Lucy Cotter, of Red Wing, at whose request the baby Luverne was so named.
As her father and mother are also honored by the name of the village and city, this notice may desirably add that he was born in Danby, N.Y., December 18, 1830, and died at Luverne, August 10, 1908. He came to Minnesota in 1853; served as second lieutenant in the Eleventh Minnesota Regiment in the Civil War; was a mail carrier in 1867 between Blue Earth, Minn., and Yankton, Dakota Territory; settled on the site of Luverne in March 1868; was chairman of the board of county commissioners, 1871-73; was postmaster of Luverne, 1871-74 and 1888-93; and engaged in real estate and insurance business.
Courtesy Minnesota Historical Society
---
Government:
Luverne City Hall
305 E Luverne Street
PO Box 659
Luverne, MN 56156-0659
Phone: (507) 449-2388
Web: www.cityofluverne.org
Mayor
Andy Steensma
607 E Dodge Street
Luverne, MN 56156
(507) 283-2581
City Administrator
John Call
305 E Luverne Street
PO Box 659
Luverne, MN 56156-0659
(507) 449-5025
Council Member - North Ward
Pat Baustian
101 E Barck Street
Luverne, MN 56156
(507) 283-4180
Council Member - North Ward
Esther Spease Frakes
201 Cashin Drive
Luverne, MN 56156
(507) 283-8464
Council Member - South Ward
Maynard Lafrenz
211 E Fletcher Street
Luverne, MN 56156
(507) 920-9388
Council Member - South Ward
Jody Reisch
305 N Freeman Avenue
Luverne, MN 56156
(507) 283-9289
---
Post Office:
US Post Office
407 E Lincoln Street
Luverne, MN 56156-1606
Phone: (507) 283-2186
Toll Free: (800) ASK-USPS
Fax: (507) 283-4952
Web: www.usps.com

Regular Business Hours:
Week Days 8:30 am - 4:30 pm
Saturday 9:15 am - 11:15 pm
Latest Collection at Post Office:
Week Days 4:15 pm
Saturday 4:15 pm
---
---
Utilities:
| | | |
| --- | --- | --- |
| Utility Type | Utility Name | Utility Phone |
| Electricity | Luverne Municipal Utilities | (507) 449-2388 |
| Natural Gas | Minnesota Energy Resources Corp | (800) 889-9508 |
| Wastewater | Luverne Municipal Utilities | (507) 449-2388 |
| Water | Luverne Municipal Utilities | (507) 449-2388 |
| Telephone | Knology | (800) 872-4658 |
| Cable TV | Mediacom | (507) 283-9578 |
---
Major Employers:
| | | |
| --- | --- | --- |
| Employer | Products/Services | Employees |
| Sanford Hospital | General Medical & Surgical Hospitals | 220 |
| Luverne Public Schools | Colleges, Universities, & Professional Schools | 214 |
| Minnesota Veterans Home | Nursing Care Facilities | 155 |
| Gold'n Plump Poultry | Animal Slaughtering & Processing | 150 |
| Mary Jane Brown Home | Nursing Care Facilities | 110 |
| Continental Western - Tri-State Ins. | Insurance Carriers | 108 |
| Rock, County of | Comm. Food & Hsg. & Emerg. & Other Relief Svcs. | 107 |
| Luverne, City of | Executive, Legislative, & Other Gen. Govt. Support | 58 |
| Total Card Inc. | Credit Card Issuing | 54 |
| Papik Motors | Used Merchandise Stores | 46 |
| Berkley Information Services | Computer Systems Design & Related Services | 45 |
| Luverne Medical Center | Offices of Physicians | 45 |
| Hills Stainless Steel | Industrial Machinery Manufacturing | 35 |
---
---
News:
---
Weather:
---
Map: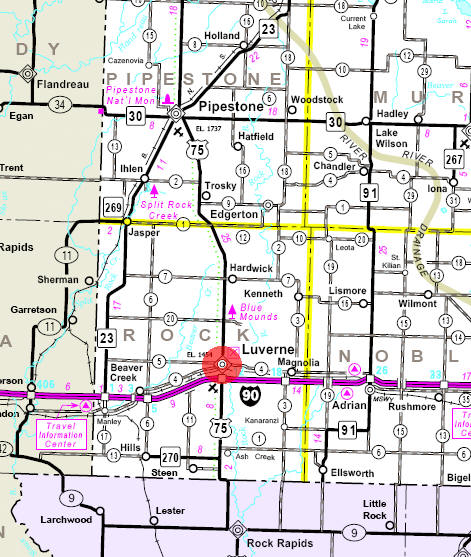 Minnesota State Highway Map of the Luverne Minnesota area
---
Events:
---
Attractions:
---
Recreation:
---
Lakes:
---
Health Care:
---
Schools:
---
Churches:
---
Media:
---
Motels:
Check for motel rates and availability on:
---
Resorts:
---
Campgrounds:
---
Businesses:
---
Aerial Photo:
---
Topographic Map: [click map to enlarge, zoom in or zoom out]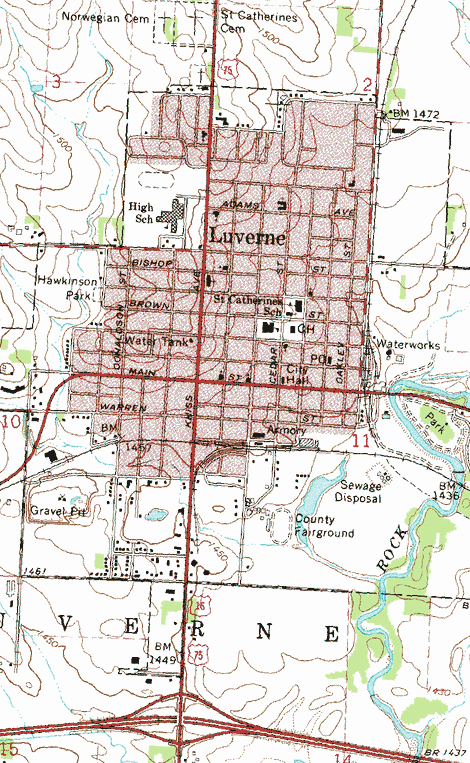 Topographic map is courtesy of the Minnesota DNR - click map to zoom or enlarge