Navigation
LakesnWoods.com
Home Page
Shopping
Coupons
Contact Us
Privacy

Madison Guide:
Photo Gallery
Location
Geography
Demographics
History
Government
Post Office
News
Weather
Street Map
Events
Attractions
Recreation
Lakes
Health Care
Schools
Churches
Media
Motels
Resorts
Campgrounds
Businesses
Aerial Photo
Topographic Map
© 2004-2017 Lakeweb1 Internet Services
All Rights Reserved
WANTED!
Do you have photos, historical accounts or other items pertaining to the Madison area? Would you like to share this historical information with the world? LakesnWoods.com would like to publish your Madison photos (current or historical) or historical accounts on this website. Original materials can be returned and your privacy will be respected.

Madison Minnesota Community Guide
---
Location:
Many communities and counties in Minnesota are situated in high traffic tourist areas. In contrast, Madison and Lac qui Parle County are parked right in the middle of rich prairie lands. Madison and Lac qui Parle's location makes it a natural gateway to Minnesota's "Lake Country" and a natural to serve as the "Lac qui Parle County" seat. But Madison and Lac qui Parle County have more to offer than just lake life: several clean uncluttered parks, swimming pool, tennis courts and exquisite golf courses. Goose, duck, pheasant hunting with gun, bow and arrow or camera. "Birding" at Salt Lake. Izaak Walton would keep fishing at nearby Lac qui Parle Lake his secret. The performing arts at the Prairie Arts Center. Wissota Auto Racing. The "Little Minnesota State Fair" - the Lac qui Parle County Fair ! Stinker Days/Fourth of July ! Oktoberfest ! Lou T. Fisk's Santaland ! and that is just a start !!!

Courtesy City of Madison
---
Population:
Madison (city)
1970
1980
1990
2000
2010
2000-2010 Change
Actual
Percent
Population
2,242
2,212
1,951
1,768
1,551
-217
Land Area (sq. mile)
0.90
1.10
1.02
1.02
1.05
+0.03
Density (persons per sq. mile)
2,491.1
2,010.9
1,912.8
1,737.6
1,477.1
Housing Units
833
973
916
882
873
-9
Households
--
894
826
789
736
-53
Persons Per Household
--
2.27
2.15
2.07
---
Geography:
Madison is a city in Lac qui Parle County, Minnesota. It is the county seat of Lac qui Parle County. U.S. Route 75 and Minnesota State Highway 40 are two of the main routes in the city. According to the United States Census Bureau, the city has a total area of 1.05 square miles (2.72 km˛), all of it land. The elevation is 1,089 ft (332 m) above sea level.
From Wikipedia, the free encyclopedia.
---
Demographics:

As of the census of 2010, there were 1,551 people, 736 households, and 404 families residing in the city. The population density was 1,477.1 inhabitants per square mile (570.3 /km2). There were 873 housing units at an average density of 831.4 per square mile (321.0 /km2). The racial makeup of the city was 96.6% White, 0.1% African American, 0.6% Native American, 0.9% Asian, 0.1% from other races, and 1.6% from two or more races. Hispanic or Latino of any race were 1.5% of the population.

There were 736 households of which 17.9% had children under the age of 18 living with them, 45.2% were married couples living together, 7.2% had a female householder with no husband present, 2.4% had a male householder with no wife present, and 45.1% were non-families. 41.6% of all households were made up of individuals and 28.4% had someone living alone who was 65 years of age or older. The average household size was 1.99 and the average family size was 2.68.

The median age in the city was 54.6 years. 17% of residents were under the age of 18; 4.9% were between the ages of 18 and 24; 15.3% were from 25 to 44; 27.1% were from 45 to 64; and 35.7% were 65 years of age or older. The gender makeup of the city was 46.0% male and 54.0% female.
---
History:
MADISON Township, first settled in 1877, organized in October 1879, was named on the suggestion of Claus P. Moe, "in memory of his former home at Madison, Wisconsin." The city of Madison is located in sections 20, 21, 28, and 29; the townsite company organized by H. A. Larson, general store owner, purchased the land from John Anderson in 1884 and platted the townsite; the post office began as True in 1883, changing its name to Madison in 1884; it had a station of the Minneapolis and St. Louis Railroad. The city was incorporated in 1886, became the county seat in 1889, and adopted its city charter March 12, 1902.
Courtesy Minnesota Historical Society

Street View, Madison Minnesota, 1909
LakesnWoods.com Postcard and Postcard Image Collection - click to enlarge
---
Government:
Madison City Hall
404 6th Avenue N
Madison MN 56256
Phone: (320)-598-7373
Fax: (320) 598-7376
Web: www.ci.madison.mn.us

Hours: 8:00 am - 4:30 pm

Council Meetings: 2nd & 4th Mondays at 5:30 pm

Mayor
Greg Thole
n/a
City Clerk
Kathleen Weber
(320) 598-7373
Council Member
Rick Gail
n/a
Council Member
Paul Zahrbock
n/a
Council Member
Maynard Meyer

n/a
Council Member
Tim Volk
n/a
---
Post Office:
US Post Office
711 1st Street W
Madison, MN 56256-1334
Phone: (320) 598-7478
Toll Free: (800) ASK-USPS
Web: www.usps.com

Regular Business Hours:
Week Days 8:30 am - 4:30 pm
Saturday Closed
Latest Collection at Post Office:
Week Days 4:30 pm
Saturday 9:30 am
---
Utilities:
---
Major Employers:
---
---
News:
---
Weather:
---
Map: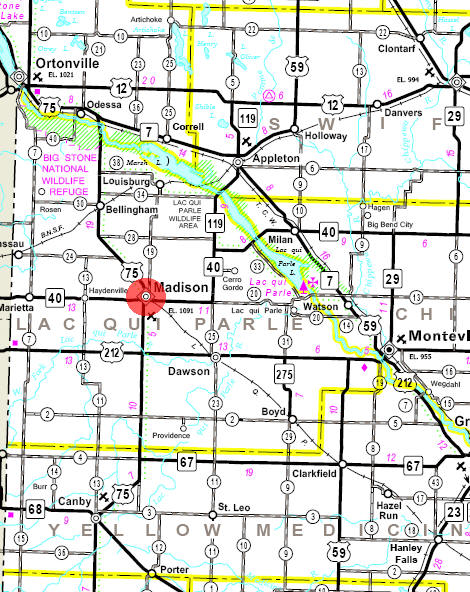 Minnesota State Highway Map of the Madison Minnesota area
---
Events:
---
Attractions:
---
Recreation:
---
Lakes:
---
Health Care:
---
Schools:
---
Churches:
Borgund Lutheran Church
2762 W 260th Street
Madison, MN 52652
Phone: (320) 752-4443
Calvary Baptist Church
804 W 8th Street
Madison, MN 56256
Phone: (320) 598-7809
Faith Lutheran Church - ELCA
106 W 8th Street
Madison, MN 56256
Phone: (320) 598-3630
Web: www.madisonfaithlutheran.com
Garfield Lutheran Church
206 E 8th Street
Madison, MN 56256
Phone: (320) 598-3857
Minnesota Valley Lutheran Church
3304 N 261st Avenue
Rural Louisburg
Phone: (320) 752-4784
St. John's Lutheran Church - LCMS
822 West 6th Street
Madison, MN 56256
Phone: (320) 598-7550
St. Michael's Catholic Church
412 3rd Street
Madison, MN 56256
Phone: (320) 598-3690
Web: www.stmichaelsmadison.org
---
Media:
---
Motels:
Lou's Lodge
Madison, MN 56256
Phone: (320) 598-7518
Check for motel rates and availability on:
---
Resorts:
---
Campgrounds:
---
Businesses:
After Five Supper Club
205 8th Avenue S
Madison, MN 56256
Phone: (320) 598-7920
Arneson Tire Shop
257 8th Avenue S
Madison, MN 56256
Phone: (320) 598-7456
Borglund Brothers Construction
304 1st Avenue
Madison, MN 56256
Phone: (320) 598-7428
Brehmer Motor Supply
103 6th Avenue
Madison, MN 56256
Phone: (320) 598-3400
Cargill Financial Services
202 6th Avenue
Madison, MN 56256
Phone: (320) 598-7351
Carpets and More
122 2nd Avenue
Madison, MN 56256
Phone: (320) 598-3098
Casey's General Store
406 8th Avenue
Madison, MN 56256
Phone: (320) 598-3666
Children's Mental Health
930 1st Avenue
Madison, MN 56256
Phone: (320) 598-7779
Croatt's Concrete
2365 State Highway 40
Madison, MN 56256
Phone: (320) 598-3363
Dairy Queen Chill & Grill
711 8th Avenue
Madison, MN 56256
Phone: (320) 598-3858
Dave's Plumbing and Heating
616 W 3rd Street
Madison, MN 56256
Phone: (320) 598-3761
De Toy's Family Restaurant
502 W 1st Street
Madison, MN 56256
Phone: (320) 598-3886
Donna's Beauty Shop
315 6th Avenue
Madison, MN 56256
Phone: (320) 598-3763
Erickson Chevrolet
307 8th Avenue
Madison, MN 56256
Phone: (320) 598-3515
Farm and City Tax Service
511 W 4th Street
Madison, MN 56256
Phone: (320) 598-3535
Farm Bureau Financial Services
525 E 1st Street
Madison, MN 56256
Phone: (320) 598-3544
Farm Credit Services
112 5th Avenue
Madison, MN 56256
Phone: (320) 598-7505
Farmers Elevator Company
400 3rd Avenue
Madison, MN 56256
Phone: (320) 568-2453
Fernholz Crop Insurance
2628 State Highway 40
Madison, MN 56256
Phone: (320) 598-7711
Fieldcrest Fertilizer Plant
210 5th Avenue
Madison, MN 56256
Phone: (320) 598-7567
Fisher Furniture
421 1st Street W
Madison, MN 56256
Phone: (320) 598-3991
Grace Haven Assisted Living
301 E 3rd Street
Madison, MN 56256
Phone: (320) 598-7557
Grand Theatre
310 6th Avenue
Madison, MN 56256
Phone: (320) 598-7791
Greg Thole Electric
804 W 6th Street
Madison, MN 56256
Phone: (320) 598-7928
Happy Hour Sports Bar
218 5th Avenue
Madison, MN 56256
Phone: (320) 598-3434
Haugen Insurance
112 6th Avenue
Madison, MN 56256
Phone: (320) 598-3332
Heather Nursery & Floral
309 6th Avenue
Madison, MN 56256
Phone: (320) 598-7337
---
Aerial Photo:
---
Topographic Map: [click map to enlarge, zoom in or zoom out]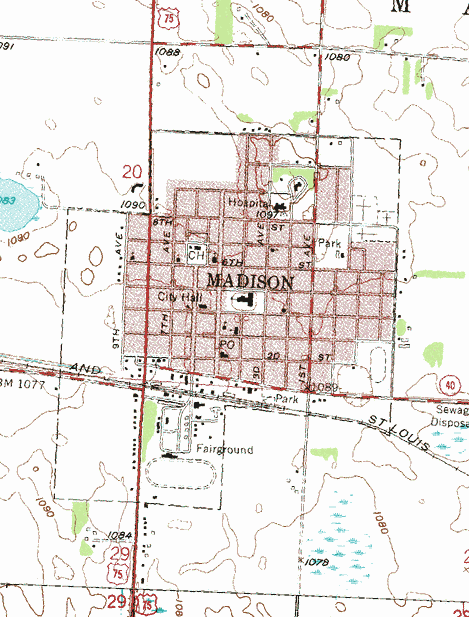 Topographic map is courtesy of the Minnesota DNR - click map to zoom or enlarge