Navigation
LakesnWoods.com
Home Page
Shopping
Coupons
Contact Us
Privacy

Madison Lake Guide:
Photo Gallery
Location
Geography
Demographics
History
Government
Post Office
News
Weather
Street Map
Events
Attractions
Recreation
Lakes
Health Care
Schools
Churches
Media
Motels
Resorts
Campgrounds
Businesses
Aerial Photo
Topographic Map
© 2004-2018 Lakeweb1 Internet Services
All Rights Reserved
WANTED!
Do you have photos, historical accounts or other items pertaining to the Madison Lake area? Would you like to share this historical information with the world? LakesnWoods.com would like to publish your Madison Lake photos (current or historical) or historical accounts on this website. Original materials can be returned and your privacy will be respected.

Madison Lake Minnesota Community Guide
---
Location:
---
Population:
Madison Lake (city)
1970
1980
1990
2000
2010
2000-2010 Change
Actual
Percent
Population
587
592
643
837
1,017
+180
+21.51
Land Area (sq. mile)
0.30
0.45
0.41
0.47
1.04
+0.57
+212.77
Density (persons per sq. mile)
1,956.7
1,315.6
1,568.3
1,794.4
987.4
-807.0
-44.97
Housing Units
178
217
253
370
430
+60
+16.22
Households
--
198
233
319
394
+75
+23.51
Persons Per Household
--
2.99
2.76
2.62
2.58
+0.04
-1.53
---
Geography:
Madison Lake is a city in Blue Earth County, Minnesota. Minnesota State Highway 60 serves as a main route in the community. U.S. Route 14 is nearby. According to the United States Census Bureau, the city has a total area of 1.04 square miles (2.69 km²), all of it land. The elevation is 1,047 ft (319 m) above sea level.
From Wikipedia, the free encyclopedia.
---
Demographics:
As of the census of 2010, there were 1,017 people, 394 households, and 271 families residing in the city. The population density was 987.4 inhabitants per square mile (381.2 /km2). There were 430 housing units at an average density of 417.5 per square mile (161.2 /km2). The racial makeup of the city was 96.7% White, 0.5% African American, 0.6% Native American, 0.5% Asian, 0.1% Pacific Islander, 1.1% from other races, and 0.6% from two or more races. Hispanic or Latino of any race were 2.0% of the population.
There were 394 households of which 37.8% had children under the age of 18 living with them, 51.0% were married couples living together, 11.4% had a female householder with no husband present, 6.3% had a male householder with no wife present, and 31.2% were non-families. 22.8% of all households were made up of individuals and 7.3% had someone living alone who was 65 years of age or older. The average household size was 2.58 and the average family size was 3.01.
The median age in the city was 33.3 years. 26.2% of residents were under the age of 18; 8.2% were between the ages of 18 and 24; 32.7% were from 25 to 44; 24.4% were from 45 to 64; and 8.5% were 65 years of age or older. The gender makeup of the city was 50.0% male and 50.0% female.
---
History:
From the time the land was patented to Rodger Wells, Jr. in 1858, the lakes have been an important factor in development of the Madison Lake area. The Native Americans who frequented the forests and hunted the shores called the land "Waukensika". Government surveyors, who came later, named some of the larger lakes of the area in honor of U.S. Presidents -Washington, Jefferson and Madison. The lakes attracted tourists to the area that was surrounded by rich farmland, lakes and forests. Resorts such as Copananing Hotel, Lake House Hotel, and Point Pleasant Resort and beaches existed before and during the development of Madison Lake. Noted author, Maud Hart Lovelace, who wrote the "Betsy Tacy" series of books referred to Lake Madison as Murmuring Lake in her books. Charles Lindbergh guided his World War I surplus "Jenny" on a stubbly wheat filed at the northwest side of Madison Lake in 1923. While there, he offered $5 rides to offset expenses of his "barnstorming". President Taft made a whistle stop on October 24 at the Madison Lake Depot during his 1911 Presidential campaign.
Lewis and Margaret Fitcher filed their plat of Madison Lake town site on January 17, 1885. On January 5, 1892, the Madison Lake town site was incorporated including the earlier platted Point Pleasant town site and became known as the Village of Madison Lake.

Madison Lake remained a "village" until the 1980's when the State of Minnesota classified it as a city of the fourth class.
Courtesy City of Madison Lake
MADISON LAKE, a city in Jamestown Township, section 34, was named for the adjoining lake, which had been so named by the government surveyors in honor of James Madison, fourth president of the United States, 1809-17. The village was first settled in 1885 and had a station of the Minneapolis and St. Louis Railroad and several mills; a post office began in 1885 with George Washington Allyn as the first postmaster. The village was incorporated on December 15, 1891. Located on Madison Lake, the village and surrounding area were touted as picturesque and flourishing, inviting a summer tourist trade for rowing, fishing, and sailing, and by 1900 the community had a well-developed resort trade. Point Pleasant, a townsite first settled about 1871 and platted in 1885, was included as part of the village at the time of incorporation.
Courtesy Minnesota Historical Society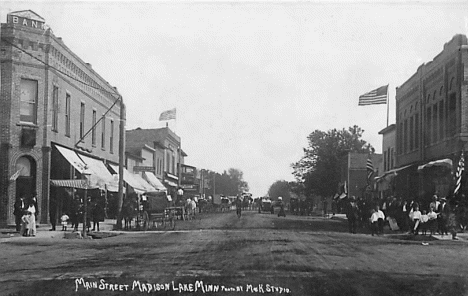 Main Street, Madison Lake Minnesota 1900's
LakesnWoods.com Postcard and Postcard Image Collection - click to enlarge

Visit the Madison Lake Gallery for more historic and recent area photos

---
Government:
Madison Lake City Hall
525 Main Street
PO Box 295
Madison Lake, MN 56063
Phone: (507) 243-3011
Fax: (507) 243-4330
Web: www.ci.madison-lake.mn.us

Hours: Monday 8:00 am to 5:30 pm Tuesday through Friday 8:00 am to 4:30 pm

Title
Term Ends
Name and Address
Phone
Mayor
12/31/2014
Kenneth Reichel
PO Box 696
Madison Lake, MN 56063
(507) 243-3616
City Administrator
appointed
Kelly Steele
PO Box 295
Madison Lake, MN 56063
(507) 243-3011
Council Member
12/31/2014
Steve Bjerke
78 Evergreen Court
Madison Lake, MN 56063
(507) 243-4150
Council Member
12/31/2014
Kent Hoehn
808 7th Street
Madison Lake, MN 56063
(507) 243-4245
Council Member
12/31/2014
John Howard
54 Lake Avenue
Madison Lake, MN 56063
(507) 243-3854
Council Member
12/31/2016
Carolyn Hiniker
74 Evergreen Court
Madison Lake, MN 56063
(507) 243-4515
---
Post Office:
US Post Office
413 Main Street
Madison Lake, MN 56063-4501
Phone: (507) 243-3012
Toll Free: (800) ASK-USPS
Web: www.usps.com

Regular Business Hours:
Week Days 8:45 am - 12:30 pm
1:30 pm - 4:15 pm
Saturday 8:45 am - 9:45 am
Latest Collection at Post Office:
Week Days 4:15 pm
Saturday none
---
---
Utilities:
| | | |
| --- | --- | --- |
| Utility Type | Utility Name | Utility Phone |
| Electricity | Xcel Energy | (800) 960-6235 |
| Natural Gas | n/a | -- |
| Wastewater | City of Madison Lake | (507) 243-3011 |
| Water | City of Madison Lake | (507) 243-3011 |
| Telephone | n/a | -- |
| Cable TV | Hickorytech | (866) 442-5679 |
---
Major Employers:
Employer
Products/Services
Employees

not available
---
---
News:
---
Weather:
---
Map: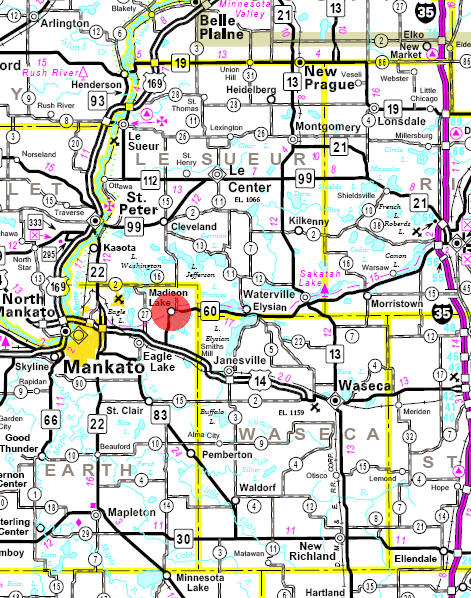 Minnesota State Highway Map of the Madison Lake Minnesota area
---
Events:
---
---
Attractions:
---
Recreation:
Bray Park
22214 Oriole Road
Madison Lake, MN 56063
Phone: (507) 243-3885
Web: www.blueearthcountymn.gov



Bray Park features open space and attractive wooded areas. Overnight RV and tent campers are welcome. There are numerous activities for young and old to enjoy. The park contains a 0.7 mile-long hard-surfaced nature trail. An additional 1.4 mile-long primitive footpath trail includes a unique 70 foot-long swinging bridge over a ravine. A log cabin / interpretative center is available and can be reserved for group meetings, family gatherings, and company picnics.

Duck Lake Park
61861 232nd Lane
Madison Lake, MN 56063
Phone: (507) 243-3864
Web: www.blueearthcountymn.gov



This popular day-use park offers volleyball, picnicking, fishing, swimming, boat launching, and a playground area. Canoes, paddleboats, and fishing boats are available to rent. A caretaker is in residence year round. Duck Lake (288 acres) contains crappies, sunfish, walleye, northerns, and bass.

North Shore Park

Madison Lake, MN 56063
Phone: (507) 243-3011



Located on the southwest side of Madison Lake. Restrooms, picnic tables and shelter, swings, lake access. Handicap accessible fishing pier.

Sakatah Trail



The scenic Sakatah Trail is a 39 miles hard surface trail enjoyed by bikers and hikers during the summer months, while cross-crounty skiers, snowshoers, and snowmobilers enjoy the trail during the winter months. The Sakatah Trail passes along the north part of Madison Lake showcasing the beautiful lakes of Ballantyne, Madison, and Duck. The Sakatah Trail runs east to west starting near Warsaw and ending near Mankato.
---
Lakes:
---
Health Care:
---
Schools:
---
Churches:
All Saints Catholic Church
601 4th Street
Madison Lake, MN 56063
Phone: (507) 243-3733
Web: www.as-ic.org

Pastor: Fr. Robert Schneider
Sunday Mass: 10:00 am
Marysburg Catholic Church
27528 Patrick Street
Madison Lake, MN 56063
Phone: (507) 243-3166

Pastor:
Sunday Mass:
---
Media:
Lake Region Times
513 Main Street
Madison Lake, MN 56063
Phone: (507) 243-3031



Weekly newspaper published on Wednesdays with a circulation of 901
---
Motels:
Check for motel rates and availability on:
---
Resorts:
Sakatah Trail Resort
24102 Greenland Road
Madison Lake, MN 56063
Phone: (507) 267-4000
Web: www.sakatah.com



Sakatah Trail Resort is known as a family-friendly resort in the heart of Southern Minnesota's lake country and close to the Sakatah State Trail. Madison Lake, Elysian, Waterville, and Mankato are within 15 minutes of the resort. Mystic Lake Casino, Mall of America, and the Twin Cities are within an hour of the resort.
---
Campgrounds:
Boating Landing
805 Main Street
Madison Lake, MN 56063
Phone: (507) 243-9898
Bray Park
Highway 48 S
Madison Lake, MN 56063
Phone: (507) 243-3885
Point Pleasant Campground
400 Sheppard Circle
Madison Lake, MN 56063
Phone: (507) 243-3611

Sakatah Trail Campground
501 Cherry Avenue
Madison Lake, MN 56063
Phone: (507) 243-3886
Web: www.sakatahcampground.com

We are mainly a worker friendly campground with a place to park your camper and call home while here on work. Monthy, weeky and daily rates Full hook up with 50/30/20 amp service City water and sewer Just minutes from Mankato and many lakes Located along the Sakatah State Trail Shower facilities Adjoining restaurant and lounge Construction workers welcome!
---
Businesses:
Apex Environmental Inc.
96 Cedar Lane
Madison Lake, MN 56063
Phone: (507) 340-1113
Blue Cross and Blue Shield of Minnesota
500 Main Street
Madison Lake, MN 56063
Phone: (507) 243-3106
Boones Antiques
950 Melwood Court
Madison Lake, MN 56063
Phone: (507) 327-6456
Brunz Construction Company
205 Walnut Avenue
Madison Lake, MN 56063
Phone: (507) 243-3753
Bush Consulting
5305 Sandy Beach Court
Madison Lake, MN 56063
Phone: (507) 931-6495
Camp Patterson
5052 Patterson Road
Madison Lake, MN 56063
Phone: (507) 931-8814
Carriage Repair
409 Main Street
Madison Lake, MN 56063
Phone: (507) 243-3287
Casey's General Store
60 Walnut Avenue
Madison Lake, MN 56063
Phone: (507) 243-3109
Critical Fuel Technologies
23810 616th Avenue
Madison Lake, MN 56063
Phone: (507) 243-4200
Dale's Marine
420 Spruce Avenue
Madison Lake, MN 56063
Phone: (507) 243-4106
Web: www.dalesmarinemn.com



Whether you're interested in a new pontoon or are in need of an experienced marine mechanic, you've come to the right place. Since 1986 Dale's Marine has been Madison Lake's go-to repair shop for all things marine. With over 50 years of combined experience we are sure we can assist you with engine repairs, marine maintenance and parts locating. As a recognized marine repair facility, certified marine dealer and just blocks away from a bait shop, we are well known within the Madison Lake area including the communities of Mankato, North Mankato, St Peter, Eagle Lake, Elysian, Waterville, Janesville and the surrounding areas.

Dirt Cheap Landscaping
23588 599th Avenue
Madison Lake, MN 56063
Phone: (507) 995-8435
Double K Sports Shop
5400 Sandy Beach Court
Madison Lake, MN 56063
Phone: (507) 931-2427
Draheim Enterprises Inc.
4450 Washington Blvd
Madison Lake, MN 56063
Phone: (507) 243-3327
E L Metals
23322 604th Avenue
Madison Lake, MN 56063
Phone: (507) 243-3376
Eagle Electric Company
3728 Sioux Lane
Madison Lake, MN 56063
Phone: (507) 257-3083
Elder Care Services Inc.
1110 Park Road
Madison Lake, MN 56063
Phone: (507) 243-3603
Evenson Concrete Systems
23371 610th Avenue
Madison Lake, MN 56063
Phone: (507) 243-3660
Web: www.evensonconcrete.com



Evenson Concrete Systems is a third generation concrete contractor with 65 years of experience in both Residential Concrete Services and Commercial Concrete Services. As a third generation concrete contractor our history is grounded in a strong work ethic and passion for being a leader in the concrete industry. Evenson Concrete Systems, Inc. continues to strive to be the best in every aspect of our business providing our clients with the highest quality craftsmanship and quick response.

Family Dental Care
516 Main Street
Madison Lake, MN 56063
Phone: (507) 243-3747
Fine Tunes
608 Walnut Avenue
Madison Lake, MN 56063
Phone: (507) 243-4590
Finish Line Liquors
104 Walnut Avenue
Madison Lake, MN 56063
Phone: (507) 243-3650
Fritz Garage Doors
800 Park Road
Madison Lake, MN 56063
Phone: (507) 243-3258
Groebner Family Photography
513 Main Street
Madison Lake, MN 56063
Phone: (507) 243-4401
Guentzel Trucking
60374 224th Lane
Madison Lake, MN 56063
Phone: (507) 380-3616
Hanel Glass and Mirror Inc.
59762 235th Street
Madison Lake, MN 56063
Phone: (507) 243-3465
Highway 60 Corner Mart
62360 Kopps Drive
Madison Lake, MN 56063
Phone: (507) 243-3564
Jack's Trustworthy Hardware
421 Main Street
Madison Lake, MN 56063
Phone: (507) 243-3331
Jakobe Realty and Investment
4444 Washington Blvd
Madison Lake, MN 56063
Phone: (507) 243-3433
James Volk Bandmill
23611 610th Avenue
Madison Lake, MN 56063
Phone: (507) 317-9471
Jocko's Bar and Grill
27125 W Jefferson Lane
Madison Lake, MN 56063
Phone: (507) 931-6637
Jordan Plumbing and Heating
60594 235th Street
Madison Lake, MN 56063
Phone: (507) 625-7162
K & R Automotive Service
200 Main Street
Madison Lake, MN 56063
Phone: (507) 243-3616
Kent's Repair
205 Main Street
Madison Lake, MN 56063
Phone: (507) 380-7870
Key City Conservation Club
23370 610th Avenue
Madison Lake, MN 56063
Phone: (507) 243-3272
Web: www.keycitiesconservationclub.org
Kopp Plumbing and Heating
22355 Lakewood Drive
Madison Lake, MN 56063
Phone: (507) 243-3262
L & M Masonry
708 7th Street
Madison Lake, MN 56063
Phone: (507) 243-3635
Lake Crystal Coaches
59780 235th Street
Madison Lake, MN 56063
Phone: (507) 243-3282
Web: www.lakecrystalcoaches.com



Lake Crystal Coaches operates 15 state-of-the-art luxury motorcoach buses equipped with amenities such as video monitors, CD players, wireless microphones, DVD players, and restrooms. Wi-Fi and 110 outlets available upon request.

Lake Region Times
513 Main Street
Madison Lake, MN 56063
Phone: (507) 243-3031
Latitude 44 Inc.
508 Main Street
Madison Lake, MN 56063
Phone: (507) 243-4180
Little Saint Day Care
605 4th Street
Madison Lake, MN 56063
Phone: (507) 243-3010
Living Life Limousine
PO Box 445
Madison Lake, MN 56063
Phone: (507) 243-4033
Lucky Lure
412 Main Street
Madison Lake, MN 56063
Phone: (507) 243-4343
Web: www.luckyluremadlake.com
Madison Lake City Hall
525 Main Street
Madison Lake, MN 56063
Phone: (507) 243-3011
Mane Street Cuts
404 Main Street
Madison Lake, MN 56063
Phone: (507) 243-3115
Market
600 Walnut Avenue
Madison Lake, MN 56063
Phone: (507) 243-3636
Martinez Contracting
909 Park Road
Madison Lake, MN 56063
Phone: (507) 304-5347
Max's Main Street Hardware
421 Main Street
Madison Lake, MN 56063
Phone: (507) 243-3331
McCabe Insulation
2256 W Ballentyne Drive
Madison Lake, MN 56063
Phone: (507) 995-0652
Meisner Roofing
124 E Bay Drive
Madison Lake, MN 56063
Phone: (507) 243-4434
Memory Manor Country Store
416 Main Street
Madison Lake, MN 56063
Phone: (507) 243-3237
Meyer Construction
48317 Ridgetop Road
Madison Lake, MN 56063
Phone: (507) 243-3857
Mid-Central Realty
521 Park Road
Madison Lake, MN 56063
Phone: (507) 243-3639
Minnesota Custom Home Design
46753 Melanie Drive
Madison Lake, MN 56063
Phone: (507) 931-6673
Nelson Garage Door
22856 State Highway 60
Madison Lake, MN 56063
Phone: (507) 243-3306
Nifty Home Products Inc.
920 Walnut Avenue
Madison Lake, MN 56063
Phone: (507) 243-3509
Northwinds Plumbing Heating and Air
513 Park Road
Madison Lake, MN 56063
Phone: (507) 381-1766
Paul Bode Construction
28049 470th Street
Madison Lake, MN 56063
Phone: (507) 934-2337
Peoples State Bank
500 Main Street
Madison Lake, MN 56063
Phone: (507) 243-3511
Web: www.psbmadlake.com



Peoples State Bank of Madison Lake, located in Madison Lake, MN, and Eagle Lake, MN, is a locally owned, FDIC insured bank and Equal Housing Lender, serving the Lake Region Area since 1906.

Perfection Paint and Body
905 County Road 26
Madison Lake, MN 56063
Phone: (507) 243-4101
Pete Peterson Appraisal Service
61134 230th Street
Madison Lake, MN 56063
Phone: (507) 243-4213
Pitter Patters Early Learning Center
608 Walnut Avenue
Madison Lake, MN 56063
Phone: (507) 243-3164
Web: www.pitterpatterselc.com



Pitter Patters is located in beautiful Madison Lake, MN and offers Infant, Toddler and Preschool programs. Our goal is to EXCEED your expectations when it comes to our programs and environment that are designed to enrich the lives of your little ones. Our foundation stands on offering creative learning, and committed and focused staff.

Ploog Electric
61733 243rd Street
Madison Lake, MN 56063
Phone: (507) 243-3673
Web: www.ploogelectric.com



Ploog Electric in Madison Lake, MN has been providing expert and top-quality electric services since 1973. We serve commercial, farm, and residential locations. Our full range of services are designed to meet your needs and leave you satisfied.

Point Pleasant Campground
400 Sheppard Circle
Madison Lake, MN 56063
Phone: (507) 243-3611
Prange's Heating and Air Conditioning
302 Main Street
Madison Lake, MN 56063
Phone: (507) 243-4190
Pro Fabrication
201 1st Street
Madison Lake, MN 56063
Phone: (507) 243-3441
Web: www.pro-fabrication.com



Pro Fabrication regularly provides solutions for unique manufacturing needs. Our experience and state-of-the art facility enables us to economically produce parts fabricated from a wide range of materials, including ferrous and non-ferrous metals, insulating foams and plastics.

R D Stickley Trucking
22522 Oriole Road
Madison Lake, MN 56063
Phone: (507) 243-3704
Race Craft
200 Spruce Avenue
Madison Lake, MN 56063
Phone: (507) 243-4104
RDG Inc.
513 Man Street
Madison Lake, MN 56063
Phone: (507) 243-3323
Re/Max Dynamic Associates
28612 Hub Drive
Madison Lake, MN 56063
Phone: (507) 934-1510
Roemhildt Concrete Inc.
3756 Sioux Lane
Madison Lake, MN 56063
Phone: (507) 386-1911
Rome Reichel Construction
61566 Nutmeg Road
Madison Lake, MN 56063
Phone: (507) 243-3013
Ron Boelter Window and Siding
48636 Orchard Road
Madison Lake, MN 56063
Phone: (507) 243-4354
Sakatah Trail Campground
501 Cherry Avenue
Madison Lake, MN 56063
Phone: (507) 243-3886
Web: www.sakatahcampground.com
Sakatah Trail Resort
24102 Greenland Road
Madison Lake, MN 56063
Phone: (507) 267-4000
Web: www.sakatah.com



Sakatah Trail Resort is known as a family-friendly resort in the heart of Southern Minnesota's lake country and close to the Sakatah State Trail. Madison Lake, Elysian, Waterville, and Mankato are within 15 minutes of the resort. Mystic Lake Casino, Mall of America, and the Twin Cities are within an hour of the resort.

Simpson Insurance Agency
513 Main Street
Madison Lake, MN 56063
Phone: (507) 388-7283
Stormy's Motorsports and Marine
62750 State Highway 60
Madison Lake, MN 56063
Phone: (507) 243-3966
Web: www.stormysmotorsports.com



Quality parts, accurate service, friendly sales and customer satisfaction have always been our main goals at Stormy's Motorsports & Marine. We strive to be your one-stop-shop for all your marine and motor sport needs.

Stoufers Auto Sales
50 Walnut Avenue
Madison Lake, MN 56063
Phone: (507) 243-4080
Web: www.stoufersauto.com



At Stoufer's Auto our job is to deliver high quality, convenient, superior service that attracts and keeps customers coming in day and day out. Our customers say they are willing to drive a little further for great service and we make it worth their effort. Our hometown friendly staff information knows each individual vehicle inside and out and will make sure you get treated fairly. You won't find high pressure here. Just good people with good ideas on how to save you time and money.

Sun Up Construction
22098 State Highway 60
Madison Lake, MN 56063
Phone: (507) 243-4359
Web: www.sunupfence.com



Sun-Up Construction, Inc. is a family-owned business that has been providing affordable fencing solutions for utility and commercial customers within the Midwest since 1989. We have met the needs of hundreds of customers with high standards and diverse needs.

Sunshine Gallery
512½ Main Street
Madison Lake, MN 56063
Phone: (507) 243-4006
Technical Solutions of Madison Lake
608 Walnut Avenue
Madison Lake, MN 56063
Phone: (507) 243-4590
Web: www.technicalsolutionsml.com



Technical Solutions of Madison Lake Inc. is here to provide the best service available to our customers. We provide accurate and reliable information with which our customers can make informed decisions. Our teams operate with integrity and in the most efficient way to promote professional growth and still maintain a hometown atmosphere.

Thomas Wingert Drywall
4416 Washington Blvd.
Madison Lake, MN 56063
Phone: (507) 243-3204
Trailblazer Bar and Grill
301 Main Street
Madison Lake, MN 56063
Phone: (507) 243-4338
Web: www.trailblazerbar.com



Located along the beautiful Sakatah Trail, Trailblazer Bar & Grill in Madison Lake, MN has proudly catered to the appetites of our customers since 2003. With our relaxed atmosphere and reasonable prices, we are the perfect place to stop for a family dinner, or to catch-up with some friends after work over appetizers and a couple of drinks.

US Post Office
413 Main Street
Madison Lake, MN 56063-4501
Phone: (507) 243-3012
Toll Free: (800) ASK-USPS
Web: www.usps.com
Westwood Marina Bar and Grill
4450 Washington Blvd.
Madison Lake, MN 56063
Phone: (507) 243-3048


White's Corner Bait
500 Walnut Avenue
Madison Lake, MN 56063
Phone: (507) 243-4464
Web: www.whitescornerbait.com



If you're looking for good quality bait and great customer service, you've come to the right place. At White's Corner Bait here in Madison Lake, MN we offer you the current fishing reports on a variety of local lakes and will assist you on what baits and tackle to use for what ever lake you plan on fishing. We also offer guide services on Madison, Washington, and Tetonka Lake's . We can help you find camping or lodging with a variety of condo's, tent sites and camper sites right in town or around the 12 lakes within 10 miles from Madison Lake. Contact us about the new fish house rentals for the up coming ice fishing season.

Wooden Images
298 Krason Drive
Madison Lake, MN 56063
Phone: (507) 243-3943
---
Aerial Photo:
---
Topographic Map: [click map to enlarge, zoom in or zoom out]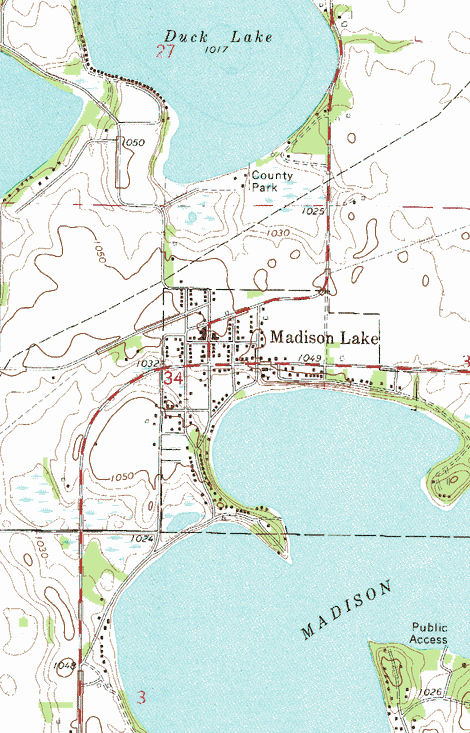 Topographic map is courtesy of the Minnesota DNR - click map to zoom or enlarge