Navigation
LakesnWoods.com
Home Page
Shopping
Coupons
Contact Us
Privacy

Marshall Guide:
Photo Gallery
Location
Geography
Demographics
History
Government
Post Office
News
Weather
Street Map
Events
Attractions
Recreation
Lakes
Health Care
Schools
Churches
Media
Motels
Resorts
Campgrounds
Businesses
Aerial Photo
Topographic Map
© 2004-2017 Lakeweb1 Internet Services
All Rights Reserved
WANTED!
Do you have photos, historical accounts or other items pertaining to the Marshall area? Would you like to share this historical information with the world? LakesnWoods.com would like to publish your Marshall photos (current or historical) or historical accounts on this website. Original materials can be returned and your privacy will be respected.

Marshall Minnesota Community Guide
---
Location:
The City of Marshall, selected as one of "The Best Small Towns in America" in 1993, 1995 and 2002, stands out as one of the most vibrant and progressive cities in southwestern Minnesota. As a leader in industry, education, and technology, Marshall enjoys a regional reputation for economic vitality. The population of 13,000 residents grows daily to 24,000 people as a result of a multitude of opportunities for employment, education, and retail shopping in the City of Marshall.
---
Population:
Marshall (city)
1970
1980
1990
2000
2007
(est)
1990-2000 Change
Actual
Percent
Population
9,886
11,161
12,023
12,735
13,040
712
5.92
Land Area (sq. mile)
1.70
6.89
7.34
8.29
--
0.95
12.89
Density (persons per sq. mile)
5,815.3
1,619.9
1,638.0
1,536.9
--
-101.06
-6.17
Housing Units
2,904
3,974
4,692
5,182
--
490
10.44
Households
--
3,808
4,443
4,914
5,195
471
10.60
Persons Per Household
--
2.63
2.43
2.39
2.32
-0.04
-1.80
---
Geography:
Marshall is a city in Lyon County, Minnesota. Marshall is a regional center in southwest Minnesota, and the county seat of Lyon County. U.S. Route 59 and Minnesota State Highways 19, 23, and 68 are four of the main routes in the city. According to the United States Census Bureau, Marshall has a total area of 8.3 square miles (21.5 km˛), entirely on land. The elevation is 1,161 ft (354 m) above sea level.
From Wikipedia, the free encyclopedia.
---
Demographics:
As of the census of 2000, there were 12,735 people, 4,914 households, and 2,914 families residing in the city. The population density was 1,537.0 people per square mile (593.1/km˛). There were 5,182 housing units at an average density of 625.4/sq mi (241.3/km˛). The racial makeup of the city was 91.35% White, 2.79% Black or African American, 0.35% American Indian or Alaska Native, 1.52% Asian, 0.03% Native Hawaiian or Other Pacific Islander, 2.61% from other races, and 1.34% from two or more races. Hispanic or Latino of any race were 5.93% of the population.
There were 4,914 households out of which 30.5% had children under the age of 18 living with them, 48.0% were married couples living together, 8.6% had a female householder with no husband present, and 40.7% were non-families. 30.4% of all households were made up of individuals and 12.1% had someone living alone who was 65 years of age or older. The average household size was 2.39 and the average family size was 3.04.
In the city the population was spread out with 23.9% under the age of 18, 19.1% from 18 to 24, 26.8% from 25 to 44, 17.7% from 45 to 64, and 12.4% who were 65 years of age or older. The median age was 30 years. For every 100 females there were 91.7 males. For every 100 females age 18 and over, there were 90.5 males.
The median income for a household in the city was $37,950, and the median income for a family was $52,284. Males had a median income of $35,478 versus $21,640 for females. The per capita income for the city was $18,588. About 7.8% of families and 12.4% of the population were below the poverty line, including 10.3% of those under age 18 and 16.7% of those age 65 or over.
---
History:
MARSHALL, the county seat, sections 4, 5, and 9 in Lake Marshall Township, platted in August 1872, incorporated as a village March 18, 1876, and as a city February 20, 1901, was named for Gov. Marshall, like Lake Marshall Township, in which it is situated. The first settlers began arriving in the early 1870s in an area chosen and platted by the Winona and St. Peter Railroad (which later became part of the Chicago and North Western Railway) as a site for a future village to be named Redwood Crossing; one of the first settlers was Charles H. Whitney, first postmaster when the post office opened in 1870 as Lake Marshall, who requested shortening the name to Marshall in 1872.
Courtesy Minnesota Historical Society
---
Government:
---
Post Office:
US Post Office
302 W Lyon Street
Marshall, MN 56258-1308
Phone: (507) 532-4937
Toll Free: (800) ASK-USPS
Fax: (507) 532-6006
Web: www.usps.com

Regular Business Hours:
Week Days 8:30 am - 4:30 pm
Saturday 9:00 am - 11:00 am
Latest Collection at Post Office:
Week Days 5:00 pm
Saturday 3:00 pm
---
---
Utilities:
---
Major Employers:
---
---
News:
---
Weather:
---
Map: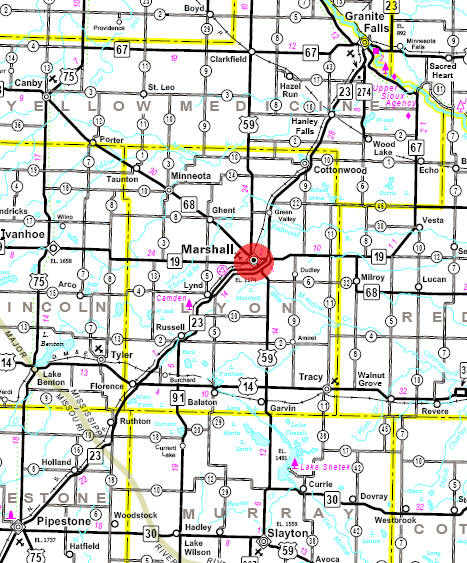 Minnesota State Highway Map of the Marshall Minnesota area
---
Events:
---
Attractions:
---
Recreation:
---
Lakes:
---
Health Care:
---
Schools:
---
Churches:
---
Media:
---
Motels:
Check for motel rates and availability on:
---
Resorts:
---
Campgrounds:
---
Businesses:

The Marshall Business Directory is coming soon!

---
Aerial Photo:
---
Topographic Map: [click map to enlarge, zoom in or zoom out]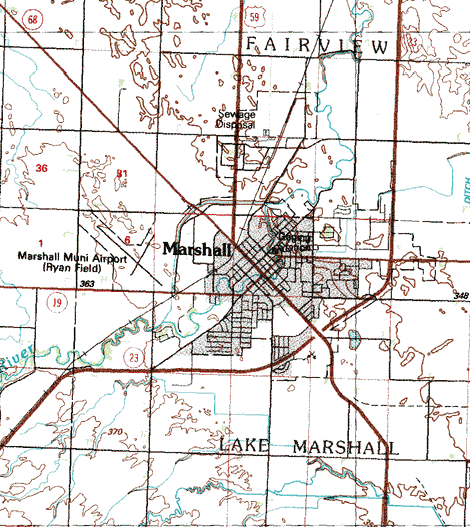 Topographic map is courtesy of the Minnesota DNR - click map to zoom or enlarge