Navigation
LakesnWoods.com
Home Page
Shopping
Coupons
Contact Us
Privacy

Montevideo Guide:
Photo Gallery
Location
Geography
Demographics
History
Government
Post Office
News
Weather
Street Map
Events
Attractions
Recreation
Lakes
Health Care
Schools
Churches
Media
Motels
Resorts
Campgrounds
Businesses
Aerial Photo
Topographic Map
© 2004-2018 Lakeweb1 Internet Services
All Rights Reserved
WANTED!
Do you have photos, historical accounts or other items pertaining to the Montevideo area? Would you like to share this historical information with the world? LakesnWoods.com would like to publish your Montevideo photos (current or historical) or historical accounts on this website. Original materials can be returned and your privacy will be respected.

Montevideo Minnesota Community Guide
---
Location:
Montevideo is one of the Creator's prairie places, flat and open and stretching as far as the eye can see. The newcomer's eye sees mostly miles of fields, green with corn and beans in the summer, white with dunes of windswept snow in the winter. With patience, one begins to see the beauty in the slight undulations of the land, the changing wildflowers, the drama of the extremes in weather, and the beautiful river valley in which Montevideo sits. The first settlers would have found parts of life to be easy; the soil is fertile, the rivers bring life as they ebb and flow with water, and wild game is abundant. But the isolation here, the long distances between towns and the extremes of weather, would have required people to learn quickly to rely on each other for the necessities of life, as well as for companionship and entertainment. Patience, persistence and a deep commitment to building community would have been necessary to survive.

Native Americans and fur traders shared this prairie place through the first half of the 19th Century. After the Dakota Conflict in 1862, the government opened the area to homesteaders. Railroads were built; settlers followed: first, Civil War veterans, cashing in their land scrip, then Norwegians, Germans, Swedes, Dutch, Irish. Montevideo was incorporated in 1879.

Montevideo has been shaped and defined by its rural character. Originally, the city's economy depended almost entirely on agriculture and related industries. However, with the shrinking number of family farms and changes in the way farming is done, the city now can rely on agriculture for only a small portion of its economy. At its peak in 1940, the population of Chippewa County (of which Montevideo is the county seat) was 16,927. Today, Chippewa County's population has shrunk 20%; however, the population of Montevideo has grown slightly, to 5,600 and is expected to grow comfortably over the next decade.

Today, Montevideo remains a wonderful, comfortable place to live. The city is green and beautiful, with rivers, parks and bike trails winding through. Our citizens profess a remarkable variety of opinions, while sharing values about courtesy and hospitality and the importance of family, faith and community. We have a school system to envy, with a graduation rate of 97%. Our medical campus includes a new $40 million dollar hospital and clinic, a nursing home, assisted living facility and one of the best small V.A. Clinics in the nation. Our economy has diversified to include growing retail trade areas, service and light manufacturing industries, including food processing, a modular home builder, and a niche of firms building high tech parts for medical, commercial and military uses. A recent study found that Montevideo had the largest job growth in the southwest region of Minnesota (650 new jobs added from 2001 to 2004). Beginning in the late 1990's, we have added hundreds of new affordable residences, and we continue to look for ways to make our community affordable for all, including the construction of home under the Habitat for Humanity program. We consider ourselves a progressive, cosmopolitan community, with a diversity of thoughts and ideas. In 2004, we were named an All America City by the National Civic League.

Courtesy City of Montevideo
---
Population:
Montevideo (city)
1970
1980
1990
2000

2010

2000-2010 Change
Actual
Percent
Population
5,661
5,845
5,499
5,346
5,383
-153
+0.7
Land Area (sq. mile)
2.10
3.42
3.85
4.49
4.76
+0.27
+6.01
Density (persons per sq. mile)
2,695.7
1,709.1
1,428.3
1,190.5
1,130.9
-59.6
-5.01
Housing Units
2,093
2,522
2,525
2,551
2,510
-41
-1.61
Households
--
2,372
2,340
2,353
2,326
-27
-1.15
Persons Per Household
--
2.40
2.29
2.24
2.31
+0.07
+3.13
---
Geography:
Montevideo is a city in Chippewa County, Minnesota, located where the Minnesota and Chippewa rivers converge, approximately 140 miles west of Minneapolis at the junction of U.S. Routes 59 and 212 with Minnesota State Highways 7 and 29. The surrounding topography is dominated by farmland and prairies, as well as river valleys with many scenic overlooks and small bluffs. According to the United States Census Bureau, the city has a total area of 4.85 square miles (12.56 km˛). 4.76 square miles (12.33 km˛) of it is land and 0.09 square miles (0.23 km˛) of it is water. The elevation is 932 ft (284 m) above sea level.
From Wikipedia, the free encyclopedia.
---
Demographics:

As of the census of 2010, there were 5,383 people, 2,326 households, and 1,404 families residing in the city. The population density was 1,130.9 inhabitants per square mile (436.6/km2).

There were 2,510 housing units at an average density of 527.3 per square mile (203.6/km2). The racial makeup of the city was 92.0% White, 0.6% African American, 0.7% Native American, 0.5% Asian, 4.6% from other races, and 1.5% from two or more races. Hispanic or Latino of any race were 8.4% of the population. There were 2,326 households of which 28.0% had children under the age of 18 living with them, 44.5% were married couples living together, 11.1% had a female householder with no husband present, 4.8% had a male householder with no wife present, and 39.6% were non-families. 35.1% of all households were made up of individuals and 18.2% had someone living alone who was 65 years of age or older. The average household size was 2.25 and the average family size was 2.86.

The median age in the city was 41 years. 23.4% of residents were under the age of 18; 8% were between the ages of 18 and 24; 23.1% were from 25 to 44; 25% were from 45 to 64; and 20.3% were 65 years of age or older. The gender makeup of the city was 47.0% male and 53.0% female.
---
History:
MONTEVIDEO, the county seat, was platted May 25, 1870, was incorporated as a village March 4, 1879, and as a city June 30, 1908. This Latin name, signifying "from the mountain I see," or "Mount of Vision," was selected, according to the late L. R. Moyer, by Cornelius J. Nelson, a settler who came here in 1870 from the state of New York, platted additions to the village in 1876 and 1878, and was its president in 1881 and 1885-87. The village and future city "was given its high-sounding appellation by its romantic founders, who were so delighted by the wonderful view gained from the heights overlooking the interlocking valleys of the Minnesota and Chippewa Rivers at that point, that they translated their feeling into good, mouth-filling Latin." But this name, while very appropriate on account of the view here, was derived by Nelson from the large South American city that is the capital of Uruguay, whence the mayor of that Montevideo about the year 1905 presented the Uruguayan flag to this municipality.
Courtesy Minnesota Historical Society
---
Government:
Montevideo City Hall
103 Canton Avenue
PO Box 517
Montevideo, MN 56265
Phone: (320) 269-6575
Fax: (320) 269-9340
Web: www.montevideomn.org
Mayor
12/31/2016
Debra Lee Fader
n/a
City Manager
n/a
Steve Jones
(320) 269-6575
Clerk/Treasurer
n/a
Glennis Lauritsen
(320) 269-6575
Council Member
12/31/2016
Todd Hay
n/a
Council Member
12/31/2016
Nathan Schmidt
n/a
Council Member
12/31/2018
Bryce Curtiss
n/a
Council Member
12/31/2018
Marvin Garbe
n/a
Council Member
12/31/2018
Karen Niewbeerta
n/a
---
Post Office:
US Post Office
316 S 1st Street
Montevideo, MN 56265-1415
Phone: (320) 269-8130
Toll Free: (800) ASK-USPS
Fax: (320) 269-8218
Web: www.usps.com

Regular Business Hours:
Week Days 8:30 am - 5:00 pm
Saturday 9:00 am - 11:00 am
Latest Collection at Post Office:
Week Days 5:30 pm
Saturday 11:00 am
---
---
Utilities:
---
Major Employers:
---
---
News:
---
Weather:
---
Map: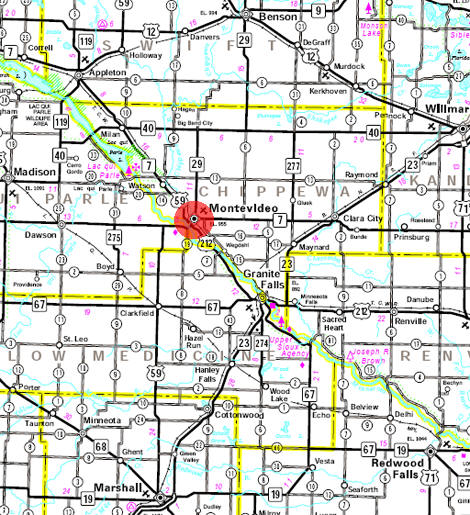 Minnesota State Highway Map of the Montevideo Minnesota area
---
Events:
---
Attractions:
---
Recreation:
---
Lakes:
---
Health Care:
---
Schools:
---
Churches:
Calvary Baptist Church
716 Benson Road
Montevideo, MN 56265
Phone: (320) 269-7521

Pastor: Gregg Zeidler
Sunday Worship: 10:00 am

Community Bible Church
1117 Benson Road
Montevideo, MN 56265
Phone: (320) 269-7500

Pastor: Bruce Jarman
Sunday Worship: 10:00 am

Cornerstone Baptist Church
2006 William Avenue
Montevideo, MN 56265
Phone: (320) 269-8841

Pastor: John Runyan
Sunday Worship: 9:30 am

First Congregational Church
224 N 4th Street
Montevideo, MN 56265
Phone: (320) 269-8244

Pastor: Dick Fylling
Sunday Worship: n/a

Hope Reformed Church
Lincoln Avenue & 17th Street
Montevideo, MN 56265
Phone: (320) 269-7533

Pastor: Mike Altena
Sunday Worship: 9:00 am

Immanuel Lutheran Church - ALC
Montevideo, MN 56265
Phone: (320) 269-9665

Pastor: Larry Olson
Sunday Worship: 10:00 am

Jehovah's Witnesses Kingdom Hall
536 N 7th Street
Montevideo, MN 56265
Phone: (320) 269-7354

Pastor: n/a
Sunday Worship: 10:00 am

Jevnaker Lutheran Church
4055 40th Avenue NW
Montevideo, MN 56265
Phone: n/a

Pastor: Marie Eckberg
Sunday Worship: 10:30 am

Our Savior's Lutheran Church - ELCA
222 N 5th Street
Montevideo, MN 56265
Phone: (320) 269-8824

Pastor: Timothy Wheatley
Sunday Worship: 9:00 am

Salem Lutheran Church
631 N 7th Street
Montevideo, MN 56265
Phone: (320) 269-7624

Pastor: Matt Philaya
Sunday Worship: 9:30 am

Saron Lutheran Church
8025 1st Avenue S
Montevideo, MN 56265
Phone: (320) 269-7849

Pastor: William Rosin
Sunday Worship: n/a

St. Johns Lutheran Church
3090 40th Avenue SW
Montevideo, MN 56265
Phone: (320) 269-6601

Pastor: n/a
Sunday Worship: n/a

St. Joseph Catholic Church
512 Black Oak Avenue
Montevideo, MN 56265
Phone: (320) 269-5954
Web: www.saintsjac.org

Pastor: Fr. Jim Devorak
Saturday Mass: 7:00 pm (Spanish)
Sunday Mass: 10:00 am

St. Paul Lutheran Church - LCMS
321 N 5th Street
Montevideo, MN 56265
Phone: (320) 269-7145

Pastor: Christopher Lieske
Sunday Worship: n/a

Trinity Lutheran Church - ELCA
220 S 13th Street
Montevideo, MN 56265
Phone: (320) 269-8232

Pastor: Kathy Skoglund
Sunday Worship: 9:00 am

United Methodist Church
731 N 11th Street
Montevideo, MN 56265
Phone: (320) 269-9053

Pastor: Gwen Bohlke
Sunday Worship: 9:30 am
---
Media:
---
Motels:
Check for motel rates and availability on:
---
Resorts:
---
Campgrounds:
---
Businesses:
---
Aerial Photo:
---
Topographic Map: [click map to enlarge, zoom in or zoom out]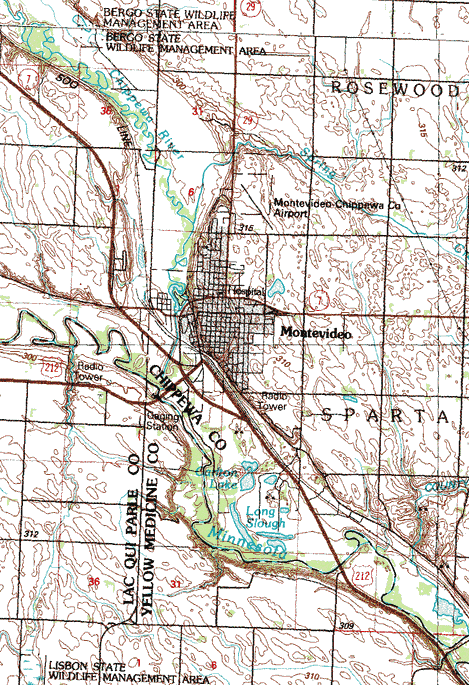 Topographic map is courtesy of the Minnesota DNR - click map to zoom or enlarge