Navigation
LakesnWoods.com
Home Page
Shopping
Coupons
Contact Us
Privacy
Minnesota Gift Guide

Mountain Lake Guide:
Photo Gallery
Location
Geography
Demographics
History
Government
Post Office
News
Weather
Street Map
Events
Attractions
Recreation
Lakes
Health Care
Schools
Churches
Media
Motels
Resorts
Campgrounds
Businesses
Aerial Photo
Topographic Map
Đ 2004-2018 Lakeweb1 Internet Services
All Rights Reserved
Defamation, Copyright and Trademark Infingement Policy
WANTED!
Do you have photos, historical accounts or other items pertaining to the Mountain Lake area? Would you like to share this historical information with the world? LakesnWoods.com would like to publish your Mountain Lake photos (current or historical) or historical accounts on this website. Original materials can be returned and your privacy will be respected.

Mountain Lake Minnesota Community Guide
---
Location:
---
Population:
Mountain Lake (city)
1970
1980
1990
2000
2007
(est)
1990-2000 Change
Actual
Percent
Population
1,986
2,277
1,906
2,082
2,038
176
9.23
Land Area (sq. mile)
1.00
1.39
1.34
1.35
--
0.01
0.87
Density (persons per sq. mile)
1,986.0
1,638.1
1,422.4
1,540.3
--
117.93
8.29
Housing Units
727
973
883
896
--
13
1.47
Households
--
930
798
817
829
19
2.38
Persons Per Household
--
2.32
2.24
2.41
2.38
0.17
7.50
---
Geography:
Mountain Lake is a city in Cottonwood County, Minnesota. Minnesota State Highway 60 serves as a main route in the city. According to the United States Census Bureau, the city has a total area of 1.4 square miles (3.5 kmē), of which, 1.4 square miles (3.5 kmē) of it is land and 0.04 square miles (0.1 kmē) of it (1.46%) is water. The elevation is 1,302 ft (397 m) above sea level.
From Wikipedia, the free encyclopedia.
---
Demographics:
As of the census of 2000, there were 2,082 people, 817 households, and 531 families residing in the city. The population density was 1,540.3 people per square mile (595.5/kmē). There were 896 housing units at an average density of 662.9/sq mi (256.3/kmē). The racial makeup of the city was 84.29% White, 0.58% African American, 0.48% Native American, 6.82% Asian, 0.10% Pacific Islander, 4.27% from other races, and 3.46% from two or more races. Hispanic or Latino of any race were 5.76% of the population.
There were 817 households out of which 31.0% had children under the age of 18 living with them, 53.0% were married couples living together, 8.9% had a female householder with no husband present, and 35.0% were non-families. 32.3% of all households were made up of individuals and 20.6% had someone living alone who was 65 years of age or older. The average household size was 2.41 and the average family size was 3.07.
In the city the population was spread out with 26.5% under the age of 18, 7.4% from 18 to 24, 22.2% from 25 to 44, 16.5% from 45 to 64, and 27.4% who were 65 years of age or older. The median age was 40 years. For every 100 females there were 92.1 males. For every 100 females age 18 and over, there were 83.5 males.
The median income for a household in the city was $29,146, and the median income for a family was $36,652. Males had a median income of $30,291 versus $17,917 for females. The per capita income for the city was $13,845. About 8.5% of families and 13.0% of the population were below the poverty line, including 22.2% of those under age 18 and 5.4% of those age 65 or over.
---
History:
MOUNTAIN LAKE Township, organized May 6, 1871, derived its name from its former large lake, in which a mountainlike island rose with steep shores and nearly flat top about 40 feet above the lake, having similar outlines to those of the surrounding bluffs and general upland. "The upper part of the island was covered with trees, which could be seen for many miles. This spot served as a landmark and a guide for many of the early settlers. . . . The lake, as known to pioneers, is no more; it has long since been drained, and grains and grasses grow in its old bed." The city of Mountain Lake, of Midway and Mountain Lake Townships, was platted May 25, 1872. The post office was established in 1871, first located in Paul Seegers's general store. The village had a flour mill and grain elevators and a station of the Chicago, St. Paul, Minneapolis and Omaha Railroad in section 30. The village grew with an influx of Dutch-German Mennonites from southern Russia until about 1910.
Courtesy Minnesota Historical Society
---
Government:
Mountain Lake City Hall
930 3rd Avenue
PO Box C
Mountain Lake, MN 56159
Phone: (507) 427-2999
Web: www.mountainlakemn.com
Mayor
n/a
--
Clerk/Treasurer
n/a
--
Council Member
n/a
--
Council Member
n/a
--
Council Member
n/a
--
Council Member
n/a
--
---
Post Office:
US Post Office
211 10th Street N
Mountain Lake, MN 56159-1659
Phone: (507) 427-2434
Toll Free: (800) ASK-USPS
Fax: (507) 427-2315
Web: www.usps.com

Regular Business Hours:
Week Days 9:00 am - 11:30 am
12:30 pm - 4:30 pm
Saturday 9:30 am - 10:30 am
Latest Collection at Post Office:
Week Days 4:30 pm
Saturday 4:30 pm
---
Utilities:
---
Major Employers:
| | | |
| --- | --- | --- |
| Employer | Products/Services | Employees |
| Mtn. Lake Public Schools | Elementary & Secondary Schools | 109 |
| Good Samaritan Village | Nursing Care Facilities | 100 |
| Balzer, Inc. | Agriculture, Construction & Mining Machinery Mfg. | 64 |
| Bargen Inc | Highway, Street & Bridge Construction | 50 |
| Eventide Home | Nursing Care Facilities | 50 |
| Protient | Dairy Product Manufacturing | 35 |
| Hiebert Greenhouses Inc | Greenhouse, Nursery, & Floriculture Production | 30 |
| Kennel-Aire Mfg Co | Spring & Wire Product Manufacturing | 30 |
| Fast Distributing | Agriculture, Construction & Mining Machinery Mfg. | 25 |
| Mtn.Lake Christian School | Elementary & Secondary Schools | 25 |
| Mt. Power Hydraulics | All Other Indus. Machinery Mfg. | 20 |
| Conestoga Furniture | House. & Inst. Furniture & Kitchen Cabinet Mfg. | 15 |
| Watonwan Enterprises | House. & Inst. Furniture & Kitchen Cabinet Mfg. | 10 |
| Custom Motors | Other Electrical Equipment & Component Mfg. | 5 |
| Fast Wings | Other Fabricated Metal Product Manufacturing | 4 |
---
---
News:
---
Weather:
---
Map: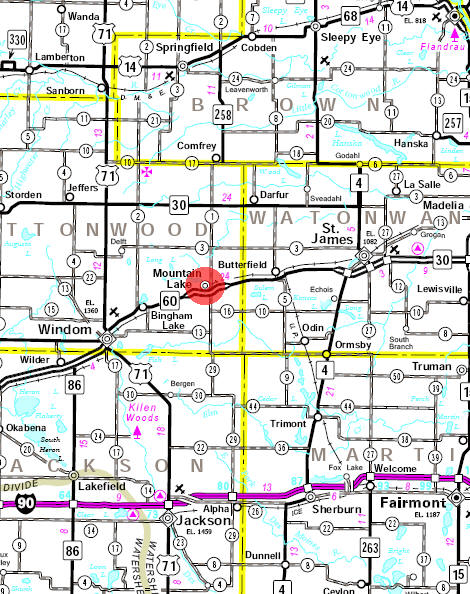 Minnesota State Highway Map of the Mountain Lake Minnesota area
---
Events:
---
---
Attractions:
---
Recreation:
---
Lakes:
---
Health Care:
---
Schools:
---
Churches:
---
Media:
---
Motels:
Check for motel rates and availability on:
---
Resorts:
---
Campgrounds:
---
Businesses:
---
Aerial Photo:
---
Topographic Map: [click map to enlarge, zoom in or zoom out]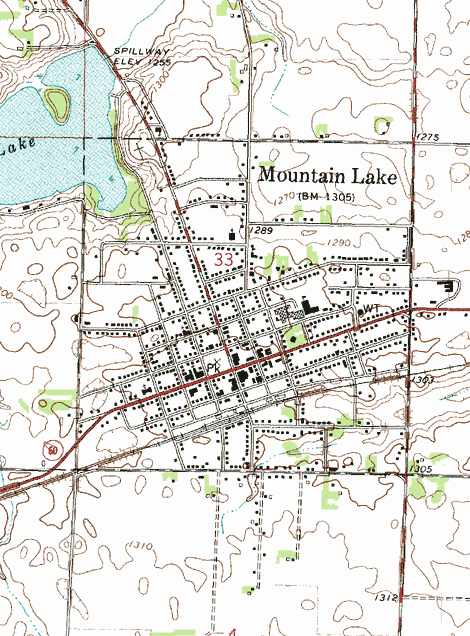 Topographic map is courtesy of the Minnesota DNR - click map to zoom or enlarge