Navigation
LakesnWoods.com
Home Page
Shopping
Coupons
Contact Us
Privacy
Minnesota Gift Guide

Olivia Guide:
Photo Gallery
Location
Geography
Demographics
History
Government
Post Office
News
Weather
Street Map
Events
Attractions
Recreation
Lakes
Health Care
Schools
Churches
Media
Motels
Resorts
Campgrounds
Businesses
Aerial Photo
Topographic Map
© 2004-2019
Lakeweb1 Internet Services
All Rights Reserved
Defamation, Copyright and Trademark Infingement Policy
WANTED!
Do you have photos, historical accounts or other items pertaining to the Olivia area? Would you like to share this historical information with the world? LakesnWoods.com would like to publish your Olivia photos (current or historical) or historical accounts on this website. Original materials can be returned and your privacy will be respected.


Olivia Minnesota Community Guide
---
Location:
---
Population:
Olivia (city)
1970
1980
1990
2000
2010
2000-2010 Change
Actual
Percent
Population
2,553
2,802
2,623
2,570
2,484
-86
-3.35
Land Area (sq. mile)
1.50
2.06
2.28
2.33
2.33
0
0.00
Density (persons per sq. mile)
1,702.0
1,360.2
1,150.4
1,102.7
1,066.1
-36.61
-3.35
Housing Units
870
1,119
1,156
1,178
1,142
-36
-3.06
Households
--
1,049
1,048
1,075
1,038
-37
-3.44
Persons Per Household
--
2.59
2.42
2.30
2.39
+0.09
+3.91
---
Geography:
Olivia is a city in Renville County, Minnesota. It is the county seat of Renville County. U.S. Routes 71 and 212 are two of the main routes in the city. According to the United States Census Bureau, the city has a total area of 2.3 square miles (6.0 km˛), all of it land. The elevation is 1,083 ft (330 m) above sea level.
From Wikipedia, the free encyclopedia.
---
Demographics:
As of the census of 2000, there were 2,570 people, 75 households, and 658 families residing in the city. The population density was 1,102.7 people per square mile (425.9/km˛). There were 1,178 housing units at an average density of 505.4/sq mi (195.2/km˛). The racial makeup of the city was 96.19% White, 0.12% African American, 0.12% Native American, 0.12% Asian, 2.57% from other races, and 0.89% from two or more races. Hispanic or Latino of any race were 7.63% of the population.
There were 1,075 households out of which 28.2% had children under the age of 18 living with them, 52.2% were married couples living together, 6.1% had a female householder with no husband present, and 38.7% were non-families. 35.1% of all households were made up of individuals and 18.1% had someone living alone who was 65 years of age or older. The average household size was 2.30 and the average family size was 3.00.
In the city the population was spread out with 24.7% under the age of 18, 7.2% from 18 to 24, 23.5% from 25 to 44, 22.8% from 45 to 64, and 21.8% who were 65 years of age or older. The median age was 41 years. For every 100 females there were 93.2 males. For every 100 females age 18 and over, there were 92.4 males.
The median income for a household in the city was $35,060, and the median income for a family was $44,781. Males had a median income of $31,793 versus $25,541 for females. The per capita income for the city was $17,889. About 6.0% of families and 11.3% of the population were below the poverty line, including 17.2% of those under age 18 and 10.6% of those age 65 or over.
---
History:
OLIVIA, the county seat, a city in Troy and Bird Island Townships, was first platted in September 1878 in section 7 of Bird Island Township and for some time called Station in Section 7, until named Olivia. It may have been named by Albert Bowman Rogers, an eminent civil engineer, who located this railway. "The first station agent to be placed at Ortonville, Minn., was a woman. Her name was Olive. She was a particular friend of Chief Engineer Rogers, and it was for her he named Olivia" (history of this county, p. 1359). Or the city may have been named for Margaret Olivia Sage, wife of Russell Sage, an official of the Chicago, Milwaukee and St. Paul Railroad. The city was incorporated March 4, 1881, and reincorporated and separated from the townships on September 28, 1906. After much contention extending through 15 years for removal of the county seat from Beaver Falls to Olivia, this was finally provided by a vote of the county, October 25, 1900. Isaac Lincoln was named first postmaster in 1879; it had a station serving several lines, including the Soo Line.
Courtesy Minnesota Historical Society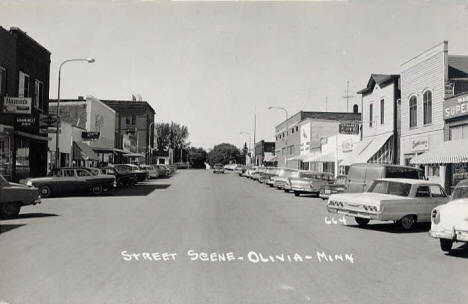 Street scene, Olivia Minnesota, 1960's
LakesnWoods.com Postcard and Postcard Image Collection - click to enlarge
---
Government:
Olivia City Hall
1009 W Lincoln Avenue
Olivia, MN 56277
Phone: (320) 523-2361
Web: www.olivia.mn.us
Title
Term Ends
Name and Address
Phone:
Mayor
12/31/2012
Barb Kirtz
1326 W Fairview Avenue
Olivia, MN 56277
(320) 523-1785
City Administrator
appointed
Daniel Hoffman
1009 W Lincoln Avenue
Olivia, MN 56277
(320) 523-2361
Council Member
12/31/2014
Stacie Haney
1308 Bayberry W
Olivia, MN 56277
(320) 523-1448
Council Member
12/31/2012
Terry Kohout
619 E Ash Avenue
Olivia, MN 56277
(320) 523-5744
Council Member
12/31/2012
Al Houdek
1109 W Ash
Olivia, MN 56277
(320) 523-1088
Council Member
12/31/2014
Barb Kirtz
1326 Fairview W
Olivia, MN 56277
n/a
---
Post Office:
US Post Office
806 E Depue Avenue
Olivia, MN 56277-1340
Phone: (320) 523-1112
Toll Free: (800) ASK-USPS
Web: www.usps.com

Regular Business Hours:
Week Days 8:30 am - 4:30 pm
Saturday 8:30 am - 9:30 am
Latest Collection at Post Office:
Week Days 4:30 pm
Saturday 10:00 am
---
---
Utilities:
| | | |
| --- | --- | --- |
| Utility Type | Utility Name | Utility Phone |
| Electricity | City of Olivia | (320) 523-2361 |
| Natural Gas | CenterPoint Energy | (800) 722-9326 |
| Wastewater | City of Olivia | (320) 523-2361 |
| Water | City of Olivia | (320) 523-2361 |
| Telephone | CenturyLink Communications | (800) 603-6000 |
| Cable TV | Mediacom | (800) 332-0245 |
---
Major Employers:
| | | |
| --- | --- | --- |
| Employer | Products/Services | Employees |
| Renville, County of | Executive, Legislative, & Other Gen. Govt. Support | 203 |
| BOLD Schools ISD #2534 | Elementary & Secondary Schools | 144 |
| Renville County Hospital | General Medical & Surgical Hospitals | 112 |
| Golden Living Center | Nursing Care Facilities | 100 |
| Mycogen Seed Co | Oilseed and Grain Farming | 70 |
| Max's Grill | Full-Service Restaurants | 45 |
| Terry's Holiday Market | Grocery Stores | 45 |
| Olivia, City of | Executive, Legislative, & Other Gen. Govt. Support | 34 |
| Precision Soya of Minnesota LLC | Oilseed and Grain Farming | 28 |
| Renville County Clinics | Offices of Physicians | 24 |
| Positive Connections | Educational Suppt. Svcs. | 20 |
| BASF Plant Sciences | Oilseed and Grain Farming | 12 |
| Dekalb Genetics Corporation | Oilseed and Grain Farming | 12 |
---
---
News:
---
Weather:
---
Map: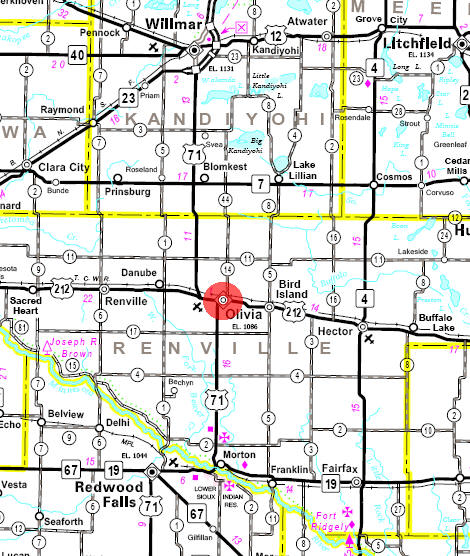 Minnesota State Highway Map of the Olivia Minnesota area
---
Events:
---
---
Attractions:
---
Recreation:
---
Lakes:
---
Health Care:
---
Schools:
Bird Island-Olivia-Lake Lillian School District
701 S 9th Street
Olivia, MN 56277
Phone: (320) 523-1031
Fax: (320) 523-2399
Web: www.rschooltoday.com

Grades: K-12
Students: 803

BOLD High School
701 S 9th Street
Olivia, MN 56277
Phone: (320) 523-1031
Fax: (320) 523-2399

Grades: 7-12
Students: 438

BOLD Elementary School
110 S 9th Street
Bird Island, MN 55310
Phone: (320) 365-3551
Fax: (320) 365-3515

Grades: K-6
Students: 365
---
Churches:
---
Media:
---
Motels:
Check for motel rates and availability on:
---
Resorts:
---
Campgrounds:
---
Businesses:
---
Aerial Photo:
---
Topographic Map: [click map to enlarge, zoom in or zoom out]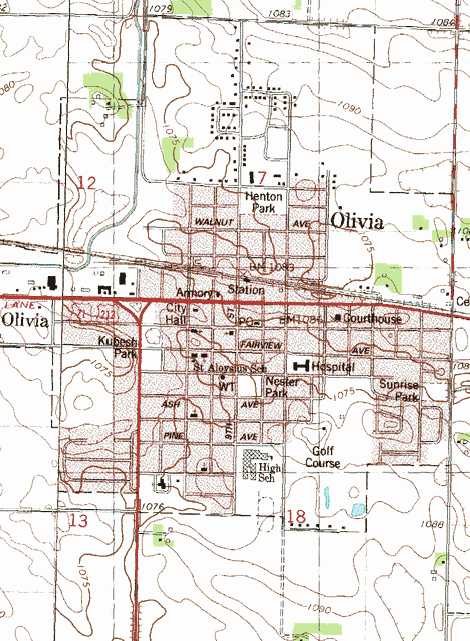 Topographic map is courtesy of the Minnesota DNR - click map to zoom or enlarge