Navigation
LakesnWoods.com
Home Page
Shopping
Coupons
Contact Us
Privacy

Ortonville Guide:
Photo Gallery
Location
Geography
Demographics
History
Government
Post Office
News
Weather
Street Map
Events
Attractions
Recreation
Lakes
Health Care
Schools
Churches
Media
Motels
Resorts
Campgrounds
Businesses
Aerial Photo
Topographic Map
Đ 2004-2017 Lakeweb1 Internet Services
All Rights Reserved
WANTED!
Do you have photos, historical accounts or other items pertaining to the Ortonville area? Would you like to share this historical information with the world? LakesnWoods.com would like to publish your Ortonville photos (current or historical) or historical accounts on this website. Original materials can be returned and your privacy will be respected.

Ortonville Minnesota Community Guide
---
Location:
---
Population:
Ortonville (city)
1970
1980
1990
2000
2010
2000-2010 Change
Actual
Percent
Population
2,655
2,550
2,205
2,158
1,916
-242
-11.21
Land Area (sq. mile)
--
--
--
3.39
3.39
0
0.00
Density (persons per sq. mile)
--
--
--
635.8
565.2
-70.61
-11.21
Housing Units
--
--
--
1,125
1,090
-35
-3.11
Households
--
--
--
923
884
-39
-4.23
Persons Per Household
--
--
--
2.25
2.17
-0.08
-3.56
---
Geography:
Ortonville is a city in Big Stone county in the state of Minnesota at the southern tip of Big Stone Lake, along the border with South Dakota. It is the county seat of Big Stone County. U.S. Routes 12 and 75 and Minnesota State Highway 7 are three of the main routes in the city. According to the United States Census Bureau, the city has a total area of 3.5 square miles (8.9 kmē), of which 3.4 square miles (8.8 kmē) is land and 0.1 square miles (0.1 kmē) (1.45%) is water. The elevation is 1,017 ft (310 m) above sea level.
From Wikipedia, the free encyclopedia.
---
Demographics:
As of the census of 2000, there were 2,158 people, 923 households, and 594 families residing in the city. The population density was 635.8 people per square mile (245.8/kmē). There were 1,125 housing units at an average density of 331.4/sq mi (128.1/kmē). The racial makeup of the city was 97.68% White, 0.42% African American, 0.88% Native American, 0.09% Asian, 0.28% from other races, and 0.65% from two or more races. Hispanic or Latino of any race were 0.56% of the population.
There were 923 households out of which 28.1% had children under the age of 18 living with them, 54.0% were married couples living together, 8.0% had a female householder with no husband present, and 35.6% were non-families. 33.6% of all households were made up of individuals and 20.4% had someone living alone who was 65 years of age or older. The average household size was 2.25 and the average family size was 2.88.
In the city the population was spread out with 23.9% under the age of 18, 5.1% from 18 to 24, 20.2% from 25 to 44, 24.6% from 45 to 64, and 26.1% who were 65 years of age or older. The median age was 45 years. For every 100 females there were 84.6 males. For every 100 females age 18 and over, there were 79.8 males.
The median income for a household in the city was $30,614, and the median income for a family was $39,375. Males had a median income of $30,590 versus $20,179 for females. The per capita income for the city was $17,132. About 7.2% of families and 9.2% of the population were below the poverty line, including 9.5% of those under age 18 and 10.1% of those age 65 or over.
---
History:
ORTONVILLE Township received its first settlers in 1871, and in September of the next year its village was platted by Cornelius Knute Orton, for whom the village and township were named. He was of Norwegian descent and was born in Dane County, Wis., in 1846, came to Minnesota in 1857, settled on a land claim here in 1871, engaged in real estate business, and was a banker, merchant, and a member of the board of county commissioners. He died in Ortonville, December 24, 1890. The village was established as the county seat of the as yet unorganized county and was organized as a city on January 28, 1881.
Courtesy Minnesota Historical Society
---
Government:
Ortonville City Hall


217 NW Third Street, Suite 101


Ortonville, MN 56278
Phone: (320) 839-3428
Web: www.ortonville.net
Title
Term Ends
Name and Address
Phone
Mayor
1/1/2010
Blair Johnson
233 NW Second Street
Ortonville, MN 56278
(320) 839-3459
City Clerk Administrator
appointed
David Lang


217 NW Third Street


Ortonville, MN 56278
(320) (320) 839-3428
Council Member
1/1/2010
Nicholas A. Anderson
123 Rita Road
Ortonville, MN 56278
(320) 839-3720
Council Member
1/1/2011
Mike Dorry
216 South Third
Ortonville, MN 56278
(320) 839-3048
Council Member
1/1/2010
William Powell
address not available
n/a
Council Member
1/1/2011
Steve Berkner
40 Spring Drive
Ortonville, MN 56278
(320) 839-3914
Council Member
1/1/2010
Robert Meyers
444 Park Avenue East
Ortonville, MN 56278
(320) 839-2364
Council Member
1/1/2011
Craig Randleman
325 Stephens Avenue
Ortonville, MN 56278
(320) 839-2357
---
Post Office:
US Post Office
104 Jackson Avenue
Ortonville, MN 56278-1400
Phone: (320) 839-2883
Toll Free: (800) ASK-USPS
Web: www.usps.com

Regular Business Hours:
Week Days 8:30 am - 4:00 pm
Saturday 9:00 am - 10:00 am
Latest Collection at Post Office:
Week Days 4:00 pm
Saturday 10:00 am
---
---
Utilities:
| | | |
| --- | --- | --- |
| Utility Type | Utility Name | Utility Phone |
| Electricity | Ortonville Light & Water Dept | (320) 839-3428 |
| Natural Gas | Minnesota Energy Resources Corp | (800) 889-9508 |
| Wastewater | Ortonville Light & Water Dept | (320) 839-3780 |
| Water | Ortonville Light & Water Dept | (320) 839-3780 |
| Telephone | CenturyLink Communications | (800) 603-6000 |
| Cable TV | TCI | (605) 432-6776 |
---
Major Employers:
| | | |
| --- | --- | --- |
| Employer | Products/Services | Employees |
| Ortonville Public School Dist #62 | Elementary & Secondary Schools | 214 |
| Ortonville Area Health Services | General Medical & Surgical Hospitals | 180 |
| Ortonville, City of | Executive, Legislative, & Other Gen. Govt. Support | 96 |
| Big Stone County | Executive, Legislative, & Other Gen. Govt. Support | 65 |
| Hasslen Construction Co | Residential Building Construction | 60 |
| Pepsi-Cola | Beverage Manufacturing | 31 |
| Bill's SuperValue Plus | Grocery Stores | 30 |
| Minnwest Bank Ortonville | Depository Credit Intermediation | 21 |
| Dallas Hanson Construction | Residential Building Construction | 18 |
| Northside Medical Center | Insurance Carriers | 17 |
| Econolodge | Traveler Accommodation | 15 |
| Pizza Ranch | Full-Service Restaurants | 15 |
| Ortonville Stone Company | Nonmetallic Mineral Mining & Quarrying | 14 |
| US Post Office | Postal Service | 10 |
| CenBank | Depository Credit Intermediation | 8 |
---
---
News:
---
Weather:
---
Map:

Minnesota State Highway Map of the Ortonville Minnesota area
---
Events:
---
Attractions:
---
Recreation:
---
Lakes:
---
Health Care:
---
Schools:
---
Churches:
---
Media:
---
Motels:
Check for motel rates and availability on:
---
Resorts:
---
Campgrounds:
---
Businesses:
---
Aerial Photo:
---
Topographic Map: [click map to enlarge, zoom in or zoom out]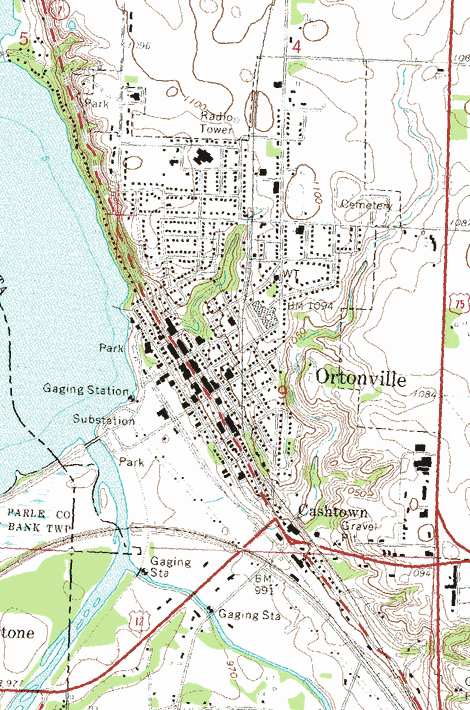 Topographic map is courtesy of the Minnesota DNR - click map to zoom or enlarge