Navigation
LakesnWoods.com
Home Page
Shopping
Coupons
Contact Us
Privacy

Ostrander Guide:
Photo Gallery
Location
Geography
Demographics
History
Government
Post Office
News
Weather
Street Map
Events
Attractions
Recreation
Lakes
Health Care
Schools
Churches
Media
Motels
Resorts
Campgrounds
Businesses
Aerial Photo
Topographic Map
© 2004-2018 Lakeweb1 Internet Services
All Rights Reserved
WANTED!
Do you have photos, historical accounts or other items pertaining to the Ostrander area? Would you like to share this historical information with the world? LakesnWoods.com would like to publish your Ostrander photos (current or historical) or historical accounts on this website. Original materials can be returned and your privacy will be respected.
/font>

Ostrander Minnesota Community Guide
---
Location:
---
Population:
Ostrander (city)
1970
1980
1990
2000
2010
2000-2010 Change
Actual
Percent
Population
268
293
276
212
254
+42
+19.81
Land Area (sq. mile)
0.40
0.40
0.35
0.35
0.35
0
0.00
Density (persons per sq. mile)
670.0
732.5
788.6
604.1
725.7
+121.61
+19.81
Housing Units
85
109
102
109
117
+8
+7.34
Households
--
103
99
100
111
+11
+11.00
Persons Per Household
--
2.42
2.27
2.12
2.29
+0.17
+8.01
---
Geography:
Ostrander is a city in Fillmore County, Minnesota. According to the United States Census Bureau, the city has a total area of 0.3 square miles (0.9 km˛), all of it land. The elevation is 1,345 ft (410 m) above sea level.
From Wikipedia, the free encyclopedia.
---
Demographics:
As of the census of 2000, there were 212 people, 100 households, and 65 families residing in the city. The population density was 604.1 people per square mile (233.9/km˛). There were 109 housing units at an average density of 310.6/sq mi (120.2/km˛). The racial makeup of the city was 100.00% White. Hispanic or Latino of any race were 0.47% of the population.
There were 100 households out of which 23.0% had children under the age of 18 living with them, 55.0% were married couples living together, 5.0% had a female householder with no husband present, and 35.0% were non-families. 32.0% of all households were made up of individuals and 26.0% had someone living alone who was 65 years of age or older. The average household size was 2.12 and the average family size was 2.63.
In the city the population was spread out with 18.9% under the age of 18, 4.7% from 18 to 24, 20.3% from 25 to 44, 23.1% from 45 to 64, and 33.0% who were 65 years of age or older. The median age was 48 years. For every 100 females there were 98.1 males. For every 100 females age 18 and over, there were 87.0 males.
The median income for a household in the city was $41,875, and the median income for a family was $57,500. Males had a median income of $40,893 versus $23,750 for females. The per capita income for the city was $20,214. None of the families and 5.0% of the population were living below the poverty line, including no under eighteens and 14.7% of those over 64.
---
History:
OSTRANDER, a city in Bloomfield, platted in 1890, was named for William and Charles Ostrander, who gave to the railway company parts of the village site. William Ostrander was born in the state of New York in 1819 and came to Minnesota in 1857, settling here as a farmer. The post office moved there from Hurdal in 1891. The city was incorporated as a village in 1918. It had a station of the Chicago Great Western Railroad and was the site of a low-grade iron mining operation during World War II and several years following.
Courtesy Minnesota Historical Society
---
Government:
Ostrander City Hall
Ostrander, MN 55961
Mayor
Linda Schwenn
PO Box 98
Ostrander, MN 55961
(507) 657-2256
Clerk/Treasurer
Rhonda Klapperich
414 Main Street
Ostrander, MN 55961
(507) 657-2505
Council Member
Merlin Christenson
PO Box 1235
Ostrander, MN 55961
(507) 657-2274
Council Member
Gidget Ruehmann
PO Box 92
Ostrander, MN 55961
n/a
Council Member
Vernon Thompson
PO Box 1
Ostrander, MN 55961
(507) 657-2465
Council Member
Pam Kunert
PO Box 188
Ostrander, MN 55961
(507) 657-2366

---
Post Office:
US Post Office
303 Main Street
Ostrander, MN 55961-5000
Phone: (507) 657-2217
Toll Free: (800) ASK-USPS
Web: www.usps.com

Regular Business Hours:
Week Days 8:00 am - 12:00 pm
12:30 pm - 4:30 pm
Saturday 8:00 am - 10:00 am
Latest Collection at Post Office:
Week Days 3:45 pm
Saturday 3:45 pm
---
---
Utilities:
| | | |
| --- | --- | --- |
| Utility Type | Utility Name | Utility Phone |
| Electricity | n/a | -- |
| Natural Gas | n/a | -- |
| Wastewater | n/a | -- |
| Water | n/a | -- |
| Telephone | n/a | -- |
| Cable TV | n/a | -- |
---
Major Employers:
Employer
Products/Services
Employees

n/a
---
---
News:
---
Weather:
---
Map: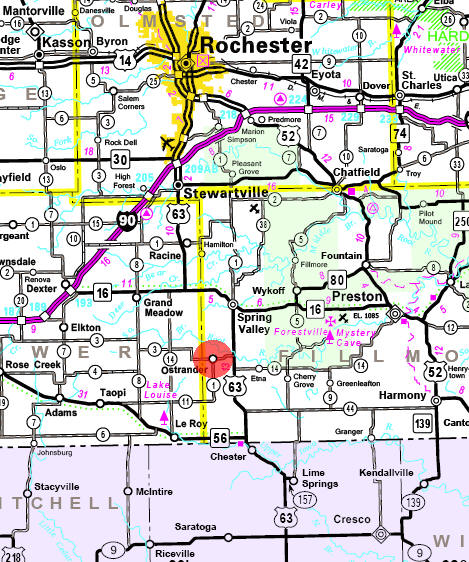 Minnesota State Highway Map of the Ostrander Minnesota area
---
Events:
---
Attractions:
---
Recreation:
---
Lakes:
---
Health Care:
---
Schools:
Ostrander Alternative School
505 Robert
Ostrander, MN 55961
Phone: (507) 657-2563
---
Churches:
Trinity Lutheran Church
204 South Street
Ostrander, MN 55961
Phone: (507) 657-2203
---
Media:
---
Motels:
Check for motel rates and availability on:
---
Resorts:
---
Campgrounds:
---
Businesses:
Bunne Farms
17415 770th Avenue
Ostrander, MN 55961
Phone: (507) 324-5686
Burdock Farms
76459 200th Street
Ostrander, MN 55961
Phone: (507) 754-5874
Dave Larrison Construction
409 Minnesota Street
Ostrander, MN 55961
Phone: (507) 288-8628
KTTC
14922 County 1
Ostrander, MN 55961
Phone: (507) 657-2276
Norman Woods
18867 790th Avenue
Ostrander, MN 55961
Phone: (507) 346-2246
Odd Couple Repair
408 Main Street
Ostrander, MN 55961
Phone: (507) 657-2475
Ostrander Alternative School
505 Robert
Ostrander, MN 55961
Phone: (507) 657-2563
Ostrander Care & Rehab
305 Minnesota Street
Ostrander, MN 55961
Phone: (507) 657-2231
Ostrander City Clerk's Office
414 Main Street
Ostrander, MN 55961
Phone: (507) 657-2505
Ostrander Corner Store
401 Main Street
Ostrander, MN 55961
Phone: (507) 657-2416
Ostrander Farmers Co-Op
208 Main Street
Ostrander, MN 55961
Phone: (507) 657-2234
Ostrander Head Start
204 South Street
Ostrander, MN 55961
Phone: (507) 657-5437
S S Construction
15143 770th Avenue
Ostrander, MN 55961
Phone: (507) 324-5194
Security State Bank
310 Main Street
Ostrander, MN 55961
Phone: (507) 657-2285
Susie's Roadhouse
407 Main Street
Ostrander, MN 55961
Phone: (507) 657-0000
Toad Runner Express
PO Box 64
Ostrander, MN 55961
Phone: (507) 657-2212
Trinity Lutheran Church
204 South Street
Ostrander, MN 55961
Phone: (507) 657-2203
US Post Office
303 Main Street
Ostrander, MN 55961
Phone: (507) 657-2217
Village Salon
102 Minnesota
Ostrander, MN 55961
Phone: (507) 657-2299
Wolf's Den
413 Main Street
Ostrander, MN 55961
Phone: (507) 657-9653
Wolfe Drilling Supply
306 Main Street
Ostrander, MN 55961
Phone: (507) 657-2240
---
Aerial Photo:
---
Topographic Map: [click map to enlarge, zoom in or zoom out]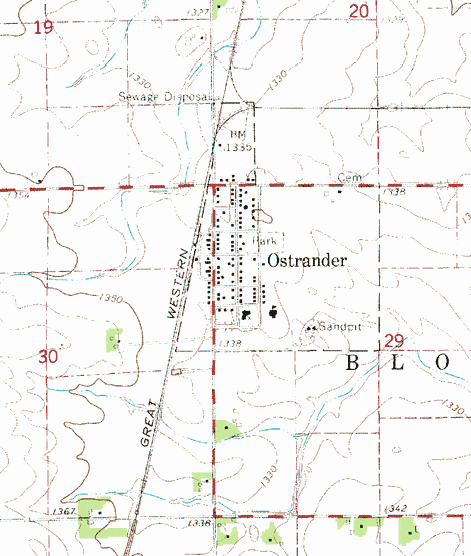 Topographic map is courtesy of the Minnesota DNR - click map to zoom or enlarge