Navigation
LakesnWoods.com
Home Page
Shopping
Coupons
Contact Us
Privacy

Pipestone Guide:
Photo Gallery
Location
Geography
Demographics
History
Government
Post Office
News
Weather
Street Map
Events
Attractions
Recreation
Lakes
Health Care
Schools
Churches
Media
Motels
Resorts
Campgrounds
Businesses
Aerial Photo
Topographic Map
© 2004-2016 Lakeweb1 Internet Services
All Rights Reserved
WANTED!
Do you have photos, historical accounts or other items pertaining to the Pipestone area? Would you like to share this historical information with the world? LakesnWoods.com would like to publish your Pipestone photos (current or historical) or historical accounts on this website. Original materials can be returned and your privacy will be respected.

Pipestone Minnesota Community Guide
---
Location:
---
Population:
Pipestone (city)
1970
1980
1990
2000
2010
2000-2010 Change
Actual
Percent
Population
5,328
4,887
4,554
4,280
4,317
+37
+0.86
Land Area (sq. mile)
2.80
3.65
4.57
3.92
3.92
0
0.00
Density (persons per sq. mile)
1,902.9
1,338.9
996.5
1,090.8
1,101.3
+10.48
+0.86
Housing Units
1,885
2,156
2,055
2,097
2,134
+37
+17.64
Households
--
2,005
1,915
1,900
1,923
+23
+1.21
Persons Per Household
--
2.36
2.28
2.22
2.25
+0.03
+1.35
---
Geography:
Pipestone is a city in Pipestone County, Minnesota. U.S. Route 75 and Minnesota State Highways 23 and 30 are three of the main routes in the city. According to the United States Census Bureau, the city has a total area of 3.9 square miles (10.2 km˛), all of it land. The elevation is 1,736 ft (529 m) above sea level.
From Wikipedia, the free encyclopedia.
---
Demographics:
As of the census of 2000, there were 4,280 people, 1,900 households, and 1,138 families residing in the city. The population density was 1,090.8 people per square mile (421.6/km˛). There were 2,097 housing units at an average density of 534.4/sq mi (206.5/km˛). The racial makeup of the city was 94.23% White, 0.28% African American, 2.94% Native American, 0.75% Asian, 0.05% Pacific Islander, 0.35% from other races, and 1.40% from two or more races. Hispanic or Latino of any race were 0.96% of the population.
There were 1,900 households out of which 28.9% had children under the age of 18 living with them, 46.8% were married couples living together, 10.1% had a female householder with no husband present, and 40.1% were non-families. 35.8% of all households were made up of individuals and 19.9% had someone living alone who was 65 years of age or older. The average household size was 2.22 and the average family size was 2.89.
In the city the population was spread out with 24.7% under the age of 18, 8.7% from 18 to 24, 24.9% from 25 to 44, 20.3% from 45 to 64, and 21.5% who were 65 years of age or older. The median age was 39 years. For every 100 females there were 88.2 males. For every 100 females age 18 and over, there were 83.6 males.
The median income for a household in the city was $30,412, and the median income for a family was $40,194. Males had a median income of $28,180 versus $21,349 for females. The per capita income for the city was $17,253. About 8.3% of families and 9.7% of the population were below the poverty line, including 11.0% of those under age 18 and 11.1% of those age 65 or over.
---
History:
Less than a mile north of the city of Pipestone lies a pipestone quarry, described in Native American legends as a square-cut jewel lying upon folds of shimmering green velvet. This is an accurate depiction of the red quartzite almost hidden by the vast prairie grasses. Designated a national monument by the United States in 1937, the quarry is as rich in Native American history as it is in the red stone for which it is named.
Although he never visited the site, Henry Wadsworth Longfellow was inspired to write of the area in his well known poem, "Song of Hiawatha." The Song of Hiawatha Pageant spins out Henry Longfellow's vision of wade and logan, the Native American Indians, and has played in Pipestone for 60 years. The pageant is held at a small quarry lake on a natural amphitheater with a cast of 200 principals, chieftains, warriors, and dancers in their colorful costumes. Summer of 2008 was the last year for the pageant.
The city of Pipestone was founded in 1876 by Charles Bennett and Daniel Sweet. Bennett was intrigued by the prospect of visiting the site he had read about in Longfellow's poem. Despite blizzards, prairie fires, droughts and grasshoppers, the young village survived. In 1879, 22 businesses were operating in Pipestone, and by the following year that number had grown to 53. Pipestone was incorporated as a village in 1881 and for the next 20 years was a real "boom town." By 1890, Pipestone had train service on four different rail lines and had become a travel and business center hub for southwestern Minnesota.
From Wikipedia, the free encyclopedia.
PIPESTONE, the county seat, at first named Pipestone City, platted in October 1876, was incorporated as a village February 10, 1881, and as a city July 23, 1901. Its area was mostly in section 12 of Sweet Township, adjoining the south border of the quarry, before noted at the beginning of this chapter, which is mostly comprised in section 1.
Courtesy Minnesota Historical Society
---
Government:
Pipestone City Hall
119 2nd Avenue SW
Pipestone, MN 56164
Phone: (507) 825-3324
Fax: (507) 825-5353
Web: www.progressivepipestone.com

City Council meets the first and third Mondays of each month at 6:30 p.m. in the Council Chambers of City Hall.

Title
Term Ends
Name and Address
Phone
Mayor
12/31/2011
Laurie Ness
417 2nd Avenue SE
Pipestone, MN 56164
(507) 825-2653
City Clerk
appointed
Jeffrey R. Jones
119 2nd Avenue SW
Pipestone, MN 56164
(507) 825-3324
Council Member
12/31/2010
Jim Stout
119 2nd Avenue SW
Pipestone, MN 56164
(507) 825-3324
Council Member
12/31/2010
Harry Hansen
119 2nd Avenue SW
Pipestone, MN 56164
(507) 825-3324
Council Member
12/31/2011
Barbara Heyl
620 5th Street SW
Pipestone, MN 56164
(507) 825-3221
Council Member
12/31/2011
Fred N Portz
207 9th Avenue NW
Pipestone, MN 56164
(507) 825-2484
---
Post Office:
US Post Office
202 S Hiawatha Avenue
Pipestone, MN 56164-1879
Phone: (507) 825-2400
Toll Free: (800) ASK-USPS
Web: www.usps.com

Regular Business Hours:
Week Days 8:30 am - 4:00 pm
Saturday 9:00 am - 11:00 am
Latest Collection at Post Office:
Week Days 4:15 pm
Saturday 4:15 pm
---
---
Utilities:
| | | |
| --- | --- | --- |
| Utility Type | Utility Name | Utility Phone |
| Electricity | Xcel Energy | (800) 895-4999 |
| Natural Gas | CenterPoint Energy | (800) 967-3530 |
| Wastewater | City of Pipestone | (507) 825-3324 |
| Water | City of Pipestone | (507) 825-3324 |
| Telephone | CenturyLink Communications | (800) 244-1111 |
| Cable TV | Mediacom | (800) 332-0245 |
---
Major Employers:
| | | |
| --- | --- | --- |
| Employer | Products/Services | Employees |
| Suzlon Rotor Corporation | Other Miscellaneous Manufacturing | 350 |
| Pipestone Systems | Hog and Pig Farming | 300 |
| Pipestone/Jasper School District | Elementary & Secondary Schools | 250 |
| Pipestone County Medical Ctr | General Medical & Surgical Hospitals | 175 |
| Good Samaritan Village | Nursing Care Facilities | 170 |
| Ellison Meat Co | Animal Slaughtering & Processing | 150 |
| Hank's Foods | Grocery Stores | 50 |
| First NB of Pipestone | Depository Credit Intermediation | 43 |
| Coborn's Inc | Grocery Stores | 36 |
| Pipestone Publishing Co | Newspaper, Periodical, Book, & Directory Publishers | 35 |
| Pamida Discount Center | Department Stores | 32 |
| Bomgaar's | Miscellaneous Nondurable Goods Merchant Wholesalers | 26 |
| Pipestone Veterinary Clinic | Other Professional, Scientific, & Technical Services | 25 |
| Pepsi-Cola Bottling Co | Beverage Manufacturing | 23 |
---
---
News:
---
Weather:
---
Map: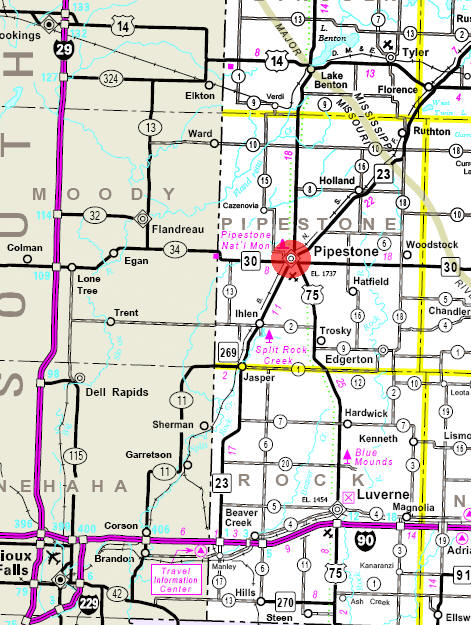 Minnesota State Highway Map of the Pipestone Minnesota area
---
Events:
---
Attractions:
---
Recreation:
---
Lakes:
---
Health Care:
---
Schools:
---
Churches:
---
Media:
---
Motels:
Check for motel rates and availability on:
---
Resorts:
---
Campgrounds:
---
Businesses:
---
Aerial Photo:
---
Topographic Map: [click map to enlarge, zoom in or zoom out]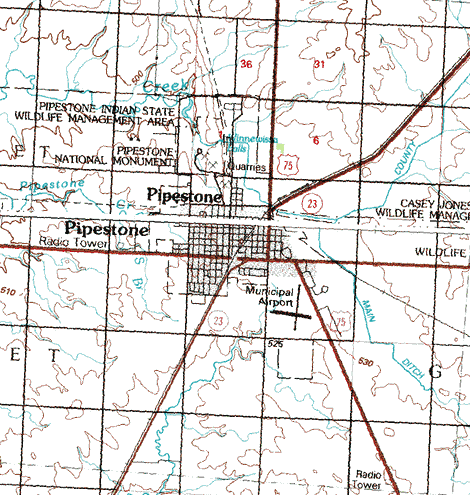 Topographic map is courtesy of the Minnesota DNR - click map to zoom or enlarge