Navigation
LakesnWoods.com
Home Page
Shopping
Coupons
Contact Us
Privacy

Ray Guide:
Photo Gallery
Location
Geography
Demographics
History
Government
Post Office
News
Weather
Street Map
Events
Attractions
Recreation
Lakes
Health Care
Schools
Churches
Media
Motels
Resorts
Campgrounds
Businesses
Aerial Photo
Topographic Map
© 2004-2018 Lakeweb1 Internet Services
All Rights Reserved
WANTED!
Do you have photos, historical accounts or other items pertaining to the Ray area? Would you like to share this historical information with the world? LakesnWoods.com would like to publish your Ray photos (current or historical) or historical accounts on this website. Original materials can be returned and your privacy will be respected.

Ray Minnesota Community Guide
---
Location:
---
Population:
East Koochiching
(Unorganized Territory)
1970
1980
1990
2000
1990-2000 Change
Actual
Percent
Population
--
498
417
383
-34
-8.15
Land Area (sq. mile)
0.00
380.91
385.23
385.20
-0.03
-0.01
Density (persons per sq. mile)
--
1.31
1.08
0.99
-0.09
-8.15
Housing Units
0
190
374
273
-101
-27.01
Households
--
165
142
151
9
6.34
Persons Per Household
--
3.02
2.94
2.54
-0.40
-13.51
---
Geography:
Ray is an unincorporated community in the East Koochiching Unorganized Territory in Koochiching County, Minnesota. The community is located southeast of International Falls at the junction of U.S. Route 53 and Minnesota State Highway 217.
According to the United States Census Bureau, East Koochiching Unorganized Territory has a total area of 386.1 square miles (1,000.0 km²), of which, 385.2 square miles (997.7 km²) of it is land and 0.9 square miles (2.3 km²) of it (0.23%) is water.
From Wikipedia, the free encyclopedia.
---
Demographics:
As of the census of 2000, there were 383 people, 151 households, and 109 families residing in the unorganized territory. The population density was 1.0 people per square mile (0.4/km²). There were 273 housing units at an average density of 0.7/sq mi (0.3/km²). The racial makeup of the unorganized territory was 95.82% White, 0.26% Black or African American, 0.52% Native American, 0.52% from other races, and 2.87% from two or more races. Hispanic or Latino of any race were 1.04% of the population.
There were 151 households out of which 27.8% had children under the age of 18 living with them, 68.2% were married couples living together, 1.3% had a female householder with no husband present, and 27.8% were non-families. 23.2% of all households were made up of individuals and 11.3% had someone living alone who was 65 years of age or older. The average household size was 2.54 and the average family size was 3.03.
In the unorganized territory the population was spread out with 24.5% under the age of 18, 6.0% from 18 to 24, 26.1% from 25 to 44, 29.2% from 45 to 64, and 14.1% who were 65 years of age or older. The median age was 41 years. For every 100 females there were 118.9 males. For every 100 females age 18 and over, there were 114.1 males.
The median income for a household in the unorganized territory was $32,083, and the median income for a family was $32,857. Males had a median income of $35,156 versus $40,179 for females. The per capita income for the unorganized territory was $16,555. About 14.6% of families and 18.2% of the population were below the poverty line, including 31.9% of those under age 18 and 12.9% of those age 65 or over.
---
History:
RAY Township (T. 70-71N, R. 22W) was named for Edwin Ray Lewis of Grand Rapids, who was a land surveyor and timber cruiser, often traversing this region. A village in section 6 developed about 1893 with the gold mining boom; its post office was established in 1907, and it had a station of the Duluth, Winnipeg, and Pacific Railway.
Courtesy Minnesota Historical Society
---
Government:
unincorporated - administered by Koochiching County
---
Post Office:
US Post Office
9378 Highway 53
Kabetogama, MN 56669-8031
Phone: (218) 875-2121
Toll Free: (800) ASK-USPS
Web: www.usps.com

Regular Business Hours:
Tuesday - Sunday 9:00 am - 5:00 pm
Latest Collection at Post Office:
Week Days 11:30 am
Saturday 11:30 am
---
---
Utilities:
| | | |
| --- | --- | --- |
| Utility Type | Utility Name | Utility Phone |
| Electricity | n/a | n/a |
| Natural Gas | n/a | n/a |
| Wastewater | n/a | n/a |
| Water | n/a | n/a |
| Telephone | n/a | n/a |
| Cable TV | n/a | n/a |
---
Major Employers:
Employer
Products/Services
Employees

n/a
---
---
News:
---
Weather:
---
Map: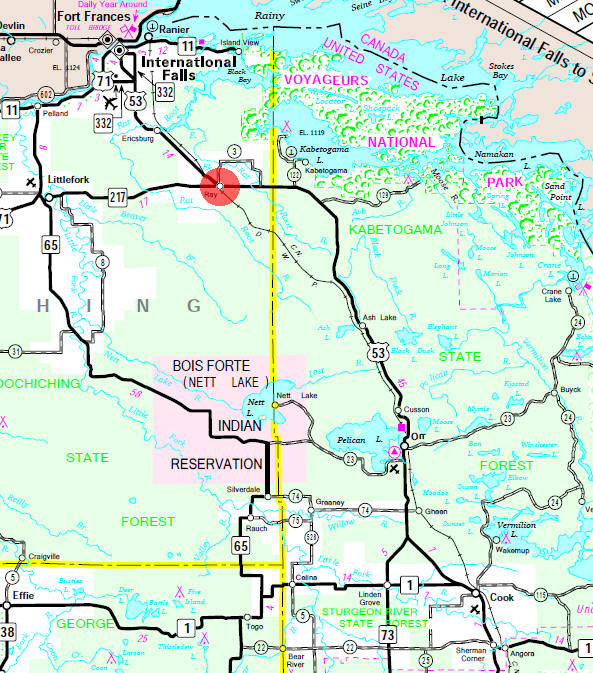 Minnesota State Highway Map of the Ray Minnesota area
---
Events:
---
---
Attractions:
National Forest Service
Kabetogama Lake Visitor Center
Ray, MN 56669
Phone: (218) 875-2111
---
Recreation:
---
Lakes:
Lake Name
Size
(acres)
Lake info
Lake Map
Rec Map
Topo Map
---
Health Care:
---
Schools:
---
Churches:
Lake Kabetogama United Methodist Church
9853 Gamma Road
Ray, MN 56669
Phone: (218) 875-3010
---
Media:
---
Motels:
Kettle Falls Hotel
12977 Chippewa Trail
Ray, MN 56669
Phone: (218) 374-4404
Check for motel rates and availability on:
---
Resorts:
Arrowhead Lodge
10473 Waltz Road
Ray, MN 56669
Phone: (218) 875-2141
Birch Grove Resort
10466 Waltz Road
Ray, MN 56669
Phone: (218) 875-2172
Driftwood Resort
9961 Bluewater Way
Ray, MN 56669
Phone: (218) 875-3841
Grandview Resort
10479 Waltz Road
Ray, MN 56669
Phone: (218) 875-2171
Harmony Beach Resort
10002 Gappa Road
Ray, MN 56669
Phone: (218) 875-2811
Kec's Kove
10428 Gamma Road
Ray, MN 56669
Phone: (218) 875-2841
Toll Free:

(800) 774-8405


Web: www.fishandgame.com/kecs

We invite you to spend your next vacation fishing, boating, and relaxing on the doorstep of one of the Nation's most beautiful, unspoiled and least visited natural areas ... Voyageurs National Park. We are on Lake Kabetogama, 22 miles long and 6 miles wide, covering 25,000 acres with 500 miles of shoreline. Where the fish are plentiful! Open year round fishing, hunting, and snomobiling. Indoor hot tub & sauna. Full restaurant & bar. Modern cabins, boats, & motor rentals.

Moosehorn Resort
10434 Waltz Road
Kabetogama MN 56669
Phone: (218) 875-3491
Toll Free: (800) 777-7968
Web: www.moosehornresort.com

Moosehorn is a relaxing family and fishing resort located in a protected bay on beautiful Lake Kabetogama. The cabins are clean, comfortable and widely spaced for privacy on 700 feet of shoreline, all with spectacular views of the lake. Enjoy our gradual sand beach, canoes and kayaks, and other water and land sports. Experience the pristine wilderness of Voyageurs National Park during the day and return to the comfort of your cabin in the evening.

Northern Lights Resort
10176 Bay Club Drive
Ray, MN 56669
Phone: (218) 875-2591
Toll Free:

(800) 318-7023


Web: www.nlro.com

We are surrounded by wilderness in a secluded bay on 16 acres, with nearly a ¼ mile of shoreline. Lake Kabetogama (Ka-be-tow-ga-ma) is one of a chain of wilderness Border Lakes with majestic scenery and part of Voyageurs National Park on the Minnesota, Ontario border. From our dock, there are 65 miles of uninhabited, road-less wilderness waterways with hundreds of islands, bays, coves, rock bluffs and gorges.

Pine Aire Resort
9978 Gappa Road
Ray, MN 56669
Phone: (218) 875-2161
Toll Free:

(877) 875-2161


Web: www.pineaire.com

Pine Aire Resort, home of the Kabetogama Web Cam, offers cabins for rent in Minnesota, boat and motor rentals for fishing, snowmobiling and family vacations on Lake Kabetogama Minnesota with access to Ash River, Namakan, Crane and Rainy Lakes around Voyageurs National Park in northern Minnesota. Lake Kabetogama Resorts and Camping. Offers cabins for rent in Minnesota. Camping and Seasonal Trailer sites.

Pine Cove Resort
12977 Chippewa Trail
Ray, MN 56669
Phone: (218) 875-2088
Red Pine Lodge & Resort
12443 Burma Road
Ray, MN 56669
Phone: (218) 875-2441
Sandy Point Lodge
10606 Gamma Road
Ray, MN 56669
Phone: (218) 875-2615
Toll Free: (800) 777-8595
Web: www.sandypointlodge.com

Resort with lakeshore cabins. Restaurant and lounge in main lodge. Lodge rooms available for overnight stays. Boat rentals. Surrounded by water on the 500 mile long glacier carved shoreline
Great Fishing in our own Tom-Cod Bay or Lake Kabetogama

Snyder's Idlewild Resort
10060 Gappa Road
Ray, MN 56669
Phone: (218) 875-3831
Toll Free: (888) 483-4608
Web: www.idlewildresort.com

You will enjoy the beautiful scenery, peaceful atmosphere, quiet relaxation, abundance of wildlife, as well as excellent fishing. We at Idlewild have dedicated ourselves to making your vacation the best ever. We have remodeled, redecorated and refurbished all the cabins to make you feel as comfortable as being at home. To make your stay with us a complete family vacation, we have installed a heated swimming pool and hot tub.

Tomahawk Resort
10078 Gappa Road
Ray, MN 56669
Phone: (218) 875-2352
Toll Free: (888) 834-7899
Web: www.hersethstomahawkresort.com

Lake Kabetogama's finest fishing and family resort, featuring nine cabins with lakeviews and a large sand beach. Fishing guide and tour boat service available. Adjacent to scenic Voyageur's national park!

Voyageur Park Lodge
10436 Waltz Road
Ray, MN 56669
Phone: (218) 875-2131
Woodland Inn
4660 Highway 53
Ray, MN 56669
Phone: (218) 875-2805
---
Campgrounds:
---
Businesses:
Arrowhead Lodge
10473 Waltz Road
Ray, MN 56669
Phone: (218) 875-2141
Birch Grove Resort
10466 Waltz Road
Ray, MN 56669
Phone: (218) 875-2172
Driftwood Resort
9961 Bluewater Way
Ray, MN 56669
Phone: (218) 875-3841
Gateway Store
9378 Highway 53
Ray, MN 56669
Phone: (218) 875-2121
Grandview Resort
10479 Waltz Road
Ray, MN 56669
Phone: (218) 875-2171
Harmony Beach Resort
10002 Gappa Road
Ray, MN 56669
Phone: (218) 875-2811
Herseth Electric
10078 Gappa Road
Ray, MN 56669
Phone: (218) 875-2352
Kabetogama Fire Dept
9843 Gamma Road
Ray, MN 56669
Phone: (218) 875-2603
Kabetogama Lake Assn
9903 Gamma Road
Ray, MN 56669
Phone: (218) 875-2621
Kec's Kove
10428 Gamma Road
Ray, MN 56669
Phone: (218) 875-2841
Kettle Falls Hotel
12977 Chippewa Trail
Ray, MN 56669
Phone: (218) 374-4404
Lake Kabetogama United Methodist Church
9853 Gamma Road
Ray, MN 56669
Phone: (218) 875-3010
Moosehorn Resort
10434 Waltz Road
Ray, MN 56669
Phone: (218) 875-3491
National Forest Service
Kabetogama Lake Visitor Center
Ray, MN 56669
Phone: (218) 875-2111
Northern Lights Resort
10176 Bay Club Drive
Ray, MN 56669
Phone: (218) 875-2591
Pine Aire Resort
9978 Gappa Road
Ray, MN 56669
Phone: (218) 875-2161
Pine Cove Resort
12977 Chippewa Trail
Ray, MN 56669
Phone: (218) 875-2088
Red Pine Lodge & Resort
12443 Burma Road
Ray, MN 56669
Phone: (218) 875-2441
Sandy Point Lodge
10606 Gamma Road
Ray, MN 56669
Phone: (218) 875-2615
Snyder's Idlewild Resort
10060 Gappa Road
Ray, MN 56669
Phone: (218) 875-3831
St. Louis County 3rd District
9776 Gamma Road
Ray, MN 56669
Phone: (218) 875-3100
Tomahawk Resort
10078 Gappa Road
Ray, MN 56669
Phone: (218) 875-2352
US Post Office
9378 Highway 53
Ray, MN 56669
Phone: (218) 875-3212
Voyageur Marina
9676 Gamma Road
Ray, MN 56669
Phone: (218) 875-2023
Voyageur Park Lodge
10436 Waltz Road
Ray, MN 56669
Phone: (218) 875-2131
Woodland Inn
4660 Highway 53
Ray, MN 56669
Phone: (218) 875-2805
---
Aerial Photo:
---
Topographic Map: [click map to enlarge, zoom in or zoom out]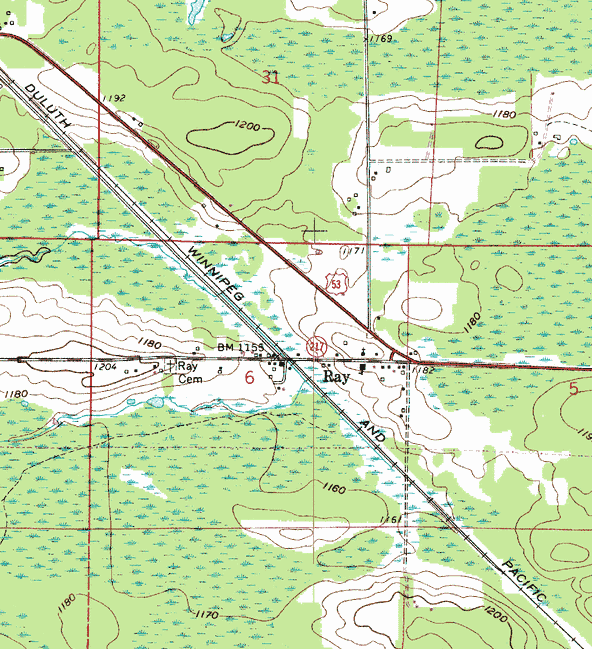 Topographic map is courtesy of the Minnesota DNR - click map to zoom or enlarge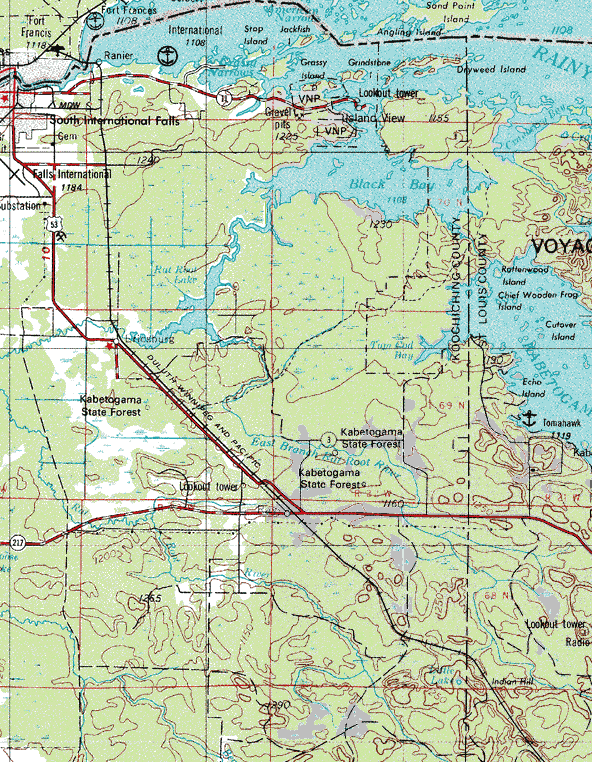 Topographic map is courtesy of the Minnesota DNR - click map to zoom or enlarge