Navigation
LakesnWoods.com
Home Page
Shopping
Coupons
Contact Us
Privacy
Minnesota Gift Guide

Rockford Guide:
Photo Gallery
Location
Geography
Demographics
History
Government
Post Office
News
Weather
Street Map
Events
Attractions
Recreation
Lakes
Health Care
Schools
Churches
Media
Motels
Resorts
Campgrounds
Businesses
Aerial Photo
Topographic Map
© 2004-2019
Lakeweb1 Internet Services
All Rights Reserved
Defamation, Copyright and Trademark Infingement Policy
WANTED!
Do you have photos, historical accounts or other items pertaining to the Rockford area? Would you like to share this historical information with the world? LakesnWoods.com would like to publish your Rockford photos (current or historical) or historical accounts on this website. Original materials can be returned and your privacy will be respected.

Rockford Minnesota Community Guide
---
Location:
---
Population:
Rockford (city)
1970
1980
1990
2000
2010
2000-2010 Change
Actual
Percent
Population
730
2,408
2,665
3,484
4,316
+832
+23.88
Land Area (sq. mile)
0.60
1.28
1.29
1.73
1.73
0
0.00
Density (persons per sq. mile)
1,216.7
1,881.3
2,065.9
2,013.9
2,494.8
+480.93
+23.88
Housing Units
229
849
1,016
1,333
1,693
+360
+27.01
Households
n/a
805
980
1,296
1,622
+326
+25.15
Persons Per Household
n/a
2.99
2.72
2.69
2.66
-0.03
-1.12
---
Geography:
Rockford is a city in Hennepin and Wright counties in the state of Minnesota. While Rockford is mainly in Wright County, a small part of the city extends into Hennepin County. Minnesota State Highway 55 serves as a main route in the city. The Crow River is formed at Rockford by the confluence of its North and South Forks. According to the United States Census Bureau, the city has a total area of 1.8 square miles (4.6 km²), of which, 1.7 square miles (4.5 km²) of it is land and 0.1 square miles (0.2 km²) of it (3.37%) is water. The elevation is 915 ft (279 m) above sea level.
From Wikipedia, the free encyclopedia.
---
Demographics:
As of the census of 2000, there were 3,484 people, 1,296 households, and 929 families residing in the city. The population density was 2,021.2 people per square mile (782.1/km²). There were 1,333 housing units at an average density of 773.3/sq mi (299.2/km²). The racial makeup of the city was 97.56% White, 0.40% African American, 0.52% Native American, 0.46% Asian, 0.09% Pacific Islander, 0.14% from other races, and 0.83% from two or more races. Hispanic or Latino of any race were 1.00% of the population. 38.1% were of German, 15.0% Norwegian, 8.4% Irish and 6.1% Swedish ancestry according to Census 2000.
There were 1,296 households out of which 44.1% had children under the age of 18 living with them, 55.2% were married couples living together, 11.7% had a female householder with no husband present, and 28.3% were non-families. 21.8% of all households were made up of individuals and 4.2% had someone living alone who was 65 years of age or older. The average household size was 2.69 and the average family size was 3.17.
In the city the population was spread out with 31.9% under the age of 18, 7.7% from 18 to 24, 39.0% from 25 to 44, 16.7% from 45 to 64, and 4.8% who were 65 years of age or older. The median age was 31 years. For every 100 females there were 99.9 males. For every 100 females age 18 and over, there were 99.5 males.
The median income for a household in the city was $51,349, and the median income for a family was $56,607. Males had a median income of $37,112 versus $29,395 for females. The per capita income for the city was $20,675. About 6.5% of families and 6.5% of the population were below the poverty line, including 8.8% of those under age 18 and 13.4% of those age 65 or over.
---
History:
The history of Rockford as a settlement began in about 1855, when a campaign was started in St. Paul to lure settlers to the Minnesota territory.
In Illinois, two men – George Ames and Joel Florida – read glowing accounts of this new territory. Married to sisters, the men had already traveled from Maine to Illinois by covered wagon, and they were ready to move again. They planned to locate a townsite and build a water-powered mill. On the boat coming up the Mississippi, they met Vermont native Guilford George. They formed a partnership and arrived at a small settlement on the Crow River called Greenwood in October 1855. Since this townsite at the fork of the Crow had already been platted, the men moved on down river, north to what is now Rockford. There, they met William Frazer, who had already claimed the site, but had tired of the thick timber and thicker mosquitoes. He sold his claim to Ames, while Florida and George also made nearby claims. With winter approaching, George was left at a cabin to guard the claim while the other two went back to civilization to gather a group of settlers.
That winter, the Minnesota Territorial Legislature passed an act calling for the cutting of a road from Minneapolis to Greenwood townsite. In the spring, a road committee – led by Daniel Ross Farnham – set out west from Minneapolis to cut the road. Meanwhile, the Ames-Florida townsite party was also heading west. The two groups met on the trail and the townsite men pitched in to help lay the road. Farnham, Ames and Florida got to know each other and by the time the road reached the Crow, it had angled north, away from Greenwood and directly to the Rockford townsite.
The townsite at the time had no name. Arriving at about the same time was Cyrus C. Jenks who was originally from the Rockford, Ill. With the townsite party divided over naming it either Amesville, to recognize the man who had conceived of the place, or Big Rock, the Indian name for the fork in the Crow, the group finally settled on Jenks' suggestion…Rockford.
The early years were rough. Land was difficult to clear since this was the heart of the "Big Woods," a thick forest through which it was said light could hardly penetrate. At the onset, grasshopper invasions ruined most of the gardens and crops. There were rumors of Indian attacks, which caused panic among settlers. At one point, a stockade was built around the mill to shelter citizens and arriving refugees from an attack that never materialized. The Civil War, which was raging in 1862, demanded a quota of Minnesota troops and Wright County formed its own company.
But through it all, Rockford survived. Early businesses, notably a sawmill, woolen mill and flourmill, revolved around the river and the mill dam. Additional businesses were gradually added. The railroad came through Rockford in the 1880's.
And early on, a small miracle may have saved the community. Right after the grasshopper invasions, the citizens were nearly destitute, with no money to pay for land or homes, not to mention food. A Col. Robert Blaine came driving into town and made the local people an offer they thought was insane. He offered to pay five cents a pound for roots…ginseng roots. The roots grow in abundance in the shade of the huge trees making up the Big Woods and they were in great demand in the Orient as a medicine. Soon, nearly everyone was "sanging" for roots. By the time the roots were depleted, many early farms of Rockford Township had been paid off.
Rockford village was formally incorporated October 21, 1881, by an act of the Minnesota Legislature and the first election was held on December 6, 1881.
The community remained small, numbering a few hundred, for most of its existence. In the 1970's, it first passed 1,000 in population as the Twin Cities suburban area continued to expand and people from this area started to commute to the metropolitan area to work. At that time, a large mobile home community was also started on the southern part of the community. By 1980, the population had more than tripled from a 1970 figure of 730 to 2,408.
The 1990 census showed a population of 2,665, with growth in Rockford and the surrounding area expected to continue at an accelerated rate in upcoming years. The April 2006 population estimate is 3,603.
Courtesy City of Rockford
ROCKFORD Township, settled in 1855, organized in 1858, received the name of its city in section 29, with Hennepin County, founded in 1856 at a rocky ford of the Crow River, having its bed strewn with boulders, where a sawmill was built. The city was platted in the spring of 1857 and was incorporated as a village November 21, 1881, and separated from the township on March 25, 1907. The post office began in 1856.
Courtesy Minnesota Historical Society
---
Government:
---
Post Office:
US Post Office
8950 Walnut Street
Rockford, MN 55373-4514
Phone: (763) 477-6692
Toll Free: (800) ASK-USPS
Web: www.usps.com

Regular Business Hours:
Week Days 9:00 am - 12:30 pm
1:30 pm - 4:30 pm
Saturday 9:30 am - 10:30 am
Latest Collection at Post Office:
Week Days 4:45 pm
Saturday 2:00 pm
---
Utilities:
| | | |
| --- | --- | --- |
| Utility Type | Utility Name | Utility Phone |
| Electricity | Xcel Energy | (800) 642-6066 |
| Electricity | Wright-Hennepin Coop Electric Assn | (763) 477-3000 |
| Natural Gas | CenterPoint Energy | (800) 269-1114 |
| Wastewater | Rockford Municipal | (763) 477-4346 |
| Water | Rockford Municipal | (763) 477-4346 |
| Telephone | CenturyLink Communications | (800) 244-1111 |
| Cable TV | Charter Communications | (800) 581-0081 |
---
Major Employers:
| | | |
| --- | --- | --- |
| Employer | Products/Services | Employees |
| Rockford Public Schools-ISD #883 | Elementary & Secondary Schools | 205 |
| Wright-Hennepin Coop Electric Assn | Electric Power Generation, Transmission & Dist. | 180 |
| DiversiFoam Products | Chemical & Allied Products Merchant Wholesalers | 80 |
| Auto Chlor | Soap & Other Detergent Mfg. | 30 |
| Diversified Remediation Controls | Other Const. Material Merch. Whole. | 20 |
| Domino's Pizza | Full-Service Restaurants | 15 |
| Rockford State Bank | Depository Credit Intermediation | 15 |
---
---
News:
---
Weather:
---
Map: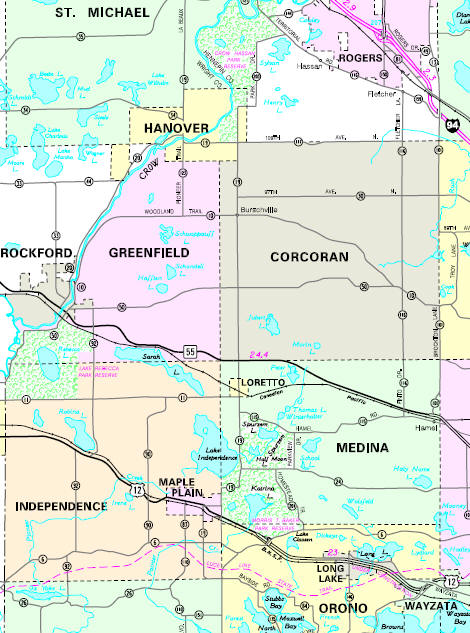 Minnesota State Highway Map of the Rockford Minnesota area
---
Events:
---
---
Attractions:
---
Recreation:
---
Lakes:
---
Health Care:
---
Schools:
---
Churches:
---
Media:
---
Motels:
Check for motel rates and availability on:
---
Resorts:
---
Campgrounds:
---
Businesses:
---
Aerial Photo:
---
Topographic Map: [click map to enlarge, zoom in or zoom out]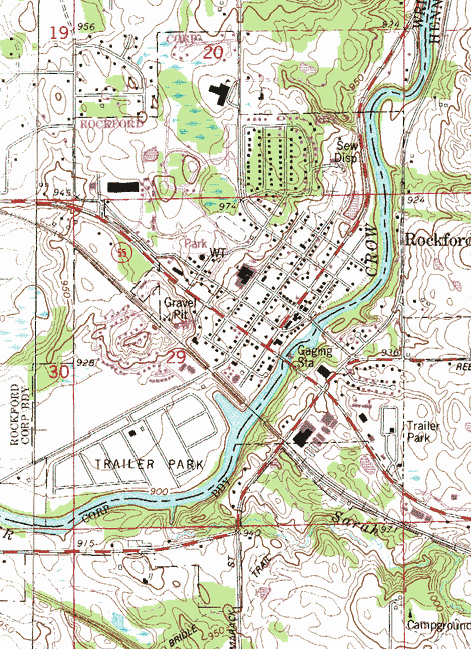 Topographic map is courtesy of the Minnesota DNR - click map to zoom or enlarge