Navigation
LakesnWoods.com
Home Page
Shopping
Coupons
Contact Us
Privacy
Minnesota Gift Guide

Round Lake Guide:
Photo Gallery
Location
Geography
Demographics
History
Government
Post Office
News
Weather
Street Map
Events
Attractions
Recreation
Lakes
Health Care
Schools
Churches
Media
Motels
Resorts
Campgrounds
Businesses
Aerial Photo
Topographic Map
© 2004-2019
Lakeweb1 Internet Services
All Rights Reserved
Defamation, Copyright and Trademark Infingement Policy
WANTED!
Do you have photos, historical accounts or other items pertaining to the Round Lake area? Would you like to share this historical information with the world? LakesnWoods.com would like to publish your Round Lake photos (current or historical) or historical accounts on this website. Original materials can be returned and your privacy will be respected.

Round Lake Minnesota Community Guide
---
Location:
---
Population:
Round Lake (city)
1970
1980
1990
2000
2010
2000-2010 Change
Actual
Percent
Population
506
480
463
424
376
-48
-11.32
Land Area (sq. mile)
1.10
1.08
1.04
1.04
1.04
0
0.00
Density (persons per sq. mile)
460.0
444.4
445.2
408.8
361.5
-47.26
-11.32
Housing Units
181
202
222
214
210
-4
-1.87
Households
--
191
208
191
184
-7
-3.66
Persons Per Household
--
2.51
2.23
2.22
2.04
-0.18
-8.11
---
Geography:
Round Lake is a city in Nobles County, Minnesota. A lake, also called Round Lake, is just outside the city to the northeast. According to the United States Census Bureau, the city has a total area of 1.0 square mile (2.7 km˛), all of it land. The elevation is 1,555 ft (474 m) above sea level.
From Wikipedia, the free encyclopedia.
---
Demographics:
As of the census of 2000, there were 424 people, 191 households, and 109 families residing in the city. The population density was 408.8 people per square mile (157.4/km˛). There were 214 housing units at an average density of 206.3/sq mi (79.4/km˛). The racial makeup of the city was 97.64% White, and 2.36% from two or more races. Hispanic or Latino of any race were 1.89% of the population.
There were 191 households out of which 29.8% had children under the age of 18 living with them, 49.2% were married couples living together, 6.3% had a female householder with no husband present, and 42.9% were non-families. 38.7% of all households were made up of individuals and 17.8% had someone living alone who was 65 years of age or older. The average household size was 2.22 and the average family size was 2.99.
In the city the population was spread out with 23.6% under the age of 18, 9.0% from 18 to 24, 29.0% from 25 to 44, 20.0% from 45 to 64, and 18.4% who were 65 years of age or older. The median age was 38 years. For every 100 females there were 82.8 males. For every 100 females age 18 and over, there were 79.0 males.
The median income for a household in the city was $25,938, and the median income for a family was $36,125. Males had a median income of $25,278 versus $17,596 for females. The per capita income for the city was $15,476. About 10.7% of families and 11.3% of the population were below the poverty line, including 15.5% of those under age 18 and 12.8% of those age 65 or over.
---
History:
ROUND LAKE, a city in sections 13, 14, 23, and 24 of Indian Lake Township, founded in 1882, was named for the adjoining Round Lake in Jackson County, on request of O. H. Roche, who owned a ranch of nearly 2,000 acres surrounding that lake. An alternative version of the naming is that when the Round Lake post office in Round Lake Township, Jackson County, was discontinued in July 1884, residents of Indian Lake requested the name of the village be changed to Round Lake, the post office following in January of 1885. The village was developed by the railroad and was platted in December 1882 and again in 1889 because no sites were sold under the original platting except for two railroad buildings; it was incorporated on October 14, 1892. The post office was established as Indian Lake in 1883, with Edgar Adelbert Tripp as postmaster.
Courtesy Minnesota Historical Society
---
Government:
Round Lake City Hall
98 Main Street
PO Box 72
Round Lake, MN 56167
Phone: (507) 945-8127
Fax: (507) 945-0039
Web: www.roundlk.net
Mayor
Keith Stubbe
509 5th Avenue
Round Lake, MN 56167
n/a
Clerk/Treasurer
Sandy Consoer
98 Main Street
PO Box 72
Round Lake, MN 56167
(507) 945-8127
Council Member
Donna Watje
325 Margaret Street
Round Lake, MN 56167
n/a
Council Member
Courtland Baumgard
413 5th Avenue
Round Lake, MN 56167
n/a
Council Member
Dennis Bucholz
22 Main Street
Round Lake, MN 56167
n/a
Council Member
Doug Knuth
PO Box 25
Round Lake, MN 56167
n/a
---
Post Office:
US Post Office
137 Main Street
Round Lake, MN 56167-9712
Phone: (507) 945-8201
Toll Free: (800) ASK-USPS
Web: www.usps.com

Regular Business Hours:
Week Days 8:30 am - 12:00 pm
1:00 pm - 3:45 pm
Saturday 8:15 am - 9:15 am
Latest Collection at Post Office:
Week Days 3:45 pm
Saturday 4:15 pm
---
---
Utilities:
| | | |
| --- | --- | --- |
| Utility Type | Utility Name | Utility Phone |
| Electricity | City of Round Lake | (507) 945-8127 |
| Natural Gas | City of Round Lake | (507) 945-8127 |
| Wastewater | City of Round Lake | (507) 945-8127 |
| Water | City of Round Lake | (507) 945-8127 |
| Telephone | Century Tel | (800) 252-1166 |
| Cable TV | US Cable | (800) 642-5509 |
---
Major Employers:
| | | |
| --- | --- | --- |
| Employer | Products/Services | Employees |
| Kraft - Sather Trucking | General Freight Trucking | 350 |
| Round Lake Public School | Elementary & Secondary Schools | 30 |
| Round Lake Farmer's Co-op | Miscellaneous Nondurable Goods Merchant Wholesalers | 10 |
| City of Round Lake | Executive, Legislative, & Other Gen. Govt. Support | 6 |
| Round Lake Pit Stop | Full-Service Restaurants | 6 |
| United Prairie Bank | Depository Credit Intermediation | 6 |
| Metalcrafters of Round Lake | Other Fabricated Metal Product Manufacturing | 4 |
| Hatt Trick Lounge | Drinking Places (Alcoholic Beverages) | 3 |
| Heath Auto Sales | Automotive Repair & Maintenance | 3 |
| United Prairie Insurance | Insurance Carriers | 3 |
| Farmers Insurance Agency | Insurance Carriers | 2 |
| Spessard Repair | Cutlery & Handtool Manufacturing | 2 |
| Doeden Plumbing & Heating | Building Equipment Contractors | 1 |
| Head Over Heals Hair Studio | Personal Care Services | 1 |
| Head Quarters | Personal Care Services | 1 |
---
---
News:
---
Weather:
---
Map: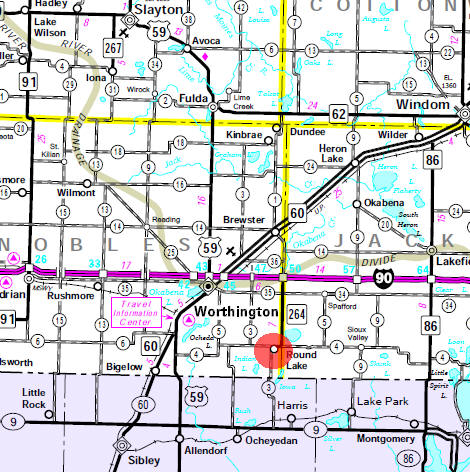 Minnesota State Highway Map of the Round Lake Minnesota area
---
Events:
---
---
Attractions:
---
Recreation:
---
Lakes:
---
Health Care:
---
Schools:
---
Churches:
---
Media:
---
Motels:
Check for motel rates and availability on:
---
Resorts:
---
Campgrounds:
---
Businesses:
---
Aerial Photo:
---
Topographic Map: [click map to enlarge, zoom in or zoom out]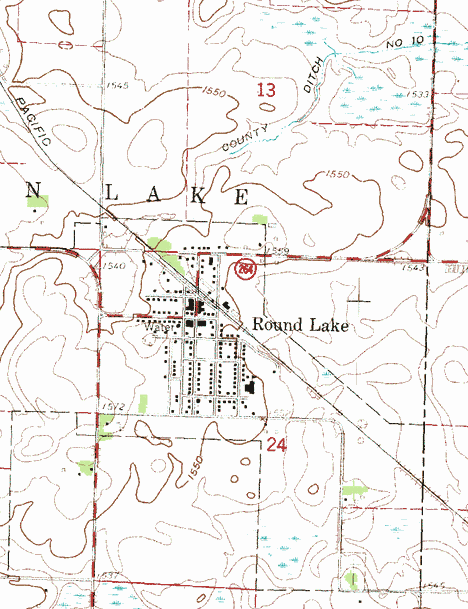 Topographic map is courtesy of the Minnesota DNR - click map to zoom or enlarge