Navigation
LakesnWoods.com
Home Page
Shopping
Coupons
Contact Us
Privacy Add a Link

Rushford Village Guide:
Photo Gallery
Location
Geography
Demographics
History
Government
Post Office
News
Weather
Street Map
Events
Attractions
Recreation
Lakes
Health Care
Schools
Churches
Media
Motels
Resorts
Campgrounds
Businesses
Aerial Photo
Topographic Map
Đ 2004-2018 Lakeweb1 Internet Services
All Rights Reserved
Defamation, Copyright and Trademark Infingement Policy
WANTED!
Do you have photos, historical accounts or other items pertaining to the Rushford Village area? Would you like to share this historical information with the world? LakesnWoods.com would like to publish your Rushford Village photos (current or historical) or historical accounts on this website. Original materials can be returned and your privacy will be respected.

Rushford Village Minnesota Community Guide
---
Location:
---
Population:
Rushford Village (city)
1970
1980
1990
2000
2010
2000-2010 Change
Actual
Percent
Population
601
688
705
714
807
+93
+13.03
Land Area (sq. mile)
33.00
33.41
33.52
33.41
33.41
0
0.00
Density (persons per sq. mile)
18.21
20.59
21.03
21.37
24.15
+2.78
+13.03
Housing Units
196
236
237
279
325
+46
+16.49
Households
--
224
219
264
305
+41
+15.53
Persons Per Household
--
3.07
2.77
2.70
2.65
-0.05
-1.85
---
Geography:
Rushford Village is a city in Fillmore County Minnesota. According to the United States Census Bureau, the city has a total area of 33.7 square miles (87.2 kmē), of which, 33.4 square miles (86.5 kmē) of it is land and 0.2 square miles (0.6 kmē) of it (0.71%) is water. The elevation is 741 ft (226 m) above sea level.
From Wikipedia, the free encyclopedia.
---
Demographics:
As of the census of 2000, there were 714 people, 264 households, and 214 families residing in the city. The population density was 21.4 people per square mile (8.3/kmē). There were 279 housing units at an average density of 8.4/sq mi (3.2/kmē). The racial makeup of the city was 99.02% White, 0.28% African American, 0.28% Asian, and 0.42% from two or more races. Hispanic or Latino of any race were 0.14% of the population.
There were 264 households out of which 34.1% had children under the age of 18 living with them, 73.9% were married couples living together, 5.7% had a female householder with no husband present, and 18.6% were non-families. 15.9% of all households were made up of individuals and 7.6% had someone living alone who was 65 years of age or older. The average household size was 2.70 and the average family size was 3.00.
In the city the population was spread out with 27.7% under the age of 18, 5.7% from 18 to 24, 26.5% from 25 to 44, 27.2% from 45 to 64, and 12.9% who were 65 years of age or older. The median age was 39 years. For every 100 females there were 97.8 males. For every 100 females age 18 and over, there were 102.4 males.
The median income for a household in the city was $43,125, and the median income for a family was $50,156. Males had a median income of $36,000 versus $20,673 for females. The per capita income for the city was $18,042. About 5.1% of families and 8.0% of the population were below the poverty line, including 12.7% of those under age 18 and 1.1% of those age 65 or over.
---
History:
RUSHFORD, settled in July 1853, organized May 11, 1858, was named on Christmas Day, 1854, by unanimous vote of the pioneer settlers, taking the name from Rush Creek here tributary to the Root River. The men and women so voting numbered nine, these being all the settlers at that date. "Rush creek was so called on account of the tall rushes that grew along its banks, where cattle and ponies could obtain a subsistence all winter." The city of Rushford, sections 11-14, founded in 1854, was named at the same time with the township. It was incorporated as a city on March 3, 1868, and often was called "the Trail City, on account of the intersection of several Indian foot paths." It has had a post office since 1856 and had a station of the Chicago, Milwaukee, St. Paul and Pacific Railroad.
Courtesy Minnesota Historical Society
---
Government:
Rushford Village City Hall
43038 State Hwy 30W
Rushford Village, MN 55971-5167
Phone: (507) 864-7974
Mayor
Gordon Johnson
45739 N Money Creek
Rushford Village, MN 55971
(507) 864-2345
City Administrator
Judy A Graham
28925 County Road 25 S
Rushford Village, MN 55962
(507) 875-2253
Clerk/Treasurer
Joyce Iverson
28925 County Road 25 S
Rushford Village, MN 55962
(507) 875-2253
Council Member
Roger Ekern
29083 Ekern Road
Rushford Village, MN 55971
(507) 864-7622
Council Member
Dennis Overland
30269 Main Street
Rushford Village, MN 55971
(507) 864-2433
Council Member
Dale Schwanke
28821 County Road 25 S
Rushford Village, MN 55962
(507) 875-2475
Council Member
Elizabeth Atkinson
29398 Desoto Road
Rushford Village, MN 55962
(507) 875-2377
---
Post Office:
US Post Office
501 S Mill Street
Rushford, MN 55971-8841
Phone: (507) 864-7169
Toll Free: (800) ASK-USPS
Web: www.usps.com

Regular Business Hours:
Week Days 9:00 am - 12:30 pm
1:30 pm - 4:00 pm
Saturday 10:00 am - 11:45 am
Latest Collection at Post Office:
Week Days 4:00 pm
Saturday 10:30 am
---
Utilities:
| | | |
| --- | --- | --- |
| Utility Type | Utility Name | Utility Phone |
| Electricity | Tri-County Electric Co-op | (800) 432-2285 |
| Natural Gas | Peoples Natural Gas | (800) 891-0890 |
| Wastewater | Rushford Village Municipal | (507) 864-7974 |
| Water | Rushford Village Municipal | (507) 864-7974 |
| Telephone | Ace Communications Group | (507) 896-3192 |
| Cable TV | Ace Communications Group | (507) 896-3192 |
---
Major Employers:
| | | |
| --- | --- | --- |
| Employer | Products/Services | Employees |
| Tri-County Electric | Electric Bulk Power Transmission & Control | 58 |
| United Packaging | Lumber, Plywood, Millwork, & Wood Panel Merch. Whole. | 15 |
| Norman's Electric Service | Electrical Apparatus & Equip., Wiring Supplies, & Related Equip. | 14 |
| Brown's Tire & Battery | Automotive Repair & Maintenance | 10 |
| Connaughty Sales | Metalworking Machinery Manufacturing | 10 |
| Jim's Building Center | Building Material & Supplies Dealers | 6 |
| Norstad Construction | Foundation, Structure & Bldg. Exterior Contractors | 6 |
| Peterson State Fish Hatchery | Animal Aquaculture | 6 |
| Selectus Natural Gas | Natural Gas Distribution | 6 |
| Hi Tec Sales/Service & Heavy Equipment | Automobile Dealers | 5 |
---
---
News:
---
Weather:
---
Map: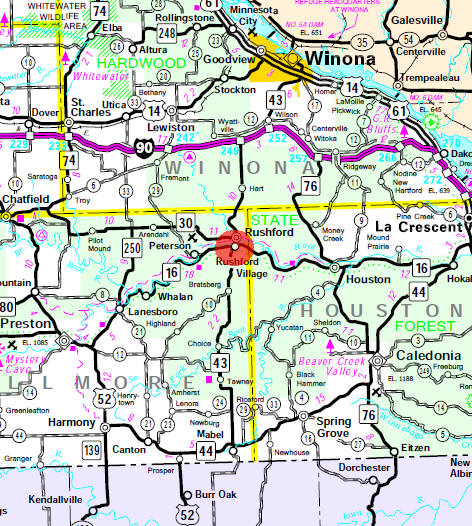 Minnesota State Highway Map of the Rushford Village Minnesota area
---
Events:
---
Attractions:
---
Recreation:
---
Lakes:
---
Health Care:
---
Schools:
---
Churches:
---
Media:
---
Motels:
Check for motel rates and availability on:
---
Resorts:
---
Campgrounds:
---
Businesses:
---
Aerial Photo:
---
Topographic Map: [click map to enlarge, zoom in or zoom out]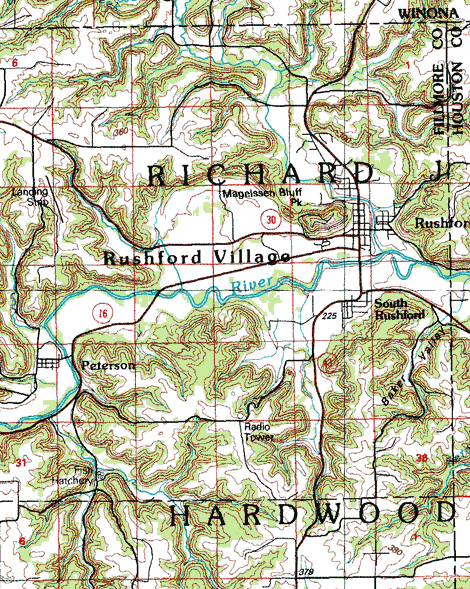 Topographic map is courtesy of the Minnesota DNR - click map to zoom or enlarge