Navigation
LakesnWoods.com
Home Page
Shopping
Coupons
Contact Us
Privacy

Sauk Rapids Guide:
Photo Gallery
Location
Geography
Demographics
History
Government
Post Office
News
Weather
Street Map
Events
Attractions
Recreation
Lakes
Health Care
Schools
Churches
Media
Motels
Resorts
Campgrounds
Businesses
Aerial Photo
Topographic Map
© 2004-2018 Lakeweb1 Internet Services
All Rights Reserved
WANTED!
Do you have photos, historical accounts or other items pertaining to the Sauk Rapids area? Would you like to share this historical information with the world? LakesnWoods.com would like to publish your Sauk Rapids photos (current or historical) or historical accounts on this website. Original materials can be returned and your privacy will be respected.


(design available on over 100 different items!)

Sauk Rapids Minnesota Community Guide
---
Location:
---
Population:
Sauk Rapids (city)
1970
1980
1990
2000
2010
2000-2010 Change
Actual
Percent
Population
5,051
5,793
7,825
10,213
12,773
+2,560
+25.07
Land Area (sq. mile)
0.00
2.84
3.21
4.57
4.57
0
0.00
Density (persons per sq. mile)
--
2,039.8
2,437.7
2,234.1
2,795.0
+560.87
+25.07
Housing Units
1,462
2,014
2,997
4,017
5,219
+1,002
+24.94
Households
--
1,943
2,875
3,921
4,960
+1,039
+26.50
Persons Per Household
--
2.88
2.64
2.53
2.58
+0.05
+1.98
---
Geography:
Sauk Rapids is a city in Benton County, Minnesota. According to the United States Census Bureau, the city has a total area of 4.8 square miles (12.5 km˛), of which, 4.6 square miles (11.8 km˛) of it is land and 0.2 square miles (0.6 km˛) of it (4.99%) is water.
U.S. Route 10 and Minnesota State Highway 15 are two of the main routes in Sauk Rapids. Other nearby routes include Interstate 94, Minnesota State Highway 23, and County 75. Sauk Rapids is immediately north of the city of St. Cloud.
From Wikipedia, the free encyclopedia.
---
Demographics:
As of the census of 2000, there were 10,213 people, 3,921 households, and 2,599 families residing in the city. The population density was 2,234.1 people per square mile (862.9/km˛). There were 4,017 housing units at an average density of 878.7/sq mi (339.4/km˛). The racial makeup of the city was 97.11% White, 0.57% African American, 0.31% Native American, 0.78% Asian, 0.04% Pacific Islander, 0.23% from other races, and 0.96% from two or more races. Hispanic or Latino of any race were 1.08% of the population.
There were 3,921 households out of which 37.9% had children under the age of 18 living with them, 52.1% were married couples living together, 10.9% had a female householder with no husband present, and 33.7% were non-families. 26.2% of all households were made up of individuals and 10.3% had someone living alone who was 65 years of age or older. The average household size was 2.53 and the average family size was 3.09.
In the city the population was spread out with 28.1% under the age of 18, 9.6% from 18 to 24, 33.4% from 25 to 44, 17.8% from 45 to 64, and 11.2% who were 65 years of age or older. The median age was 32 years. For every 100 females there were 91.5 males. For every 100 females age 18 and over, there were 86.1 males.
The median income for a household in the city was $45,857, and the median income for a family was $53,938. Males had a median income of $36,074 versus $24,657 for females. The per capita income for the city was $19,510. About 2.8% of families and 4.9% of the population were below the poverty line, including 4.5% of those under age 18 and 10.2% of those age 65 or over.
---
History:
SAUK RAPIDS Township was organized in 1854, and the village was platted in that year but was not separately organized until 1881. The village was known as Washington in 1850 when J. C. Ramsey and Henry Jackson laid out a townsite at the foot of the Sauk Rapids; it had a station of the Northern Pacific and Great Northern Railroads in section 23, two flour mills, a cheese factory, a brewery, several hotels, a number of general and specialty stores, and two weekly newspapers. This village was the county seat from the organization of the county in 1850 until 1902, when the county offices were removed to Foley, as before noted. The village separated from the township in 1927. Sauk Rapids derived its name from the adjoining rapids of the Mississippi, called Grand Rapids by Zebulon Pike in 1805 and mapped by him as Big Falls, falling about 20 feet in the first mile below the mouth of the Sauk River, mapped by Pike as Sack River, which comes in from Stearns County.
Courtesy Minnesota Historical Society
---
Government:
Sauk Rapids City Hall
115 2nd Avenue N
Sauk Rapids, MN 56379
Phone: (320) 258-5300
Fax: (320) 258-5359
Web: www.ci.sauk-rapids.mn.us

The Sauk Rapids City Council meets at 6:00pm on the 2nd and the 4th Monday of every month in the Sauk Rapids City Hall Council Chambers located at 115 2nd Avenue North.

Mayor
Mark Campbell
914 Arbor Way
Sauk Rapids MN 56379
(320) 654-0756
Administrator
Ross Olson
115 2nd Avenue N
Sauk Rapids MN 56379
(320) 258-5302
Council Member
Paul Weber
109 4th Ave N
Sauk Rapids MN 56379
(320) 258-3035
Council Member
David Saunders
801 Wildflower Lane
Sauk Rapids MN 56379
(320) 267-3296
Council Member
Jared Gapinski
1202 Hillside Road
Sauk Rapids MN 56379
(320) 248-7777
Council Member
Brad Gunderson
2611 Ocarina Drive
Sauk Rapids MN 56379
(320) 259-0592
---
Post Office:
US Post Office
1239 2nd Street N
Sauk Rapids, MN 56379
Phone: (320) 251-4865
Toll Free: (800) ASK-USPS
Web: www.usps.com

Regular Business Hours:
Week Days 8:30 am - 5:00 pm
Saturday 9:00 am - 11:00 am
Latest Collection at Post Office:
Week Days 5:15 pm
Saturday 4:45 pm
---
Utilities:
---
Major Employers:
| | | |
| --- | --- | --- |
| Employer | Products/Services | Employees |
| Bauerly Brothers | Highway, Street & Bridge Construction | 721 |
| Sauk Rapids Schools-ISD #47 | Elementary & Secondary Schools | 425 |
| Stearns Manufacturing Co | Sporting Goods, Hobby, & Musical Instrument Stores | 331 |
| Komo Machine Inc | Machine Shops;Turned Prod.;& Screw,Nut & Bolt Mfg. | 197 |
| X-Cel Optical Co | Commercial & Service Industry Machinery Mfg. | 186 |
| Custom Eyes | Commercial & Service Industry Machinery Mfg. | 142 |
| Trimpac Inc | Other Wood Product Manufacturing | 110 |
| CSI Ltd | Sporting Goods, Hobby, & Musical Instrument Stores | 97 |
| Crystal Cabinet Works Inc. | House. & Inst. Furniture & Kitchen Cabinet Mfg. | 96 |
| Huisken Meats | Animal Slaughtering & Processing | 72 |
| C&L Distributing Inc | Beer, Wine, & Distilled Alcoh. Bev. Merchant Wholesalers | 53 |
| Custom Caseworks Inc | Building Finishing Contractors | 32 |
| WF Scarince Inc | Comm. & Indus. Mach.& Equip. (exc. Auto & Elec) Rep. & Maint. | 29 |
| Ron's Cabinets Inc | House. & Inst. Furniture & Kitchen Cabinet Mfg. | 28 |
---
---
News:
---
Weather:
---
Map: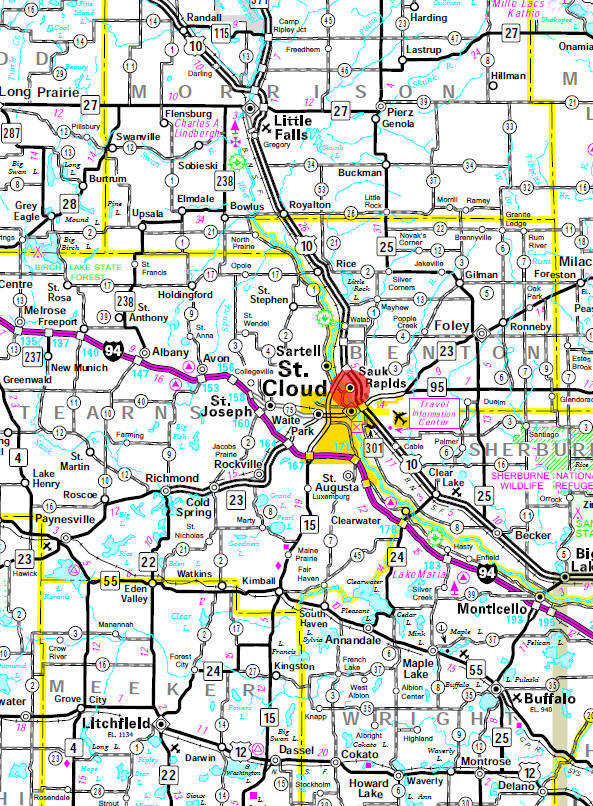 Minnesota State Highway Map of the Sauk Rapids Minnesota area
---
Events:
---
---
Attractions:
Benton County Historical Society and Museum
218 1st Street N
Sauk Rapids, MN 56379
Phone: (320) 253-9614
Web: www.rootsweb.ancestry.com/~mnbchsm

A hands-on museum, depicting the story of the development of Benton County, through artifacts, pictures and printed materials. Open year round. Great resource for genealogy and historic events for the area. Open Monday through Friday, 10:00am to 4:00pm
---
Recreation:
Wapicada Golf Club
4498 15th Street NE
Sauk Rapids, MN 56379
Phone: (320) 251-7804
---
Lakes:
Lake Name
Size
(acres)
Lake info
Lake Map
Rec Map
Topo Map

none in the immediate area
---
Health Care:
---
Schools:
---
Churches:
Annunciation Mayhew Lake Church
9965 Mayhew Lake Road NE
Sauk Rapids, MN 56379
Phone: (320) 252-1729
Web: www.cloudnet.com/~annunciation

Pastor: Rev. Tim Wenzel
Saturday Mass: 5:00pm
Sunday Mass: 8:30am

Bridge Community Church
1702 W Highview Drive
Sauk Rapids, MN 56379
Phone: (320) 252-2960

Pastor:
Sunday Worship:

Countryside Christian Center
1970 15th Street NE
Sauk Rapids, MN
Phone: (320) 252-0325

Pastor:
Saturday Worship: 9:45 am

Good Shepherd Community
307 11th Street N
Sauk Rapids, MN 56379
Phone: (320) 252-6525

Pastor:
Sunday Worship:

Harvest Fellowship
400 2nd Avenue N
Sauk Rapids, MN 56379
Phone: (320) 529-8838
Fax: (320) 230-2771
Web: www.harvestmn.com

Pastor: Jason Neal
Sunday Worship: 9:00 am and 10:30 am

Living Waters Lutheran Church
1911 4th Avenue N
Sauk Rapids, MN 56379
Phone: (320) 255-1135

Pastor:
Sunday Worship:

Petra Evangelical Lutheran Church
1049 1st Avenue N
Sauk Rapids, MN 56379
Phone: (320) 252-0120

Pastor:
Sunday Worship:

Sacred Heart Church Parish
2875 10th Avenue NE
Sauk Rapids, MN 56379
Phone: (320) 251-8115

Pastor:
Sunday Worship:

St. John's Lutheran Church
6855 Golden Spike Road NE
Sauk Rapids, MN 56379
Phone: (320) 387-2433

Pastor:
Sunday Worship:

St. Patricks Parish
7286 Duelm Road NE
Sauk Rapids, MN 56379
Phone: (320) 252-2069

Pastor:
Sunday Worship:

Trinity Lutheran Church
2163 Mayhew Lake Road NE
Sauk Rapids, MN 56379
Phone: (320) 252-3670
Web: www.trinitysr.org

Pastor: Rev. Paul Cloeter
Sunday Worship: 8:00 am and 10:30 am
---
Media:
Newspapers

Sauk Rapids Herald
7 2nd Avenue S
Sauk Rapids, MN 56379
Phone: (320) 251-1971
Daily
St. Cloud Times
3000 7th Street N
PO Box 768
St. Cloud, MN 56302
Phone: (320) 255-8700
Fax: (320) 255-8775
Web: www.sctimes.com

Radio

660
WBHR-AM - "660 The Bear"
1010 2nd Street N
PO Box 366
Sauk Rapids, MN 56379
Phone: (320) 257-6403
Web: www.660wbhr.com
Power: Day: 10,000 watts Night: 500 watts
800
WVAL-AM - "Minnesota's Country Legend"
1010 2nd Street S
PO Box 366
Sauk Rapids, MN 56379
Phone: (320) 252-6200
Fax: (320) 252-9367
Web: www.800wval.com
Power: Day: 2,600 watts Night: 850 watts
1010
WMIN-AM - "Uptown 1010"
Sauk Rapids, MN

Web: www.wmin1010.com

Power: Day: 1,700 watts Night: 240 watts

1180
KYES-AM - "Relevant Radio"
PO Box 547
Sauk Rapids, MN 56379
Phone: (320) 257-9669
Toll Free: (877) 280-1188
Web: www.kyesradio.com
Power: Day: 50,000 watts Night: 5,000 watts
1240
WJON-AM - "Information Radio"
640 SE Lincoln Avenue
St. Cloud, MN 56304
Studio line: (320) 252-5852
Business line: (320) 251-4422
Web: www.wjon.com
Power: Day: 1,000 watts Night: 1,000 watts
1390
KXSS-AM - "The Fan"
1986 Julep Road
St. Cloud, MN 56301
Phone: (320) 251-4422
Fax: (320) 251-1855
Web: www.1390thefan.com
Power: Day: 2,500 watts Night: 1,000 watts
1450
KNSI-AM - "NewsTalk 1450"
619 St. Germain Street
St. Cloud MN 56301-3640
Phone: (320) 251-1450
Fax: (320) 251-8952
Web: www.1450knsi.com
Power: Day: watts Night: watts

KNSI has a variety of news and talk programming dealing with news, current events, politics, sports, and more. Its signature live and local show is Hot Talk which airs weekday mornings. KNSI also airs many syndicated talk show hosts such as Rush Limbaugh, Laura Ingraham, George Noory and Michael Savage.

88.1
KVSC-FM - "Your Sound Alternative"
720 Fourth Avenue S
27 Stewart Hall, SCSU
Saint Cloud, MN 56301-4498
Phone: (320) 308-5872
Fax: (320) 308-5337
Web: www.kvsc.org
Power: 16,500 watts
88.9
KNSR-FM - "MPR News"
PO Box 7011
Collegeville, MN 56321
Phone: (320) 363-7702
Fax: (320) 363-4948
Web: http://minnesota.publicradio.org/radio/stations/knsrksjr
Power: 100,000 watts
89.5
K208DV (translator)
KLRD-FM - "Air 1 Radio"
1425 N Market Blvd.
Sacramento, CA 95834
Phone: (503) 543-9700
Fax: (503) 543-9750
Web: www.air1.com
Power: 62 watts
90.1
KSJR-FM - "MPR Classical"
PO Box 7011
Collegeville, MN 56321
Phone: (320) 363-7702
Fax: (320) 363-4948
Web: http://minnesota.publicradio.org/radio/stations/knsrksjr
Power: 100,000 watts
91.5
KCFB-FM - "Minnesota Christian Broadcasters"
PO Box 409
Pequot Lakes, MN 56472
Phone: (320) 252-4214
Fax: (320) 252-2027
Web: www.ktig.org
Power: 15,000 watts
92.9
KKJM-FM - "Family Friendly"
1310 2nd Street N
PO Box 547
Sauk Rapids, MN 56379
Studio line: (320) 257-0929
Office Line: (320) 251-1780
Fax: (320) 257-1624
Web: www.spirit929.com
Power: 25,000 watts
94.9
KMXK-FM - "Mix 94.9"
640 SE Lincoln Avenue
St. Cloud, MN 56304
Studio line: (320) 251-KMXK (5695)
Office line: (320) 251-4422
Web: www.mix949.com
Power: 50,000 watts
96.7
KZRV-FM - "Modern Rock Revolution"
640 SE Lincoln Avenue
St. Cloud, MN 56304
Studio line: (320) 258-3REV (3738)
Office line: (320) 251-4422
Web: www.rev967.com
Power: 50,000 watts
98.1
WWJO-FM - "98 Country"
640 SE Lincoln Avenue
St. Cloud, MN 56304
Studio line: (320) 252-9897
Office line: (320) 251-4422
Web: www.98country.com
Power: 97,000 watts
98.9
KZPK-FM - "Wild Country 99"
619 W. St. Germain Street
St. Cloud, MN 56302
Office Line: (320) 251-1450
Fax: (320) 251-8952
Web: www.wildcountry99.com
Power: 47,000 watts
99.9
KCML-FM - "Lite Rock 99.9"
619 W. St. Germain Street
St. Cloud, MN 56301-3640
Studio Line: (320) 259-LITE
Office Line: (320) 251-1450
Fax: (320) 251-8952
Web: www.lite999.com
Power: 2,900 watts
101.7
WHMH-FM - "Rockin' 101"
1010 2nd Street North

Sauk Rapids, MN 56379
Request: (320) 252-6201
Toll Free: (866) 252-6201
Business Line: (320) 252-6200
Fax: (320) 252-9367
Web: www.rockin101.com
Power: 50,000 watts

103.7
KLZZ-FM - "The Loon"
640 SE Lincoln Avenue
St. Cloud, MN 56304
Studio line: (320) 257-1037
Office line: (320) 251-4422
Web: www.1037theloon.com
Power: 9,000 watts
104.7
KCLD-FM - "Today's Hit Music"
619 W St. Germain Street
St. Cloud, MN 56302
Studio Line: (320) 251-1047
Business Line: (320) 251-1450
Fax: (320)

251-8952


Web: www.1047kcld.com
Power: 100,000 watts

Television

2
4
WCCO-TV - CBS
90 S 11th Street
Minneapolis, MN 55403
Phone: (612) 339-4444
Toll Free: (800) 444-WCCO
Web: www.wcco.com
5
KSTP-TV - ABC
3415 University Avenue
St. Paul, MN 55114
Phone: (651) 646-5555
Fax: (651) 642-4409
Web: www.kstp.com
7
KCCO-TV - CBS
Simulcasts WCCO-TV
90 S 11th Street
Minneapolis, MN 55403
Phone: (612) 339-4444
Toll Free: (800) 444-WCCO
Web: www.wcco.com
9
KMSP-TV - Fox
11358 Viking Drive
Eden Prairie, MN 55347
Phone:

(952) 944-9999


Web: www.myfox9.com

11
KARE-TV - NBC
8811 Olson Memorial Highway
Minneapolis, MN 55427
Phone:

(763) 546-1111


Web: www.kare11.com

11.1 KARE-TV
11.2 KARE WX Now

13
WCMN- TV - A1( analog)
19
K19BG - TBN (analog)
Web: www.tbn.org

TBN is the world's largest religious network and America's most watched faith channel. TBN offers 24 hours of commercial-free inspirational programming that appeal to people in a wide variety of Protestant, Catholic and Messianic Jewish denominations.

23
WUCW-TV - CW
1640 Como Avenue
St. Paul, MN 55108
Phone: (651) 646-2300
Fax: (651) 646-1220
Web: www.thecwtc.com
29
WFTC-TV - My TV
11358 Viking Drive
Eden Prairie, MN 55347
Phone: (612) 379-2900
Web: www.my29tv.com
30
KTCJ-TV - GCN
Web: www.gcntv.org

GCN, the Global Christian Network, is a 501(c)3 non-profit organization. It was founded by a group of international visionaries who wanted to see the gospel broadcast around the world in the richness of diverse cultures, through the creation of innovative television programs. After joining in a covenant relationship, this group pooled their resources, and created a satellite network with an international flair unlike any other.

41
KPXM-TV - Ion
22601 176th Street NW
Big Lake, MN 55309
Phone: (763) 263-8666

41.1 Ion
41.2 qubo
41.3 ION Life
41.4 The Worship Network

45
KSTC-TV - Independent
3415 University Avenue
St. Paul, MN 55114
Phone: (651) 645-4500
Web: www.kstc45.com
---
Motels:
Check for motel rates and availability on:
---
Resorts:
---
Campgrounds:
---
Businesses:
---
Aerial Photo: [click photo to enlarge, zoom in or zoom out]
---
Topographic Map: [click map to enlarge, zoom in or zoom out]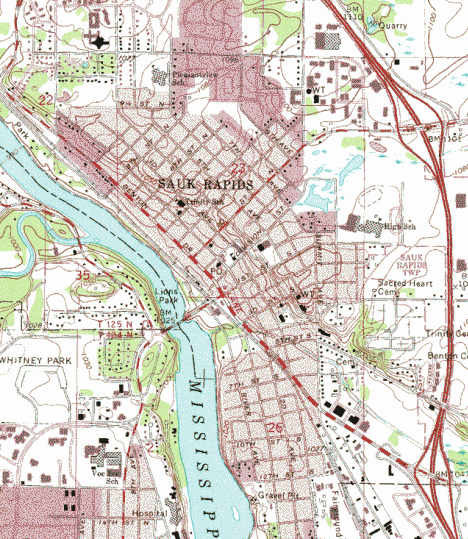 Topographic map is courtesy of the Minnesota DNR - click map to zoom or enlarge