Navigation
LakesnWoods.com
Home Page
Shopping
Coupons
Contact Us
Privacy

Slayton Guide:
Photo Gallery
Location
Geography
Demographics
History
Government
Post Office
News
Weather
Street Map
Events
Attractions
Recreation
Lakes
Health Care
Schools
Churches
Media
Motels
Resorts
Campgrounds
Businesses
Aerial Photo
Topographic Map
© 2004-2017 Lakeweb1 Internet Services
All Rights Reserved
WANTED!
Do you have photos, historical accounts or other items pertaining to the Slayton area? Would you like to share this historical information with the world? LakesnWoods.com would like to publish your Slayton photos (current or historical) or historical accounts on this website. Original materials can be returned and your privacy will be respected.

Slayton Minnesota Community Guide
---
Location:
---
Population:
Slayton (city)
1970
1980
1990
2000
2010
2000-2010 Change
Actual
Percent
Population
2,351
2,420
2,147
2,072
2,153
+81
+3.91
Land Area (sq. mile)
1.00
1.28
1.71
1.78
1.78
0
0.00
Density (persons per sq. mile)
2,351.0
1,890.6
1,255.6
1,163.3
1,209.6
+46.28
+3.91
Housing Units
817
1,020
1,039
1,022
1,048
+26
+2.54
Households
--
965
953
914
946
+32
+3.50
Persons Per Household
--
2.42
2.17
2.18
2.28
+0.10
+4.59
---
Geography:
Slayton is a city in and the county seat of Murray County, Minnesota. U.S. Route 59 and Minnesota State Highway 30 are two of the main routes in the city. According to the United States Census Bureau, the city has a total area of 1.8 square miles (4.6 km˛), all of it land. The elevation is 1,601 ft (488 m) above sea level.
From Wikipedia, the free encyclopedia.
---
Demographics:
As of the census of 2000, there were 2,072 people, 914 households, and 556 families residing in the city. The population density was 1,163.3 people per square mile (449.4/km˛). There were 1,022 housing units at an average density of 573.8/sq mi (221.7/km˛). The racial makeup of the city was 99.03% White, 0.14% African American, 0.05% Native American, 0.39% Asian, and 0.39% from two or more races. Hispanic or Latino of any race were 0.34% of the population.
There were 914 households out of which 24.9% had children under the age of 18 living with them, 52.5% were married couples living together, 6.3% had a female householder with no husband present, and 39.1% were non-families. 35.7% of all households were made up of individuals and 23.6% had someone living alone who was 65 years of age or older. The average household size was 2.18 and the average family size was 2.81.
In the city the population was spread out with 22.2% under the age of 18, 6.2% from 18 to 24, 21.7% from 25 to 44, 20.6% from 45 to 64, and 29.2% who were 65 years of age or older. The median age was 45 years. For every 100 females there were 82.7 males. For every 100 females age 18 and over, there were 78.2 males.
The median income for a household in the city was $36,500, and the median income for a family was $43,935. Males had a median income of $30,444 versus $19,830 for females. The per capita income for the city was $17,395. About 4.5% of families and 8.7% of the population were below the poverty line, including 7.8% of those under age 18 and 13.1% of those age 65 or over.
---
History:
SLAYTON Township, organized July 20, 1872, was then called Center (or Centre, as in the 1874 Andreas atlas) for its central position in the county; but in 1882, a year after Slayton railway village was platted, the township was thus renamed in honor of Charles W. Slayton, its founder and chief proprietor. He was a real estate dealer, lived in this village about two years, 1881-82, removed afterward to New Mexico, but returned to Minnesota and lived in St. Paul several years. The county seat was removed from Currie to Slayton by a vote of the county, June 11, 1889. The city in section 15 was incorporated on February 26, 1883, and reincorporated on September 30, 1918; it had a station on the Chicago, St. Paul, Minneapolis and Omaha Railroad, and the post office was established in 1881.
Courtesy Minnesota Historical Society
---
Government:
Slayton City Hall
2424 26th Street
Slayton, MN 56172
Phone: (507) 836-8534
Fax: (507) 836-6301
Web: http://slayton.govoffice.com/
Mayor
Chuck Ludolph
n/a
City Administrator
Cathy Magnus
(507) 836-8534
Council Member
Miron Carney
n/a
Council Member
Chris Jacobson
n/a
Council Member
Dean Streff
n/a
Council Member
Lee Lokker
n/a
---
Post Office:
US Post Office
2541 Broadway Avenue
Slayton, MN 56172-1337
Phone: (507) 836-6890
Toll Free: (800) ASK-USPS
Fax: (507) 836-6853
Web: www.usps.com

Regular Business Hours:
Week Days 8:30 am - 4:30 pm
Saturday 8:30 am - 10:00 am
Latest Collection at Post Office:
Week Days 5:00 pm
Saturday 5:00 pm
---
---
Utilities:
| | | |
| --- | --- | --- |
| Utility Type | Utility Name | Utility Phone |
| Electricity | Xcel Energy | (612) 330-5834 |
| Natural Gas | Northwest Natural Gas | (320) 679-1611 |
| Wastewater | Slayton Municipal | (507) 835-6940 |
| Water | Slayton Municipal | (507) 835-6940 |
| Telephone | Frontier Communications | (800) 435-1504 |
| Cable TV | Triax | (800) 332-0245 |
---
Major Employers:
| | | |
| --- | --- | --- |
| Employer | Products/Services | Employees |
| Murray County Public Schools | Elementary & Secondary Schools | 160 |
| Murray County Hospital | General Medical & Surgical Hospitals | 88 |
| Slayton Manor Care Center | Nursing Care Facilities | 80 |
| Murray County Courthouse | Justice, Public Order, & Safety Activities | 79 |
| Finley Engineering | Architectural, Engineering, & Related Services | 60 |
| Rupp Industries Inc | Highway, Street & Bridge Construction | 59 |
| Murray County Developmental Achieve | Comm. Food & Hsg. & Emerg. & Other Relief Svcs. | 45 |
| Murray County St Bk | Depository Credit Intermediation | 30 |
| United Parcel Service | Couriers | 29 |
| Center For Regional Development | Admin. of Economic Programs | 23 |
| Page 1 Printers | Printing & Related Support Activities | 21 |
| Prairie View | Outpatient Care Centers | 21 |
| Sam's Super Value | Grocery Stores | 19 |
| United Prairie Bk Slayton | Depository Credit Intermediation | 18 |
---
---
News:
---
Weather:
---
Map: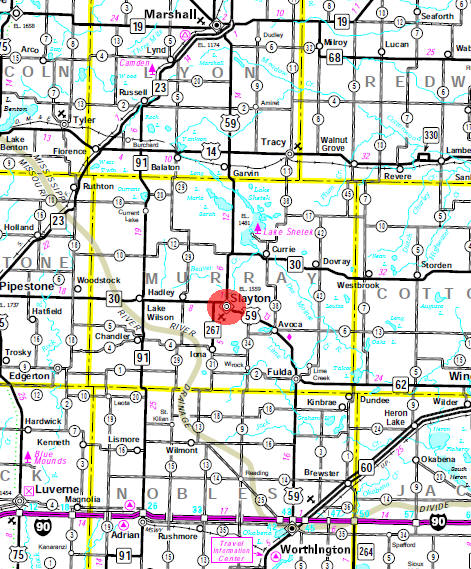 Minnesota State Highway Map of the Slayton Minnesota area
---
Events:
---
Attractions:
---
Recreation:
---
Lakes:
---
Health Care:
---
Schools:
---
Churches:
---
Media:
---
Motels:
Check for motel rates and availability on:
---
Resorts:
---
Campgrounds:
---
Businesses:
23rd Street Saloon
2420 23rd Street
Slayton, MN 56172
Phone: (507) 836-8059
A & B Business Inc.
2635 Broadway
Slayton, MN 56172
Phone: (507) 836-6667
Action Realty
2601 20th Street
Slayton, MN 56172
Phone: (507) 836-1011
---
Aerial Photo:
---
Topographic Map: [click map to enlarge, zoom in or zoom out]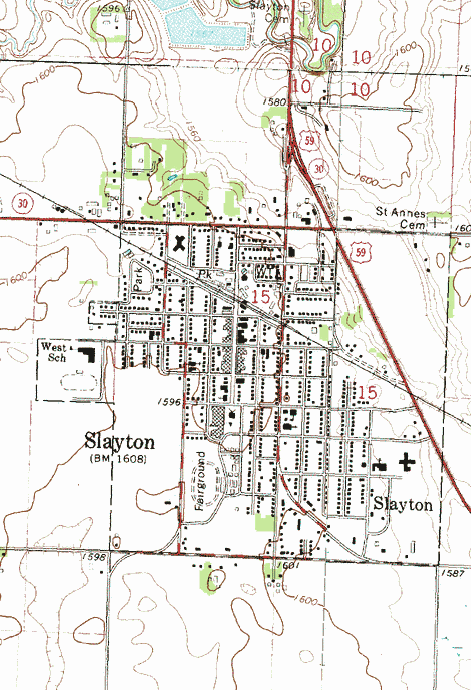 Topographic map is courtesy of the Minnesota DNR - click map to zoom or enlarge