Navigation
LakesnWoods.com
Home Page
Shopping
Coupons
Contact Us
Privacy

St. Hilaire Guide:
Photo Gallery
Location
Geography
Demographics
History
Government
Post Office
News
Weather
Street Map
Events
Attractions
Recreation
Lakes
Health Care
Schools
Churches
Media
Motels
Resorts
Campgrounds
Businesses
Aerial Photo
Topographic Map
© 2004-2018 Lakeweb1 Internet Services
All Rights Reserved
WANTED!
Do you have photos, historical accounts or other items pertaining to the St. Hilaire area? Would you like to share this historical information with the world? LakesnWoods.com would like to publish your St. Hilaire photos (current or historical) or historical accounts on this website. Original materials can be returned and your privacy will be respected.

St. Hilaire Minnesota Community Guide
---
Location:
---
Population:
St. Hilaire (city)
1970
1980
1990
2000
2010
2000-2010 Change
Actual
Percent
Population
337
388
298
272
279
+7
+2.57
Land Area (sq. mile)
1.90
0.72
0.77
0.77
0.77
0
0.00
Density (persons per sq. mile)
177.37
538.89
387.01
353.95
362.34
+8.39
+2.57
Housing Units
95
147
130
127
131
+4
+3.15
Households
--
129
116
121
123
+2
+1.65
Persons Per Household
--
3.01
2.57
2.25
2.27
+0.02
+0.89
---
Geography:
St. Hilaire is a city in section 6 of River Falls Township in Pennington County, Minnesota. According to the United States Census Bureau, the city has a total area of 0.8 square miles (2.2 km˛), of which, 0.8 square miles (2.0 km˛) of it is land and 0.1 square miles (0.2 km˛) of it (8.33%) is water. The elevation is 1,089 ft (332 m) above sea level.
From Wikipedia, the free encyclopedia.
---
Demographics:
As of the census of 2000, there were 272 people, 121 households, and 68 families residing in the city. The population density was 136.4/km˛ (354.0/mi˛). There were 127 housing units at an average density of 63.7/km˛ (165.3/mi˛). The racial makeup of the city was 98.53% White, and 1.47% from two or more races.
There were 121 households out of which 32.2% had children under the age of 18 living with them, 36.4% were married couples living together, 13.2% had a female householder with no husband present, and 43.0% were non-families. 33.9% of all households were made up of individuals and 8.3% had someone living alone who was 65 years of age or older. The average household size was 2.25 and the average family size was 2.88.
In the city the population was spread out with 26.5% under the age of 18, 11.8% from 18 to 24, 30.5% from 25 to 44, 23.5% from 45 to 64, and 7.7% who were 65 years of age or older. The median age was 34 years. For every 100 females there were 106.1 males. For every 100 females age 18 and over, there were 98.0 males.
The median income for a household in the city was $26,250, and the median income for a family was $37,143. Males had a median income of $27,188 versus $19,583 for females. The per capita income for the city was $13,317. About 3.3% of families and 14.1% of the population were below the poverty line, including 3.2% of those under the age of eighteen and 40.0% of those sixty five or over.
---
History:
ST. HILAIRE, a city in section 6 of River Falls Township, on the west side of the Red Lake River in the northwest corner of River Falls, was platted in 1882 and incorporated as a village on July 4, 1883. It had a station of the Great Northern Railway; the former railway branch from Crookston to St. Hilaire began its regular train service on July 4, 1883. There are three versions of the city's naming: first, a Frenchman named St. Hilaire lived in a shack near the river, selling items like gunpowder and tobacco, and when an item was needed, residents would "go to St. Hilaire" for it, and the name stuck; second, in 1882, a Frenchman named Arthur Yvernault bought land on which the townsite was then platted and named it for his hometown in France; third, and most likely, it was named by Hon. Frank Ives for the French statesman and author Jules BarthTlemy-Saint-Hilaire, who was born in Paris, August 19, 1805, and died November 24, 1895. Ives was the postmaster when the post office began in 1882 while still part of Polk County.
Courtesy Minnesota Historical Society
---
Government:
St. Hilaire City Hall
302 N Broadway
PO Box 296
St. Hilaire, MN 56754
Phone: (218) 964-5257
Mayor
Larry Kruse
PO Box 296
St. Hilaire, MN 56754
(218) 964-5257
Clerk/Treasurer
Shannon Moen
PO Box 296
St. Hilaire, MN 56754
(218) 964-5257
Council Member
n/a
n/a
Council Member
n/a
n/a
Council Member
n/a
n/a
Council Member
n/a
n/a
---
Post Office:
US Post Office
302 N Broadway
St. Hilaire, MN 56754-9998
Phone: (218) 964-5240
Toll Free: (800) ASK-USPS
Web: www.usps.com

Regular Business Hours:
Week Days 8:00 am - 12:00 pm
1:00 pm - 4:30 pm
Saturday 8:30 am - 10:00 am
Latest Collection at Post Office:
Week Days 4:30 pm
Saturday 4:30 pm
---
---
Utilities:
| | | |
| --- | --- | --- |
| Utility Type | Utility Name | Utility Phone |
| Electricity | n/a | n/a |
| Natural Gas | n/a | n/a |
| Wastewater | n/a | n/a |
| Water | n/a | n/a |
| Telephone | n/a | n/a |
| Cable TV | n/a | n/a |
---
Major Employers:
Employer
Products/Services
Employees
n/a
---
---
News:
---
Weather:
---
Map: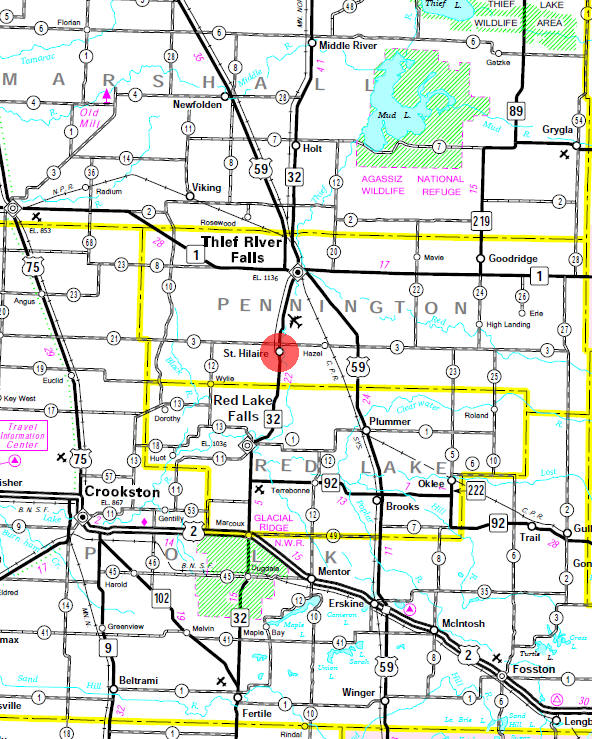 Minnesota State Highway Map of the St. Hilaire Minnesota area
---
Events:
---
Attractions:
---
Recreation:
---
Lakes:
Lake Name
Size
(acres)
Lake info
Lake Map
Rec Map
Topo Map

none in the immediate area
---
Health Care:
---
Schools:
---
Churches:
Calvary Lutheran Church
PO Box 8
St. Hilaire, MN 56754
Phone: (218)-964-5750
---
Media:
---
Motels:
Check for motel rates and availability on:
---
Resorts:
---
Campgrounds:
---
Businesses:
B & B Auto Recycling Inc
20 Baker Street
St. Hilaire, MN 56754
Phone: (218)-964-5321
Betty Kruse Upholstery
12470 Center Street E
St. Hilaire, MN 56754
Phone: (218)-964-5262
Bugge Repair Service
St. Hilaire, MN 56754
Phone: (218)-964-5278
Calvary Lutheran Church
PO Box 8
St. Hilaire, MN 56754
Phone: (218)-964-5750
Carpet Etc
310 N Broadway
St. Hilaire, MN 56754
Phone: (218)-964-5555
Carver Performance Inc
11184 State Highway 32 NE
St. Hilaire, MN 56754
Phone: (218)-964-5670
Country Girl
10075 State Highway 32 NE
St. Hilaire, MN 56754
Phone: (218)-964-5065
Five Star Flooring
102 Broadway Avenue N
St. Hilaire, MN 56754
Phone: (218)-964-5093
Geardrive Parts
10494 110th Street SW
St. Hilaire, MN 56754
Phone: (218)-964-5900
Get R Done Taxidermy
406 Main Street W
St. Hilaire, MN 56754
Phone: (218)-964-5874
Kruse Backhoe
103 Dakota Avenue N
St. Hilaire, MN 56754
Phone: (218)-964-5260
Kruse Inn
10075 State Highway 32 NE
St. Hilaire, MN 56754
Phone: (218)-964-5126
Northern Propane LLC
418 N Broadway
St. Hilaire, MN 56754
Phone: (218)-964-5020
Northwest Grain
16943 Center Street E
St. Hilaire, MN 56754
Phone: (218)-681-5280
Northwest Grain
315 N Broadway
St. Hilaire, MN 56754
Phone: (218)-964-5252
Penner Welding
515 Broadway Avenue N
St. Hilaire, MN 56754
Phone: (218)-964-5266
Pennington County Office
15122 120th Street NW
St. Hilaire, MN 56754
Phone: (218)-964-5578
Penny's Place
111 Minnesota Avenue N
St. Hilaire, MN 56754
Phone: (218)-964-5868
Senior Nutrition Program
217 Broadway Avenue S
St. Hilaire, MN 56754
Phone: (218)-964-5231
Sharon's Heavenly Truffles
215 S Broadway
St. Hilaire, MN 56754
Phone: (218)-964-5307
Skalsky Electric
12360 Center Street E
St. Hilaire, MN 56754
Phone: (218)-964-5720
Srnsky Welding
10785 110th St. SW
St. Hilaire, MN 56754
Phone: (218)-964-5211
St. Hilaire Activity Center
507 Water Avenue N
St. Hilaire, MN 56754
Phone: (218)-964-5710
St. Hilaire Ag Insurance
315 N Broadway
St. Hilaire, MN 56754
Phone: (218)-964-5252
St. Hilaire City Hall
302 N Broadway
St. Hilaire, MN 56754
Phone: (218)-964-5257
St. Hilaire Fire Hall
St. Hilaire, MN 56754
Phone: (218)-964-5280
St. Hilaire Liquor Store Bar
215 Broadway Avenue N
St. Hilaire, MN 56754
Phone: (218)-964-5220
St. Hilaire Seed Company
415 Highway 32 S
St. Hilaire, MN 56754
Phone: (218)-964-5407
St. Hilaire Supply Company
211 Broadway Avenue N
St. Hilaire, MN 56754
Phone: (218)-964-5222
Swenson Highland Partners
St. Hilaire, MN 56754
Phone: (218)-964-5517
US Post Office
302 N Broadway
St. Hilaire, MN 56754
Phone: (218)-964-5240
---
Aerial Photo:
---
Topographic Map: [click map to enlarge, zoom in or zoom out]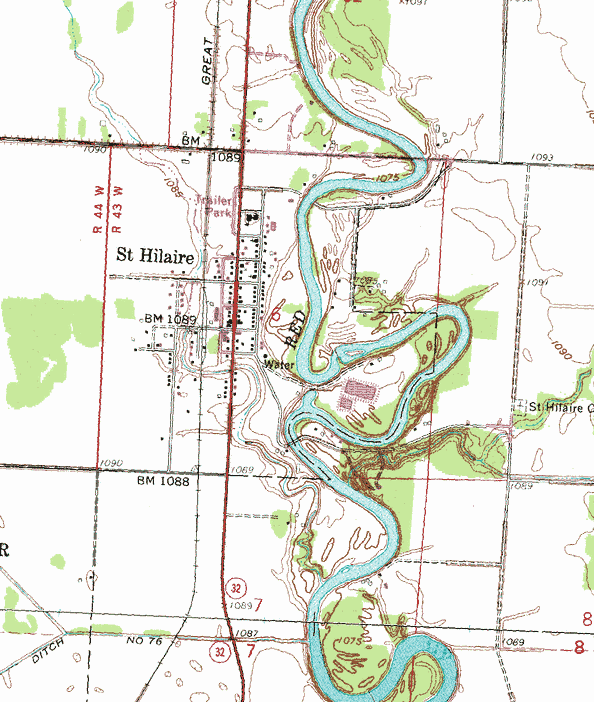 Topographic map is courtesy of the Minnesota DNR - click map to zoom or enlarge