Navigation
LakesnWoods.com
Home Page
Shopping
Coupons
Contact Us
Privacy
Minnesota Gift Guide

Walnut Grove Guide:
Photo Gallery
Location
Geography
Demographics
History
Government
Post Office
News
Weather
Street Map
Events
Attractions
Recreation
Lakes
Health Care
Schools
Churches
Media
Motels
Resorts
Campgrounds
Businesses
Aerial Photo
Topographic Map
© 2004-2019
Lakeweb1 Internet Services
All Rights Reserved
Defamation, Copyright and Trademark Infingement Policy
WANTED!
Do you have photos, historical accounts or other items pertaining to the Walnut Grove area? Would you like to share this historical information with the world? LakesnWoods.com would like to publish your Walnut Grove photos (current or historical) or historical accounts on this website. Original materials can be returned and your privacy will be respected.

Walnut Grove Minnesota Community Guide
---
Location:
Walnut Grove, MN is located in the Southwest corner of Redwood County, Minnesota. We are situated in a thriving agriculture area with plenty of recreational opportunities with many lakes, parks, golf courses, bike trails, camping, and museums. Walnut Grove is known nationwide today as the childhood home of Laura Ingalls Wilder and visitors can learn all about this famous author and her history here in Walnut Grove.
---
Population:
Walnut Grove (city)
1970
1980
1990
2000
2010
2000-2010 Change
Actual
Percent
Population
756
753
625
599
871
+272
+45.41
Land Area (sq. mile)
0.90
0.92
1.04
1.04
1.04
0
0.00
Density (persons per sq. mile)
840.0
818.5
601.0
577.7
837.5
+259.80
+44.97
Housing Units
321
369
361
341
367
+26
+7.62
Households
--
342
316
291
313
+22
+7.56
Persons Per Household
--
2.20
1.98
2.06
2.78
+0.72
+34.95
---
Geography:
Walnut Grove is a city in Redwood County, Minnesota lying along U.S. Route 14, which connects it with Tracy to the west and Revere to the east. According to the United States Census Bureau, the city has a total area of 1.0 square miles (2.7 km˛), all of it land. The elevation is 1,217 ft (371 m) above sea level.
From Wikipedia, the free encyclopedia.
---
Demographics:
As of the census of 2000, there were 599 people, 291 households, and 178 families residing in the city. The population density was 577.7 people per square mile (222.4/km˛). There were 341 housing units at an average density of 328.9/sq mi (126.6/km˛). The racial makeup of the city was 97.66% White, 0.67% African American, 0.17% Native American, 0.17% Asian, 1.17% Pacific Islander, and 0.17% from two or more races. Hispanic or Latino of any race were 0.17% of the population.
There were 291 households out of which 21.3% had children under the age of 18 living with them, 53.3% were married couples living together, 6.5% had a female householder with no husband present, and 38.8% were non-families. 36.4% of all households were made up of individuals and 22.7% had someone living alone who was 65 years of age or older. The average household size was 2.06 and the average family size was 2.67.
In the city the population was spread out with 19.4% under the age of 18, 6.5% from 18 to 24, 22.7% from 25 to 44, 22.7% from 45 to 64, and 28.7% who were 65 years of age or older. The median age was 46 years. For every 100 females there were 89.6 males. For every 100 females age 18 and over, there were 90.2 males.
The median income for a household in the city was $24,013, and the median income for a family was $34,167. Males had a median income of $24,750 versus $20,192 for females. The per capita income for the city was $15,637. About 5.0% of families and 9.6% of the population were below the poverty line, including 13.2% of those under age 18 and 10.1% of those age 65 or over.
---
History:
WALNUT GROVE, a city in North Hero and Springdale Townships, platted in April 1874, incorporated March 3, 1879, and separated from the townships on March 30, 1891, was named for a grove of about 100 acres, including many black walnut trees, on Plum Creek in the southeast corner of Springdale, from one to two miles southwest of this village. It is at the northern limit of the geographic range of this tree. The first postmaster, Lafayette Bedal, a native of Canada, built a shanty near the Chicago and North Western Railway right-of-way called Walnut Station in 1872 in what became North Hero Township, across the line from Springdale Township; Bedal's brother, Elias, transferred his grain-buying business from Eyota to the new settlement and filed the plat on September 10, 1874, naming it Walnut Grove. With Gustave Sunwall, Lafayette Bedal built a store, and when the village was incorporated in 1879, Bedal was the first president of its council; Charles Ingalls, father of Laura Ingalls Wilder, was elected the first justice. The post office was first called Walnut Station, 1873-81, and then became Walnut Grove.
Courtesy Minnesota Historical Society
---
Government:
Walnut Grove City Hall
311 6th Street
PO Box 335
Walnut Grove, MN 56180
Phone: (507) 859-2135
Fax: (507) 859-2202
Web: www.walnutgrovemn.org
Mayor
Greg Hansen
n/a
Clerk/Treasurer
Paula McGarvey
(507) 859-2135
Council Member
Leonard McLaughlin
n/a
Council Member
Jeff Harnack
n/a
Council Member
Todd Harrington
n/a
Council Member
Xiong Yang
n/a
---
Post Office:
US Post Office
610 Main Street
Walnut Grove, MN 56180-1136
Phone: (507) 859-2463
Toll Free: (800) ASK-USPS
Fax: (507) 859-3032
Web: www.usps.com

Regular Business Hours:
Week Days 9:00 am - 11:30 am
1:00 pm - 4:00 pm
Saturday 9:00 am - 9:30 am
Latest Collection at Post Office:
Week Days 4:15 pm
Saturday 5:00 pm
---
---
Utilities:
| | | |
| --- | --- | --- |
| Utility Type | Utility Name | Utility Phone |
| Electricity | Alliant Energy | (800) 255-4268 |
| Natural Gas | Minnesota Energy Resources Corp | (800) 889-9508 |
| Wastewater | People Service | (507) 859-2015 |
| Water | People Service | (507) 859-2015 |
| Telephone | Redwood County Telephone | (507) 641-8000 |
| Cable TV | Walnut Grove Cable TV | (507) 831-4938 |
---
Major Employers:
| | | |
| --- | --- | --- |
| Employer | Products/Services | Employees |
| Walnut Grove School | Elementary & Secondary Schools | 28 |
| Hoyt's Oil & Convenience Store | Convenience Stores | 10 |
| M&K Bridge Construction | Site Prep. Contractors | 7 |
| Bubai Foods | Supermarkets & Other Grocery (exc. Convenience) Stores | 5 |
| Country View Senior Living Community | Community Care Facilities for the Elderly | 5 |
| D&M Trucking & Repair | General Freight Trucking | 5 |
| Fond Memories | Gift, Novelty, & Souvenir Stores | 5 |
| Integrity Bank Plus | Comm. Banking | 5 |
| Walnut Grove Bar & Grill | Drinking Places (Alcoholic Beverages) | 5 |
| Koblegard Auto | Used Car Dealers | 4 |
| MeadowLand Farmers Co-op | Farm Prod. Warehousing & Storage | 4 |
| Nellie's Cafe | Limited-Service Restaurants | 4 |
| Oleson's Mercantile | Gift, Novelty, & Souvenir Stores | 4 |
| Benson & Sons | All Other Misc. Store Retailers (exc. Tobacco Stores) | 3 |
| Bruce's Service | General Auto Repair | 3 |
---
---
News:
---
Weather:
---
Map: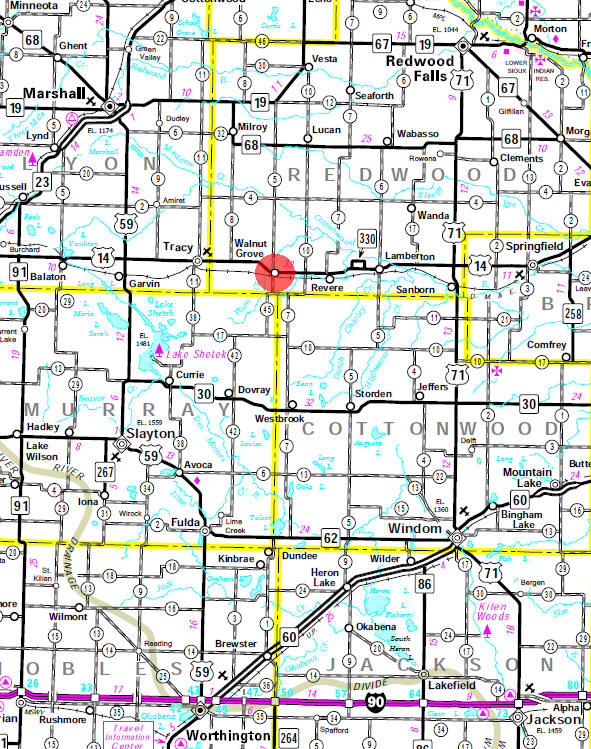 Minnesota State Highway Map of the Walnut Grove Minnesota area
---
Events:
---
---
Attractions:
---
Recreation:
---
Lakes:
---
Health Care:
---
Schools:
---
Churches:
---
Media:
---
Motels:
Check for motel rates and availability on:
---
Resorts:
---
Campgrounds:
---
Businesses:
---
Aerial Photo:
---
Topographic Map: [click map to enlarge, zoom in or zoom out]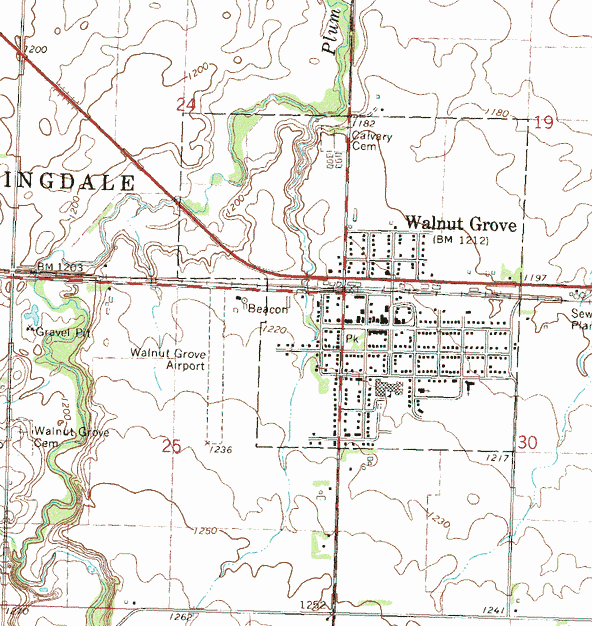 Topographic map is courtesy of the Minnesota DNR - click map to zoom or enlarge