Navigation
LakesnWoods.com
Home Page
Shopping
Coupons
Contact Us
Privacy
Minnesota Gift Guide

Winthrop Guide:
Photo Gallery
Location
Geography
Demographics
History
Government
Post Office
News
Weather
Street Map
Events
Attractions
Recreation
Lakes
Health Care
Schools
Churches
Media
Motels
Resorts
Campgrounds
Businesses
Aerial Photo
Topographic Map
© 2004-2019
Lakeweb1 Internet Services
All Rights Reserved
Defamation, Copyright and Trademark Infingement Policy
WANTED!
Do you have photos, historical accounts or other items pertaining to the Winthrop area? Would you like to share this historical information with the world? LakesnWoods.com would like to publish your Winthrop photos (current or historical) or historical accounts on this website. Original materials can be returned and your privacy will be respected.


(design available on over 100 different items!)

Winthrop Minnesota Community Guide
---
Location:

The City of Winthrop is located 80 miles west of Minneapolis. Winthrop is known for its flourishing agriculture industry, specializing in the production of corn and soybeans. It is home to Heartland Corn Products, a farmer-owned cooperative that has become one of the state's leaders in renewable ethanol production. Winthrop is also home to JB Lures, one of the largest fishing lure manufacturers.
---
Population:
Winthrop (city)
1970
1980
1990
2000
2010
2000-2010 Change
Actual
Percent
Population
1,391
1,376
1,279
1,367
1,399
+32
+2.34
Land Area (sq. mile)
0.80
0.71
0.83
1.05
1.05
0
0.00
Density (persons per sq. mile)
1,738.8
1,938.0
1,540.9
1,303.8
1,303.8
0
0.00
Housing Units
512
605
594
632
640
+8
+1.27
Households
--
576
553
591
574
-17
-2.88
Persons Per Household
--
2.28
2.22
2.22
2.44
+0.22
+9.91
---
Geography:
Winthrop is a city in Sibley County, Minnesota. Minnesota State Highways 15 and 19 are two of the main routes in the city. According to the United States Census Bureau, the city has a total area of 1.0 square miles (2.7 km˛), all of it land. The South Branch of the Rush River starts near Winthrop. The elevation is 1,037 feet above sea level.
From Wikipedia, the free encyclopedia.
---
Demographics:

As of the census[4] of 2000, there were 1,367 people, 591 households, and 346 families residing in the city. The population density was 1,303.8 people per square mile (502.7/km˛). There were 632 housing units at an average density of 602.8 per square mile (232.4/km˛). The racial makeup of the city was 93.71% White, 0.07% African American, 0.29% Native American, 0.15% Asian, 4.54% from other races, and 1.24% from two or more races. Hispanic or Latino of any race were 6.95% of the population. There were 591 households out of which 26.1% had children under the age of 18 living with them, 48.7% were married couples living together, 6.8% had a female householder with no husband present, and 41.3% were non-families. 38.7% of all households were made up of individuals and 21.5% had someone living alone who was 65 years of age or older. The average household size was 2.22 and the average family size was 2.96. In the city the population was spread out with 23.7% under the age of 18, 6.1% from 18 to 24, 23.3% from 25 to 44, 21.2% from 45 to 64, and 25.6% who were 65 years of age or older. The median age was 43 years. For every 100 females there were 88.3 males. For every 100 females age 18 and over, there were 83.6 males. The median income for a household in the city was $34,813, and the median income for a family was $47,159. Males had a median income of $31,149 versus $20,573 for females. The per capita income for the city was $18,188. About 3.5% of families and 6.1% of the population were below the poverty line, including 5.7% of those under age 18 and 8.2% of those age 65 or over.
---
History:
WINTHROP, a city in section 6 of Alfsborg Township and section 31 of Transit Township, incorporated as a village before 1891 and as a city in 1910, was named by officers of the Minneapolis and St. Louis Railroad. The post office was known as Eagle City, 1858-82, and was first located in Michael Cummings's halfway house and tavern, a stagecoach stop that accommodated travelers on the Old Fort Ridgely Road; the post office was moved in 1868 to Charles A. Swanson's in section 6 of Alfsborg Township, and moved again in 1870 to section 29 of Transit Township and Ole Olson's home until 1881. Eagle City was incorporated on May 19, 1857; when Winthrop requested a post office in 1882, Elford Andrew Campbell, then postmaster of Eagle City, moved that post office to Winthrop; Campbell owned a number of buildings, was agent for the land company, and operated a law firm. The townsite was platted on land owned by Erick and Brita Olson, who had homesteaded the land in 1869 and platted the site in 1881. The village had a station serving several rail lines including the Minneapolis and St. Louis Railroad.
Courtesy Minnesota Historical Society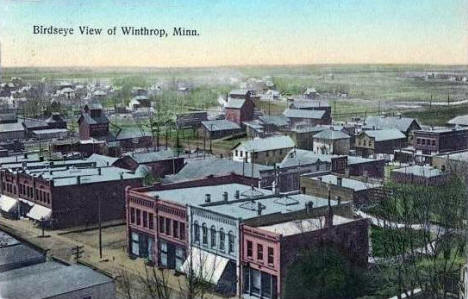 Birds eye view, Winthrop Minnesota, 1910's
LakesnWoods.com Postcard and Postcard Image Collection - click to enlarge
---
Government:
City of Winthrop
305 N Main Street
Post Office Box Y
Winthrop, MN 55396
Phone: (507) 647-5306
Fax: (507) 647-3200
Web: www.winthropminnesota.com

City Hall hours are Monday through Friday, 8:00 am - 5:00 pm, except for Federal holidays.

Title
Term Ends
Name and Address
Phone
Mayor
12/31/2012
Dave Trebelhorn
n/a
City Administrator
appointed
Mark Erickson
(507) 647-5306
Clerk/Treasurer
appointed
Jenny Hazelton
(507) 647-5306
Council Member
12/31/2012
Rob Edwards
n/a
Council Member
12/31/2012
Colleen Dietz
n/a
Council Member
12/31/2014
Pete Machaiek
n/a
Council Member
12/31/2014
Ed Pelletier
n/a
Council Member
12/31/2012
Lyle Muth
n/a
---
Post Office:
US Post Office
215 E 2nd Street
Winthrop, MN 55396-2390
Phone: (507) 647-5348
Toll Free: (800) ASK-USPS
Web: www.usps.com

Regular Business Hours:
Week Days 8:30 am - 11:30 am
12:30 pm - 4:00 pm
Saturday 8:45 am - 9:45 am
Latest Collection at Post Office:
Week Days 4:30 pm
Saturday 10:00 am
---
---
Utilities:
---
Major Employers:
| | | |
| --- | --- | --- |
| Employer | Products/Services | Employees |
| n/a | n/a | -- |
---
---
News:
---
Weather:
---
Map: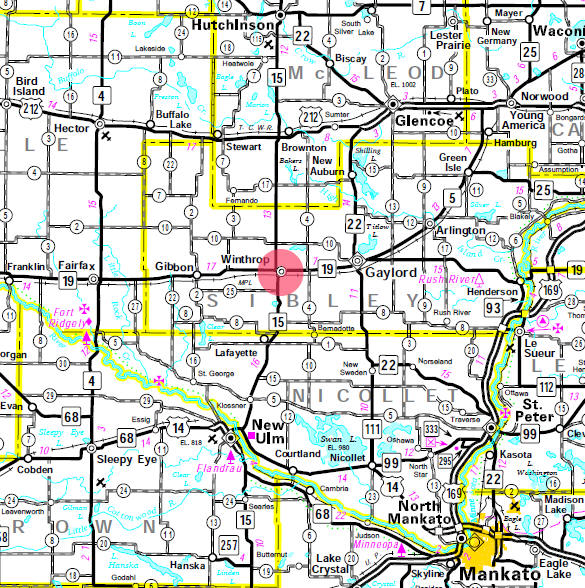 Minnesota State Highway Map of the Winthrop Minnesota area
---
Events:
---
---
Attractions:
---
Recreation:
Winthrop Golf Club
55155 300th Street
Winthrop, MN 55396
Phone: (507) 647-5828

The 9-hole "Winthrop" course at the Winthrop Golf Club facility in Winthrop, Minnesota features 2,912 yards of golf from the longest tees for a par of 36 . The course rating is 37.0 and it has a slope rating of 119. Winthrop golf course opened in 1930. Sara Giskaaf manages the course as the General Manager.
---
Lakes:
Lake Name
Size
(acres)
Lake info
Lake Map
Rec Map
Topo Map

none
---
Health Care:
Sibley Medical Center
223 N Carver Street
Winthrop, MN 55396
Phone: (507) 647-5318
Web: www.sibleymedical.org

The physicians and staff at Sibley Medical Center and clinics are dedicated to a sole purpose, and that is you. As you will see in exploring this site, we are committed to our mission of making a positive difference in the lives of those we serve and supporting healthier communities and lifestyles within Sibley County.

Winthrop Area Clinic
211 E 2nd Street
Winthrop, MN 55396
Phone: (507) 647-8000
Web: www.allina.com

The Winthrop Area Clinic is a full-service clinic with basic on-site lab and radiology capabilities. In addition to services provided on-site, we're backed by the services and specialties offered by New Ulm Medical Center and Allina Hospitals & Clinics.
---
Schools:
Gibbon Fairfax Winthrop Schools
323 E 11th Street
Gibbon, MN 55335
Phone: (507) 834-9813
Web: www.gfw.k12.mn.us

Grades: PK-12
Students: 754

The communities of Gibbon, Fairfax, and Winthrop began sharing educational resources in 1987 and established the GFW School District in 1992. Still remembering the proud heritage of America's heartland, the GFW Schools are renowned for extraordinary educational programs, unequaled by schools of any size. GFW is recognized as a regional model for community-based education. Site-based teams of parents, students, community members, and staff are charged with decision-making at each school. The K-4 Elementary School is located in Gibbon, the 5-8 Middle School at Fairfax, and the 9-12 High School in Winthrop. Over 800 students are served in a safe and secure environment.

GFW High School
Cottonwood Street
Winthrop, MN 55396
Phone: (507) 647-5382
Toll Free: (800) 324-GFWH

Grades: 9-12
Students: 256

GFW Middle School
300 SE 2nd Street
Fairfax, MN 55332
Phone: (507) 426-7251
Toll Free: (800) 324-GFWM

Grades: 5-8
Students: 222

GFW Elementary School
323 E 11th Street
Gibbon, MN 55335
Phone: (507) 834-6501
Toll Free (800) 324-GFWE

Grades: PK-4
Students: 276
---
Churches:
Faith United Church
202 E 4th Street
Winthrop, MN 55396
Phone: (507) 647-2393
Web: www.whatagreatchurch.org/faithunitedchurch

Pastor: Eric Haugen
Sunday Worship: 9:00 am

First Lutheran Church
213 N Hennepin Street
Winthrop, MN 55396
Phone: (507) 647-5642

Pastor: n/a
Sunday Worship: n/a

Peace Lutheran Church - ELCA
413 W 5th Street
Winthrop, MN 55396
Phone: (507) 647-5374
Web: www.lutheransonline.com

Pastor: Rev. Robert Miner
Sunday Worship: 9:00 am Traditional
10:15 am Contemporary ((June - Aug)
11:15 am Contemporary (Sept - May)


St. Francis Catholic Church
510 N Brown Street
Winthrop, MN 55396
Phone: (507) 647-5334

Pastor: Rev. Jeffrey P. Horejsi
Sunday Mass: n/a

Winthrop Covenant Church
107 W 3rd Street
Winthrop, MN 55396
Phone: (507) 647-5777
Web: www.wincov.org

Pastor: Kyle Kachelmeier
Sunday Worship: 9:30 am

Zion Lutheran Church - WELS
608 Highland Drive
PO Box C
Winthrop, MN 55396
Phone: (507) 647-5582
Web: www.zionwinthrop.com

Pastor: Paul Tessmer
Sunday Worship: 9:00 am
---
Media:
Winthrop News Publishing
110 N Carver Street
PO Box L
Winthrop, MN 55396
Phone: (507) 647-5357
Fax: (507) 647-5358

Weekly newspaper published on Wednesdays with a circulation of 1,183.
---
Motels:
Check for motel rates and availability on:
---
Resorts:
---
Campgrounds:
---
Businesses:
3 T Farms
27115 535th Avenue
Winthrop, MN 55396
Phone: (507) 647-3251
Aquarium Company
32014 521st Avenue
Winthrop, MN 55396
Phone: (612) 288-9111
B & R Dairy Equipment Inc
108 S Renville Street
Winthrop, MN 55396
Phone: (507) 647-7000
Web: www.brdairyeq.com

B & R Dairy Equipment, Inc. has been providing quality Sales, Service and Installation to South Central Minnesota dairy farm families since 1980. Our mission is to help dairy farmers produce and harvest quality milk at a profit. We are dealers for BouMatic and DeLaval equipment, but our trained service technicians will service all brands of equipment. Other equipment available through B & R Dairy includes: Dari-Kool® Cooling Systems, CALF-STAR Pasteurizers®, ECONAR® Geo Thermal Ground Source Heat Pumps, NTI High Efficiency Boilers, OxyBlast® Water Treatments, Therma-Stor® Heat Recovery Systems, State Commercial Gas Hot Water Heaters, Schafer Ventilation Systems, MiraFount, Bohlman Livestock Waterers, and more!

B & R Plumbing & Heating
216 N Main Street
Winthrop, MN 55396
Phone: (507) 647-5362
Back Door Hair Styling
207 1/2 N Carver Street
Winthrop, MN 55396
Phone: (507) 647-5325
Banner Appraisals
54317 County Road 1
Winthrop, MN 55396
Phone: (507) 647-3060
Bartels Truckline Inc
101 S Hennepin Street
Winthrop, MN 55396
Phone: (507) 647-5417
Web: www.bartelstruckline.com

Bartels Group, Inc. is a Winthrop, Minnesota based transportation company with over 60 years of experience in the industry! Bartels offers an expanded portfolio of transportation and related services. Our clientele includes small local businesses to large manufacturers. We work personally with each client to insure complete satisfaction. We take pride in what we do - you can trust us to provide reliable and consistent service to your customers and do so with safety in mind!! "The Bartels Group – Partnering together to find innovative solutions for all your transportation needs

Bengtson Family Dental
220 E 2nd Street
Winthrop, MN 55396
Phone: (507) 647-5313
Blondies Sun & More
113 E 2nd Street
Winthrop, MN 55396
Phone: (507) 647-3443
Boyum's Piano Service
610 W 5th Street
Winthrop, MN 55396
Phone: (507) 647-5591
Brian Asmus Farm
28241 505th Avenue
Winthrop, MN 55396
Phone: (507) 237-5488
Bussler & Son Construction Inc
1010 N Main Street
Winthrop, MN 55396
Phone: (507) 647-2152
Byro Grain & Trucking Company
57265 286th Street
Winthrop, MN 55396
Phone: (507) 647-2286
Carver Oaks Inn
905 N Carver Street
Winthrop, MN 55396
Phone: (507) 647-5897
Charlie's Repair
906 E 4th Street
Winthrop, MN 55396
Phone: (507) 647-5342
Chrest Insurance Service
116 N Carver Street
Winthrop, MN 55396
Phone: (507) 647-6427
Circle T Hay Sales & Trucking
420 W 3rd Street
Winthrop, MN 55396
Phone: (507) 647-2882
D & J Fixtures Corporation
31676 535th Avenue
Winthrop, MN 55396
Phone: (507) 647-3656
Dalin-Hantge Funeral Chapel
209 W 2nd Street
Winthrop, MN 55396
Phone: (507) 647-5326
Web: www.hantge.com

Hantge Funeral Chapels are family owned and operated. Our commitment to the communities we serve is to provide professional, quality service. We will always treat the families we serve with respect and compassion. We honor the heritage of the communities in which we live and serve. We offer a wide selection of services and locations so that each family in need can choose best how to honor and acknowledge their loved one's life.

Dave's Auto Sales
906 E 4th Street
Winthrop, MN 55396
Phone: (507) 647-5405
Web: www.davesautosalesonline.com

In Business since 1995. Our Goal is to provide you with a dependable car at a fair price. Most of our cars come from "new" car dealers and have been inspected and test driven by us. We are also your source for Ranch model ATV's and Snowmobiles in season.

Denny's Repair & Body Shop
22848 State Highway
Winthrop, MN 55396
Phone: (507) 647-2587
Eagle River Express
411 W 6th Street
Winthrop, MN 55396
Phone: (507) 647-3180
Eagle's Landing Bar & Grill
206 N Carver Street
Winthrop, MN 55396
Phone: (507) 647-5302
Edina Realty Inc
412 Cottonwood Street
Winthrop, MN 55396
Phone: (507) 647-7777
Elite Health Chiropractic Center
205 S Carver Street
Winthrop, MN 55396
Phone: (507) 647-3700

Providing Chiropractic adjustments using a variety of chiropractic techniques as well as ultrasound and electrical muscle stimulation to help aid in the treatment. Dr Mortensen also provides nutritional counseling and exercises to improve the body's healing ability and provide more stability so regular visits are not required as frequently. Most patients notice significant improvement in their symptoms in 1-3 visits. We know your time is just as valuable as ours and because of this we pride ourselves in seeing all patients usually within 5 minutes of their scheduled time and adhere to a strict schedule to maintain this schedule. We look forward to being able to work with you and your family in improving your health and adding vitality to your life!

Evangelical Covenant Church
105 W 3rd Street
Winthrop, MN 55396
Phone: (507) 647-5777
Faith United Church
202 E 4th Street
Winthrop, MN 55396
Phone: (507) 647-2393
First Lutheran Church
Church Basement
Winthrop, MN 55396
Phone: (507) 647-5642
GFW High School
302 N Cottonwood Street
Winthrop, MN 55396
Phone: (507) 647-5382
Grams Farm
27929 585th Avenue
Winthrop, MN 55396
Phone: (507) 647-5576
Guidecraft
55508 State Highway
Winthrop, MN 55396
Phone: (507) 647-5030
Web: www.guidecraft.com

My father started Guidecraft in 1964 in a small woodshop, producing 10 items. I purchased the company in 1995 and have continued to develop the line, which now includes over 850 educational toys and furnishings. Our size has changed, but our mission remains the same; stay true to the tradition of smart, beautifully crafted wood products, which allow children's minds and imaginations room to truly wonder and grow. As we turn 46, we see that our best contributions lie in this commitment to continue doing what we do best, while always giving our loyal customers what they have come to expect; expert quality, excellent service and an ever growing collection of creativity inspiring products for children. Our playful furniture is a wonderful new extension of our line and we are delighted to present it to you.

Heartland Collision Repair Inc
301 W 2nd Street
Winthrop, MN 55396
Phone: (507) 647-5746
Heartland Corn Products
53331 State Highway 19
Winthrop, MN 55396
Phone: (507) 647-5000

Heartland Corn Products is a major ethanol fuel production facility situated on a 30-acre campus. The project produces fifty million gallons of ethanol annually.

Hefty Seed Company
28112 581st Avenue
Winthrop, MN 55396
Phone: (507) 647-3334
Web: www.heftyseed.com

We know that yield pays the bills on your farm, and we're confident we have the best genetics on the market from early Group 00's to late Group 2's. Hefty Brand Soybean yield data will be available in university, independent and local yield trials. Hefty Brand has plot winning yields, but equally important is our performance on your tough ground. Whatever challenges your farm faces like high soil pH, soybean cyst nematodes, phytophthora root rot, other diseases, and more; if soybeans will grow in your area, Hefty Brand will perform.

Heisels Flight Training LLC
51384 300th Street
Winthrop, MN 55396
Phone: (507) 647-2631
Home Center
113 E 2nd Street
Winthrop, MN 55396
Phone: (507) 647-3222
Homestead Creations
53923 302nd Lane
Winthrop, MN 55396
Phone: (507) 647-5444
J B Lures Inc
608 Western Avenue
Winthrop, MN 55396
Phone: (507) 647-5696
Web: www.jblures.com

"JB" Lures, Inc. is based in Winthrop, which is located in South-Central Minnesota, USA. We offer a wide variety of Fishing Tackle for Open-Water & "Ice-Fishing" "JB" Lures, Inc. is based in Winthrop, which is located in South-Central Minnesota, USA. We offer a wide variety of Fishing Tackle for Open-Water and "Ice-Fishing" We are very proud of the fact that we use entirely "All-American" labor to assemble our product. In fact, home-based workers do most assembly; this approach provides the ultimate in quality to produce our fishing tackle. We know you will appreciate their efforts and work ethics as it is reflected in the finished product. Raw materials purchased to manufacture "JB" lures are of the highest grade possible. Hooks, blades, beads, line, paint and rubber must all meet our standards.

Jackson Electric, Inc.
515 S Main Street
Winthrop, MN 55396
Phone: (507) 647-
Web: www.jacksonelectricwinthrop.com

Jackson Electric, Inc. has been providing the Winthrop, MN. and surrounding area with professional electrical service and repair since 1987.

John Weber Construction
502 W Grant Street
Winthrop, MN 55396
Phone: (507) 647-5703
Karla Havemeier Ltd
118 E 2nd Street # C
Winthrop, MN 55396
Phone: (507) 647-5312
Web: www.havemeiercpa.com

Karla Havemeier, Ltd. is a local Certified Public Accounting firm with two locations, in New Ulm and Winthrop, Minnesota, to serve you. We are excited about the fact that our size gains the client a close relationship with their accountant. Despite being a smaller local accounting firm, we are proud to offer a wide array of services! At Karla Havemeier, Ltd., our clients are #1. We believe in prompt, excellent client service. As Certified Public Accountants, we are trusted advisors. Our purpose is to assist our clients to attain their financial goals. Whether it's tax, accounting, attest or consulting services, we value every business relationship and strive for client satisfaction.

Kevin's Market
104 N Main Street
Winthrop, MN 55396
Phone: (507) 647-5365
Kids Korner
609 N Carver Street
Winthrop, MN 55396
Phone: (507) 647-3575
La Cheveux-Sunlife Beauty
114 N Main Street
Winthrop, MN 55396
Phone: (507) 647-2355
Lance's Tire & Repair
806 E 4th Street
Winthrop, MN 55396
Phone: (507) 647-2649
Lang Sales & Service
24 S Renville Street
Winthrop, MN 55396
Phone: (507) 647-5349
Linde LLC
53333 State Highway 19
Winthrop, MN 55396
Phone: (507) 647-4131
Lyle's Cafe
102 E 4th Street Hwy 19
Winthrop, MN 55396
Phone: (507) 647-3030
Messner Builders Inc
210 W 1st Street
Winthrop, MN 55396
Phone: (507) 647-4446
Web: www.messnerbuilders.com

Professional Custom Home Construction, Design, Remodeling and Renovation Building or remodeling your home can be an exciting time, and a bit daunting. At Messner Builders, Inc. we are experts in design and building of new homes, additions, remodeling and renovation. We know it is our job to make sure your project is completed to your standards.

MidCountry Bank
122 E 2nd Street
Winthrop, MN 55396
Phone: (507) 647-5356
Web: www.midcountrybank.com

With award-winning service, value-oriented products and conveniently located branch offices, MidCountry Bank is a great choice for all of your financial needs. Stop in today at your local branch to meet your friendly bank team members and find out why MidCountry Bank is the bank for you!

Midwest Financial Processing
204 N Carver Street
Winthrop, MN 55396
Phone: (507) 647-2856
Web: www.mfpatm-safe.com

Midwest Financial Processing (MFP) is a company that offers a wide variety of products to businesses that find themselves in need of an ATM, Safe, Surveillance Equipment and Credit Card Processing. What we are most proud of is our level of customer service and technical support. We know your experience with our company will result in you becoming a customer for life.

Mueller Habitat & Restoration
25859 577th Avenue
Winthrop, MN 55396
Phone: (507) 647-2305
NAPA Auto Parts
804 E 4th Street
Winthrop, MN 55396
Phone: (507) 647-2550
Web: www.napaonline.com/mn/winthrop

More than 85 years ago, the National Automotive Parts Association was founded to meet America's growing need for an effective auto parts distribution system. NAPA has been the industry leader ever since and an invaluable partner in the flow of parts from manufacturers to NAPA AUTO PARTS Stores.

Peace Evangelical Lutheran Church
413 W 5th Street
Winthrop, MN 55396
Phone: (507) 647-5374
Photographic Keepsakes
51384 300th Street
Winthrop, MN 55396
Phone: (507) 647-4686
Web: www.photographickeepsakes.com

Photographic Keepsakes, has been specializing in professional portrait photography in South Central Minnesota for 20 years. Photographing 1000's of people each year, at our photography studio and on location. Ranging from high school seniors, families, children, weddings, business portraits, school pictures, commercial photography, not to mention dance schools in five states. Photographic Keepsake's work can be found in homes all over Minnesota and the United States. We combine our professional experience and photographic knowledge with today's technology to create lasting images that you will love for generations to come.

Portner Farm
54021 County Road 1
Winthrop, MN 55396
Phone: (507) 647-2543
Ross Farm Inc
53866 310th Street
Winthrop, MN 55396
Phone: (507) 647-6421
Schauer Law Office
307 N Pleasant Avenue
Winthrop, MN 55396
Phone: (507) 647-5377
Sibley Estates West
509 High Street
Winthrop, MN 55396
Phone: (507) 647-5309
Web: www.dominiumapartments.com

Sibley Estates West offers everything you need and deserve at an affordable price. Our community is designed for seniors 62 years of age or better, or people with disabilities. Our one bedroom apartments feature controlled access to the building, an elevator for convenience, a social room for entertainment, a large laundry room, and a friendly caring staff. Sibley Estates West is located on the south west side of Winthrop in the quiet outskirts of town. Come and tour today!

Sibley Medical Center
223 N Carver Street
Winthrop, MN 55396
Phone: (507) 647-5318
Web: www.sibleymedical.org

The physicians and staff at Sibley Medical Center and clinics are dedicated to a sole purpose, and that is you. As you will see in exploring this site, we are committed to our mission of making a positive difference in the lives of those we serve and supporting healthier communities and lifestyles within Sibley County.

Somesen Mueller Lowther
PO Box D
Winthrop, MN 55396
Phone: (507) 647-5361
St. Francis Catholic Church
510 N Brown Street
Winthrop, MN 55396
Phone: (507) 647-5334
Tao's Barber Shop
124 E 2nd Street
Winthrop, MN 55396
Phone: (507) 647-2244
Tom's Plumbing Heating & AC
809 N Nicollet Street
Winthrop, MN 55396
Phone: (507) 647-2270
Transit Repair Center
52828 226th Street
Winthrop, MN 55396
Phone: (507) 647-2532
Trebelhorns & Associates
313 N Redwood Street
Winthrop, MN 55396
Phone: (507) 647-2323
Uncle Charlie's Flowers II
223 S Main Street
Winthrop, MN 55396
Phone: (507) 647-3044
Web: www.unclecharliesflowers2.com

We are committed to quality and service. Our 100% Satisfaction Guarantee is our personal commitment to creating long term relationships with our customers. Your satisfaction is our Number One priority, not just because it's our job, but because we care. Whether you want to convey sympathy, encouragement, love, or simply want to let someone know you care, we have a wide array of bouquets to choose from, or we can put together something special just for you.

United Express
203 E 4th Street
Winthrop, MN 55396
Phone: (507) 647-5931
United Farmers Co-Op
802 Industrial Blvd
Winthrop, MN 55396
Phone: (507) 647-5311
Web: www.ufcmn.com

United Farmers Cooperative provides a wide range of agriculture products and services to our members throughout southern Minnesota. People....Pride....Purpose....is our motto and focus since 1915. Our team of experienced employees works daily to provide you with the technology, products and services you need to enhance your agriculture operations and daily lives. Times are changing in agriculture—United Farmers Cooperative is your producer-owned cooperative that is always planning ahead and leading the way to your operation's successful future.

US Army Reserve Center
612 N Brown Street
Winthrop, MN 55396
Phone: (507) 647-2623
US Post Office
215 E 2nd Street
Winthrop, MN 55396
Phone: (507) 647-5348
Winfield Solutions
701 E 4th Street
Winthrop, MN 55396
Phone: (507) 647-6477
Winthrop Area Chamber of Commerce
110 N Carver Street
Winthrop, MN 55396
Phone: (507) 647-2627
Winthrop Area Clinic
211 E 2nd Street
Winthrop, MN 55396
Phone: (507) 647-8000
Winthrop Auto Repair Inc
103 S Renville Street
Winthrop, MN 55396
Phone: (507) 647-5359
Winthrop City Hall
303 S Main Street
Winthrop, MN 55396
Phone: (507) 647-5306
Winthrop City Library
303 S Main Street
Winthrop, MN 55396
Phone: (507) 647-5308
Winthrop Community Hall
303 S Main Street
Winthrop, MN 55396
Phone: (507) 647-2566
Winthrop Covenant Church
107 W 3rd Street
Winthrop, MN 55396
Phone: (507) 647-5777
Winthrop Fire Department
1 S Main Street
Winthrop, MN 55396
Phone: (507) 647-2666
Winthrop Golf Club
55155 300th Street
Winthrop, MN 55396
Phone: (507) 647-5828
Winthrop News Publishing
110 N Carver Street
Winthrop, MN 55396
Phone: (507) 647-5357
Winthrop Public Library
305 N Main Street
Winthrop MN 55396
Phone: (507) 647-5308
Web: winthrop.tdslib.org

Library Hours:
Monday 12-7
Tuesday 9-12 and 1-7:30
Wednesday 10-12 and 1-7
Thursday 9-12 and 1-7:30
Friday 10-12 and 1-7
Saturday 9-12 and 1-5

Winthrop Samaritan Society
506 W High Street
Winthrop, MN 55396
Phone: (507) 647-5391
Winthrop State Bank
102 E 2nd Street
Winthrop, MN 55396
Phone: (507) 647-5371
Winthrop Telephone Company
213 E 2nd Street
Winthrop, MN 55396
Phone: (507) 647-5395
Yesterday's Kitchen Goods-Gifts
30245 565th Avenue
Winthrop, MN 55396
Phone: (507) 647-2103
Ziegler Farms
53950 County Road 1
Winthrop, MN 55396
Phone: (507) 647-4120
Zion Lutheran Church
608 Highland Drive
Winthrop, MN 55396
Phone: (507) 647-5582
---
Aerial Photo:
---
Topographic Map: [click map to enlarge, zoom in or zoom out]


Topographic map is courtesy of the Minnesota DNR - click map to zoom or enlarge