Navigation
LakesnWoods.com
Home Page
Shopping
Coupons
Contact Us
Privacy

Wood Lake Guide:
Photo Gallery
Location
Geography
Demographics
History
Government
Post Office
News
Weather
Street Map
Events
Attractions
Recreation
Lakes
Health Care
Schools
Churches
Media
Motels
Resorts
Campgrounds
Businesses
Aerial Photo
Topographic Map
© 2004-2017 Lakeweb1 Internet Services
All Rights Reserved
WANTED!
Do you have photos, historical accounts or other items pertaining to the Wood Lake area? Would you like to share this historical information with the world? LakesnWoods.com would like to publish your Wood Lake photos (current or historical) or historical accounts on this website. Original materials can be returned and your privacy will be respected.


(design available on over 100 different items!)

Wood Lake Minnesota Community Guide
---
Location:
---
Population:
Wood Lake (city)
1970
1980
1990
2000
2010
2000-2010 Change
Actual
Percent
Population
n/a
n/a
n/a
436
439
+3
+0.69
Land Area (sq. mile)
n/a
n/a
n/a
0.8
0.8
0
0.00
Density (persons per sq. mile)
n/a
n/a
n/a
541.6
548.8
+7.2
+1.32
Housing Units
n/a
n/a
n/a
190
195
+5
+2.63
Households
n/a
n/a
n/a
182
181
-1
-0.55
Persons Per Household
n/a
n/a
n/a
2.40
2.43
+0.03
+1.25
---
Geography:
Wood Lake is a city in Yellow Medicine County, Minnesota. According to the United States Census Bureau, the city has a total area of 0.8 square miles (2.1 km˛), all of it land. The elevation is 1,053 feet above sea level.
From Wikipedia, the free encyclopedia.
---
Demographics:
As of the census of 2000, there were 436 people, 182 households, and 119 families residing in the city. The population density was 541.6 people per square mile (210.4/km˛). There were 190 housing units at an average density of 236.0 per square mile (91.7/km˛). The racial makeup of the city was 98.62% White, 1.15% Native American, and 0.23% from two or more races. Hispanic or Latino of any race were 0.23% of the population.
There were 182 households out of which 30.8% had children under the age of 18 living with them, 58.8% were married couples living together, 4.9% had a female householder with no husband present, and 34.6% were non-families. 30.2% of all households were made up of individuals and 15.4% had someone living alone who was 65 years of age or older. The average household size was 2.40 and the average family size was 2.97.
In the city the population was spread out with 25.7% under the age of 18, 8.9% from 18 to 24, 26.6% from 25 to 44, 19.7% from 45 to 64, and 19.0% who were 65 years of age or older. The median age was 39 years. For every 100 females there were 98.2 males. For every 100 females age 18 and over, there were 96.4 males.
The median income for a household in the city was $38,203, and the median income for a family was $46,875. Males had a median income of $30,900 versus $20,789 for females. The per capita income for the city was $16,903. None of the families and 3.9% of the population were living below the poverty line, including no under eighteens and 4.8% of those over 64.
---
History:
WOOD LAKE Township, settled in 1868, organized November 1, 1873, was named for its largest lake, fringed with timber, whence the battle fought under General Sibley against the Dakota, about four miles east of this lake, September 23, 1862, has been called the Battle of Wood Lake. That battleground is marked by a monument, on the northwest quarter of section 9, Sioux Agency. The battle was followed by the flight of the Dakota to Dakota Territory and the release of the white captives, September 26, at Camp Release in Lac qui Parle County, opposite Montevideo, likewise marked by a monument. The city of Wood Lake, in section 27, platted on September 8, 1884, was incorporated November 28, 1891. Francis Robson, postmaster in his farm home; the post office moved into the village in 1885.
Courtesy Minnesota Historical Society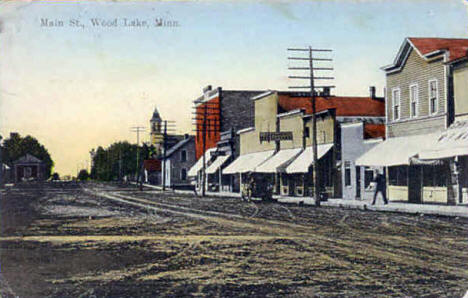 Main Street, Wood Lake Minnesota, 1910
LakesnWoods.com Postcard and Postcard Image Collection - click to enlarge
---
Government:
Wood Lake City Hall
88 2nd Avenue W
Wood Lake, MN 56297
Phone: (507) 485-3476
Title
Term Ends
Name and Address
Phone:
Mayor
12/31/2012
DeWayne Schaffra
n/a
Clerk/Treasurer
appointed
Laurie Gabber
(507) 485-3476
Council Member
n/a
Kory Kotek
n/a
Council Member
n/a
Tammi Mueller
n/a
Council Member
n/a
Sean Brovold
n/a
Council Member
n/a
Brad Timm
n/a
---
Post Office:
US Post Office
300 2nd Avenue W
Wood Lake, MN 56297
Phone: (507) 485-3270
Toll Free: (800) ASK-USPS
Web: www.usps.com

Regular Business Hours:
Week Days 8:15 am - 11:30 am
12:30 pm - 4:00 pm
Saturdays 8:30 am - 9:00 am
Latest Collection at Post Office:
Week Days 3:45 pm
Saturday 3:45 pm
---
---
Utilities:
| | | |
| --- | --- | --- |
| Utility Type | Utility Name | Utility Phone |
| Electricity | n/a | -- |
| Natural Gas | n/a | -- |
| Wastewater | n/a | -- |
| Water | n/a | -- |
| Telephone | n/a | -- |
| Cable TV | n/a | -- |
---
Major Employers:
Employer
Products/Services
Employees

n/a
---
---
News:
---
Weather:
---
Map: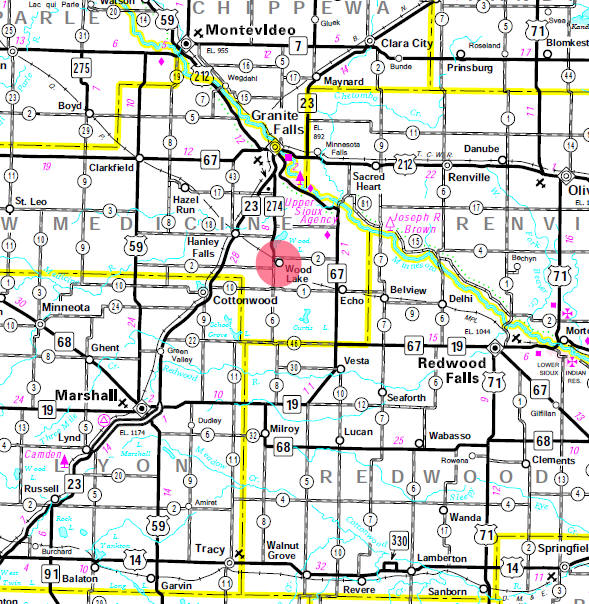 Minnesota State Highway Map of the Wood Lake Minnesota area
---
Events:
---
Attractions:
Wood Lake Battlefield

In 1862 Minnesota had its own civil war within the larger Civil War, between Indians and white settlers. The absence of troops from this frontier state and the government's preoccupation with the war of the rebellion underlay the Sioux uprising. Militia and Minnesota volunteers finally suppressed the uprising. The Wood Lake battlefield is as important to understanding this civil war as Gettysburg is to understanding the larger conflict
---
Recreation:
---
Lakes:
Lake Name
Size
(acres)
Lake info
Lake Map
Rec Map
Topo Map
Wood
---
Health Care:
---
Schools:
---
Churches:
---
Media:
---
Motels:
Check for motel rates and availability on:
---
Resorts:
---
Campgrounds:
---
Businesses:
Blackjack Express
1765 Highway 274
Wood Lake, MN 56297
Phone: (507) 485-3437
Web: http://www.russdaviswholesale.com
City of Wood Lake
88 2nd Avenue W
Wood Lake, MN 56297
Phone: (507) 485-3476
Cottonwood Co-Op Oil Company
50 3rd Avenue
Wood Lake, MN 56297
Phone: (507) 485-3137
Curt's Gun & Tackle
35 3rd Street N
Wood Lake, MN 56297
Phone: (507) 485-3483
D & A Lawn Service
Wood Lake, MN 56297
Phone: (507) 485-3597
D & D Schwerin Trucking
5681 150th Avenue
Wood Lake, MN 56297
Phone: (507) 485-3320
Equity Elevator & Trading Company
1745 550th Street
Wood Lake, MN 56297
Phone: (507) 485-3153
Web: www.eetwoodlake.com

After 99 years of providing services to its cooperative members, Equity Elevator & Trading Company continues to promote their mission "Growth from Within". Equity Elevator & Trading Company was formed by a group of local producers in 1912 and was created as a locally-owned cooperative with the vision of providing services to help the producer/owner grow and succeed in agriculture. Equity Elevator and Trading Company has grown from within and continues to be successful through the success of its cooperative members. Equity Elevator and Trading Company commits itself to providing helpful services and support to these members. As our cooperative members grow, Equity Elevator and Trading Company will also grow.

First Independent Bank
53 2nd Avenue W
Wood Lake, MN 56297
Phone: (507) 485-3111
Web: www.fibmn.com
G & L Auto & Truck Repair
298 3rd Avenue W
Wood Lake, MN 56297
Phone: (507) 485-3288
Garanimal Farms
1345 540th Street
Wood Lake, MN 56297
Phone: (507) 485-3257
Gary Kotek Trucking Inc
201 County Road 2
Wood Lake, MN 56297
Phone: (507) 485-3595
Haneca's Country Store
10 3rd Street N
Wood Lake, MN 56297
Phone: (507) 485-3470
Helgeson Insurance
17 3rd Avenue W
Wood Lake, MN 56297
Phone: (507) 485-3030
Hoffco Inc
North State Highway 274
Wood Lake, MN 56297
Phone: (507) 485-3131
Web: www.hoffcoinc.com

Hoffco, Inc. is the industry leader in the design and manufacturing of wood kitchen cabinet accessories that we market to kitchen cabinet manufacturers and hardware distributors. We also manufacture products for the office furniture, casket, and other industries that specialize in custom-designed wood products Hoffco, Inc. was founded in 1983 and currently operates out of a facility in Wood Lake, Minnesota.

Pleasantville Farm
1256 540th Street
Wood Lake, MN 56297
Phone: (507) 485-3374
Pro F Enterprises
5417 170th Avenue
Wood Lake, MN 56297
Phone: (507) 485-3576
Reiten Insurance
98 2nd Avenue W
Wood Lake, MN 56297
Phone: (507) 485-2188
Rick's Repair
1745 550th Street
Wood Lake, MN 56297
Phone: (507) 485-2266
Rural Tool & Machining
79 2nd Avenue W
Wood Lake, MN 56297
Phone: (507) 485-3179
Shandee's
1751 Highway 274
Wood Lake, MN 56297
Phone: (507) 485-2222
Shirley's Diner
9 3rd Street North
Wood Lake, MN 56297
Phone: (507) 485-2292
Styles Unlimited
17 2nd Avenue W
Wood Lake, MN 56297
Phone: (507) 485-2154
Town & Country Insurance
53 2nd Avenue W
Wood Lake, MN 56297
Phone: (507) 768-3437
Tuner's Auto Repair
5442 170th Avenue
Wood Lake, MN 56297
Phone: (507) 485-2200
US Post Office
300 2nd Avenue W
Wood Lake, MN 56297
Phone: (507) 485-3270
Toll Free: (800) ASK-USPS
Web: www.usps.com
Wood Lake Community Center
88 2nd Avenue W
Wood Lake, MN 56297
Phone: (507) 485-2194
Wood Lake Fire Department
79 3rd Avenue W
Wood Lake, MN 56297
Phone: (507) 485-3062
Wood Lake Lumber
359 3rd Street S
Wood Lake, MN 56297
Phone: (507) 485-3129
Woody's Bar
61 2nd Avenue W
Wood Lake, MN 56297
Phone: (507) 485-3389
---
Aerial Photo:
---
Topographic Map: [click map to enlarge, zoom in or zoom out]


Topographic map is courtesy of the Minnesota DNR - click map to zoom or enlarge