Navigation
LakesnWoods.com
Home Page
Shopping
Coupons
Contact Us
Privacy
Minnesota Gift Guide

Zumbro Falls Guide:
Photo Gallery
Location
Geography
Demographics
History
Government
Post Office
News
Weather
Street Map
Events
Attractions
Recreation
Lakes
Health Care
Schools
Churches
Media
Motels
Resorts
Campgrounds
Businesses
Aerial Photo
Topographic Map
© 2004-2019
Lakeweb1 Internet Services
All Rights Reserved
Defamation, Copyright and Trademark Infingement Policy
WANTED!
Do you have photos, historical accounts or other items pertaining to the Zumbro Falls area? Would you like to share this historical information with the world? LakesnWoods.com would like to publish your Zumbro Falls photos (current or historical) or historical accounts on this website. Original materials can be returned and your privacy will be respected.

Zumbro Falls Minnesota Community Guide
---
Location:
Zumbro Falls is in Wabasha County located along the Zumbro River at the intersection of State Highways 60 and 63.

With a population of 177 this little city enjoys the summer months canoeing, fishing and camping along the beautiful wooded river. Zumbro Falls is a community that consists of 26 businesses, two churches and a city park. The rolling hills that surround this community add to its charm and beauty.

Courtesy MAOSC
---
Population:
Zumbro Falls (city)
1970
1980
1990
2000
2010
2000-2010 Change
Actual
Percent
Population
203
208
237
177
207
+30
+16.95
Land Area (sq. mile)
0.50
0.55
0.46
0.46
0.46
0
0.00
Density (persons per sq. mile)
406.00
378.18
515.22
383.62
450.00
+66.38
+17.30
Housing Units
61
76
91
81
90
+9
+11.11
Households
--
74
87
77
84
+7
+9.09
Persons Per Household
--
2.81
2.72
2.30
2.46
+0.16
+6.96
---
Geography:
Zumbro Falls is a city in Wabasha County, Minnesota, United States, along the Zumbro River. The population was 177 at the 2000 census. The grist-mill dam built on Zumbro river in 1866 created the falls for which the town is named. The river is the cause of numerous floods which swept away the dam except for a few remaining traces of it.
U.S. Highway 63 and Minnesota Highway 60 are two of the main routes in the community. According to the United States Census Bureau, the city has a total area of 0.5 square miles (1.2 km˛), of which, 0.5 square miles (1.2 km˛) of it is land and 0.04 square miles (0.1 km˛) of it (4.17%) is water. The elevation is 843 ft (257 m) above sea level.
From Wikipedia, the free encyclopedia.
---
Demographics:
As of the census of 2000, there were 177 people, 77 households, and 46 families residing in the city. The population density was 383.6 people per square mile (148.6/km˛). There were 81 housing units at an average density of 175.6/sq mi (68.0/km˛). The racial makeup of the city was 99.44% White and 0.56% Native American. Hispanic or Latino of any race were 0.56% of the population.
There were 77 households out of which 33.8% had children under the age of 18 living with them, 50.6% were married couples living together, 6.5% had a female householder with no husband present, and 39.0% were non-families. 33.8% of all households were made up of individuals and 6.5% had someone living alone who was 65 years of age or older. The average household size was 2.30 and the average family size was 3.00.
In the city the population was spread out with 26.0% under the age of 18, 9.0% from 18 to 24, 35.0% from 25 to 44, 21.5% from 45 to 64, and 8.5% who were 65 years of age or older. The median age was 37 years. For every 100 females there were 94.5 males. For every 100 females age 18 and over, there were 95.5 males.
The median income for a household in the city was $37,188, and the median income for a family was $53,750. Males had a median income of $33,750 versus $26,250 for females. The per capita income for the city was $18,176. About 9.6% of families and 13.2% of the population were below the poverty line, including 15.9% of those under the age of eighteen and 11.1% of those sixty five or over.
---
History:
The Zumbro River, first explored by Major Stephan Long in 1817, was named the "Riviers des Embarrass" or River of Difficulties. A point on this river was used as a ford for the Territorial Road going from Lake City to Rochester. In 1855 Zumbro Falls, not having a name at that time, was first settled by the Tibbetts brothers. They built their homes on each side of the river for the purpose of running a ferry across the river where the ford had been. They ran their ferry for three years, at which time it was sold. After this, the town expanded on the south side of the river. In 1866, Benjamin Clark moved to town and built a gristmill and dam above the rapids. The dam created a small falls and the town received the name Zumbro Falls. The town grew enough that the Midland Railroad ran tracks through the town in 1877 and a depot was built. By 1896 some of the village residents were demanding to become an organized town. The county board granted the incorporation of Zumbro Falls on February 28, 1898. Since that time many changes have occurred. The community now observes an annual celebration in May. This celebration is known as Ripplin' River Daze. During the 3rd annual celebration on May 16, 1998 the town celebrated its 100th year celebration. At that time a book titled The Zumbro Falls, Minnesota memoirs 100 years plus…then and now was created. The book contains pictures and the history of the businesses and buildings that make up our village. Copies of the book are still available and you can obtain one by contacting the Ripplin' River Daze committee.
Courtesy City of Zumbro Falls
ZUMBRO FALLS is a city at the falls of the Zumbro River in section 31 of Gillford. It was incorporated as a village on February 8, 1898; the post office has been established and reestablished three times since 1856. The townsite was platted by Uriah S. Whaley, who later served as one of the postmasters in his cabin. The Chicago, Milwaukee and St. Paul Railroad built a narrow gauge railroad in 1877, changing later to standard track.
Courtesy Minnesota Historical Society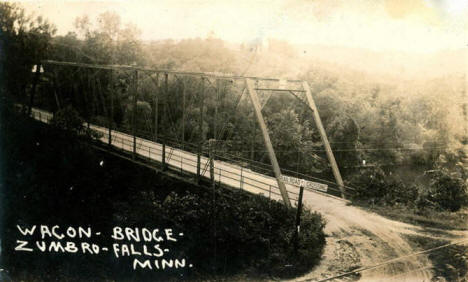 Wagon Bridge, Zumbro Falls Minnesota, 1914
LakesnWoods.com Postcard and Postcard Image Collection- click image to enlarge
---
Government:
Zumbro Falls City Hall
Zumbro Falls, MN 55991
Phone: (507) 753-2423
Fax: (507) 753-2254
Web: www.zumbrofallsmn.org
Title

Term ends

Name and Address
Phone
Mayor
12/31/2016
Alan VanDeWalker
342 Highway 60
Zumbro Falls, MN 55991
(507) 259-4259
City Clerk
12/31/2016
Susan Eischens
342 Highway 60
Zumbro Falls, MN 55991
(507) 753-2423
Treasurer
12/31/2018
Katie Kurtti
342 Highway 60
Zumbro Falls, MN 55991
(507) 753-2423
Council Member
12/31/2016
Bruce Heitman
467 Christina Ct
Zumbro Falls, MN 55991
(507) 208-0708
Council Member
12/31/2016
Kelly Preble
372 Nicholas Avenue
Zumbro Falls, MN 55991
(507) 753-2393
Council Member
12/31/2018
Melissa Vandewalker
368 Hilltop Drive
Zumbro Falls, MN 55991
(507) 753-2710
---
Post Office:
US Post Office
477 Highway 60
Zumbro Falls, MN 55991-5501
Phone: (507) 753-3023
Toll Free: (800) ASK-USPS
Fax: (507) 753-3023
Web: www.usps.com

Regular Business Hours:
Week Days 8:30 am - 11:30 am
1:00 pm - 4:30 pm
Saturday 8:30 am - 10:15 am
Latest Collection at Post Office:
Week Days 4:30 pm
Saturday 4:00 pm
---
---
Utilities:
| | | |
| --- | --- | --- |
| Utility Type | Utility Name | Utility Phone |
| Electricity | n/a | -- |
| Natural Gas | n/a | -- |
| Wastewater | n/a | -- |
| Water | n/a | -- |
| Telephone | n/a | -- |
| Cable TV | n/a | -- |
---
Major Employers:
Employer
Products/Services
Employees

n/a
---
---
News:
---
Weather:
---
Map: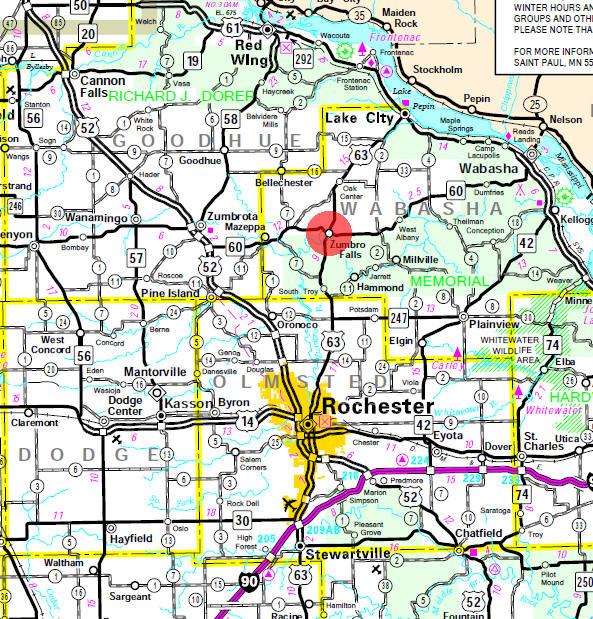 Minnesota State Highway Map of the Zumbro Falls Minnesota area
---
Events:
Ripplin' River Daze Celebration

3rd Saturday in May
---
---
Attractions:
Zumbro Falls Woods Science & Nature Area
373rd Avenue
Zumbro Falls, MN 55991

The steep bluffs, loess-covered uplands, narrow river valleys and broad floodplains of Zumbro Falls SNA straddle the Zumbro River. At one point, Wall Rock, a dry cliff community, towers 200 foot above the east side of the river bed. Frequent dolomite outcrops and low, moist cliffs support mosses, liverworts, and ferns. Small patches of Canadian yew, uncommon in this area, indicate cool ground water seepages. Along the river terraces, Indian paintbrush and smooth rock cress, both protected species, grow on gravel prairies. North and east-facing slopes are home to mesic old-growth oak forest, while oak forest, oak woodland, and brushland cover dryer slopes. Spring brings spectacular displays of bluebells under the basswood stands along the river. Wild ginger, trilliums, and hepatica bloom in the woodlands, and jeweled shooting star, found in Minnesota only on the Paleozoic Plateau, grows abundantly on the cliff faces.

Zumbro Valley Canoe Rental
Highway 63
Zumbro Falls, MN 55991
Phone: (507) 753-2568
---
Recreation:
Zumbro Falls Golf Club
60146 Highway 63
Zumbro Falls, MN 55991
Phone: (507) 753-3131
Web: www.zfgolfclub.com

Zumbro Falls Golf Club is a 9-hole regulation length golf course in Zumbro Falls, Minnesota. This medium-length layout has adequate length for a regulation course. Some holes are quite challenging and interesting, but overall it can be somewhat forgiving.
---
Lakes:
Lake Name
Size
(acres)
Lake info
Lake Map
Rec Map
Topo Map

none in the immediate area
---
Health Care:
---
Schools:
---
Churches:
Christ Community Church
Zumbro Falls, MN 55991

Pastor: n/a
Sunday Worship: n/a

St. John's Bear Valley Lutheran Church
61658 410th Avenue
Zumbro Falls, MN 55991
Phone: (507) 843-2555

Pastor: n/a
Sunday Worship: n/a

Zumbro Community Church
58354 County Road 7
Zumbro Falls, MN 55991
Phone: (507) 843-4189
Web: www.zumbrocc.com

Pastor: Dave Mohler
Sunday Worship: 10:30 am and 6:30 om
---
Media:
---
Bed & Breakfasts:
Burr Oaks Bed & Breakfast
349 Burr Oak Road
Zumbro Falls, MN 55991
Phone: (507) 753-3133
Web: www.burroaks.com

Burr Oaks is a country bed and breakfast and is a "birder's paradise". Burr Oaks lies in a valley with 22 acres of serene quiet beauty to ramble about in thoughtful contemplation. Slip away from the stress, turn off your phone. Come to Burr Oaks and be refreshed and renewed in the serenity of this quiet valley.
---
Motels:
Check for motel rates and availability on:
---
Resorts:
---
Campgrounds:
Bluff Valley RV Park & Campgrounds
61297 390th Avenue
Zumbro Falls, MN 55991
Phone: (507) 753-2955
Web: www.bluffvalley.com

A Family Recreation Facility Offers 275 RV & Tent Sites, All With Water & Electric Hookups Most Are Shady & Are Either On The River Edge Or Tucked Along The Bluffs & In The Woods.

Mac's Park Place Campground
Zumbro Falls, MN 55991
Phone: (507) 843-6500
---
Businesses:
A-One Animal Control
39901 561st Street
Zumbro Falls, MN 55991
Phone: (507) 367-2361
American Tower Corporation
38852 590th Street
Zumbro Falls, MN 55991
Phone: (507) 753-3018
Web: www.americantower.com
Ameritech Electric
320 Dreamwald Blvd
Zumbro Falls, MN 55991
Phone: (507) 951-7813
Arden Envioral Eng
125 Wagonwheel Street
Zumbro Falls, MN 55991
Phone: (507) 753-2981
Aristo Cleaning
56888 395th Avenue
Zumbro Falls, MN 55991
Phone: (507) 753-2819
Basement Water Control
40588 Ryans Bay Road
Zumbro Falls, MN 55991
Phone: (507) 281-2714
Best for Pets
418 Water Street
Zumbro Falls, MN 55991
Phone: (507) 753-3039
Web: www.fkps.com

Best for Pets has been bringing to its customers nothing but the best dog and cat pet supplies since 2001. We strive to do the quality shopping for you so you can shop with confidence that you are choosing only best for your pets. Dedication, Quality and Customer Service are what we strive to bring to your shopping experience either at our dog show vending events, online or in our physical store. FKPS K-9 Training is the training piece of Best for Pets. We bring quality family obedience classes, competition agility training and agility show events to Southeastern Minnesota.

Bluff Valley RV Park & Campgrounds
61297 390th Avenue
Zumbro Falls, MN 55991
Phone: (507) 753-2955
Web: www.bluffvalley.com

A Family Recreation Facility Offers 275 RV & Tent Sites, All With Water & Electric Hookups Most Are Shady & Are Either On The River Edge Or Tucked Along The Bluffs & In The Woods.

Bridley Construction
Zumbro Falls, MN 55991
Phone: (507) 753-4007
Burr Oaks Bed & Breakfast
349 Burr Oak Road
Zumbro Falls, MN 55991
Phone: (507) 753-3133
Web: www.burroaks.com

Burr Oaks is a country bed and breakfast and is a "birder's paradise". Burr Oaks lies in a valley with 22 acres of serene quiet beauty to ramble about in thoughtful contemplation. Slip away from the stress, turn off your phone. Come to Burr Oaks and be refreshed and renewed in the serenity of this quiet valley.

Camp Victory Ministries
58212 403rd Avenue
Zumbro Falls, MN 55991
Phone: (507) 843-2329
Web: www.campvictory.com

Camp Victory is a ministry accomplished through an evangelical Christian camping and retreat facility that serves the surrounding community. The ministries and programs are to provide an environment for evangelism, discipleship, and leadership development, through life changing encounters with creation, truth, and caring relationships.

Christ Community Church
Zumbro Falls, MN 55991
D & M Carpet Cleaners
Zumbro Falls, MN 55991
Deb's Family Salon
438 Highway 60
Zumbro Falls, MN 55991
Phone: (507) 753-2311
Fall's BP
225 Highway 63
Zumbro Falls, MN 55991
Phone: (507) 753-2331
Fick Construction
56459 375th Avenue
Zumbro Falls, MN 55991
Phone: (507) 753-2667
Hollywood Handbags & Boutique
Zumbro Falls, MN 55991
Phone: n/a
Jenny's Greenhouse & Floral
37209 644th Street
Zumbro Falls, MN 55991
Phone: (507) 753-2686
K Fence Inc
62411 386th Avenue
Zumbro Falls, MN 55991
Phone: (507) 753-2943
Web: www.kfence.com

Since 1980, K Fence has been building and marketing a new age of fencing materials in the Midwest. K Fence represents a complete line of electric and non-electric farm & wildlife fencing and grape trellising.

Kelly's Fine Line Tattoos
57578 Highway 63
Zumbro Falls, MN 55991
Phone: (507) 753-4075
Kelly's Hair Beautique
63693 County Road 68
Zumbro Falls, MN 55991
Phone: (507) 753-3101
Kennedy's Bus Service
437 Water Street
Zumbro Falls, MN 55991
Phone: (507) 753-2020
Lake Shady Landscape
40146 Ryans Bay Road
Zumbro Falls, MN 55991
Phone: (507) 753-2900
M T Well Service
37003 633rd Street
Zumbro Falls, MN 55991
Phone: (507) 753-2836
Mac's Park Place Campground
Zumbro Falls, MN 55991
Phone: (507) 843-6500
Meadow Valley Moto Cross
Zumbro Falls, MN 55991
Phone: (507) 753-9990
Meerkins Oil Company
225 Highway 63
Zumbro Falls, MN 55991
Phone: (507) 753-2331
Metz-Weld
56478 400th Avenue
Zumbro Falls, MN 55991
Phone: (507) 358-0410
Milestone Materials
35788 County Road 11
Zumbro Falls, MN 55991
Phone: (507) 753-2458
Neptune Bar
99 Main Street
Zumbro Falls, MN 55991
Phone: (507) 753-9938
Nette's Broadway Cafe
463 Highway 60
Zumbro Falls, MN 55991
Phone: (507) 753-2235
Nutriflex Ag Nutrition Service
35773 Highway 60
Zumbro Falls, MN 55991
Phone: (507) 753-2033
Oak Center Storage
40437 Ryans Bay Road
Zumbro Falls, MN 55991
Phone: (507) 753-2672
Randy Schumacher Construction
63174 363rd Avenue
Zumbro Falls, MN 55991
Phone: (507) 753-3044
Rick's Well & Pump Service
38402 573rd Street
Zumbro Falls, MN 55991
Phone: (507) 753-2968
Roberson Lime & Rock
34686 County Road 72
Zumbro Falls, MN 55991
Phone: (507) 753-2313
Rock Star Bay
Zumbro Falls, MN 55991
Phone: (507) 753-9989
Rod's Service & Motel
451 Highway 60
Zumbro Falls, MN 55991
Phone: (507) 753-2131
Roo's Bar & Grill
394 Highway 60
Zumbro Falls, MN 55991
Phone: (507) 753-2666
Ruport Landscaping
57449 County Road 80
Zumbro Falls, MN 55991
Phone: (507) 753-2536
St. John's Bear Valley Lutheran Church
61658 410th Avenue
Zumbro Falls, MN 55991
Phone: (507) 843-2555
Scooter's Bar & Grill
432 Highway 60
Zumbro Falls, MN 55991
Phone: (507) 753-2545
Siewert Holsteins
35679 County Road 72
Zumbro Falls, MN 55991
Phone: (507) 753-2549
Sugarloaf Bus Service
35750 Highway 60
Zumbro Falls, MN 55991
Phone: (507) 732-7670
Web: www.sugarloafcharter.com

Sugar Loaf Charter is known for safe, fun, and affordable transportation for every occasion. We are based out of Zumbro Falls, MN and have been in business since 1979. Our reputation, experience, and down-home business ethics make us the preferred transportation provider for clients near and far. For trips across the country, party transportation, or anything in between-- Contact Sugar Loaf Charter today!

Trophy Store & More
64295 Highway 63
Zumbro Falls, MN 55991
Phone: (507) 259-6190
Web: www.trophystoreandmore.com
US Post Office
477 Highway 60
Zumbro Falls, MN 55991-5501
Phone: (507) 753-3023
Toll Free: (800) ASK-USPS
Fax: (507) 753-3023
Web: www.usps.com
Valley Bodywerx
407 Highway 60
Zumbro Falls, MN 55991
Phone: (507) 753-2918
VFW Post #1802
Zumbro Falls, MN 55991
Woodland Camp
37814 573rd Street
Zumbro Falls, MN 55991
Phone: (507) 753-2989
Zumbro Community Church
58354 County Road 7
Zumbro Falls, MN 55991
Phone: (507) 843-4189
Zumbro Falls City Hall
Zumbro Falls, MN 55991
Phone: (507) 753-2423
Zumbro Falls Fire Department
PO Box 119
Zumbro Falls, MN 55991
Phone: (507) 753-2423
Zumbro Falls Golf Club
60146 Highway 63
Zumbro Falls, MN 55991
Phone: (507) 753-3131
Web: www.zfgolfclub.com

Zumbro Falls Golf Club is a 9-hole regulation length golf course in Zumbro Falls, Minnesota. This medium-length layout has adequate length for a regulation course. Some holes are quite challenging and interesting, but overall it can be somewhat forgiving.

Zumbro Falls Sand & Gravel
61484 US Highway 63
Zumbro Falls, MN 55991
Phone: (507) 272-0845
Zumbro Falls Storage
Zumbro Falls, MN 55991
Zumbro Falls Veterinary Clinic
263 Highway 63
Zumbro Falls, MN 55991
Phone: (507) 753-2288
Zumbro Valley Antiques
56943 County Road 80
Zumbro Falls, MN 55991
Phone: (507) 753-2398
Zumbro Valley Canoe Rental
Highway 63
Zumbro Falls, MN 55991
Phone: (507) 753-2568
---
Aerial Photo:
---
Topographic Map: [click map to enlarge, zoom in or zoom out]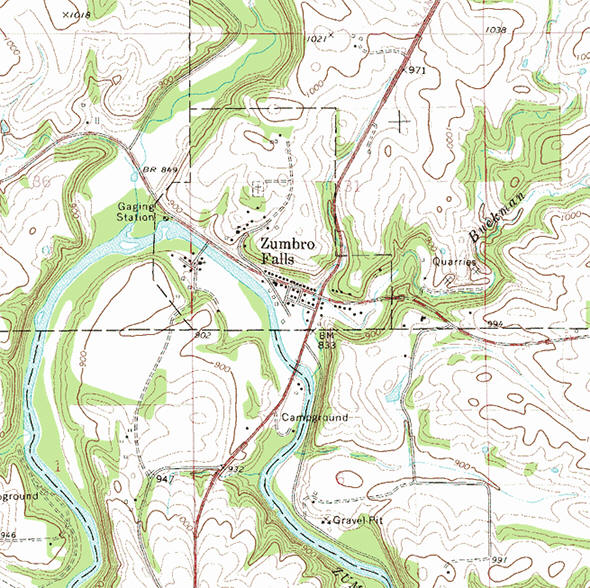 Topographic map is courtesy of the Minnesota DNR - click map to zoom or enlarge