Navigation
LakesnWoods.com
Home Page
Contact Us
Privacy
Minnesota History Shop

Visit The Minnesota History Shop
www.minnesotahistoryshop.com
Historic maps
Historic books
Historic framed art
Historic postcards
Clothing with historic images
And much more!!!


Adams Guide:
Photo Gallery
Location
Geography
Demographics
History
Government
Post Office
News
Weather
Street Map
Events
Attractions
Recreation
Lakes
Health Care
Schools
Churches
Media
Motels
Resorts
Campgrounds
Businesses
Aerial Photo
Topographic Map
© 2004-2023
Lakeweb1 Internet Services
All Rights Reserved
DCMA, Defamation, Copyright and Trademark Infingement Policy
WANTED!
Do you have photos, historical accounts or other items pertaining to the Adams area? Would you like to share this historical information with the world? LakesnWoods.com would like to publish your Adams photos (current or historical) or historical accounts on this website. Original materials can be returned and your privacy will be respected.


(design available on over 100 different items!)


(design available on over 100 different items!)

Adams Minnesota Community Guide
---
Location:
Adams Minnesota is a vibrant community of 800 people on the prairie just 5 miles north of the Minnesota-Iowa state line and about 14 miles east of Austin, MN in Mower County. The city is 12 miles off Interstate 90 southwest of Rochester, MN and only about 100 mi south of the Twin Cities - Minneapolis & St. Paul.
Adams is on the Shooting Star Scenic Byway (MN Hwy 56, mile posts 1-30) with its accompanying 20+ mile bicycle & hiking trail, the Shooting Star Recreational Trail, which mostly follows abandoned railroad tracks adjacent to Hwy 56. Slow down and enjoy the vestiges of the native tall-grass prairie flowers, grasses, and herbs the pioneers encountered a hundred years ago when they settled this area.
Adams is one of four cities cooperating in an unusual joint-powers multi-community entity called Prairie Visions. This organization has been very active in encouraging the construction of the recreational trail, the scenic byway designation and in conservation of the area native flora and fauna.
Courtesy City of Adams
---
Population:
Adams (city)
1970
1980
1990
2000
2010
2000-2010 Change
Actual
Percent
Population
771
797
756
800
787
-13
-1.65
Land Area (sq. mile)
1.00
1.04
1.01
1.01
1.01
0
0.00
Density (persons per sq. mile)
771.00
766.35
748.51
791.62
779.21
-12.00
-1.65
Housing Units
258
292
313
351
330
-21
-6.36
Households
--
278
300
329
304
-25
-8.22
Persons Per Household
--
2.62
2.25
2.21
2.30
+0.09
+4.07
---
Geography:
Adams is a city in Adams Township, Mower County, Minnesota. According to the United States Census Bureau, the city has a total area of 1.01 square miles (2.62 km2), all of it land. The elevation is 1,286 feet above sea level.
From Wikipedia, the free encyclopedia.
---
Demographics:
As of the census of 2010, there were 787 people, 304 households, and 188 families residing in the city. The population density was 779.2 inhabitants per square mile (300.9 /km2). There were 330 housing units at an average density of 326.7 per square mile (126.1 /km2). The racial makeup of the city was 98.3% White, 0.5% from other races, and 1.1% from two or more races. Hispanic or Latino of any race were 1.7% of the population.
There were 304 households of which 28.3% had children under the age of 18 living with them, 50.7% were married couples living together, 7.6% had a female householder with no husband present, 3.6% had a male householder with no wife present, and 38.2% were non-families. 34.5% of all households were made up of individuals and 20.4% had someone living alone who was 65 years of age or older. The average household size was 2.30 and the average family size was 2.95.
The median age in the city was 46.6 years. 21.3% of residents were under the age of 18; 7.3% were between the ages of 18 and 24; 19.1% were from 25 to 44; 20.8% were from 45 to 64; and 31.4% were 65 years of age or older. The gender makeup of the city was 46.4% male and 53.6% female.
---
---
History:
The village of Adams was platted on January 30, 1868 by Selah Chamberlain. A two-room public school was built in 1869 and was later expanded to four rooms. The village was officially incorporated on March 2, 1887. A water works system was installed in the summer of 1897. A volunteer fire department was established as Adams Hose Co. No. 1 in 1898. A sewage system was installed in 1902. A Catholic school was built in 1903 and roughly half of the public school students started attending there, greatly relieving overcrowding. The sewage system was updated in 1958. The town is in the Southland school district (which includes Southland High School), and is home to the varsity fields for the teams.
From Wikipedia, the free encyclopedia.
ADAMS Township was organized in May 1858. Its city of the same name in section 11 was platted by Selah Chamberlain on January 30, 1868, and was incorporated as a village February 17, 1887. This name is borne by counties in nine states of the Union and by villages and townships in 14 states, mostly in honor of John Adams, the second president of the United States, 1797-1801, and his son, John Quincy Adams, the sixth president, 1825-29. The first postal service was provided in 1859 from the farm home of John Ingens; the post office was established in 1861 with Harold M. F. Ingens, postmaster; it had a station of the Chicago, Milwaukee, St. Paul and Pacific Railroad.
Courtesy Minnesota Historical Society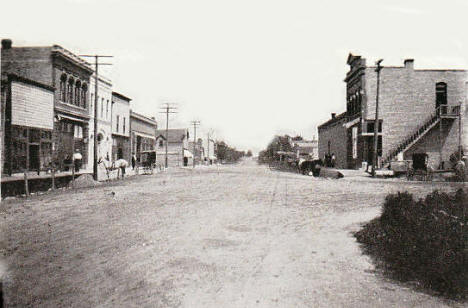 Fourth Street, Adams Minnesota, 1912
LakesnWoods.com Postcard and Postcard Image Collection - click to enlarge
Visit The Adams Photo Gallery for more recent and historic area photos
---
Government:
Adams City Hall
303 W Main Street
PO Box 357
Adams MN 55909
Phone: (507) 582-3601

Regular Business Hours:
Monday - Friday 8:00 am - 3:00 pm
Closed 12:00 - 12:30

City Council Meetings:
2nd Tuesday of each month at 7:00 pm

Title

Term Ends

Name
Phone
Mayor
12/31/2020
Brian Anderson
205 NW 4th Street
Adams MN 55909
(507) 440-8274
Clerk/Treasurer
appointed
Jake Goodale
303 W Main Street
Adams MN 55909
(507) 582-3601
Council Member
12/31/2022
Michael Cherney
PO Box 44
Adams MN 55909
(507) 582-3161
Council Member
12/31/2022
Paul Kirtz
402 6th Street NW
Adams MN 55909
(507) 438-0335
Council Member
12/31/2024
Ella Noterman
106 1st Street NW
Adams MN 55909
(507) 440-1378
Council Member
12/31/2024
Karen Ruechel
307 4th Street NW
Adams MN 55909
(507) 582-7890
---
Post Office:
US Post Office
18 NW 4th Street
Adams, MN 55909-9672
Phone: (507) 582-3424
Toll Free: (800) ASK-USPS

Regular Business Hours:
Week Days 9:00 am - 12:00 pm
1:00 pm - 4:15 pm
Saturday 9:00 am - 10:00 am
---
---
Utilities:
---
Major Employers:
---
---
News:
---
Weather:
---
Map: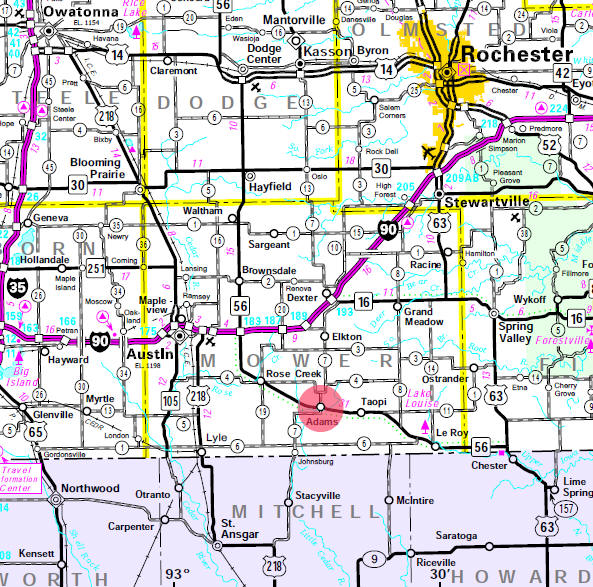 Minnesota State Highway Map of the Adams Minnesota area
---
Events:
---
---
Attractions:
Shooting Star Scenic Byway
Adams, MN 55909
Phone: (507) 582-3601
Web: www.shootingstarbyway.org

This official MN Scenic Byway is one of the state's first designated wildflower routes. The Minnesota Departments of Transportation and Natural Resources collaborate to manage wildflowers and native grasses along the route. The route passes through rich agricultural regions and small rural towns with historic buildings of national significance, bed and breakfasts, golf, swimming pools and city parks. Lake Louise State Park is located on the route. This is a 32 mile drive along Highway 56.
---
Recreation:
Cedar River Golf Course
14927 State Highway 56
Adams, MN 55909
Phone: (507) 582-3595
Web:

www.cedarrivercountryclub.com





Cedar River GC is a member owned public golf course 2 miles outside of Adams Minnesota. This 18 hole design set along the beautiful Cedar River is truly a hidden gem of Southeastern Minnesota. Cedar River GC offers beautiful bent grass greens, watered fairways and developed trees. Cedar River GC is open for the public to enjoy.
---
Lakes:
Lake Name
Size
(acres)
Lake info
Lake Map
Rec Map
Topo Map

none in the immediate area
---
Health Care:
Adams Clinic
908 W Main Street
Adams, MN 55909
Phone: (507) 582-3547
Web: www.mayohealthsystem.org

Adams Clinic offers complete family health care with outreach services provided by Austin Medical Center. Conveniently located on Main Street, our outpatient clinic is designed to serve you and your family's healthcare needs in a friendly, comfortable setting. With a dedicated full time physician and a team of highly qualified healthcare professionals, the staff at Adams Clinic is here when you need them.

Adams Health Care Center
810 W Main Street
Adams, MN 55909
Phone: (507) 582-3263
Web:

www.adamshcc.com

The City of Adams owns and manages this modern multi-function facility that provides senior residences, assisted living and full nursing care. It is Medicare certified and licensed. Because it has a direct all weather corridor to the Adams Clinic of the Austin Medical Center, a unit of Mayo Health Care, it offers an outstanding level of service.
---
Schools:
---
Churches:
---
Media:
Monitor Review
318 W Main Street
PO Box 283
Adams, MN 55909
Phone: (507) 582-3542
Fax: (507) 582-3542

Frequency: Weekly on Thursdays
Circulation: 1,088
---
Motels:
Check for motel rates and availability on:
---
Resorts:
---
Campgrounds:
---
---
Businesses:
Adam's Drug
11 SW 4th Street
Adams, MN 55909
Phone: (507) 582-3380
Adams Builders Supply Inc
205 SW Commerce Street
Adams, MN 55909
Phone: (507) 582-3210
Web: www.adamsbuilderssupply.com
Adams Clinic
908 W Main Street
Adams, MN 55909
Phone: (507) 582-3547
Web: www.mayohealthsystem.org

Adams Clinic offers complete family health care with outreach services provided by Austin Medical Center. Conveniently located on Main Street, our outpatient clinic is designed to serve you and your family's healthcare needs in a friendly, comfortable setting. With a dedicated full time physician and a team of highly qualified healthcare professionals, the staff at Adams Clinic is here when you need them.

Adams Dental Clinic
407 NW Lincoln Street
Adams, MN 55909
Phone: (507) 582-3563
Adams Funeral Home
300 W Main Street
Adams, MN 55909
Phone: (507) 582-3461
Adams Health Care Center
810 W Main Street
Adams, MN 55909
Phone: (507) 582-3263
Web:

www.adamshcc.com

The City of Adams owns and manages this modern multi-function facility that provides senior residences, assisted living and full nursing care. It is Medicare certified and licensed. Because it has a direct all weather corridor to the Adams Clinic of the Austin Medical Center, a unit of Mayo Health Care, it offers an outstanding level of service.

Adams Veterinarian Service
21 NW 4th Street
Adams, MN 55909
Phone: (507) 582-7828
Advanced Diesel
11626 650th Avenue
Adams, MN 55909
Phone: (507) 582-1060
American Legion
321 W Main Street
Adams, MN 55909
Phone: (507) 582-3266
Anderson Sandblasting-Painting
64258 140th Street
Adams, MN 55909
Phone: (507) 582-3440
Bank Boutique
322 W Main Street
Adams, MN 55909
Phone: n/a
Web: www.bankboutique.com

Gifts, Crafts, Collectibles, Antiques, Retro, Shabby Chic, Vintage Bunnies, Candles, Doilies, American Girl Doll Clothes, Floral, Watkins® Products. POTTERY: Red Wing, Royal Copley, McCoy, Hull and more!!

Big Js Repair
10126 660th Avenue
Adams, MN 55909
Phone: (507) 582-7818
Bubble's Cafe
19 NW 4th Street
Adams, MN 55909
Phone: (507) 582-3655
Byron Huseby Insurance
15740 665th Avenue
Adams, MN 55909
Phone: (507) 582-3253
Cedar Branch Activity Center
22 NW 4th Street
Adams, MN 55909
Phone: (507) 582-7726
Cedar Court Apartments
18 NW 10th Street
Adams, MN 55909
Phone: (507) 582-3263
Cedar Court Assisted Living
810 W Main Street
Adams, MN 55909
Phone: (507) 582-7704
Cedar River Golf Course
14927 State Highway 56
Adams, MN 55909
Phone: (507) 582-3595
Web:

www.cedarrivercountryclub.com





Cedar River GC is a member owned public golf course 2 miles outside of Adams Minnesota. This 18 hole design set along the beautiful Cedar River is truly a hidden gem of Southeastern Minnesota. Cedar River GC offers beautiful bent grass greens, watered fairways and developed trees. Cedar River GC is open for the public to enjoy.

Corky's Corner Inc
308 W Main Street
Adams, MN 55909
Phone: (507) 582-3552
Cross Home
302 NW 1Street Street
Adams, MN 55909
Phone: (507) 582-3151
David Schmitz Carpentry
14820 State Highway 56
Adams, MN 55909
Phone: (507) 582-3696
Dean's Auto Body
14898 State Highway 56
Adams, MN 55909
Phone: (507) 582-1238
Dorothy's Beauty Salon
111 NW Bergan Street
Adams, MN 55909
Phone: (507) 582-3679
Early Childhood Center
312 W Main Street
Adams, MN 55909
Phone: (507) 582-3405
Farm-Tech
14846 State Highway 56
Adams, MN 55909
Phone: (507) 582-7725
Web: www.farmtech.com

Farm-Tech is an independent crop consulting and soil sampling company. We are independent which means no product sales get in the way of our service to you. Feel free to contact us anytime to discuss what Farm-Tech can do for you.

Farmers State Bank of Adams
15 SW 4th Street
Adams, MN 55909
Phone: (507) 582-3448
Web: www.fsbadams.com

Since 1914, Farmers State Bank of Adams has been a leader in the success of the local community. Locally owned and operated, we offer the best products and friendly, reliable service in the area.

GPS Service
14846 State Highway 56
Adams, MN 55909
Phone: (507) 582-1477
Hatle Drainage & Construction Inc
65668 180th Street
Adams, MN 55909
Phone: (507) 582-7730
Heimer Foods
23 NW 4th Street
Adams, MN 55909
Phone: (507) 582-3301
Web:

www.heimerfoods.com





We are your local community connection for high quality foods, friendly service and great prices. Our family-owned store offers a convenient one-stop shop where you can find everything you need from the everyday essentials to specialty items from around the world. Our friendly staff is here to help you find exactly what you're looking for and to offer you assistance regarding all the products we carry. We take pride in our community and appreciate your business. We know that you have many options for food purchases and want you to know that we're working hard each day to continue to earn your business.



Helen's Tax Service
15 NW 4th Street
Adams, MN 55909
Phone: (507) 582-3600
Heritage Acres
15299 675th Avenue
Adams, MN 55909
Phone: (507) 582-7748
Hoversten Johnson Beckmann
310 W Main Street
Adams, MN 55909
Phone: (507) 582-3566
Kulow Truckline
14863 State Highway 56
Adams, MN 55909
Phone: (507) 582-7860
Little Cedar Day Care
308 NW Lewison Street
Adams, MN 55909
Phone: (507) 582-1434
Lone Star Plumbing & Heating
65977 145th Street
Adams, MN 55909
Phone: (507) 582-3400
Monitor Review
318 W Main Street
Adams, MN 55909
Phone: (507) 582-3542
Northern Country Co-Op Adams
13 SW Commerce Street
Adams, MN 55909
Phone: (507) 582-3641
Northern Country Coop Feeds
105 SW Commerce Street
Adams, MN 55909
Phone: (507) 582-1071
Web: www.ncountrycoop.com

Osmundson Brothers Implement
211 W Main Street
Adams, MN 55909
Phone: (507) 582-3503
R B Cabinetry
13 W Main Street
Adams, MN 55909
Phone: (507) 582-1135
Rehab Care Group
810 W Main Street
Adams, MN 55909
Phone: (507) 582-3056
S & M Controls Inc
14918 State Highway 56
Adams, MN 55909
Phone: (507) 582-7865
Schmitz Electric
308 W Main Street
Adams, MN 55909
Phone: (507) 582-3528
Web: www.schmitzelectric.com

"Years of Qualified Service"

Farm-Home-Industrial
Electrical, Plumbing, Heating & Air Conditioning
Fat Application Tanks & Systems (F.A.T.S.)

Schroeder Farms
67801 180th Street
Adams, MN 55909
Phone: (507) 582-1063
Stateline Veterinary Service
17 NW 4th Street
Adams, MN 55909
Phone: (507) 582-1244
Sterling State Insurance
322 W Main Street
Adams, MN 55909
Phone: (507) 582-7750
Sunset Transcription & Tech
18027 640th Avenue
Adams, MN 55909
Phone: (507) 582-7861
Uptown Cut
318 W Main Street
Adams, MN 55909
Phone: (507) 582-3135
US Post Office
18 NW 4th Street
Adams, MN 55909
Phone: (507) 582-3424
Wiste Auto Service
202 SW Commerce Street
Adams, MN 55909-5005
Phone: (507) 582-1111
Web:

www.wisteautoservice.com





Wiste Auto Service provides automotive repair services to the Adams, MN area. We have over 19 years of experience, and our team of professionally certified technicians offer friendly and reliable service every time.

Whispering Willows Cottage
107 3rd Street
Adams, MN 55909
Phone: (507) 438-7577
Web: www.whisperingwillowscottage.com

Whispering Willows Cottage is a beautiful new quilting & scrapbooking retreat home located on the prairies of southeastern Minnesota in the quiet, small town of Adams. Adams is conveniently located just 5 miles N of the Iowa border, 15 miles SE of Austin, MN, and 30 miles SW of Rochester, MN. Whispering Willows Cottage is the perfect place to enjoy a scrapbooking retreat, knitting, beading or quilting retreat, spiritual retreats, seminars, family reunions or just an all-girls weekend. This spacious quilting, crafting and scrapbooking retreat home accommodates up to 12 guests.

Xcel Energy
S Highway 56
Adams, MN 55909
Phone: (507) 582-3106
Young's Welding
305 W Main Street
Adams, MN 55909
Phone: (507) 582-3232
---
---
Aerial Photo:
---
Topographic Map: [click map to enlarge, zoom in or zoom out]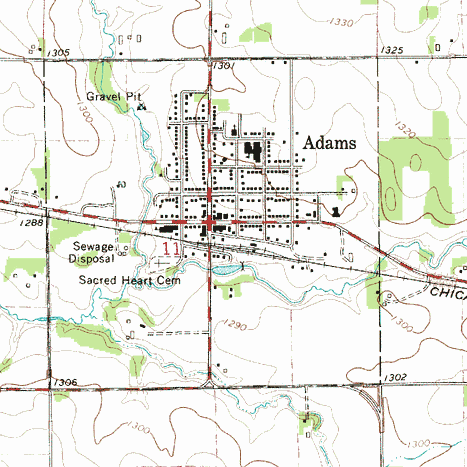 Topographic map is courtesy of the Minnesota DNR - click map to zoom or enlarge