Navigation
LakesnWoods.com
Home Page
Contact Us
Privacy
Minnesota History Shop

Visit The Minnesota History Shop
www.minnesotahistoryshop.com
Historic maps
Historic books
Historic framed art
Historic postcards
Clothing with historic images
And much more!!!


Alvarado Guide:
Photo Gallery
Location
Geography
Demographics
History
Government
Post Office
News
Weather
Street Map
Events
Attractions
Recreation
Lakes
Health Care
Schools
Churches
Media
Motels
Resorts
Campgrounds
Businesses
Aerial Photo
Topographic Map
© 2004-2023
Lakeweb1 Internet Services
All Rights Reserved
DCMA, Defamation, Copyright and Trademark Infingement Policy
WANTED!
Do you have photos, historical accounts or other items pertaining to the Alvarado area? Would you like to share this historical information with the world? LakesnWoods.com would like to publish your Alvarado photos (current or historical) or historical accounts on this website. Original materials can be returned and your privacy will be respected.

Alvarado Minnesota Community Guide
---
Location:

Alvarado is a small rural community located just 18 miles north of Grand Forks, North Dakota, at the intersection of Highways 1 and 220. There is a city park with camping sites, water, sewer, electricity, bathroom, playground equipment, and picnic shelter. A skating rink with warming house is available in winter. Snowmobiling is an important winter sport. The public school is 11 miles away in Warren, MN. Oslo, MN is 6 miles to the west, along the Red River of the North.

Courtesy City of Alvarado
---
Population:
Alvarado (city)
1970
1980
1990
2000
2010
2000-2010 Change
Actual
Percent
Population
302
385
356
371
363
-8
-2.16
Land Area (sq. mile)
0.50
0.22
0.21
0.21
0.22
+0.01
+4.76
Density (persons per sq. mile)
604.00
1,750.00
1,695.24
1,738.35
1,650.00
-88.65
-5.08
Housing Units
116
162
171
179
177
-2
-1.17
Households
--
143
146
145
137
-8
-5.52
Persons Per Household
--
2.69
2.44
2.56
2.65
+0.09
+3.52
---
Geography:
Alvarado is a city situated along the Snake River in Marshall County. Minnesota Highway 1 and Minnesota Highway 220 are two of the main arterial routes in the community. According to the United States Census Bureau, the city has a total area of 0.22 square miles (0.57 km2), all of it land. The elevation is 810 feet (247 m).
From Wikipedia, the free encyclopedia.
---
Demographics:
As of the census of 2010, there were 363 people, 137 households, and 105 families residing in the city. The population density was 1,650.0 inhabitants per square mile (637.1/km2). There were 177 housing units at an average density of 804.5 per square mile (310.6/km2). The racial makeup of the city was 88.2% White, 0.3% African American, 0.3% Native American, 0.3% Asian, 9.6% from other races, and 1.4% from two or more races. Hispanic or Latino of any race were 16.3% of the population.
There were 137 households of which 30.7% had children under the age of 18 living with them, 63.5% were married couples living together, 7.3% had a female householder with no husband present, 5.8% had a male householder with no wife present, and 23.4% were non-families. 21.2% of all households were made up of individuals and 9.5% had someone living alone who was 65 years of age or older. The average household size was 2.65 and the average family size was 3.05.
The median age in the city was 34.1 years. 27.3% of residents were under the age of 18; 8.7% were between the ages of 18 and 24; 25% were from 25 to 44; 25.6% were from 45 to 64; and 13.2% were 65 years of age or older. The gender makeup of the city was 48.2% male and 51.8% female.
---
---
History:
ALVARADO, a city in Vega Township, has the name of a seaport and river in Mexico, about 40 miles southeast of Vera Cruz. It is also the name of a small city in Texas and of villages in Indiana and California. It was first settled in 1879 and incorporated as a village on October 16, 1907; its post office began as Snake in 1888, named for its location on the Snake River, with Ole Sand, postmaster, in his store. When the Minneapolis, St. Paul and Sault Ste. Marie Railroad (Soo Line) came in 1903, its construction crew established the station name as Alvarado, so Sand with his brother moved the store and the post office in 1905, changing the post office name, and Sand's son, Martin H. Sand, became the new postmaster.
Courtesy Minnesota Historical Society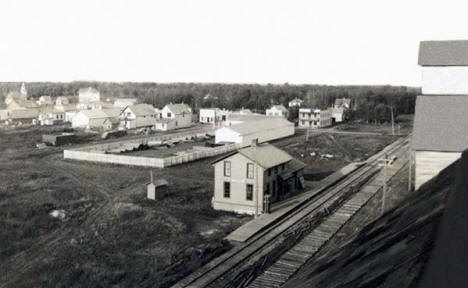 Railroad Depot, Alvarado Minnesota, 1908
LakesnWoods.com Postcard and Postcard Image Collection - click to enlarge

Visit The Alvarado Photo Gallery for more recent and historic Alvarado photos

---
Government:
Alvarado City Hall
155 Marshall Street
PO Box 935
Alvarado, MN 56710
Phone: (218) 965-4911
Fax: (218) 965-4608

Regular Business Hours:
Monday - Friday 9:00 am - 12:00 pm

City Council Meeting:
2nd Tuesday of the month at 7:00 pm


Title
Term Ends
Name and Address
Phone
Mayor
12/31/2022
Gary Toren
725 Riverside Court
Alvarado, MN 56710
(218) 965-4900
Clerk/Treasurer
appointed
Jill Fanfulik
PO Box 935
Alvarado, MN 56710
(218) 965-4911
Council Member
12/31/2022
Dean Bergman
245 6th Street
Alvarado, MN 56710
(218) 965-4651
Council Member
12/31/2022
Daryl L. Larson
705 Woodland Court
Alvarado, MN 56710
(218) 779-9791
Council Member
12/31/2024
Cheri Pagnac
360 Parkview Drive
Alvarado, MN 56710
(218) 686-1335
Council Member
12/31/2024
Lane Iverson
155 1st Avenue W
Alvarado, MN 56710
(701) 739-6144
---
Post Office:
US Post Office
200 Marshall Street
Alvarado, MN 56710-9998
Phone: (218) 965-4548
Toll Free: (800) ASK-USPS

Regular Business Hours:
Week Days 8:00 am - 12:00 pm
Saturday 8:00 am - 9:15 am
---
---
Utilities:
| | | |
| --- | --- | --- |
| Utility Type | Utility Name | Utility Phone |
| Electricity | City of Alvarado (city) | (218) 965-4911 |
| Electricity | PKM Electric (rural) | (218) 745-4711 |
| Natural Gas | n/a | n/a |
| Wastewater | City of Alvarado | (218) 965-4911 |
| Water | City of Alvarado | (218) 965-4911 |
| Telephone | Frontier Telecommunications | (877) 898-2097 |
| Cable TV | Frontier Telecommunications | (877) 898-2097 |
---
Major Employers:
Employer
Products/Services
Employees
n/a
---
---
News:
---
Weather:
---
Map: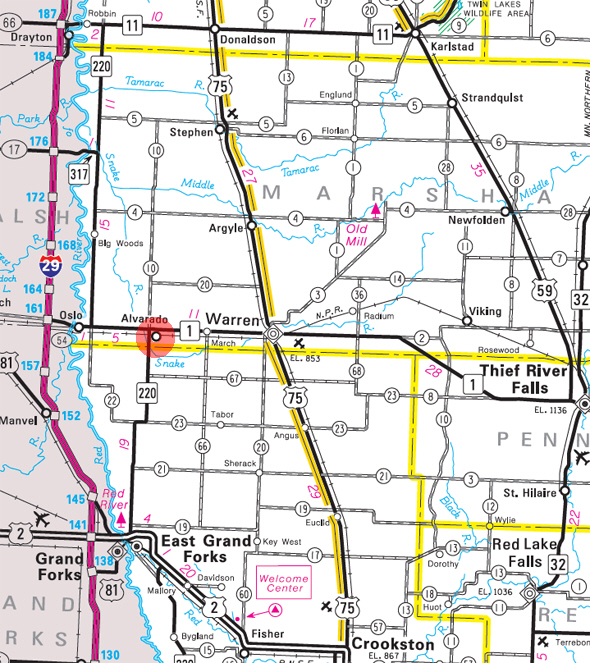 Minnesota State Highway Map of the Alvarado Minnesota area
---
Events:
---
---
Attractions:
---
Recreation:
---
Lakes:
Lake Name
Size
(acres)
Lake info
Lake Map
Rec Map
Topo Map

none
---
Health Care:
---
Schools:
none - students attend school in Warren or Oslo
---
Churches:
Alvarado Baptist Church
Sand Street & Parral Street
Alvarado, MN 56710
Phone: (218) 965-4684

Pastor: n/a
Sunday Worship: 10:30am

Harvest Community Church
190 Marshall Street
Alvarado, MN 56710
Phone: n/a
Living Water Community Church
190 Marshall
Alvarado, MN 56710
Phone: (218) 965-4025

Pastor: n/a
Sunday Worship: 10:00am

New Hope Lutheran Church
245 Fering Street
Alvarado, MN 56710
Phone: (218) 965-4638

Pastor: Gwenn A Bazajou
Sunday Worship: 9:30am
---
Media:
---
Motels:
Check for motel rates and availability on:
---
Resorts:
---
Campgrounds:
---
---
Businesses:
Alvarado Baptist Church
Sand Street & Parral Street
Alvarado, MN 56710
Phone: (218) 965-4684

Pastor: n/a
Sunday Worship: 10:30am

Alvarado Bean Company
100 Main Street
Alvarado, MN 56710
Phone: (218) 965-4668
Alvarado City Hall
155 Marshall Street
Alvarado, MN 56710
Phone: (218) 965-4501
Alvarado Community Center
135 Marshall Street
Alvarado, MN 56710
Phone: (218) 965-4504
Alvarado Fire Department
124 Marshall Street
Alvarado, MN 56710
Phone: (218) 965-4523
American Crystal Sugar Company
Alvarado, MN 56710
Phone: (218) 965-4901
ATM Processing Company
160 Marshall Street
Alvarado, MN 56710
Phone: (218) 965-4104
Cool Custom Trikes (CCT)
150 Parral Avenue
Alvarado, MN 56710
Phone: (218) 965-4138
Web: www.coolcustomtrikes.com

With our years of experience in paint, engineering and assembly, our workmanship results in very high quality Trikes that can be converted and delivered anywhere in the US or beyond. We have added our own custom flair with some radical options to some Honda and Harley trike models.

Community Bank of the Red River Valley
210 Marshall Street
Alvarado, MN 56710
Phone: (218) 965-4819
Web: www.cbrrv.com


Estad Plumbing & Heating
PO Box 757
Alvarado, MN 56710
Phone: (218) 965-4880
Farmers Elevator Company
Highway 1
PO Box 952
Alvarado, MN 56710
Phone: (218) 965-4812
Web: www.farmerselevator.com

The Farmers Elevator Company of Alvarado, located on U.S. Hwy 1 & Main St., Alvarado, Minnesota, is a full service farmer owned cooperative consisting of 200 members. It was founded in 1920, and to date has the storage capacity of 1,350,000 bushels at three locations. The Farmers Elevator Company of Alvarado has an annual volume of 10 million bushels. The main facility is located in Alvarado, with branch elevators in Stephen and Oslo.

Harvest Community Church
190 Marshall Street
Alvarado, MN 56710
Phone: n/a
Heartland Academy
Alvarado, MN 56710
Phone: (218) 965-4095
Iron Traditions
25907 440th Avenue NW
Alvarado, MN 56710
Phone: (218) 965-4908
Fax: (425) 675-8031
Web: www.irontraditions.com

My knives starts as hand forged carbon steel blades. Each blade is heat-treated using a differential technique. This process produces a hard edge and softer back. I believe that the resulting blade has greater edge holding qualities while providing more blade strength than blades produced using other heat treating techniques.




John's Service & Repair
100 Marshall Street
Alvarado, MN 56710
Phone: (218) 965-4511
Lightning Bar
160 Marshall Street
PO Box 701
Alvarado, MN 56710
Phone: (218) 965-4525
Lind Electric
130 Parral Avenue
PO Box 707
Alvarado, MN 56710
Phone: (218) 965-4993
Lind Heating
19492 State Highway 220 NW
PO Box 990
Alvarado, MN 56710
Phone: (218) 965-4887
Living Water Community Church
190 Marshall Avenue
Alvarado, MN 56710
Phone: (218) 965-4025

Pastor: n/a
Sunday Worship: 10:00am

New Hope Lutheran Church
245 Fering Street
Alvarado, MN 56710
Phone: (218) 965-4638

Pastor: Gwenn A Bazajou
Sunday Worship: 9:30am

Olson Farms
Alvarado, MN 56710
Phone: (218) 965-4867
Rosenquist Truckin Inc
500 W Bend Lane
Alvarado, MN 56710
Phone: (218) 965-4777
Sands Potato Company
Alvarado, MN 56710
Phone: (218) 965-4564
Scorpion Liners
112 Higden
Alvarado, MN 56710
Phone: (218) 965-4545
Torren Appraisal Service
725 Riverside Court
Alvarado, MN 56710
Phone: (218) 965-4900
US Post Office
200 Marshall Street
Alvarado, MN 56710
Phone: (218) 965-4548
Web: www.usps.com
---
---
Aerial Photo:
---
Topographic Map: [click map to enlarge, zoom in or zoom out]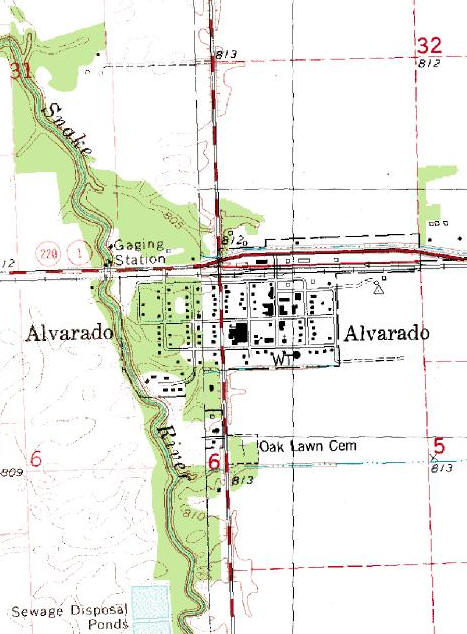 Topographic map is courtesy of the Minnesota DNR - click map to zoom or enlarge