Navigation
LakesnWoods.com
Home Page
Contact Us
Privacy
Minnesota History Shop

Visit The Minnesota History Shop
www.minnesotahistoryshop.com
Historic maps
Historic books
Historic framed art
Historic postcards
Clothing with historic images
And much more!!!


Arlington Guide:
Photo Gallery
Location
Geography
Demographics
History
Government
Post Office
News
Weather
Street Map
Events
Attractions
Recreation
Lakes
Health Care
Schools
Churches
Media
Motels
Resorts
Campgrounds
Businesses
Aerial Photo
Topographic Map
© 2004-2023
Lakeweb1 Internet Services
All Rights Reserved
DCMA, Defamation, Copyright and Trademark Infingement Policy
WANTED!
Do you have photos, historical accounts or other items pertaining to the Arlington area? Would you like to share this historical information with the world? LakesnWoods.com would like to publish your Arlington photos (current or historical) or historical accounts on this website. Original materials can be returned and your privacy will be respected.

Arlington Minnesota Community Guide
---
Location:
---
Population:
Arlington (city)
1970
1980
1990
2000
2010
2000-2010 Change
Actual
Percent
Population
1,823
1,779
1,886
2,048
2,233
+185
+9.03
Land Area (sq. mile)
0.70
0.95
0.91
1.47
1.57
+0.10
+6.80
Density (persons per sq. mile)
2,604.29
1,872.63
2,072.53
1,395.11
1,422.29
+27.18
+1.95
Housing Units
638
731
771
859
1,018
+159
+18.51
Households
--
695
738
828
911
+83
+10.02
Persons Per Household
--
2.46
2.45
2.39
2.38
-0.01
-0.42
---
Geography:
Arlington is a city in Sibley County, Minnesota. Minnesota State Highway 5 serves as a main route in the community. According to the United States Census Bureau, the city has a total area of 1.57 square miles (4.07 km2), all of it land. The elevation is 1,004 feet (306 m).
From Wikipedia, the free encyclopedia.
---
Demographics:
As of the census of 2010, there were 2,233 people, 911 households, and 549 families residing in the city. The population density was 1,422.3 inhabitants per square mile (549.2/km2). There were 1,018 housing units at an average density of 648.4 per square mile (250.3/km2). The racial makeup of the city was 94.1% White, 0.1% African American, 0.1% Native American, 0.7% Asian, 3.6% from other races, and 1.4% from two or more races. Hispanic or Latino of any race were 9.4% of the population.
There were 911 households of which 32.6% had children under the age of 18 living with them, 44.3% were married couples living together, 11.6% had a female householder with no husband present, 4.3% had a male householder with no wife present, and 39.7% were non-families. 34.4% of all households were made up of individuals and 16.2% had someone living alone who was 65 years of age or older. The average household size was 2.38 and the average family size was 3.06.
The median age in the city was 35.6 years. 26.7% of residents were under the age of 18; 8% were between the ages of 18 and 24; 26.3% were from 25 to 44; 21.3% were from 45 to 64; and 17.6% were 65 years of age or older. The gender makeup of the city was 47.9% male and 52.1% female.
---
---
History:
The City of Arlington is located in eastern Sibley County and was laid out in 1856. Records show that the name was officially approved at a town meeting held on May 11, 1858, which is the same date that Minnesota became a state. At that time, both the village and the township received the name Arlington. German settlement of the area began with the immigration of homesteaders in the 1860's and 1870's. The population of Arlington continues to be of predominately German descent. In 1948, Arlington was incorporated as a "Home Rule Charter" city. Revision of the charter occurred in 1982. Arlington was designated as a Minnesota Star City in 1990.
Courtesy City of Arlington
ARLINGTON Township, settled in 1855, organized May 11, 1858, and its city in sections 9 and 10, platted in 1856 and somewhat changed in location when the railway was built in 1881, have a name that is borne also by a village in Virginia and by villages and townships in 25 other states. The village was incorporated on March 8, 1860, June 19, 1883, April 3, 1912, and as a city in 1948; it had a station of the Chicago and North Western Railway; the post office began in 1857.
Courtesy Minnesota Historical Society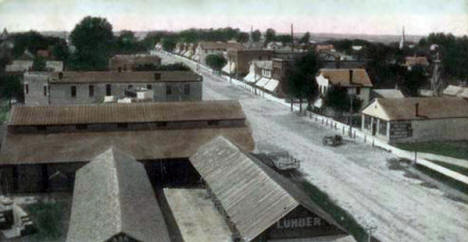 Birds Eye View, Arlington Minnesota, 1906
LakesnWoods.com Postcard and Postcard Image Collection - click to enlarge
Visit The Arlington Photo Gallery for more recent and historic area photos
---
Government:
Arlington City Hall
204 Shamrock Drive
Arlington, MN 55307
Phone: (507) 964-2378
Fax: (507) 964-5973

Regular Business Hours:
Monday - Friday 8:00 am - 5:00 pm

City Council Meetings:
1st and 3rd Monday of the month at 6:30 pm


Title
Term Ends
Name and Address
Phone
Mayor
12/31/2022
Rick Nagel
311 E Clinton Street - PO Box 206
Arlington, MN 55307
(507) 964-5141
City Administrator
appointed
Pat Melvin
204 Shamrock Drive
Arlington, MN 55307
(507) 964-2378
Council Member
12/31/2022
Joe Morgan
22994 401st Avenue
Arlington, MN 55307
(612) 919-4170
Council Member
12/31/2022
Michelle Battcher
511 Freedom Drive
Arlington, MN 55307
(507) 964-5274
Council Member
12/31/2024
Matt Scharpe
817 W Chandler Street
Arlington, MN 55307
(612) 227-0040
Council Member
12/31/2024

John Thomes
301 E Adams Street
Arlington, MN 55307

(612) 387-0792-
Council Member
12/31/2024
Craig Buss
102 E Baker Street
Arlington, MN 55307
(320) 582-2323
---
Post Office:
US Post Office
220 W Main Street
Arlington, MN 55307-9700
Phone: (507) 964-5503
Toll Free: (800) ASK-USPS

Regular Business Hours:
Week Days 9:00 am - 4:30 pm
Saturday 9:00 am - 10:30 am
---
---
Utilities:
---
Major Employers:
---
---
News:
---
Weather:
---
Map: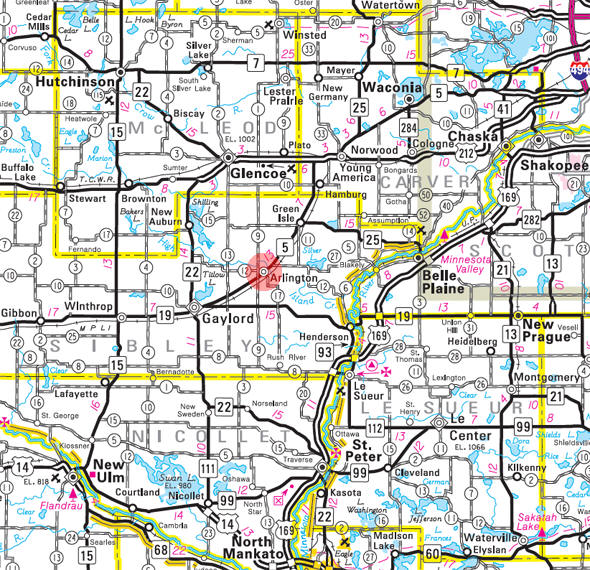 Minnesota State Highway Map of the Arlington Minnesota area
---
Events:
---
---
Attractions:
Arlington Raceway
801 W Chandler Street
Arlington, MN 55307
Phone: (507) 964-5947
Web: www.arlingtonraceway.com

The Arlington Raceway is located on the Sibley County Fairgrounds in Arlington, MN. 2011 marks our 31st season in operation, providing fun family entertainment. We feature 6 classes of Auto Racing Competition every Saturday night from April 30th-September 24th starting at 7pm. Our admission is very affordable at $10 per adult $3 per child and 5 and under are free.

Sibley County Fair
Arlington, MN 55307
Phone: (507) 964-5698
Web: www.sibleycountyfair.com
---
Recreation:
---
Lakes:
Lake Name
Size
(acres)
Lake info
Lake Map
Rec Map
Topo Map

none
---
Health Care:
Sibley Medical Center & Clinic
601 W Chandler Street
Arlington, MN 55307
Phone: (507) 964-2271
Web: www.sibleymedical.org

The physicians and staff at Sibley Medical Center are dedicated to a sole purpose, and that is you. As you will see in exploring this site, we are committed to our mission of making a positive difference in the lives of those we serve and supporting healthier communities and lifestyles within Sibley County.
---
Schools:
Sibley East School District
202 3rd Avenue NW
Arlington, MN 55307
Phone: (507) 964-2292
Fax: (507) 964-8245
Web: www.sibleyeast.org

Grades: PK-12
Students: 1,235

Sibley East-Arlington Senior High School
202 3rd Avenue NW
Arlington, MN 55307
Phone: (507) 964-8235
Fax: (507) 964-8245

Grades: 10-12
Students: 306

Sibley East-Gaylord Junior High School
500 Couroute Avenue
Gaylord, MN 55334
Phone: (507) 237-3315
Fax: (507) 237-3300

Grades: 7-9
Students: 277
Sibley East-Arlington Elementary School
202 3rd Avenue NW
Arlington, MN 55307
Phone: (507) 964-8225
Fax: (507) 964-8245

Grades: PK-6
Students: 325
---
Churches:
Arlington United Methodist Church
303 W Alden Street
Arlington, MN 55307
Phone: (507) 964-2288
Web: www.arlingtonunitedmethodist.org

Pastor: Wayne Swanson
Sunday Worship: 9:00 am

Creekside Community Church
114 Shamrock Drive
Arlington, MN 55307
Phone: (507) 964-2872
Web: www.creekside-church.com

Pastor: n/a
Sunday Worship: 10:30 am

Peace Lutheran Church
514 Freedom Drive
Arlington, MN 55307
Phone: (507) 964-2959
Web: www.peacelutheranarlington.org

Pastor: Rev. Kurt Lehmkuhl
Sunday Worship: 9:30 am

Seventh Day Adventist Church
201 7th Avenue NW
Arlington, MN 55307
Phone: (507) 964-2696

Pastor: Bob Brauer
Saturday Worship: 9:30 am

St. Mary's Catholic Church
504 7th Avenue NW
Arlington, MN 55307
Phone: (507)

964-5413

Pastor: Fr James Barry
Sunday Mass: 10:15 am

St. Paul Lutheran Church - WELS
101 E Chandler Street
Arlington, MN 55307
Phone: (507) 964-2731
Web: church.stpaularlington.com

Pastor: Rev. Bruce Hanneman
Sunday Worship: 10:00 am

Templo Marantha


Arlington, MN 55307
Phone: n/a

Pastor: n/a
Sunday Worship: n/a

Zion Lutheran Church - ELCA
814 W Brooks Street
Arlington, MN 55307
Phone: (507) 964-5454

Pastor: n/s
Sunday Worship: n/a
---
Media:
---
Motels:
Check for motel rates and availability on:
---
Resorts:
---
Campgrounds:
---
---
Businesses:
A & N Radiator Repair
23228 401st Avenue
Arlington, MN 55307
Phone: (507) 964-2281
AAL
207 W Main Street
Arlington, MN 55307
Phone: (507) 964-2806
After Burner Auto Body
118 W Main Street
Arlington, MN 55307
Phone: (507) 964-2809
Web: www.afterburnerautobody.com

We offer all type of collision repair, Glass repair and replacement. Tire repair and replacement, Light Sandblasting, Painting Towing services as well. We also provide storage units. Our goal at After Burner is to provide the best service for you and your needs. If it is accident related or not. We what to help with all the bumps in the road to facilitate your claim. We strive to make this a seamless as possible. We at After Burner Auto Body want you to be happy and satisfied with your experience.

Anderson Orthodontics
106 3rd Avenue NW
Arlington, MN 55307
Phone: (507) 964-2705
Web: www.andersonbracesmn.com

Here at Anderson Orthodontics, Dr. Jason Anderson strives to provide the highest quality of orthodontic care to our patients in and around the Le Sueur, Belle Plaine, St. Peter, Arlington and Montgomery, Minnesota areas. We know what a significant difference in health and self-esteem a beautiful smile can make, which is why we are dedicated to giving each of our patients the beautiful, straight smile they deserve!

Arlco Inc Insurance
230 W Main Street
Arlington, MN 55307
Phone: (507) 964-2256
Arlington Attic
247 W Main Street
Arlington, MN 55307
Phone: (507) 964-5259
Arlington Auto & Farm Supply
402 5th Avenue NW
Arlington, MN 55307
Phone: (507) 964-2202
Arlington Chiropractic
241 W Main Street
Arlington, MN 55307
Phone: (507) 964-2850
Arlington Dugout
310 W Main Street
Arlington, MN 55307
Phone: (507) 964-2211
Arlington Enterprise
402 W Alden Street
PO Box 388
Arlington, MN 55307
Phone: (507) 964-5547
Web: www.arlingtonmnnews.com
Arlington Good Samaritan Center
411 7th Avenue NW
Arlington, MN 55307
Phone: (507) 964-2251
Web: www.good-sam.com

Welcome to Good Samaritan Society – Arlington's Web site. Our dedicated staff provides quality, comprehensive healthcare and supportive services to seniors and others in need. Our vision statement states our goal of making our residents feel loved, valued and at peace. We believe in caring for the whole person – body, mind and spirit – in a Christian community of care. We invite you to schedule a tour to learn more about us!

Arlington Haus
147 W Main Street
Arlington, MN 55307
Phone: (507) 964-2473
Arlington Liquors
418 W Main Street
Arlington, MN 55307
Phone: (507) 964-2727
Arlington Market
329 W Main Street
Arlington, MN 55307
Phone: (507) 964-2215
Web: www.arlingtonmeat.net

Arlington Meat has proudly served the community of Arlington, Minnesota for 14 years. The Arlington Market is your full-service meat market for fresh meats and cheeses, fresh and smoked sausage, and meat packing services at affordable prices. Our smoked sausage is made right here on site.

Arlington Public Library
321 W Main Street
Arlington, MN 55307
Phone: (507) 964-2490
Web: www.arlingtonmn.com/library

8 computers for patron use, with high-speed internet connections. Geneology research area featuring the Arlington Enterprise & Green Isle Record Newspapers on microfilm. Homeward Bound book delivery system to elderly or disabled within city limits. Faxing, printing, and copying (fees for services). And of course........lots of books, audio books, large print books, movies in DVD and VHS formats, and music CDs for all ages!

Arlington Raceway
801 W Chandler Street
Arlington, MN 55307
Phone: (507) 964-5947
Web: www.arlingtonraceway.com

The Arlington Raceway is located on the Sibley County Fairgrounds in Arlington, MN. 2011 marks our 31st season in operation, providing fun family entertainment. We feature 6 classes of Auto Racing Competition every Saturday night from April 30th-September 24th starting at 7pm. Our admission is very affordable at $10 per adult $3 per child and 5 and under are free.

Arlington State Bank
230 W Main Street
Arlington, MN 55307
Phone: (507) 964-2256
Web: www.arlingtonstatebank.com

Arlington State Bank's origins date from the bank's 1895 charter. We are a 4th-generation family bank, locally-owned and operated by Arlington taxpayers committed to working toward the economic growth of our community. Experience for yourself our traditional hometown service combined with 21st Century technology!

Arlington Veterinarian Clinic
318 West Main Street
Arlington, MN 55307-2086
Phone: (507) 964-2248
Aspen Marketing LLC
412 Circle Lane
Arlington, MN 55307
Phone: (507) 964-5491
B Odenthal Barn
22349 441st Avenue
Arlington, MN 55307
Phone: (507) 964-2120
Bar 5 Meat & Poultry
23160 441st Avenue
Arlington, MN 55307
Phone: (507) 964-5612

We offer free range poultry products. These products are processed in our state inspected farm processing facility. Our product list includes, but is not limited to: chickens, ducks, turkeys, geese, pheasants, rabbits and eggs. Smoked in our own smokehouse or fresh/frozen. Call us about our custom processing.

Bening Construction
39489 250th Street
Arlington, MN 55307
Phone: (507) 964-5767
Bergie's Handyman Service
105 E Dayton Street
Arlington, MN 55307
Phone: (507) 964-5920
Bernice Kroells Farm
301 E N Avenue
Arlington, MN 55307
Phone: (507) 964-5297
Brau Motors
502 W Main Street
Arlington, MN 55307
Phone: (507) 964-5539
Web: www.braumotors.com

Brau Motors is your Arlington MN Chevrolet & Arlington MN Buick dealer. We have a great selection of Chevy & Buick vehicles and are an easy drive from Shakopee, Waconia, Le Sueur, St. Peter, Hutchinson, New Ulm, and all other areas. For directions to Brau Motors in Arlington, click here. If you have any questions, feel free to give us a call, or simply contact us online. We look forward to meeting you!

Bruce Neubarth Farms
39765 210th Street
Arlington, MN 55307
Phone: (507) 964-2804
Carlson Wallace Farm
43197 236th Street
Arlington, MN 55307
Phone: (507) 964-5574
Cemstone Products Company
104 1st Avenue N
Arlington, MN 55307
Phone: (507) 964-2233
Web: www.cemstone.com

Founded by the Becken family in 1927, Cemstone offers truly integrated and sustainable "concrete solutions" for its customers in the Upper Midwest and across the country. Cemstone owns and operates a network of ready-mix concrete plants and aggregate facilities. The company offers a full line of ready-mixed concrete, decorative concrete, high performance concrete, aggregate products, concrete masonry units, brick and decorative stone. Cemstone also provides professional grade supplies and materials through its network of Contractor Supply Stores.

Chopper's Denture Service
109 E Main Street
Arlington, MN 55307
Phone: (507) 964-5271
Country Machine & Repair
40872 226th Street
Arlington, MN 55307
Phone: (507) 964-5379
D J's Shoes & Repairs
229 W Main Street
Arlington, MN 55307
Phone: (507) 964-5183
Doehling Farms
42377 240th Street
Arlington, MN 55307
Phone: (507) 964-2841
E Z Wash & Storage
114 Shamrock Drive
Arlington, MN 55307
Phone: (507) 964-2468
Elaine Breitkreutz Farm
38715 State Highway 5
Arlington, MN 55307
Phone: (507) 964-2348
Five Star Dairy LLC
25738 State Highway 5
Arlington, MN 55307
Phone: (507) 237-3210
Gaylord Metal Products
305 5th Avenue SW
Arlington, MN 55307
Phone: (507) 964-5312
Geib Well Company
24287 401st Avenue
Arlington, MN 55307
Phone: (507) 964-5251
Web: www.geibwell.com

Geib Well & Water Services is located in Arlington MN. With five generations under our belts we are well equipped to handle all of your well & water services. We specialize in water well drilling & repairs, complete water systems, trenching/waterlines, iron filters & softeners, well abandonment, livestock waterers & hydrants, sewer systems and geothermal heat loops.

George F Maca Inc
405 Creekview Lane
Arlington, MN 55307
Phone: (507) 964-5278
Glenn's Service & Towing
22699 401st Avenue
Arlington, MN 55307
Phone: (507) 964-2232
Godfather's Pizza
343 W Main Street
Arlington, MN 55307
Phone: (507) 964-2122
Web: www.godfathers.com

Who would have ever imagined that a little pizza shop that opened in Omaha, Neb. more than 30 years ago would become the legendary pizza chain that it is today. The secret to our success is a rare combination of a commitment to excellence, an obsession with great-tasting pizza, dedicated people, and a desire to have a little fun.

Golden Hearts Inc
602 Marion Drive
Arlington, MN 55307
Phone: (507) 964-2111
Grandmas Country Daycare
39502 230th Street
Arlington, MN 55307
Phone: (507) 964-2355
Haggenmiller Lumber & Building Supply
23180 401st Avenue
Arlington, MN 55307
Phone: (507) 964-2263
Hedgewood Farms Inc
40735 280th Street
Arlington, MN 55307
Phone: (507) 964-5713
High Island Creek Residence
708 Chestnut Street
Arlington, MN 55307
Phone: (507) 964-5984
Hip Hop Family Shop
339 W Main Street
Arlington, MN 55307
Phone: (507) 964-5654
Hutchinson Cooperative
23189 State Highway 5
Arlington, MN 55307
Phone: (507) 964-2283
Web: www.hutchcoop.com

Hutchinson Co-op was founded in 1955 as a petroleum product supply company. As times have changed, so has the Hutchinson Co-op. Over the years we have added many new services and departments which include the service station, agronomy division, bulk petroleum and elevator division.

Jason Thoele Farm
39355 State Highway 5
Arlington, MN 55307
Phone: (507) 964-5721
Jerry's Home Quality Foods
105 1st Avenue NW
Arlington, MN 55307-4519
Phone: (507) 964-2246
Kevin Thies Farm
42612 286th Street
Arlington, MN 55307
Phone: (507) 237-2247
Kicks Bake Shop
343 W Main Street
Arlington, MN 55307
Phone: (507) 964-2434
Kolden Funeral Home
310 W Adams Street
Arlington, MN 55307
Phone: (507) 964-2201
Web: www.koldenfuneralhome.com

Kolden Funeral Service provides funeral and cremation services for the communities in and around, Arlington, Belle Plaine, Henderson and LeSueur. The funeral homes are owned by Darrell Kolden. Licensed funeral directors are Darrell Kolden, Karl Kolden, Rosemary Kolden, Shawn Kirby, Greggory Borchert and Tonya Borth.

Kreft Cabinets
139 West Main Street
Arlington, MN 55307-2094
Phone: (507) 964-5359
Lensing Insurance
325 W Main Street
Arlington, MN 55307
Phone: (507) 964-5565
Liberty Station
307 5th Avenue NW
Arlington, MN 55307
Phone: (507) 964-5177
Web: www.libertystationautosales.com
Lido Theatre
309 W Main Street
Arlington, MN 55307
Phone: (507) 964-5771
Web: lidotheaterarlington.zxq.net

First Run Films Family, Friendly Prices and Great Concessions. The Lido Theatre was opened in 1949. It was built in the Streamline Moderne style. Streamline Moderne, sometimes referred to by either name alone, was a late type of the Art Deco design style which emerged during the 1930s. Its architectural style emphasized curving forms, long horizontal lines, and sometimes nautical elements.

M R Berg Insurance
416 E Adams Street
Arlington, MN 55307
Phone: (507) 964-5691
Mayer Law Offices, LLC
315 Main Street
PO Box 764
Arlington, MN 55307
Phone: (507) 964-2992
Web: www.cmayerlaw.com

Carol Mayer is a Family / Divorce Law and Criminal Law attorney practicing law in the Arlington, MN area including the cities of Arlington, Gaylord, Glencoe, Hutchinson and Winthrop Minnesota. Contact Carol today for a discrete consultation about your situation.

Mid-County Cooperative
39625 230th Street
Arlington, MN 55307
Phone: (507) 964-5500
Web: www.midcountycoop.com

Mid-County Coop was founded in 1935 as a petroleum product supplier for Carver County. As times have changed, so has Mid-County. Over the years we have added new departments to our company including a Convenience Store, a complete Agronomy Division, a widely expanded Energy Division including an ever expanding fuels, lubricant, and propane delivery service, and an Auto, Truck, & Tire Center which specializes in tires, alignments, air conditioning repairs and on auto, light, and heavy truck diagnostics. Because Mid-County Coop is a cooperative, our patrons receive a portion of their purchases back in dividend checks each year. This truly makes us a customer owned company.

Morreim Pharmacy
201 W Main Street
Arlington, MN 55307
Phone: (507) 964-5228
Nagel Produce
416 E Adams Street
Arlington, MN 55307
Phone: (507) 964-2276
Noack, H Michael DDS
503 W Main Street
Arlington, MN 55307
Phone: (507) 964-2748
Nuessmeier Electric Inc
114 3rd Avenue SW
Arlington, MN 55307
Phone: (507) 964-2845
People Service
438 W Main Street
Arlington, MN 55307
Phone: (507) 964-2231
Pinske Real Estate & Auctioneers
325 W Main Street
Arlington, MN 55307
Phone: (507) 964-2250
Quast BP
104 5th Avenue NW
Arlington, MN 55307
Phone: (507) 964-2406
Quick Shop
Highway 5 & 4th Avenue
Arlington, MN 55307
Phone: (507) 964-5904
R & R Auto Repair
117 W Main Street
Arlington, MN 55307
Phone: (507) 964-5299
Reetz Floral
401 W Main Street
Arlington, MN 55307
Phone: (507) 964-5959
Reflections Hair Care & Design
227 W Main Street
Arlington, MN 55307
Phone: (507) 964-2270
Rohwer Construction
40771 226th Street
Arlington, MN 55307
Phone: (507) 964-5744
Ronald R Soeffker Construction
PO Box 1006
Arlington, MN 55307
Phone: (507) 964-5101
Ross Arneson Law Office
302 W Main Street
Arlington, MN 55307
Phone: (507) 964-5753
Schad Lindstrand & Company Ltd
105 W Main Street
Arlington, MN 55307
Phone: (507) 964-5868
Scott Equipment Company
39579 230th Street
Arlington, MN 55307
Phone: (507) 964-2188
Web: www.scottequipment.com

Scott Equipment Company is a leading processing equipment manufacturer and global provider of custom processing equipment for the agricultural and industrial markets. In 1966, R.V. (Dick) Lucas started a small feed processing equipment manufacturing shop in Jordan, Minnesota. Driven to produce custom, quality products for a diverse range of industries, Scott Equipment has grown to successfully supply processing equipment in numerous industries throughout the United States and many foreign countries.

Seneca Foods Corporation
300 3rd Avenue SW
Arlington, MN 55307
Phone: (507) 964-2204
Shear Designs Family Hair Care
407 W Main Street
Arlington, MN 55307
Phone: (507) 964-2074
Sibley County DAC
700 Marion Drive
Arlington, MN 55307
Phone: (507) 964-5726
Sibley County Fair
Arlington, MN 55307
Phone: (507) 964-5698
Sibley County Seconds
431 W Main Street
Arlington, MN 55307
Phone: (507) 964-2199
Sibley East Schools Arlington
202 3rd Avenue NW
Arlington, MN 55307
Phone: (507) 964-2292
Sibley Medical Center & Clinic
601 W Chandler Street
Arlington, MN 55307
Phone: (507) 964-2271
Web: www.sibleymedical.org

The physicians and staff at Sibley Medical Center are dedicated to a sole purpose, and that is you. As you will see in exploring this site, we are committed to our mission of making a positive difference in the lives of those we serve and supporting healthier communities and lifestyles within Sibley County.

Sickmann Electric Motor Repair
40578 250th Street
Arlington, MN 55307
Phone: (507) 964-5555
Snap Fitness
428 W Main Street
Arlington, MN 55307
Phone: (507) 964-5664
Web: www.snapfitness.com/arlington

Snap Fitness of Arlington is a 24/7 Fitness Center. We can always accommodate your schedule! Our Fitness Center is here to help you get the results you want. We have state-of-the-art cardio and strength equipment along with a full free weight area. Excellent Personal Training are at your fingertips. Our free website will give you access to customized fitness routines, nutrition, and much more. Need help meeting your fitness goals? You will also receive a free Orientation and Fitness Consultation to help get you on a track for success.

Starry's Custom Embroidery
237 W Main Street
Arlington, MN 55307-9700
Phone: (507) 964-2224
Steve's Copy Shop & More
211 W Main Street
Arlington, MN 55307
Phone: (507) 964-2679
Stu's Cafe
233 West Main Street
Arlington, MN 55307-9700
Phone: (507) 964-2570
Subway
407 4th Avenue NE
Arlington, MN 55307
Phone: (507) 964-5939
Sunshine Dairy
20494 435th Lane
Arlington, MN 55307
Phone: (507) 964-5611
Terlinden's Repair
25472 381st Avenue
Arlington, MN 55307
Phone: (507) 964-5158
This Old House Gardens & Gifts
208 State Highway 5
Arlington, MN 55307
Phone: (507) 964-5990
Thomes Bros. Hardware
414 W Main Street
Arlington, MN 55307
Phone: (507) 964-2310
Tranquility Hair Salon
422 W Main Street
Arlington, MN 55307-2212
Phone: (507) 964-5441
TSE, Inc.
PO Box 616
Arlington, MN 55307
Phone: (507) 964-2237
Fax: (507) 964-2464
Web: www.tseinc.net

TSE works with design engineers at leading medical device OEM's, as well as those in other technology-driven industries, providing assistance with concept, development and manufacturing. Throughout the process, our experts understand the importance of being creative, fast and cost-effective while working in a regulated environment. Our industry-recognized expertise includes:

United Farmers Co-Op
102 W Main Street
Arlington, MN 55307
Phone: (507) 964-2243
US Post Office
220 W Main Street
Arlington, MN 55307-9700
Phone: (507) 964-5503
Toll Free: (800) ASK-USPS
Web: www.usps.com
Y Not Plumbing & Heating Inc
238 W Main Street
Arlington, MN 55307
Phone: (507) 964-5396
Zion Lutheran Church - ELCA
814 W Brooks Street
Arlington, MN 55307
Phone: (507) 964-5454
---
---
Aerial Photo:
---
Topographic Map: [click map to enlarge, zoom in or zoom out]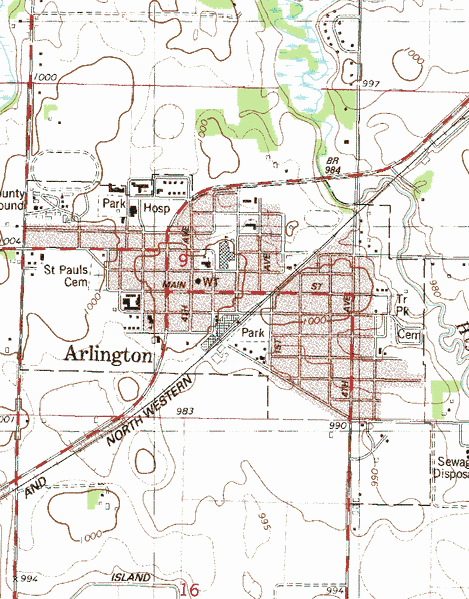 Topographic map is courtesy of the Minnesota DNR - click map to zoom or enlarge