Navigation
LakesnWoods.com
Home Page
Contact Us
Privacy
Minnesota Gift Guide

Ashby Guide:
Photo Gallery
Location
Geography
Demographics
History
Government
Post Office
News
Weather
Street Map
Events
Attractions
Recreation
Lakes
Health Care
Schools
Churches
Media
Motels
Resorts
Campgrounds
Businesses
Aerial Photo
Topographic Map
© 2004-2023
Lakeweb1 Internet Services
All Rights Reserved
DCMA, Defamation, Copyright and Trademark Infingement Policy
WANTED!
Do you have photos, historical accounts or other items pertaining to the Ashby area? Would you like to share this historical information with the world? LakesnWoods.com would like to publish your Ashby photos (current or historical) or historical accounts on this website. Original materials can be returned and your privacy will be respected.

Ashby Minnesota Community Guide
---
Location:

Ashby is a small, friendly community located in a setting of beautiful lakes, farms and scenic woodlands. Ashby has a thriving business district; including a medical clinic, an assisted living facility, many retail stores and a full line of professional services. Ashby is protected by a volunteer fire Downtown department and ambulance service. Ashby is also protected by its own police department. In addition to numerous clubs and service organizations, there are a variety of denominational churches in and around the area. Ashby offers many community activities including the "Coots Unlimited" annual banquet in May; Appreciation Days Celebration in July with a full day of activities which includes a free lunch provided by area businesses and a large parade and community dance; a farmers market in August and September and Santa Day in celebrated in December with a craft show and visits from Mr. and Mrs. Claus.

Courtesy of the City of Ashby
---
Population:
Ashby (city)
1970
1980
1990
2000
2010
2000-2010 Change
Actual
Percent
Population
415
486
469
472
446
-26
-5-51
Land Area (sq. mile)
0.50
0.51
0.46
0.53
0.55
+0.02
+3.77
Density (persons per sq. mile)
830.00
952.94
1,019.57
883.89
810.91
-72.98
-8.26
Housing Units
149
186
193
202
232
-30
-14.85
Households
--
175
172
185
197
+12
+6.49
Persons Per Household
--
2.78
2.73
2.55
2.26
-0.29
-11.37
---
Geography:
Ashby is a city in Grant County, Minnesota. Minnesota State Highway 78 serves as a main route in the community. Interstate 94 is nearby. According to the United States Census Bureau, the city has a total area of 0.59 square miles (1.53 km2), of which 0.55 square miles (1.42 km2) is land and 0.04 square miles (0.10 km2) is water. The elevation is 1,296 feet (395 m).
From Wikipedia, the free encyclopedia.
---
Demographics:
As of the census of 2010, there were 446 people, 197 households, and 132 families residing in the city. The population density was 810.9 inhabitants per square mile (313.1/km2). There were 232 housing units at an average density of 421.8 per square mile (162.9/km2). The racial makeup of the city was 95.3% White, 1.8% African American, 0.4% Asian, 0.2% from other races, and 2.2% from two or more races. Hispanic or Latino of any race were 1.1% of the population.
There were 197 households of which 26.9% had children under the age of 18 living with them, 53.3% were married couples living together, 10.2% had a female householder with no husband present, 3.6% had a male householder with no wife present, and 33.0% were non-families. 31.5% of all households were made up of individuals and 17.7% had someone living alone who was 65 years of age or older. The average household size was 2.26 and the average family size was 2.80.
The median age in the city was 43.2 years. 24.2% of residents were under the age of 18; 5.6% were between the ages of 18 and 24; 22.9% were from 25 to 44; 21.7% were from 45 to 64; and 25.6% were 65 years of age or older. The gender makeup of the city was 46.6% male and 53.4% female.
---
---
History:
ASHBY, a city of Pelican Lake Township, sections 2, 3, 10, and 11, platted in 1879, was named for Ashby, England, or possibly in honor of Gunder Ash, a pioneer farmer from Norway, who lived east of the village site and was a friend of James J. Hill. The village was developed on land owned by Simon Larson and was incorporated on March 7, 1884; the post office began operating in 1880.
Courtesy Minnesota Historical Society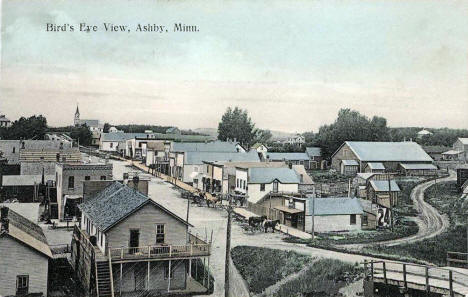 Birds Eye View, Ashby Minnesota, 1909
LakesnWoods.com Postcard and Postcard Image Collection- click image to enlarge
Visit The Ashby Photo Gallery for more recent and historic area photos
---
Government:
Ashby City Hall
203 Main Street
PO Box 320
Ashby, MN 56309
Phone: (218) 747-2876

Regular Business Hours:
Monday-Thursday 9:00 am to 4:00 pm
Friday 9:00 am to 12:00 pm

Title
Term Ends
Name and Address
Phone
Mayor
12/31/2022
Tom Grover
101 Hawkins Street
Ashby, MN 56309
(218) 747-2292
Clerk/Treasurer
appointed
Jackie Schmitz
203 Main Street
Ashby, MN 56309
(218) 747-2876
Council Member
12/31/2022
Carrie L. Jante
510 Larson Avenue
Ashby, MN 56309
(320) 219-1107
Council Member
12/31/2022
Jeremy Obright
510 Larson Avenue
Ashby, MN 56309
(218) 282-0210
Council Member
12/31/2024
Wayne M. Stierlen
101 Nelson Street
Ashby, MN 56309
(218) 747-2274
Council Member
12/31/2024
Ronnie Jaenisch
124 Iverson Avenue
Ashby, MN 56309
(218) 747-2936
---
Post Office:
US Post Office
111 Main Street
Ashby, MN 56309
Phone: (218) 747-2933
Toll Free: (800) ASK-USPS

Regular Business Hours:
Week Days 7:30 am - 1:30 pm
Saturday 9:00 am - 9:45 am
---
---
Utilities:
| | | |
| --- | --- | --- |
| Utility Type | Utility Name | Utility Phone |
| Electricity | Otter Tail Power Company | (218) 739-8200 |
| Natural Gas | n/a | n/a |
| Wastewater | n/a | n/a |
| Water | n/a | n/a |
| Telephone | Park Region | (800) 247-2706 |
| Cable TV | n/a | n/a |
---
Major Employers:
Employer
Products/Services
Employees

n/a
---
---
News:
---
Weather:
---
Map: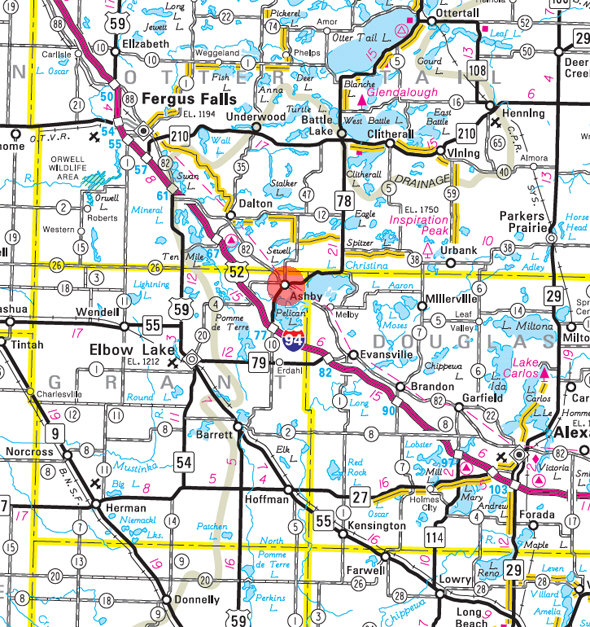 Minnesota State Highway Map of the Ashby Minnesota area
---
Events:
---
---
Attractions:
Egret Island Scientific and Natural Area
Pelican Lake
Ashby, MN 56309

Egret Island has the largest concentration of nesting colonial waterbirds in Minnesota. This low, wooded island on pelican Lake has two pairs of peninsulas on opposite sides, creating protected bays and marshes that provide excellent habitat. It is one of the few large nesting areas for black-crowned night herons and great egrets. Other waterbirds on the island include cattle egrets, snowy egrets, great blue herons, tricolored herons, little blue herons, and least bittern

Viking Valley Hunt Club
36209 County Highway 126
Ashby, MN 5630
Phone: (218) 747-2121
Web: www.vikingvalleyhuntclub.com

Viking Valley Hunt Club is a membership shooting preserve situated in central Minnesota's "heart of the lakes" area in Ottertail County. With 1049 of Minnesota's famed 10,000 lakes, this is an ideal location for a wide variety of outdoor activities in all seasons. Our members enjoy a large comfortable lodge filled with all of the amenities you would expect. The lodge is available for members year round for business meetings, entertaining clients, getting away with friends, or spending some quiet time with family.
---
Recreation:
Central Lakes State Trail
Fergus Falls to Osakis

A 55 mile, paved rail trail through 3 counties and 10 communities. Beginning in Fergus Falls, the trail ends in Osakis (or vice versa - depending on where you start!). Trail users will enjoy the many differing landscape views, ranging from open prairie in the west to many lakes scattered throughout the area to the forested, rolling hills in the east. Passes through Dalton, Ashby, Evansville, Brandon, Garfield, Alexandria, Nelson, and Osakis. Connect to Lake Wobegon Trail in Osakis
---
Lakes:
---
Health Care:
Ashby Clinic
110 Main Street
Ashby, MN 56309
Phone: (218) 747-2293
Fergus Falls Medical Group
110 Main Street
Ashby, MN 56309
Phone: (218) 747-2293
Pelican Lake Health Care Center
305 Melby Avenue
Ashby, MN 56309
Phone: (218) 747-2224
---
Schools:
---
Churches:
Country Bible Church
27871 140th Avenue
Ashby, MN 56309
Phone: (218) 747-2646
First Presbyterian Church
202 Nelson Street
Ashby, MN 56309
Phone: (218) 747-2744
Grue Lutheran Church
PO Box 157
Ashby, MN 56309
Phone: (218) 747-2539
Peace Lutheran Church
306 Larson Avenue
Ashby, MN 56309
Phone: (218) 747-2273
---
Media:
---
Motels:
Harvest Inn Bed & Breakfast
200 Melby Avenue
PO Box 367
Ashby, MN 56309
Phone: (218) 747-2334

A renovated 1930s church that features suites with king-sized beds, private baths, and jacuzzis. The three storied bell tower is perfect for a scheduled dinner for that special someone. Located in lake country. Pelican lake is just a 5 minute drive, along with many other lakes.
Check for motel rates and availability on:
---
Resorts:
Ashby Resort & Campground
10415 County Road 82 NW
Ashby, MN 56309
Phone: (218) 747-2959
Web: www.ashbyresort.com

MAKE SOME MEMORIES at the ASHBY RESORT, CAMPGROUNDS & MOTEL on Pelican Lake. Two new cabins in 2010. Perfect setting for individuals, group or family reunions. With lakeside cabins, motel and campgrounds. Amenities: Air-conditioning, store, bait, gas, pontoon/boat & motor rental, fish cleaning house, dock fishing, sandy beach, storm shelter. Located on the Central Lakes bike/snowmobile trail. A duck hunters paradise, less than 1 mile from the Christina Lake public access.

Indian Mounds Resort
10811 Big Island Road
Ashby, MN 56309
Phone: (218) 948-2201
Web: www.indianmoundsresort.com

Our FAMILY-ORIENTED RESORT is canopied by beautiful mature shade trees and located in a large bay perfect for sailing, skiing, tubing and fishing. There is an excellent sand swimming beach with no drop-offs where you can either bask in the sun or sit in the shade. Pelican Lake is the largest lake in Grant County and offers a variety of fishing either from a boat or off the dock.
---
Campgrounds:
Ashby Resort & Campground
10415 County Road 82 NW
Ashby, MN 56309
Phone: (218) 747-2959
Prairie Cove Campground & RV Park
29188 State Highway 78
Ashby, MN 56309
Phone: (218) 747-2931

Good Sam Park. Grassy, level sites. Panoramic view. Full hookups, pull-thrus, golf nearby. Free WiFi. E-Z off and on I-94 (Exit 77), one block north on Hwy 78.
---
---
Businesses:
American Aerial
14649 Hilltop Road
Ashby, MN 56309
Phone: (218) 685-4313
American Legion
100 Larson Street
Ashby, MN 56309
Phone: (218) 747-2858
American Tower Corp
14546 310th Street
Ashby, MN 56309
Phone: (218) 747-3434
Ashby Ambulance Service
Ashby, MN 56309
Phone: (218) 747-2222
Ashby Clinic
110 Main Street
Ashby, MN 56309
Phone: (218) 747-2293
Ashby Equity
101 Main Street
Ashby, MN 56309
Phone: (218) 747-2219
Ashby Equity Association
100 Main Street
Ashby, MN 56309
Phone: (218) 747-2255
Ashby Farmers Co-Op Elevator
101 Larson Street
Ashby, MN 56309
Phone: (218) 747-2948
Ashby Farmers Co-Op Seed Plant
101 Larson Avenue
Ashby, MN 56309
Phone: (218) 747-2010
Ashby Federal Credit Union
109 Main Street
PO Box 5
Ashby, MN 56309
Phone: (218) 747-2053
Ashby Fire Department
100 Main Street
Ashby, MN 56309
Phone: (218) 747-2214
Web: www.ashbyfire.com

We are a volunteer, city owned service. The fire department and ambulance service maintain separate financial accounts. The fire department is funded by the city of Ashby and the townships we serve.

Ashby Hardware Hank
102 Melby Avenue
Ashby, MN 56309
Phone: (218) 747-2869
Ashby Laundry
300 Larson Avenue
Ashby, MN 56309
Phone: (218) 747-2992
Ashby Manufacturing Co
17 Railroad Avenue
Ashby, MN 56309
Phone: (218) 747-2007
Ashby Police Dept
300 Main Street
Ashby, MN 56309
Phone: (218) 747-2324
Ashby Public School
300 Birch Avenue
Ashby, MN 56309
Phone: (218) 747-2258
Ashby Resort & Campground
10415 County Road 82 NW
Ashby, MN 56309
Phone: (218) 747-2959
Ashby School District
300 Birch Avenue
Ashby, MN 56309
Phone: (218) 747-2257
Ashby Village Antiques
105 Melby Avenue
Ashby, MN 56309
Phone: (218) 747-2633
Ashby-Dalton Post
302 Main Street
Ashby, MN 56309
Phone: (218) 747-2243
Balgaard Services
30733 State Highway 78
Ashby, MN 56309
Phone: (218) 747-2929
Beauty By Brenda
305 Larson Avenue # 1
Ashby, MN 56309
Phone: (218) 747-2023
Boe's Repair
100 Main Street
Ashby, MN 56309
Phone: (218) 747-2703
Borgrud's TV Sales & Service
106 Highway 82
Ashby, MN 56309
Phone: (218) 747-2865
C & I Automotive & Small Engine
100 Highway 82
Ashby, MN 56309
Phone: (218) 747-2703
Carlson Highland & Co
Ashby, MN 56309
Phone: (218) 747-2269
Christina Hunt Club
Ashby, MN 56309
Phone: (218) 747-2609
City Restaurant
108 Main Street
Ashby, MN 56309
Phone: (218) 747-2208
Country Heating & Air Conditioning
104 Highway 82
Ashby, MN 56309
Phone: (218) 747-2909
Dahlon's Short Stop
201 W Highway 82
Ashby, MN 56309
Phone: (218) 747-2901
David Johnson Sand & Gravel
Highway 78 N
Ashby, MN 56309
Phone: (218) 747-2034
Destiny Center
28854 County Road 10
Ashby, MN 56309
Phone: (218) 747-3000
Driggins Electric
30562 W Haven Road
Ashby, MN 56309
Phone: (218) 747-2252
Fergus Falls Medical Group
110 Main Street
Ashby, MN 56309
Phone: (218) 747-2293
First State Bank
110 Main Street
Ashby, MN 56309
Phone: (218) 747-2235
Web: www.fsbashby.com

At First State Bank of Ashby, we strive to provide you with the best banking experience possible. Stop by and meet our friendly staff. They will work diligently to meet your banking needs today and in the future. For your convenience, you may also bank by telephone or the Internet 24 hours a day.

Glende-Nilson Funeral Homes
107 Main Street
Ashby, MN 56309
Phone: (218) 747-2019
Web: www.glendenilson.com

At Glende-Nilson Funeral Home, we believe it is your right and our first priority to provide the very best in caring and professional service to every family that we serve. Our goal is to help each family honor the life of their loved one with a service offering dignity, integrity, and respect…allowing family and friends to come together the remember, to honor, to support each other and to celebrate a life that has lived.

Grant County Highway Garage
Ashby, MN 56309
Phone: (218) 747-2587
Grue Lutheran Church
PO Box 157
Ashby, MN 56309
Phone: (218) 747-2539
Harvest Inn Bed & Breakfast
200 Melby Avenue
Ashby, MN 56309
Phone: (218) 747-2334
Indian Mounds Resort
10811 Big Island Road
Ashby, MN 56309
Phone: (218) 948-2201
Industrial Technologies Sys
308 Larson Avenue
Ashby, MN 56309
Phone: (218) 747-3117
J C's Grocery
117 Main Street
Ashby, MN 56309
Phone: (218) 747-2660
Jacobson, Harlan DC
15939 County Road 19 NW
Ashby, MN 56309
Phone: (218) 948-2990
Johnson-Nelson Masonry
102 Highway 82
Ashby, MN 56309
Phone: (218) 747-2071
Kim's Inn Towne Styling
314 Melby Avenue
Ashby, MN 56309
Phone: (218) 747-2217
Lake Club Fitness
200 W County Highway 82
Ashby, MN 56309
Phone: (218) 747-2374
Lakeside Lumber
109 Birch Avenue
Ashby, MN 56309
Phone: (218) 747-2215
Web: www.lakesidelumbercompany.com

With over 30 years of industry experience, Lakeside Lumber Company offers quality building, construction supplies, and drafting and design services for residential establishments throughout the Ashby, MN area. We use high standard brands such as Dewalt, Bayer Built, Kolbe Windows and Doors, Benjamin Moore Paints, Gaf Elk, Andersen, and Certainteed. Come to us for innovative home design services.

Murphy's Pub
202 Main Street
Ashby, MN 56309
Phone: (218) 747-2992
NAPA Auto Parts
101 Melby Avenue
Ashby, MN 56309
Phone: (218) 747-2148
Nelson Farms
28579 County Road 10
Ashby, MN 56309
Phone: (218) 747-2047
Ness Backhoe Service
37729 113th Street
Ashby, MN 56309
Phone: (218) 747-2200
Peace Lutheran Church
306 Larson Avenue
Ashby, MN 56309
Phone: (218) 747-2273
Pelican Lake Health Care Center
305 Melby Avenue
Ashby, MN 56309
Phone: (218) 747-2224
Realty Executives
305 Larson Avenue # B
Ashby, MN 56309
Phone: (218) 747-2301
Web: www.donnajeangrover.com

Here you will find a wide variety of useful information and resources designed to help you buy or sell a home more effectively in West Central Minnesota, including the Ashby, Evansville, Dalton and Battle Lake areas. From information on local communities, to advice about finding a mortgage or preparing your home to sell, it's all available here on my web site. You can also search for your ideal home by viewing current listings with detailed descriptions and photos. Or you can get help determining the value of your home by requesting a report that includes the prices of similar homes that recently sold or are currently for sale in your area.

Robertson Well Drilling Inc
30463 State Highway 78
Ashby, MN 56309
Phone: (218) 747-2039
Web: www.robertsonwelldrilling.com

We are Robertson Well Drilling, Inc. A family owned business for all of your water well needs. Serving west central Minnesota for over 50 years.

Ruby's City Restaurant
108 Main Street
Ashby, MN 5630
Phone: (218) 747-2208
Web: www.rubysinashby.com

Ruby's City Restaurant, a local historic restaurant in Ashby, MN, is a place known for having good food and a friendly atmosphere. We specialize in home cooked meals made from scratch. Come for our nightly specials, or drop by for breakfast, lunch, or dinner. When you stop in, be sure to check out the historic display of Minnesota waterfowl located inside our restaurant.

Rylander Insurance
110 Main Street
Ashby, MN 56309
Phone: (218) 747-2235
Sundowner Campground
29188 State Highway 78
Ashby, MN 56309
Phone: (218) 747-2931
Thrifty Drug Stores
102 Main Street
Ashby, MN 56309
Phone: (218) 747-2988
Torgy's Trenching & Excavating
111 Main Street
Ashby, MN 56309
Phone: (218) 747-2768
Tradition Lodge
11441 345th Avenue
Ashby, MN 56309
Phone: (218) 747-3021
Universal Services Midwest Inc
PO Box 167
Ashby, MN 56309
Phone: (218) 948-2231
US Post Office
PO Box 9998
Ashby, MN 56309
Phone: (218) 747-2933
Viking Valley Lodge
36209 County Highway 126
Ashby, MN 56309
Phone: (218) 747-2537
Village Hall
203 Main Street
Ashby, MN 56309
Phone: (218) 747-2876
Visions Of Val
98 E Main Street
Ashby, MN 56309
Phone: (218) 747-2049
Zorbaz Mexican & Pizza Joint
Pelican Lake
Ashby, MN 56309
Phone: (218) 532-2254
---
---
Aerial Photo: [click photo to enlarge, zoom in or zoom out]
---
Topographic Map: [click map to enlarge, zoom in or zoom out]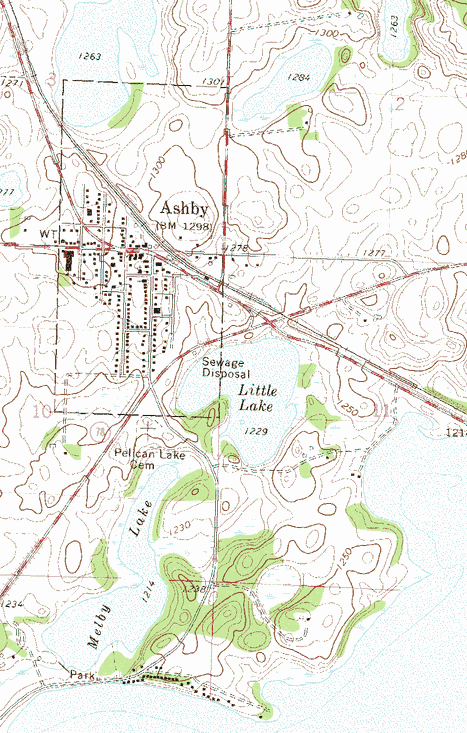 Topographic map is courtesy of the Minnesota DNR - click map to zoom or enlarge