Navigation
LakesnWoods.com
Home Page
Contact Us
Privacy

Askov Guide:
Photo Gallery
Location
Geography
Demographics
History
Government
Post Office
News
Weather
Street Map
Events
Attractions
Recreation
Lakes
Health Care
Schools
Churches
Media
Motels
Resorts
Campgrounds
Businesses
Aerial Photo
Topographic Map
© 2004-2023
Lakeweb1 Internet Services
All Rights Reserved
DCMA, Defamation, Copyright and Trademark Infingement Policy
WANTED!
Do you have photos, historical accounts or other items pertaining to the Askov area? Would you like to share this historical information with the world? LakesnWoods.com would like to publish your Askov photos (current or historical) or historical accounts on this website. Original materials can be returned and your privacy will be respected.

Askov Minnesota Gallery
---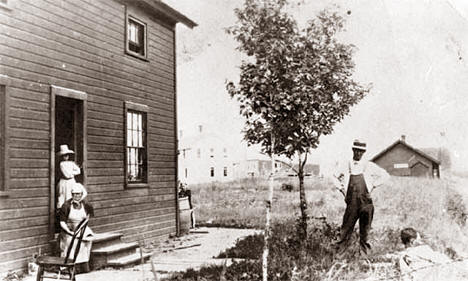 Section house (Great Northern Railroad depot tender's home), Askov, 1890
Courtesy Minnesota Historical Society - click image to enlarge or purchase
---
---
---
---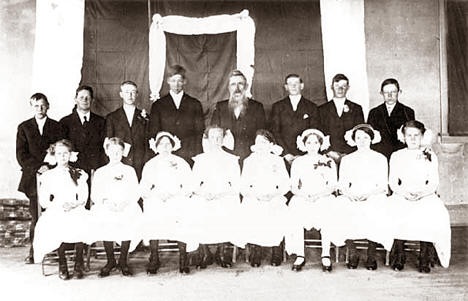 Confirmation class, Bethlehem Lutheran Church, Askov Minnesota, 1912
Courtesy Minnesota Historical Society - click image to enlarge or purchase
---
---
Northern Pine County (Images of America)
Featuring over 210 historical photographs, Images of America: Northern Pine County guides readers on an exciting journey into the past as it explores the successes and sorrows as well as the joys and trials of the people of northern Pine County, Minnesota. Each chapter examines a unique aspect of their daily lives. Readers meet loggers and settlers from the county's earliest days, catch a glimpse of many towns and villages, and encounter a variety of industries, businesses, schools, and churches that shaped the area's economic and social landscapes. Life was not easy for the people who called northern Pine County home. On September 1, 1894, and again on October 12, 1918, forest fires devastated portions of the county, killing hundreds, destroying thousands of acres, and leaving countless residents homeless. While photographs cannot capture the heartache of fire victims, they do provide a window into northern Pine County's rich history and help tell the fascinating stories of its residents.
Buy This Book Now!
---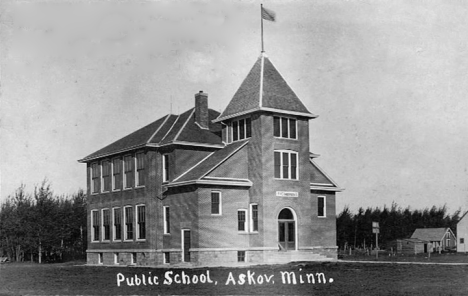 Public School, Askov Minnesota, 1915
LakesnWoods.com Postcard and Postcard Image Collection- click image to enlarge
---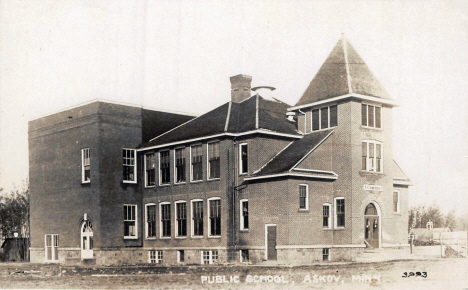 Public School, Askov Minnesota, 1920
LakesnWoods.com Postcard and Postcard Image Collection- click image to enlarge
---
---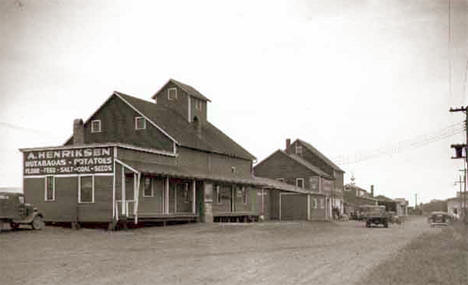 A. Henriksen's produce store and the Copperative Association, Askov, 1930
Courtesy Minnesota Historical Society - click image to enlarge or purchase
---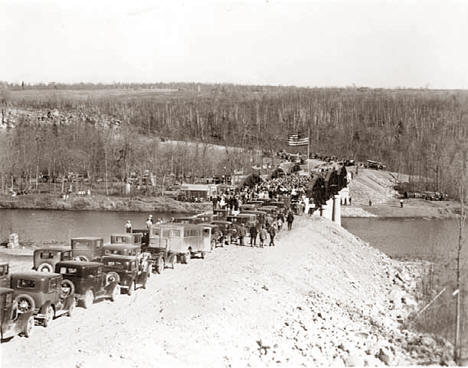 Bridge, two and one half miles west of Askov, Trunk Highway Number 23 dedicated Fall 1934 - Courtesy Minnesota Historical Society - click image to enlarge or purchase
---
---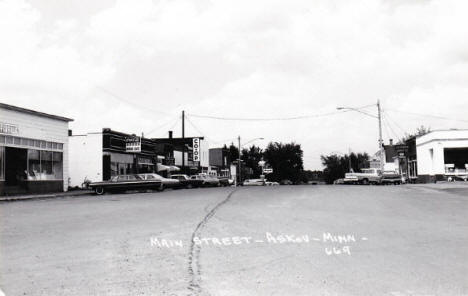 Main Street, Askov Minnesota, 1960s
LakesnWoods.com Postcard and Postcard Image Collection - click to enlarge
---
---
---
---
---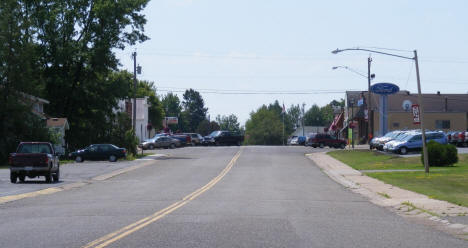 View of Downtown Askov Minnesota, 2007
LakesnWoods.com Photo - click image to enlarge
---
---
---