Navigation
LakesnWoods.com
Home Page
Contact Us
Privacy
Minnesota History Shop

Visit The Minnesota History Shop
www.minnesotahistoryshop.com
Historic maps
Historic books
Historic framed art
Historic postcards
Clothing with historic images
And much more!!!


Audubon Guide:
Photo Gallery
Location
Geography
Demographics
History
Government
Post Office
News
Weather
Street Map
Events
Attractions
Recreation
Lakes
Health Care
Schools
Churches
Media
Motels
Resorts
Campgrounds
Businesses
Aerial Photo
Topographic Map
© 2004-2023
Lakeweb1 Internet Services
All Rights Reserved
Defamation, Copyright and
Trademark Infingement Policy
WANTED!
Do you have photos, historical accounts or other items pertaining to the Audubon area? Would you like to share this historical information with the world? LakesnWoods.com would like to publish your Audubon photos (current or historical) or historical accounts on this website. Original materials can be returned and your privacy will be respected.


(design available on over 100 different items!)

Audubon Minnesota Community Guide
---
Location:
---
Population:
Audubon (city)
1970
1980
1990
2000
2010
2000-2010 Change
Actual
Percent
Population
297
383
411
445
519
+74
+16.63
Land Area (sq. mile)
0.40
0.56
0.50
0.58
0.56
-0.02
-3.45
Density (persons per sq. mile)
742.50
683.93
822.00
763.96
926.79
+162.83
+21.31
Housing Units
112
163
163
191
228
+37
+19.37
Households
--
142
149
175
194
+19
+10.86
Persons Per Household
--
2.70
2.76
2.54
2.67
+0.13
+5.12
---
Geography:
Audubon is a city in Becker County, Minnesota. U.S. Route 10 serves as a main route in the community. According to the United States Census Bureau, the city has a total area of 0.56 square miles (1.45 km˛), all of which is land. The elevation is 1,316 ft (401 m). The elevation is 1,316 feet above sea level.
From Wikipedia, the free encyclopedia.
---
Demographics:
As of the census of 2010, there were 519 people, 194 households, and 132 families residing in the city. The population density was 926.8 inhabitants per square mile (357.8/km2). There were 228 housing units at an average density of 407.1 per square mile (157.2/km2). The racial makeup of the city was 93.4% White, 1.7% African American, 2.1% Native American, 0.2% Asian, and 2.5% from two or more races.
There were 194 households of which 41.8% had children under the age of 18 living with them, 51.5% were married couples living together, 9.8% had a female householder with no husband present, 6.7% had a male householder with no wife present, and 32.0% were non-families. 23.7% of all households were made up of individuals and 8.3% had someone living alone who was 65 years of age or older. The average household size was 2.68 and the average family size was 3.20.
The median age in the city was 29.4 years. 31.6% of residents were under the age of 18; 10.8% were between the ages of 18 and 24; 27.8% were from 25 to 44; 19.1% were from 45 to 64; and 10.8% were 65 years of age or older. The gender makeup of the city was 51.4% male and 48.6% female.
---
---
History:
AUDUBON Township was organized August 19, 1871, but was named successively Windom, Colfax, and Oak Lake, holding the last of these names from 1872 until 1881. The Northern Pacific station and village established here, also the small lake adjoining the village site, had received the name Audubon in August 1871 in honor of John James Audubon (1780-1851), the great American ornithologist celebrated for his pictures of birds. This name was proposed by his niece, a member of a party of tourists who "camped where the Audubon depot now stands." In January 1881 the township name was changed to Audubon, and on February 23 of that year the village was incorporated.
Courtesy Minnesota Historical Society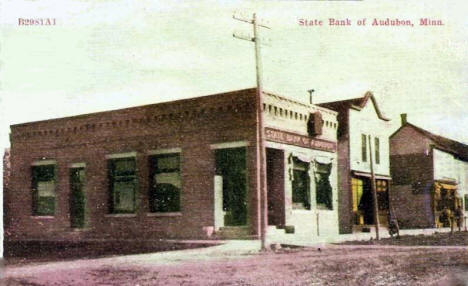 State Bank of Audubon Minnesota, 1910s?
LakesnWoods.com Postcard and Postcard Image Collection - click to enlarge
Visit The Audubon Photo Gallery for more recent and historic area photos
---
Government:
Audubon City Hall
357 4th Street
PO Box 373
Audubon, MN 56511
Phone: (218) 439-6582
Fax: (218) 439-3910

Regular Business Hours:
Monday - Friday 9:00 am - 4:30 pm

City Council Meetings:
2nd Monday of the month at 6:30 pm


Title
Term Ends
Name
Phone
Mayor
12/31/2022
Tony Allen Gordon
628 6th Street
Audubon, MN 56511
(218) 343-5469
Clerk/Treasurer
appointed
Stephanie Poegel
PO Box 373
Audubon, MN 56511
(218) 439-6582
Council Member
12/31/2022
Jessica Wiedenmeyer
120 Falcon Street
Audubon, MN 56511
(218) 329-2235
Council Member
12/31/2022
Tiffaney J. Holm
556 5th Street
Audubon, MN 56511
(218) 439-3137
Council Member
12/31/2024
Brian N. Beto
471 3rd Street
Audubon, MN 56511
(218) 841-0737
Council Member
12/31/2024
Shane Bakken
357 5th Street
Audubon, MN 56511
(218) 850-8514
---
Post Office:
US Post Office
215 4th Street
Audubon, MN 56511-9998
Phone: (218) 439-6250
Toll Free: (800) ASK-USPS

Regular Business Hours:
Week Days 8:30 am - 12:45 pm
1:45 pm - 3:30 pm
Saturday 10:00 am - 10:300 am
---
Utilities:
---
Major Employers:
| | | |
| --- | --- | --- |
| Employer | Products/Services | Employees |
| Team Industries | Architectural & Structural Metals Manufacturing | 250 |
| Audubon, City of | City and Municipal Governments | 20 |
| Audubon Co-Op Elevator Association | Miscellaneous Nondurable Goods Merchant Wholesalers | 14 |
---
---
News:
---
Weather:
---
Map: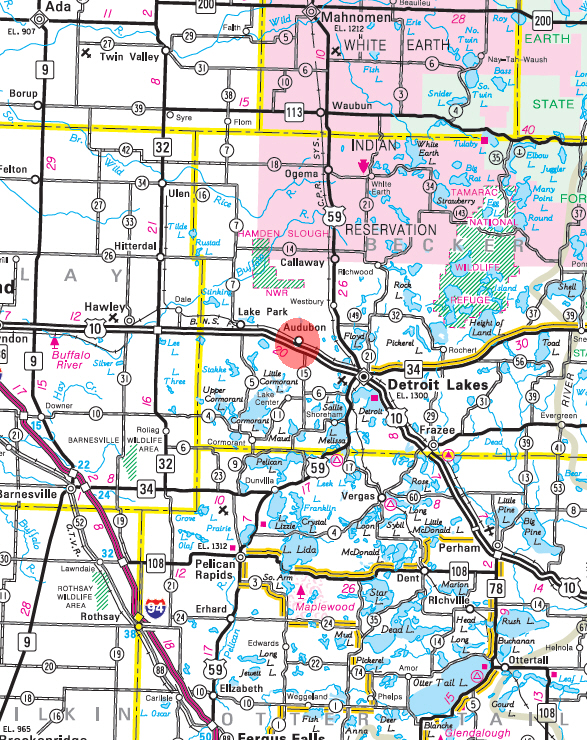 Minnesota State Highway Map of the Audubon Minnesota area
---
Events:
---
---
Attractions:
---
Recreation:
---
Lakes:
---
Health Care:
---
Schools:
Lake Park Audubon Schools
Independent School District #2889
611 Vigen Lane
PO Box 479
Lake Park, MN 56554
Phone: (218) 325-0754
Web: www.lakeparkaudubon.com

Grades: PK-12
Students: 613

Lake Park Audubon High School
611 Vigen Lane
PO Box 479
Lake Park, MN 56554
Phone: (218) 325-0754


Grades: 7-12
Students: 289

Lake Park Audubon Elementary School
601 4th Street
Audubon, MN 56511
Phone: (218) 325-0754

Grades: PK-6
Students: 324
---
Churches:
---
Media:
---
Motels:
Check for motel rates and availability on:
---
Resorts:
---
Campgrounds:
---
---
Businesses:
Alliance Pest Protection
12682 Dorff Beach Road
Audubon, MN 56511
Phone: (218) 234-6557


Allpro Auto Repair
22516 185th Street
Audubon, MN 56511
Phone: (218) 439-3365


American Appraisal Company
11150 Cormorant Heights Road
Audubon, MN 56511
Phone: (218) 439-3940


American Legion Post 339
15529 Maple Ridge Road
Audubon, MN 56511
Phone: (218) 439-6593


Auctionblock, LLC
587 Main Street
PO Box 27
Audubon, MN 56511
Phone: (218) 483-7880
Web: www.auctionblock.com

With Auctionblock online auctions your equipment can easily be sold from your location saving you hundreds or even thousands in transport costs. Potential buyers inspect your equipment by appointments set by you. You can also sell your equipment from an Auctionblock location where we coordinate the inspection appointments.


Audubon City Hall
357 4th Street
PO Box 263
Audubon, MN 56511
Phone: (218) 439-6582
Web: www.audubonmn.govoffice2.com


Audubon Co-Op Elevator Association
445 Front Street
Audubon, MN 56511
Phone: (218) 439-6111


Audubon Fire Department
420 Eagle Street
Audubon, MN 56511
Phone: (218) 439-6572


Audubon Liquor Store
445 Main Street
Audubon, MN 56511
Phone: (218) 439-9199

Audubon Liquors - ON SALE and OFF SALE

Off-Sale Hours:
Monday -Saturday 10 am - 10 pm
Sunday 11 am - 6 pm

On Sale Hours
Monday - Saturday 11 am - 1 am
Sunday 11 am - 10pm

Audubon Meats Inc
343 4th Street
Audubon, MN 56511
Phone: (218) 439-6909



Audubon Meats, Inc. is a family owned retail meat shop and custom processing plant in the heart of lake country of Northwest Minnesota.




Audubon Police Department
273 4th Street
Audubon, MN 56511
Phone: (218) 439-6100


Audubon Upholstery
315 1st Street
Audubon, MN 56511
Phone: (218) 439-3537


Aurochs Veterinary Service
428 4th Street
Audubon, MN 56511
Phone: (218) 439-6600


Bergman Plumbing and Heating
16503 220th Street
Audubon, MN 56511
Phone: (218) 238-5717


Buggy Wheel Antiques
18353 US Highway 10
Audubon, MN 56511
Phone: (218) 439-6980



Offering antiques, collectibles & all items of interest. Fair pricing & lg inventory. Family owned & operated for 44 years.by appt. Call Rod 218 850-8130




Car Tune and Tire
22516 185th Street
Audubon, MN 56511
Phone: (218) 439-3333
Web: www.cartuneandtire.com



Car Tune and Tire assists customers with state of the art equipment at affordable prices.You can be sure that your vehicle will be receiving honest and experienced care.




Carpet Cleaning by Stephen
630 5th Street
Audubon, MN 56511
Phone: (218) 841-5075


Chad McCaslin Agency
16938 Big Cormorant Road
Audubon, MN 56511
Phone: (218) 439-3146


Cormorant Lakes Sportsman Club
18587 Sportsmen Road
Audubon, MN 56511
Phone: (218) 439-3614
Web: www.clsc.cc



The Cormorant Lakes Sportsman's Club (CLSC) is an incorporated nonprofit organization dedicated to the preservation and restocking of wild game and fish in the area. The CLSC is also dedicated to the preservation of the environment, both land and waters through educational programs. Its goal is to keep the membership advised of current federal, state and local laws and regulations pertaining to fishing and conservation.




Cormorant Well & Pump Inc
19964 Moe Lake Road
Audubon, MN 56511
Phone: (218) 439-3801


Country Wood Products
656 4th Street
PO Box 221
Audubon, MN 56511
Phone: (218) 439-3385
Web: angela4165.wixsite.com/countrywoodproducts



We at Country Wood Products are pleased you are considering our custom millwork for your home or project. We take great pride in the superior quality of our products and believe they will continue to provide you with years of character, enjoyment, and beauty. We promise to deliver outstanding customer service throughout your entire project. Ask us, we want to help. Custom Millwork-Standard Millwork Hardwood Lumber Solid Wood Tounge & Groove Paneling and Flooring Other Building Supplies & Construction Materials Doors & Windows




David Heggestuen Masonry LLC
12831 Kohler Lane
Audubon, MN 56511
Phone: (218) 234-9733


Elite Contracting and Improvement
17165 Lakeview Lane
Audubon, MN 56511
Phone: (218) 439-3008


Encryptomatic LLC
16299 Sugar Island Road
Audubon, MN 56511
Phone: (651) 815-4902



Encryptomatic LLC is a developer of customer-centric Microsoft Office solutions that protect the privacy of our customers email communications. Our products are widely available through an international online distribution network. We are a growing company, founded in 2005 by Darren Leno, formerly Product Manager for Microsoft, Business Solutions Division, and a software product marketing consultant.




Fireball Firepits
12525 Tanglewood Road
Audubon, MN 56511
Phone: (701) 429-4992


FM Recreational Inc.
240 County Road 11
Audubon, MN 56511
Phone: (218) 439-7770
Web: www.fmrecreational.net

At FM Recreational, we've got a large selection of new and used vehicles at affordable prices. You can buy, sell, trade, or even consign! If you're having a hard time making it out to our location, browse our online inventory. We're always getting new vehicles and our inventory is always being updated!


Grant Ohm Excavating
14412 County Highway 11
Audubon, MN 56511
Phone: (218) 439-6428
Web: www.ohmexcavating.com



Ohm Excavating is a highly trusted Excavating company in the lakes area of Audubon, MN. We take great pride in our reputation for honesty and trustworthiness which translates into accuracy of estimates, timeliness, quality of work, and professionalism which makes us second to none in the industry. Ohm Excavating has the equipment, personnel, and resources to get your project done on time and on budget. No project is too small.




Green Hill Farms
17600 County Road 103
Audubon, MN 56511
Phone: (218) 439-6628



Wholesale jams and jellies. We have been making jams and jellies from family recipes since the middle 1970s. We make our wild fruit jellies from fruit gathered from the woods of Northern MN. We also use fruit we grow here on the farm. Our flavors currently number 15. Some of our customers including orchards, berry farms, gift shops, and state parks choose to use private labels and/or their own fruit. We also cook special orders.




Hamden Slough Wildlife Refuge
21212 210th Street
Audubon, MN 56511
Phone: (218) 584-5168
Web: www.fws.gov/refuge/hamden_slough

Hamden Slough is nestled within a working landscape rich in agriculture, industry, conservation and tight-knit communities. The 3210-acre refuge lies on the eastern edge of the Prairie Pothole Region and was established in 1989 for the production of waterfowl and other migratory birds. It became one of Minnesota's first Important Bird Areas in 2004.


JCS Cabinets
350 Eagle Street
Audubon, MN 56511
Phone: (218) 439-6699
Web: www.jcscabinetry.com



Since 1969, JCS Cabinetry & Design has been the lakes area's premier custom cabinet designer, manufacturer and installer. We are proud to offer quality driven, beautiful & distinctive selections of cabinets and accessories that will not only meet any design expectations, but also raise the value of your new home or renovation project.




Keller Diesel Service
125 Main Street
Audubon, MN 56511
Phone: (218) 439-6133
Web: www.kellerdiesel.com



Keller Diesel Service is the preferred repair center in Audubon MN and the surrounding areas. A customer friendly shop that is quick, qualified, and convenient. With over 50 years of combined experience you can be assured your job will be done correctly.




Kevin Lefebreve Construction LLC
17171 220th Street
Audubon, MN 56511
Phone: (218) 530-0238


Kost Materials
19363 County Road 15
Audubon, MN 56511
Phone: (218) 439-4445
Web: www.kostmaterials.com



Kost Materials is locally owned and operated. Our leadership has been in these markets for more than 50 years and we care about our customers, products and reputation in the communities we serve. Our materials are the talk of the industry as we do not cut any corners on cost of mix designs. Our designs have been built by our customers to ensure they are receiving what it is they want.




Krueger Water Wells Inc
19751 Audubon Lake Road
Audubon, MN 56511
Phone: (218) 439-3327


New Dimensions Tile and Masonry
18030 220th Street
Audubon, MN 56511
Phone: (218) 439-3995



26 years experience tile, brick, block and stone. free estimates, great references, done on time with quality work. locally owned and operated.




Newman's Factory Outlet
19401 US Highway 10 W
PO Box 396
Audubon, MN 56511
Phone: (218) 439-3684
Web: www.newmansfactoryoutlet.com



Newman's Factory Outlet is your number one source in Northwestern Minnesota for all your dock, boat lift, canopy, shed and trailer needs! Glide into summer and enjoy time with your family and friends- with beautiful new docking, a custom boat lift or new trailer.




Northern Wolf Basement Waterproofing
16864 S Big Cormorant Road
Audubon, MN 56511
Phone: (218) 439-6070
Web: www.northernwolfbasementwaterproofing.com



When water seeps into your home or business, let Northern Wolf-Basement Waterproofing save the day. Let us get the water out of your basement with our effective sump pumps, basement drain tiles, French drain tiles, and more. Save your property from costly water damage. Benefit from over 30 years of experience. Your job is guaranteed.




Ohm Excavating
14412 County Highway 11
Audubon, MN 56511
Phone: (218) 439-6428
Web: www.ohmexcavating.com



Ohm Excavating is a highly trusted Excavating company in the lakes area of Audubon, MN. We take great pride in our reputation for honesty and trustworthiness which translates into accuracy of estimates, timeliness, quality of work, and professionalism which makes us second to none in the industry. Ohm Excavating has the equipment, personnel, and resources to get your project done on time and on budget. No project is too small.




Orth Landscaping & Roofing
325 Main Street
Audubon, MN 56511
Phone: (218) 439-6689


Orton's Audubon Tesoro
129 2nd Street
Audubon, MN 56511
Phone: (218) 439-6670
Web: www.ortonoilco.com



From doughnuts to hot dogs, salty snacks to cold drinks, candy to ATM's, Orton's is your one stop answer. Our friendly store employees offer you quick and courteous service. We take pride in our stores, offering a wide variety of quality products at a fair price, maintaining clean restrooms and providing prompt and courteous check out service.




Pit 611 Sports Bar and Grill
15057 County Highway 11
Audubon, MN 56511
Phone: (218) 439-6121
Web: www.thepit611.com



Pit 611 is your friendly neighborhood bar and grill situated near Audubon, in the heart of Minnesota's beautiful lakes country. Our clean, relaxed, family-friendly atmosphere provides the perfect backdrop for delicious, home cooked meals, a wide selection of beverages and an all-around great time. Dining options include an outdoor patio with a gorgeous view. Located at the corner of county highways 6 and 11, we're the easy to find, hard to leave place you won't soon forget!




Prussia Inspections
21912 185th Street
Audubon, MN 56511
Phone: (218) 439-3895
Web: www.prussiainspections.com


R & R Transportation
928 3rd Street
Audubon, MN 56511
Phone: (218) 439-6144
Web: www.rrtransinc.com

We are a family based business with offices located in Audubon, MN, Romeoville Ill., Santa Fe Springs, Ca. and Imperial, Pa. We have 100 trucks on the road in 48 states, with the main lane of traffic consisting of the northeast and west coast. Our main office is located in Audubon, MN., but the main traffic terminal is located in Romeoville, IL., right outside of Chicago. We specialize in reefer loads but also do some dry van. Our equipment is well maintained by our full staff of mechanics.

Renner Excavating
14306 County Highway 11
Audubon, MN 56511
Phone: (218) 439-3514
Web: www.rennerexcavating.com



Renner Excavating LLC is a family owned and operated business serving customers in Audubon, Lake Park, Detroit Lakes and the surrounding areas. A large portion of our business is by referral from past customers who were happy with our service and workmanship and feel their friends and family will be also.




Rosing Excavation
18104 Eilertson Lake Road
Audubon, MN 56511
Phone: (218) 439-6540


T K Auto Repair & Restoration
310 County Road 11 S
PO Box 412
Audubon, MN 56511
Phone: (218) 439-3769


Team Industries Inc
4th Street & Robin Street
Audubon, MN 56511
Phone: (218) 439-6186
Web: www.team-ind.com/index.php/facilities/audubon

Whether it's a small contract CNC machining job or a high-volume gear manufacturing run -- with or without assembly, TEAM Audubon has the equipment and expertise required to get the job done. TEAM Audubon's manufacturing processes, teamed with its unparalleled in-house resources, including heat treating, metallurgical lab and ANSI certified calibration lab, ensure a diverse product range that meet tight tolerances on tight budgets within tight timelines.


Top Hat Catering
15057 County Road 11
Audubon, MN 56511
Phone: (218) 439-8603


US Post Office
215 4th Street
Audubon, MN 56511-9998
Phone: (218) 439-6250
Toll Free: (800) ASK-USPS
Web: www.usps.com


Wedding Day Bouquets
556 5th Street
Audubon, MN 56511
Phone: (218) 439-3137


Windsor Sales
19694 Morton Oaks Road
Audubon, MN 56511
Phone: (218) 439-6037
Toll Free: (800) 439-6038
Web: www.windsorsalesinc.com



Windsor Sales was founded in 1987 and since 1990 has focused primarily on lighting the hospitality industry. Windsor Sales also specializes in lighting of retail spaces, multi-family housing, manufacturing, and other institutional areas. Windsor Sales has on hand an extensive inventory of ventilation, lighting, and electrical goods and parts from over 225 manufacturers worldwide.




WSC Crane Service and Trailers
259 County Road 11
Audubon, MN 56511
Phone: (218) 850-3964


---
---
Aerial Photo:
---
Topographic Map: [click map to enlarge, zoom in or zoom out]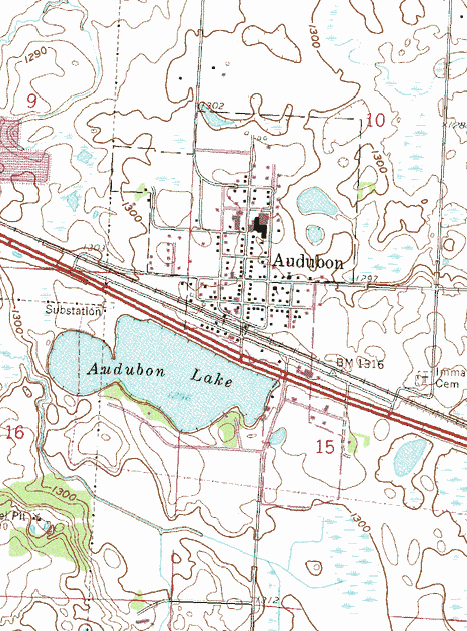 Topographic map is courtesy of the Minnesota DNR - click map to zoom or enlarge