Navigation
LakesnWoods.com
Home Page
Contact Us
Privacy
Minnesota History Shop

Visit The Minnesota History Shop
www.minnesotahistoryshop.com
Historic maps
Historic books
Historic framed art
Historic postcards
Clothing with historic images
And much more!!!


Balsam Guide:
Photo Gallery
Location
Geography
Demographics
History
Government
Post Office
News
Weather
Street Map
Events
Attractions
Recreation
Lakes
Health Care
Schools
Churches
Media
Motels
Resorts
Campgrounds
Businesses
Aerial Photo
Topographic Map
© 2004-2023
Lakeweb1 Internet Services
All Rights Reserved
DCMA, Defamation, Copyright and Trademark Infingement Policy
WANTED!
Do you have photos, historical accounts or other items pertaining to the Balsam area? Would you like to share this historical information with the world? LakesnWoods.com would like to publish your Balsam photos (current or historical) or historical accounts on this website. Original materials can be returned and your privacy will be respected.


Balsam Minnesota Community Guide
---
Location:
---
Population:
Balsam (township)
1970
1980
1990
2000
2010
1990-2000 Change
Actual
Percent
Population
274
507
502
553
550
-3
-0.54
Land Area (sq. mile)
60.20
78.98
73.14
72.63
72.63
0.00
0.00
Density (persons per sq. mile)
4.55
6.42
6.86
7.61
7.57
-0.04
-0.54
Housing Units
341
620
637
650
712
+62
+9.54
Households
--
176
186
227
240
+13
+5.73
Persons Per Household
--
2.88
2.70
2.44
2.27
-0.17
-6.97
---
Geography:
Balsam Township is a township in Itasca County, Minnesota. According to the United States Census Bureau, the township has a total area of 83.3 square miles (215.8 km˛), of which, 72.6 square miles (188.1 km˛) of it is land and 10.7 square miles (27.7 km˛) of it (12.83%) is water. The elevation is 1,355 ft (413 m) above sea level.
From Wikipedia, the free encyclopedia.
---
Demographics:

---
History:
From Pines, Mines and Lakes - The Story of Itasca County
© 1960 James E. Rottsolk and the Itasca Historical Society
Quite some miles north of Blackberry, Balsam Township along the Prairie River, like many other areas in Itasca County, had once been covered with beautiful pines. many furs must have been taken out of the area before the trees were cut. Loggers came cut the pine here very early; that gave later old-timers a few years to spin a few yarns about the good or days.
Old-timers still remember the steamboat run by Tony De Wire on Lake Wabana. It was used to haul logs and to haul supplies. came and went, always leaked and never sank — but once.
George N. Putnam, known as "Old Put," as a master boatbuilder who constructed tug boats and rowboats near Cohasset. Back the Adirondacks where he came from he was known as "the leaping panther." Most of his fame came from his tall stories rather than his unusual actions.
Another famous character who roamed often through the Balsam Lake woods was Bunga Buck, half Negro and half Chippewa. Old Bunga lived among the Chippewa, was a fur trader and claimed he was one of the first to arrive in that area.
The settlers who came after 1900 did not seem so quaint and mythological.
It was in 1903 that Matt Shumaker with his wife and seven children moved into a homestead on Prairie River. Most of his life Matt spent in logging, but he did raise some potatoes and had a few dairy cattle.

The following year Matt's brother-in-law, Thomas Kannas, rode the Powers and Simpson logging railroad to Crooked Lake in search of a homestead. A 160-acre tract that John Wolfetter had lived on, but was not satisfied with, attracted Kannas. Kannas and Wolfetter walked down to Grand Rapids where Kannas paid $100 for improvements on the land. Wolfetter relinquished his claim and Kannas filed on it. Within a year or two Kannas' brother Henry came up. They boated from Crooked Lake up the Prairie River to their homestead. Kannas' brother John came a few years later and bought the John Pelto homestead. Still later Kannas' sister, Mrs. Erkkila, came up with her family and settled on the Isaac Isaacson homestead.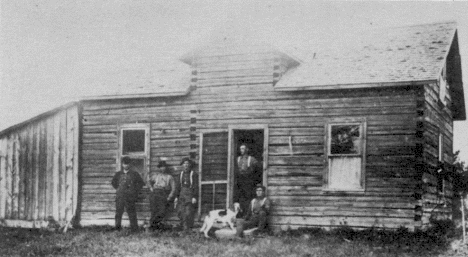 This was Aleck Maki's homestead on Crooked Lake east of Wabana.
Logs at the corners and even for a partition were carefully jointed.
Quite a number of Finns settled in this area, too. Isaac Makinen came in 1905, the Waisanens in 1907. They were famous for their saunas and coffee-bread. They organized a cow club and built up good dairy herds.

After working several years as a cook for Powers, Andrew Tanberg built his home on Lower Balsam Lake in 1904. He with his wife and seven children soon had a good farm going.

Charles V. Smith with his wife Nellie and six children came by covered wagon to Arrowhead Point on Wabana Lake in the spring of 1903. He worked for Lounsberry and Simons two years and then in 1905 moved up to the old Cap Hasty Ranch in Balsam. Although Mrs. Smith did see Andy Tanberg on his way home with provisions from Grand Rapids 2nd perhaps a few other men working in the woods, she saw no other woman from November until August. The Tanbergs, their nearest neighbors, were only four or five miles away. In 1907 the Smiths built their famous three-story log house on a hill overlooking Balsam Brook. The home was 38 x 34 feet with a 16 x 18 foot kitchen added at the rear. It became a famous stopping place. One night a total of 84 men slept here on their way to logging camps. It later became a famous hunting lodge. Just recently, in the winter of 1957-58, the structure was destroyed by fire.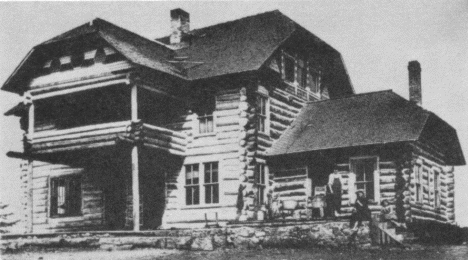 The C. V. Smith stopping place
The David C. Brandons moved into Itasca County in 1906. They bought a home in Grand Rapids and also built a log home on an 1100-acre tract which Brandon bought in Balsam. They lived up here much of the time, particularly during the warmer weather. Mrs. Brandon became the county's oldest living resident; she died the summer of 1958 at the age of 105.

Other early settlers in the Balsam area were J. C. Hendricks (1907), Harry B. Palmer (1908), John Casper, the Garners, Jack Hoyt, Irvin Martin, Fred Norman, Bert Pearson, the Forsmans and the Smiths.

To get supplies all of these settlers at first had to make a three-day trip to Grand Rapids. When Bovey was started they began trading there because it was much nearer. These settlers had to organize the area of four townships as one township in order to get enough valuation to build a road down to Bovey. The township of Balsam was organized June 1, 1907, and actually included Lawrence Lake, Wabana and East and West Balsam Townships. The whole area was bonded for $20,000 to construct the twenty-mile road. It took twenty years to get rid of the indebtedness. By that time it had cost the taxpayers $41,000. Now Lawrence and Wabana Townships have become separated from Balsam.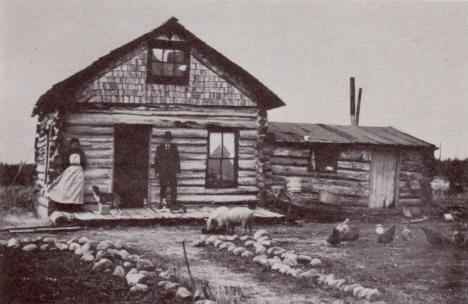 This was John Hoyt's home in Balsam Township. To keep those curtains so white by means of a scrub board in a washtub, and probably to take care of chickens and pigs as well, no doubt kept the housewife busy - and tired.
Apparently, like all the Itasca County settlers, these people were brim full of vim, vigor and vitality. They had large families. Several of them had seven children each. They worked hard. But they often gathered by sleighs or by wagons at some neighbor's home to dance the night through. The children were probably bedded down in the barn and the furniture was moved outside for the dancing. Lunch was served between midnight and two. Everybody reasoned that it was much easier to travel the woods roads by daylight; there was no sense in stopping before dawn. Only one fiddler was available in the area and he could play only three pieces — "The Bluebird Waltz". "Old Country Polka", and a two-step, "Red Wing." No doubt the people got to know these pieces quite well. Later on Don Garner, now a minister in Oregon, played the violin. His repertoire was larger; he knew at least six or seven tunes. Then, too, Millie or Esther Tanberg could bang out a few chords on an organ or a piano. Old Dad Smith could play a few jig tunes on his mouth organ. Julius Koppola played the accordion. Square dances, polkas, waltzes, and round dances were the favorites. Basket socials, pie socials, and necktie and shadow socials were more fun for the settlers. Sleigh rides and ski and toboggan parties, skating parties, blueberry picking, picnic - all these afforded energetic amusement for the hard-working settlers.
Pines, Mines and Lakes - The Story of Itasca County
© 1960 James E. Rottsolk and the Itasca Historical Society
---
Government:
Balsam Town Hall
41388 Scenic Highway
Bovey, MN 55709


Title
Term Ends
Name and Address
Phone
Clerk
12/31/2022
Rebecca Olson
24974 County Road 51
Bovey, MN 55709
(218) 245-0146
Treasurer
12/31/2020
Cindy Hoppe
PO Box 272
Calumet MN 55716
(218) 245-2022
Supervisor
12/31/2020
Ryan Ackerman
41037 County Road 332
Bovey, MN 55709
(218) 259-4647
Supervisor
12/31/2020
Jerrad Bergren
23465 County Road 8
Bovey, MN 55709
(218) 245-2176
Supervisor
12/31/2022
Dave Heinle
28163 County Road 50
Bovey, MN 55709
(218) 245-0262
---
Post Office: Served by the Bovey Minnesota Post Office
US Post Office
500 2nd Street
Bovey, MN 55709
Phone: (218) 245-2133
Toll Free: (800) ASK-USPS

Regular Business Hours:
Week Days 8:30 am - 12:00 pm
1:00 pm - 4:15 pm
Saturdays Closed


---
---
Utilities:
| | | |
| --- | --- | --- |
| Utility Type | Utility Name | Utility Phone |
| Electricity | North Itasca Electric Coop | (800) 421-9959 |
| Natural Gas | n/a | n/a |
| Wastewater | n/a | n/a |
| Water | n/a | n/a |
| Telephone | n/a | n/a |
| Cable TV | n/a | n/a |
---
Major Employers:
Employer
Products/Services
Employees
n/a
---
---
News:
---
Weather:
---
Map: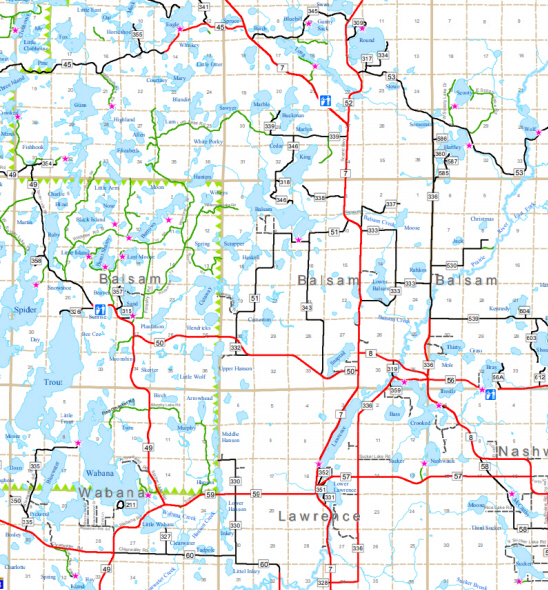 Township map of Balsam Township in Itasca County Minnesota
---
Events:
---
Attractions:
---
Recreation:
---
Lakes:
Lake Name
Size
(acres)
Lake info
Lake Map
Rec Map
Topo Map
Balsam Lake
710
Black Island Lake
107
Bray Lake
196
Burnt Shanty Lake
182
Burrows Lake
291
Camerton Lake
95
Christmas Lake
n/a
Crooked Lake
418
Cutaway Lake
257
Grass Lake
n/a
Haskell Lake
86
Hendricks Lake
n/a
Holmes Lake
n/a
Issac Lake
n/a
Jack Lake
n/a
Kennedy Lake
92
Lawrence Lake
395
Little Island Lake
61
Lost Moose Lake
101
Lower Balsam Lake
283
McAlpine Lake
45
Mole Lake (Thirty One)
n/a
Moon Lake
25
Moonshine Lake
25
Moose Lake
109
Nose Lake
96
Pickerel Lake
n/a
Plantation Lake
76
Rahkos Lake
22
Ruby Lake
243
Sand Lake
157
Scrapper Lake
153
Shoal Lake
286
Skeeter Lake
n/a
Snaptail Lake
146
Spider Lake
1,349
Spring Lake
27
Sunrise Lake
34
Thirty Lake
114
Trestle Lake
78
Trout Lake
1,753
Upper Hanson Lake
107
Willey

's Lake

48
---
Health Care:
---
Schools:
---
Churches:
Balsam Bible Chapel
41516 Scenic Highway
Bovey, MN 55709
Phone: (218) 245-1960
Balsam Lake Mennonite Chapel
Scenic Highway 7
Bovey, MN 55709

Lawron Presbyterian Church
Bovey, MN 55709
Phone: n/a
---
Media:
Served by Iron Range media
---
Motels:
---
Resorts:
---
Campgrounds:
---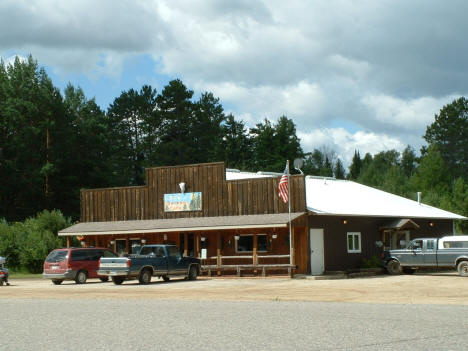 DJ's Balsam Store, 2005
Lakesnwoods.com Photo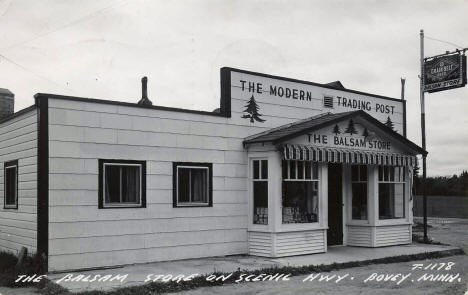 Balsam Store, 1953
LakesnWoods.com Postcard and Postcard Image Collection
---
Businesses:
Balsam Bible Chapel
41516 Scenic Highway
Bovey, MN 55709
Phone: (218) 245-1960
Balsam Fire Hall
41388 Scenic Highway
Bovey, MN 55709
Phone: (218) 245-2099
Balsam Lake Mennonite Chapel
Scenic Highway 7
Bovey, MN 55709

Balsam Memorial Hall
41388 Scenic Highway
Bovey, MN 55709
Phone: (218) 245-1676
Balsam Store
41050 Scenic Highway
Bovey, MN 55709
Phone: (218) 245-2340
Big Balsam Camp
45683 Big Balsam Camp Road
Bovey, MN 55709
Phone: (218) 245-2202
E-mail: bigbalsam@uslink.com
DJ's Balsam Cafe
41025 Scenic Highway
Bovey, MN 55709
Phone: (218) 245-1166
Lawron Presbyterian Church
Bovey, MN 55709
Phone: n/a
Northwoods Excavating
Scenic Highway
Bovey, MN 55709
Phone: (218) 245-3659
Petrich's Store
34438 Scenic Highway
Bovey, MN 55709
Phone: (218) 245-1310
---
Aerial Photo: [click photo to enlarge, zoom in or zoom out]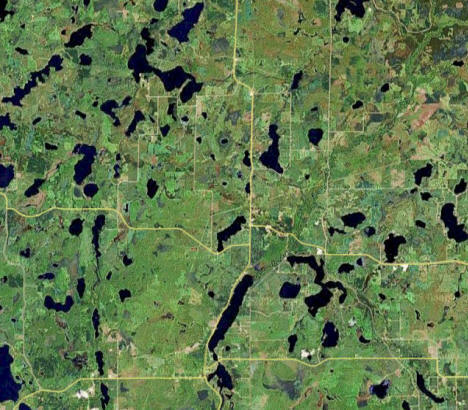 Courtesy Google Maps - Click map to zoom or enlarge
---
Topographic Map: [click map to enlarge, zoom in or zoom out]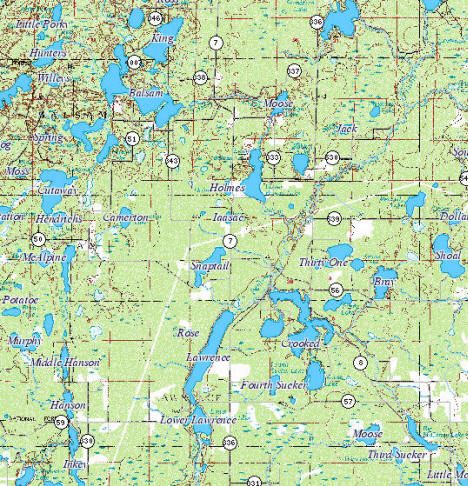 Topographic map is courtesy of the Minnesota DNR - click map to zoom or enlarge